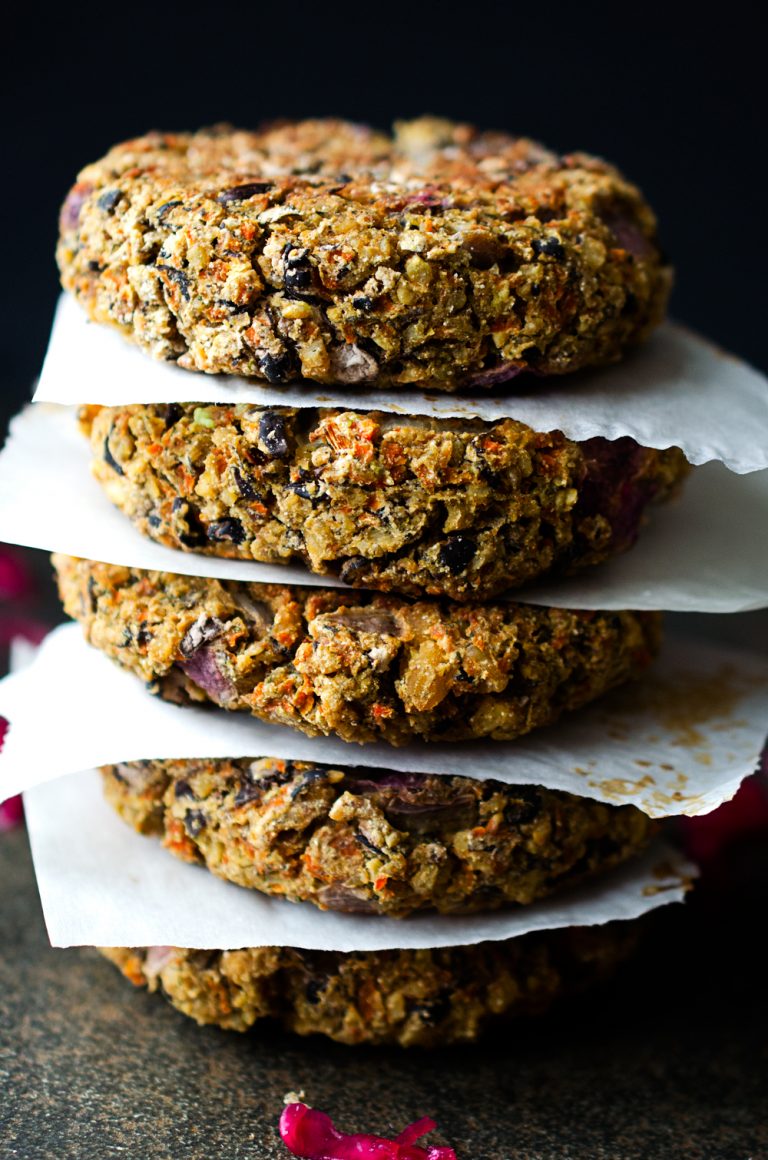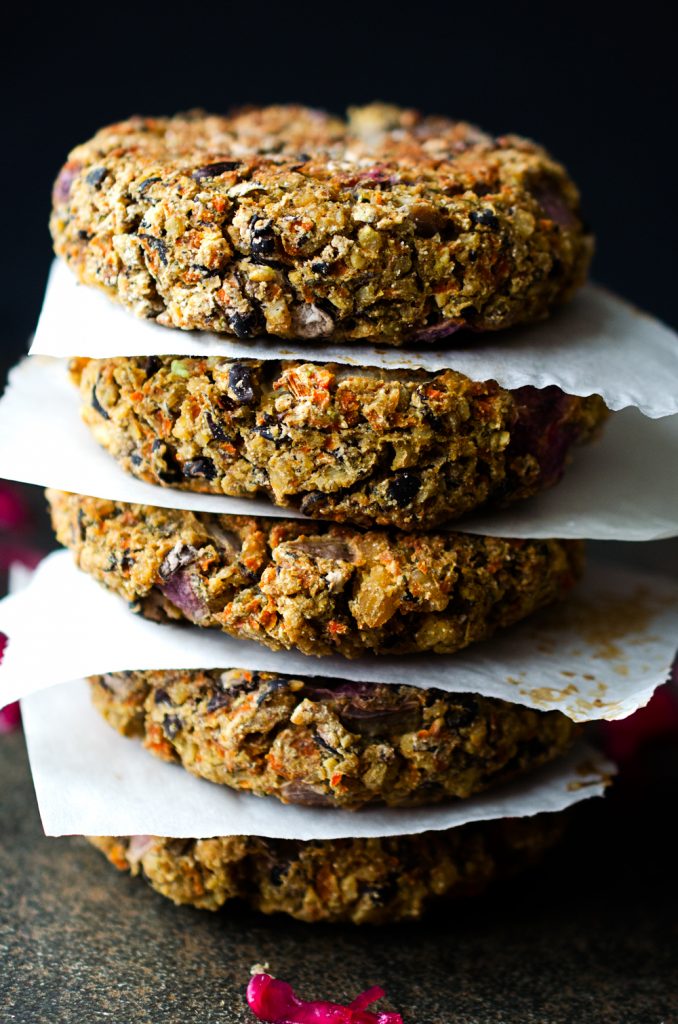 It's BBQ season! Which means it's burger season! And it's a good idea to have a few delicious plant based burgers up your sleeve so you have some healthy BBQ options! This Carrot Tempeh and Black Bean Burger is incredible-both in taste and nutritional profile and is perfect for summa-time!
Did you read "tempeh" and think "that's not an ingredient I use, pass!"?
If so, please, please reconsider! Let me explain why…prepare for plenty of bolding, underlining and italics-expressing my desire to clarify through typographical emphasis!
First, tempeh is similar to tofu in the 90's. It's starting to gain popularity but you won't find it on many menus or as a regular substitution for meat. In fact, it's only recently shown up in grocery stores in my neck of the woods! Most people don't know what tempeh is and for those who have some idea, it's still a foreign food.
For many who aren't vegan or do not eat a mostly plant based diet, tempeh carries a little bit of mystery.
I'm here to clear that up in a rapid tempeh run-down.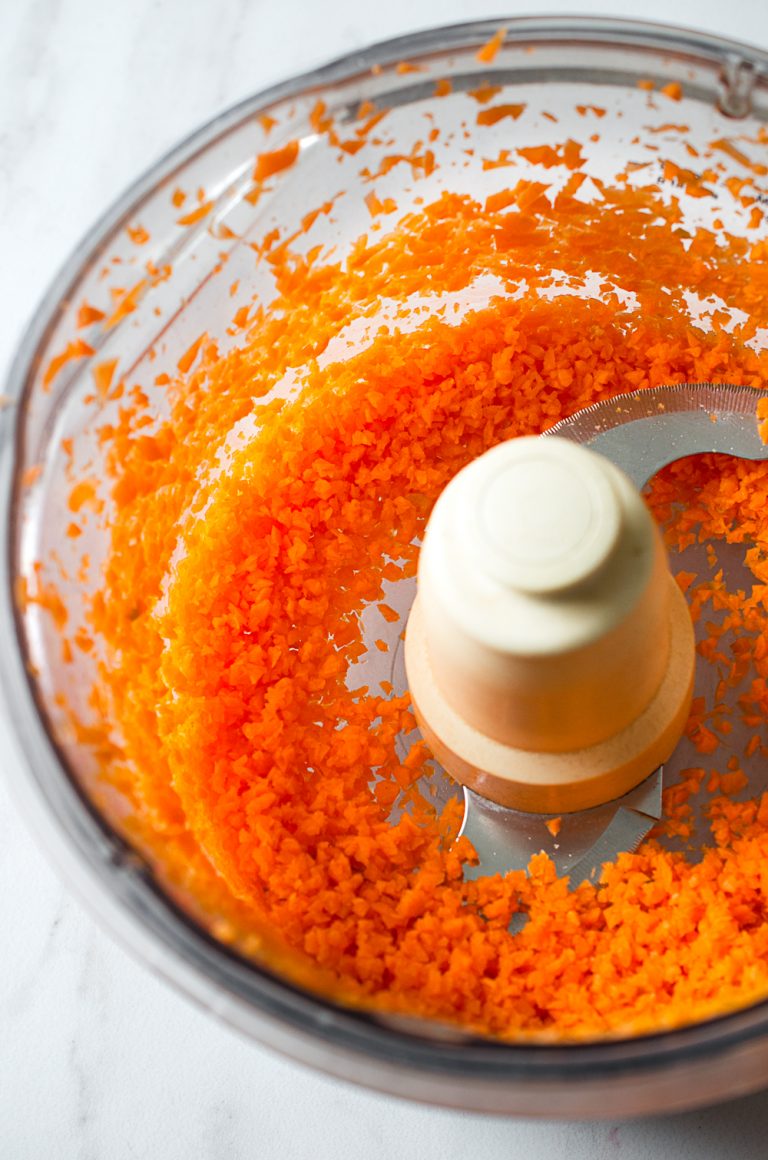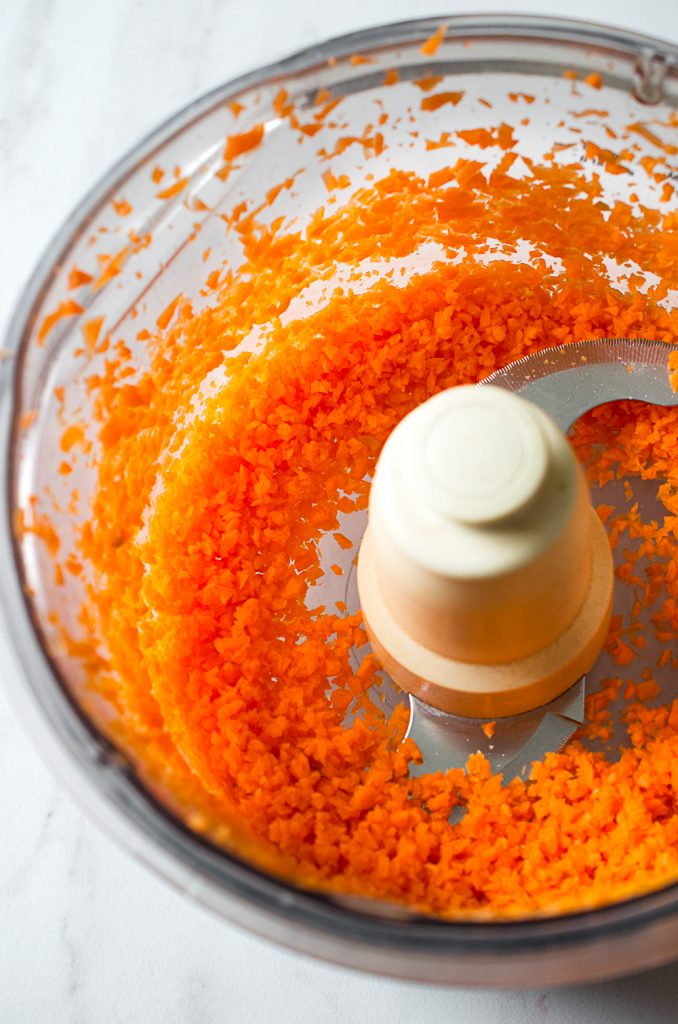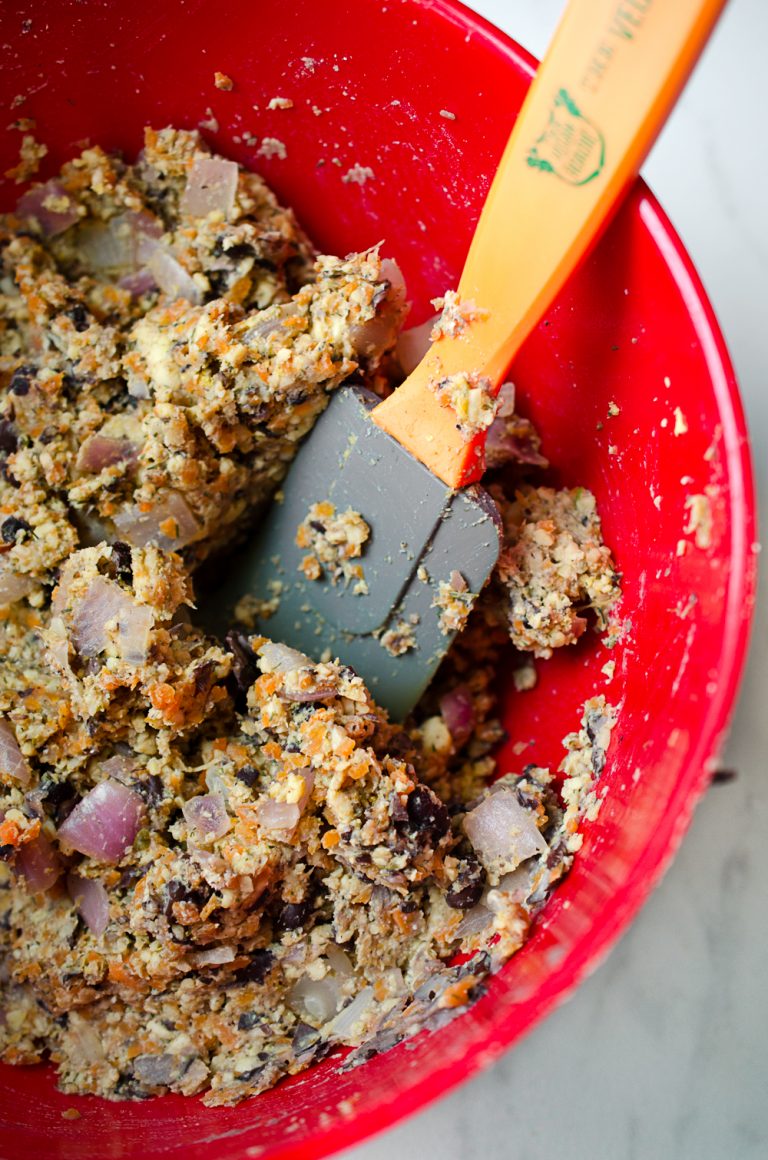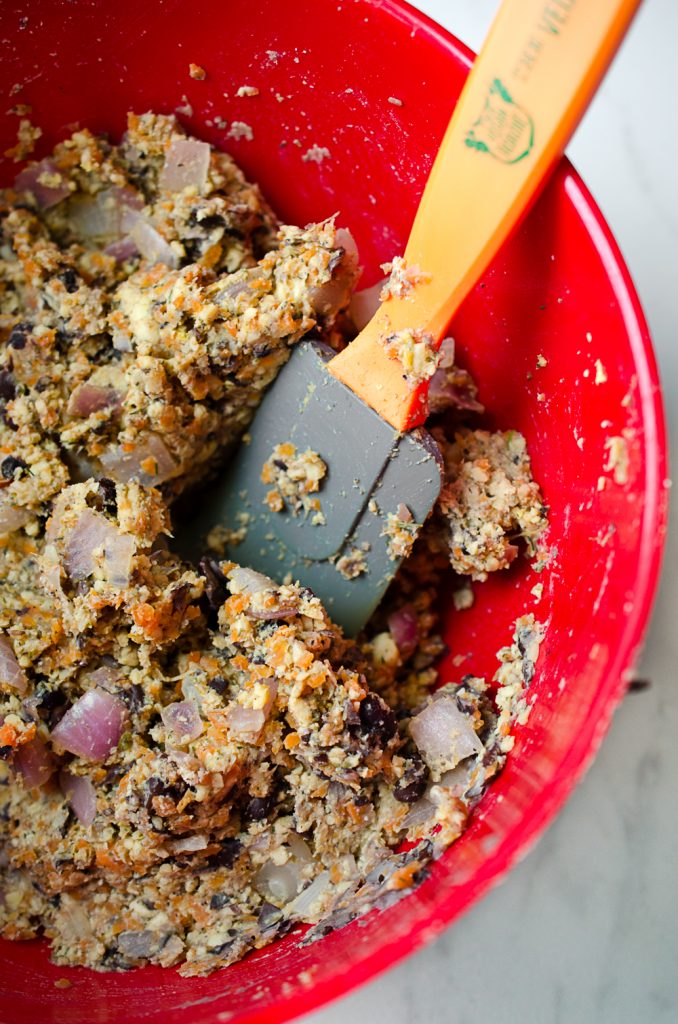 Tofu and tempeh are related and even though I love me some tofu, if given a choice, I would most often choose tempeh.

Tempeh is a traditional Indonesian food made by cooking and fermenting soybeans. It's made using the whole soybean.
Tempeh is tasty and easy to use and prepare. Rest assured that by buying tempeh you aren't signing up for a bunch of kitchen prep that's unfamiliar to you.
In fact, tempeh is easier to prepare than tofu! No draining and pressing required.
How do tofu and tempeh differ?
Tofu is made by curdling soy milk with a coagulant whereas tempeh is made by fermenting whole soy beans with a mold.
Here's the kicker, tempeh is a WHOLE FOOD. Tofu is not.
Tofu is smooth in texture, has a consistent white colour and is lighter whereas tempeh has a rough texture, has some brown or darker spots and is more dense. 
Tofu doesn't have much taste and takes on the flavour of whatever it's cooked with whereas tempeh has a nutty, earthy flavour on its own. Tempeh also absorbs additional flavours. 
The fermenting process also makes the protein in tempeh easier to digest and assimilate. 
Tempeh is also a great source of manganese, magnesium, copper and phosphorus and it's higher in fibre and protein when compared to tofu. 
I hope you're warming up to tempeh. 
You can find tempeh refrigerated in the organic aisle of most grocery stores. It's available in 8 oz (16 gram) cakes and is usually right next to the tofu. You can now get varieties that have grains, like brown rice, fermented with the soybeans. 
Flavours that pair well with tempeh are garlic, ginger, cumin, coriander, curry, and soy sauce or tamari but it is extremely versatile and can be used in many dishes.
Try using it instead of ground beef in chilli or burgers (like the Carrot Tempeh Black Bean Burger). You can also use it to make tacos, spaghetti and lasagna! You can bake it and add it to sandwiches, salads or stirfrys!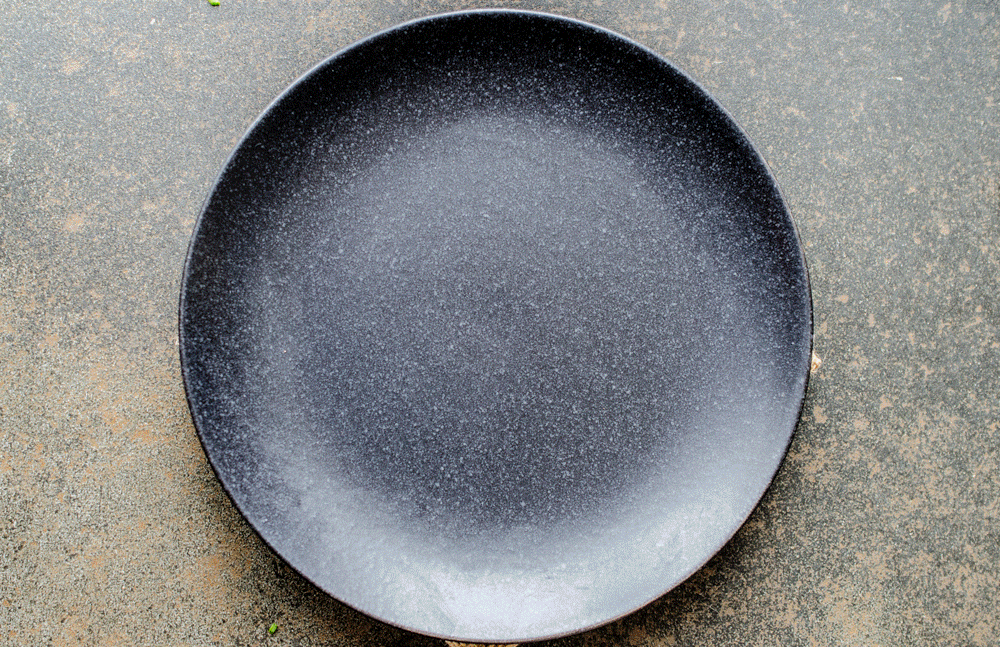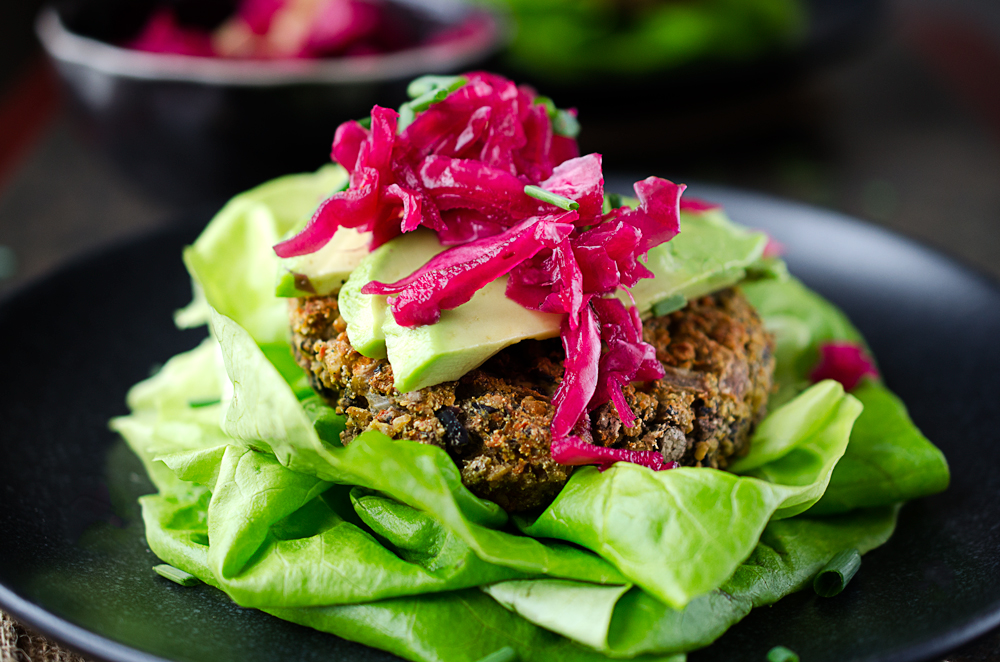 When I don't have a lot of time, I slice tempeh, drizzle some tamari on it and sprinkle with some nutritional yeast and bake it at 375°F for about 20-25 minutes and then have it with some brown rice and steamed veggies and sliced avocado. 
Tempeh, however, is my favourite burger ingredient! It has a texture that's similar to traditional burgers and its flavour pairs perfectly with black beans and dill (ingredients in this burger!). 
What about fermented foods? Although fermented doesn't sound appetizing, fermented foods are delicious and incredibly good for us! They provide gut healthy probiotics – these are beneficial bacteria that help stabilize our intestinal systems and establish a healthy microbiome. 
This Tempeh Black Bean and Carrot Burger also provides prebiotics. Prebiotics are indigestible fibres that feed these good bacteria in our intestinal tract. Great sources of prebiotics include onions, asparagus, bananas and artichokes. This burger is a complete got-healthy package!
What's this magnificent pink stuff?
To add even more tasty gut-supportive nutrition to this burger, I topped it with my absolute favorite sauerkraut! I lived on this stuff when I lived in New York. It would be the first addition to my cart when I popped into the Lower East Side's Whole Foods! You can imagine how excited I was to find that my favourite tempeh and favourite sauerkraut were now being carried by my local grocery store. Worthy of a dozen flamingo girls dancing!
I also went bun-free for this burger and used Boston lettuce leaves. Feel free to use your favourite whole grain bun or toss it in a brown rice wrap.
Nutritional Highlight: Has to be Tempeh! In just 3 ounces (a little less than 1/3 of the package) you get 16 grams of protein, 7 grams of fibre, 4.5 grams of fat, a healthy dose of iron and only 140 calories! Compare this to 3 ounces of ground beef (70% lean, 30% fat) which comes in at 12 grams of protein, 0 grams of fibre, 24 grams of fat and over 270 calories (plus a bunch of cholesterol). Hmmmmmm.
Recipe Recycle: Take leftover burgers and crumble them on top of salads, into tacos or mix with steamed veg! You can also turn this recipe into tempeh balls instead of burgers! Options: endless!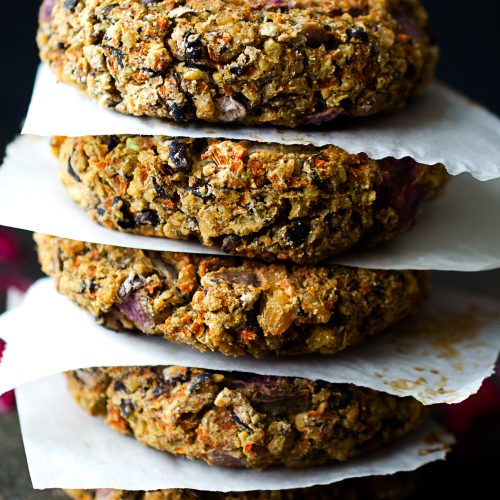 This Carrot Tempeh and Black Bean Burger is incredible-both in taste and nutritional profile!
Ingredients
1½

cups

black beans

cooked or canned

2

medium carrots

roughly chopped

1

(8-ounce/227 gram) package tempeh

1

small red onion

diced

4

garlic cloves

minced

1½

teaspoon

ground cumin

1½

teaspoon

dried dill

1

teaspoon

dried oregano

¼

teaspoon

red pepper flakes

2

tablespoons

tamari

(low sodium)

¼

cup

buckwheat or brown rice flour

2

tablespoons

nutritional yeast

½

teaspoon

Himalayan or sea salt
Instructions
Preheat the oven to 375°F and line a large baking sheet with parchment paper.

Place the black beans in a food processor (fitted with the S blade) and pulse 5-7 times to break up the beans. Transfer to a large bowl and set aside. Scrape the sides of the processor container and be sure to get all the beans. You're going to use the processor two more times.

Place the chopped carrot in the food processor and process for 20-30 seconds until the carrots are finely grated. Be careful not to over process. If the carrots are over processed they'll start releasing liquid and become wet. Transfer the grated carrots to the bowl with the black beans.

Break the tempeh up until pieces and add to the processor and pulse until crumbly. Set aside.

Add the red onion to a medium sized non-stick sauté pan and sauté in a few tablespoons of water until they become translucent, about 5 minutes. Add water as needed to prevent burning. Add the garlic and all other spices and sauté for another 30 seconds.

Add the tempeh to the pan and continue to cook over medium heat for another few minutes, stirring often and adding water if needed to prevent burning.

Pour off any additional water from the tempeh/onion mixture and then add to the bowl with black beans and carrots. Add the tamari, buckwheat flour, nutritional yeast, and salt, and mix well using a spatula. Use the back of the spatula to press the mix together so it's nnice and sticky. The mix will be thick (see picture above).

Scoop out about ½ cup of the mix and shape firmly into a burger, keeping each burger at least 1 inch thick. Place on a baking sheet and repeat.

Place the baking sheet on the middle rack of the oven and bake for 25 minutes. Carefully flip using a spatula and bake for another 20-25 minutes. The burgers should be browned and firm to touch. Remove from the oven and let rest for at least 10 minutes. The burgers will firm as they cool. Serve with avocado, sauerkraut, sliced tomatoes and crispy lettuce and enjoy!
Notes
If you don't have a food processor you can still make these burgers! Simply grate the carrot using a box grater, mash the beans using a fork and finely chop or grate the tempeh.
You can also turn these burgers into sliders. Use a ¼ cup measuring cup to shape the burgers and reduce cooking time by 8-10 minutes on each side.