Oil-Free Quinoa Tabbouleh
Last week I promised the most delicious green smoothie! I credited all the flavour to fresh basil and tried to convince you to buy fresh herbs, especially during the summer! Here's the recipe for the best Tropical Green Smoothie in case you missed it!
I hope it worked! 
Fresh basil, mint, parsley and cilantro are so gorgeous and delicious (I'm partially lying, I think cilantro tastes like soap!)
Now that you have your fresh herbs, what else can you do with them? Before we get to making this oil-free Quinoa Tabbouleh, I want to give you some helpful tips about how to store fresh herbs so you get the biggest bang for your buck!
The first thing to understand about herbs is that they can be divided into 2 types – delicate and hardy.
Delicate herbs include :
Cilantro
Dill
Mint
Tarragon
Hardy herbs include
Chives
Oregano
Rosemary
Sage
Thyme
Parsley
Whether an herb is hardy or delicate will determine your method of storage.
Follow the following steps for storing more hardy herbs:
-Rinse them and pat dry
-Discard any bruised or browned leaves
-Roll in dry paper towel
-Store in a plastic Ziploc baggie in the fridge
-They will last for 2-3 weeks in the fridge
Follow the following steps for storing more delicate herbs:
-Rinse them and pat dry
-Discard any bruised or browned leaves
-Snip the bottoms of the stems
-Place in a glass with about 1 inch of water and tent the glass with a plastic baggie
-Secure the bottom of the baggie with an elastic band and place in the fridge
-Change the water every 2-3 days
-They will last for 2 weeks (maybe 3)
Have you noticed that I left out one really important herb? Perhaps the mother of all summer herbs? Where's the basil?
Ok I'm fibbing again. There are technically two categories of herbs but basil is in a category all by itself.  
Basil is definitely delicate but also finicky, it's sensitive to cold temperatures and can brown and wilt in a matter of hours if not stored properly. Basil requires a little extra attention but again it's worth it! 
Follow these steps for storing fresh basil:
-Discard any bruised or browned leaves
-Snip the bottoms of the stems 
-Place in a glass with 1-2 inches of water and leave on the kitchen counter in a warm (not hot) area and out of direct sunlight.
-Tent the basil with a plastic baggie and change the water every couple of days. (Some culinary experts suggest that tenting is not necessary, in my experience it's beneficial)
-Basil will last for about a week.
Fresh basil is pretty much like fresh flowers! And just like flowers, they're a beautiful addition to any kitchen décor!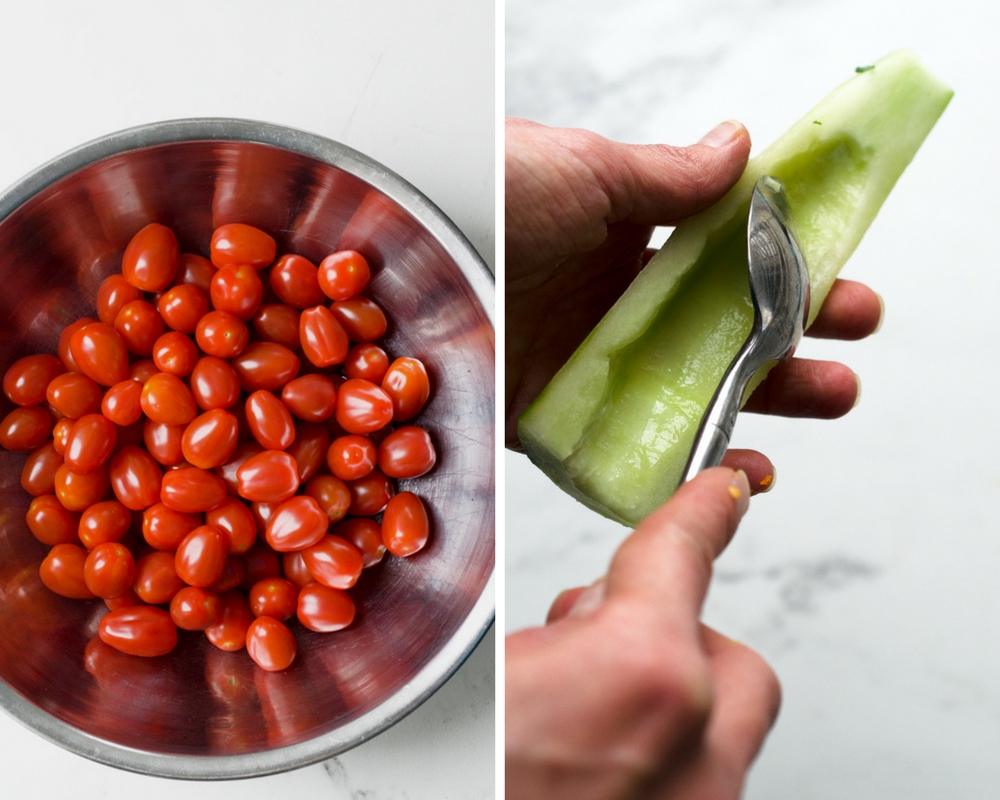 Now that you know how to store and preserve fresh herbs, let's get to eating them! You can simply toss mint in a fresh salad or add some thyme to roasted root veggies or you can turn fresh herbs into the most valuable ingredient in a meal. 
Today's oil-free Quinoa Tabbouleh is all about fresh herbs! Mint & parsley make this salad tasty.
Tabbouleh is traditionally made with parsley, mint, bulgur, garlic, lemon and olive oil. I've swapped the bulgur (made from wheat) for the more nutrient-dense and gluten free quinoa. I also left out the olive oil and leaned more towards the mint flavour than the parsley. I like parsley but love mint! 
For more on fresh herbs, go here. 
Cherry tomatoes are widely available in the summer, this quinoa tabbouleh makes great use of them! The picture on the right shows me removing the seeds from the cucumber. This is the secret to avoiding watery cucumber in salads and other similar recipes. You simply cut the cucumber in half lengthwise and scrape a spoon down the middle to remove the watery seed portion.
I like to spread just-cooked quinoa out on a baking sheet to speed the cooling process. Be sure the quinoa is cooled before mixing with other ingredients for this quinoa tabbouleh! You don't want the heat from the quinoa to cook and wilt the fresh herbs.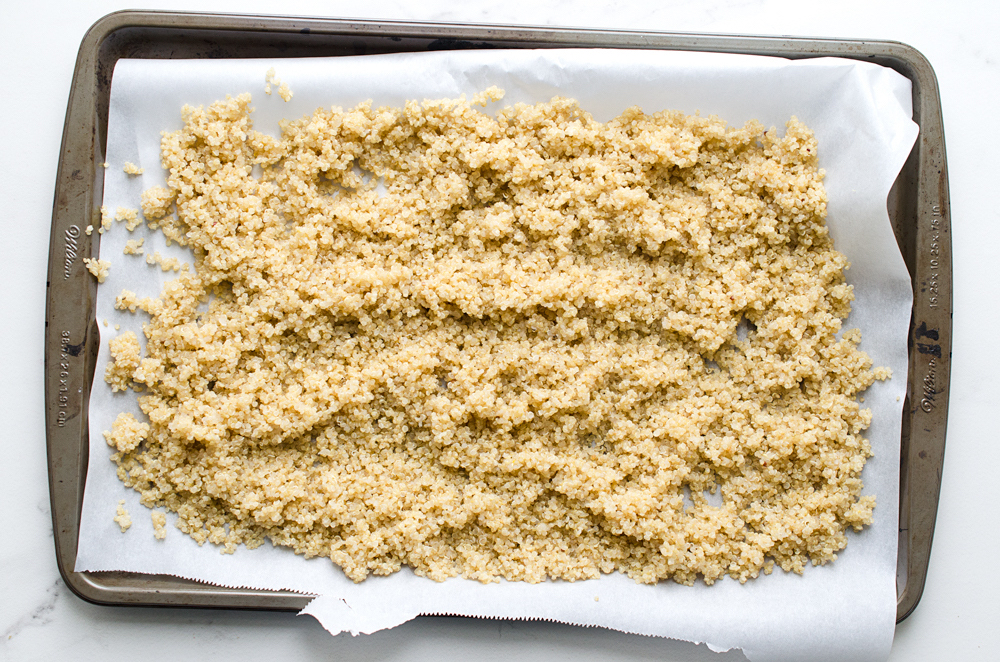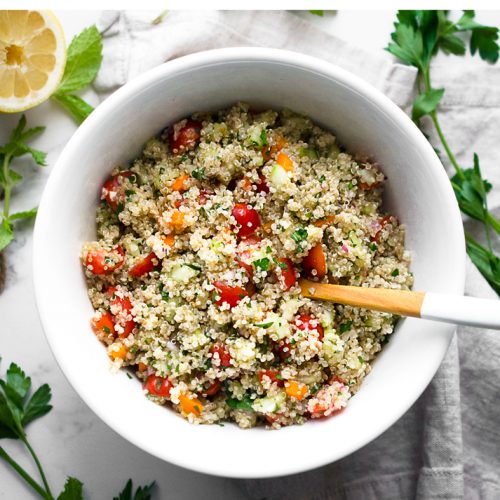 Oil-Free Quinoa Tabbouleh
Fresh herbs and filling quinoa makes for a fresh and vibrant salad!
Ingredients
1

cup

white quinoa

rinsed and drained

1

medium cucumber

seeded and diced (see how-to picture in post)

2

cups

cherry tomatoes

quartered

½

red or orange pepper

small diced

¼

cup

minced red onion

¼

cup

+ 3 tablespoons lemon juice

3

garlic cloves

minced

½

teaspoon

dried oregano

½

teaspoon

sea or Himalayan salt

½

cup

packed mint

finely chopped

¼

cup

flat leaf parsley

finely chopped
Instructions
Rinse and drain the quinoa and transfer to a small pot. Add 1¾ cups water and ¼ teaspoon salt to the pot, cover and bring to a boil. Once boiling, reduce to a simmer and simmer for 12-15 minutes. Don't remove the cover while the quinoa is cooking except to quickly check if all the water is absorbed. Once cooked, remove from heat and keep covered for 5 minutes. Then remove the cover, fluff the quinoa with a fork and spread it on a baking sheet to cool. Set aside.

Meanwhile prepare all the veggies and add them to a medium-large bowl and set aside.

In a small bowl whisk together the lemon juice, garlic, oregano, salt. Set aside.

When the quinoa is cooled, add it to the bowl of veggies and mix. Add the mint and parsley and mix again. Drizzle in the lemon vinaigrette and mix well. Keep in the fridge, covered until ready to serve.
Notes
This will keep in the fridge for 2 days.
Cook time does not include quinoa cooling time.