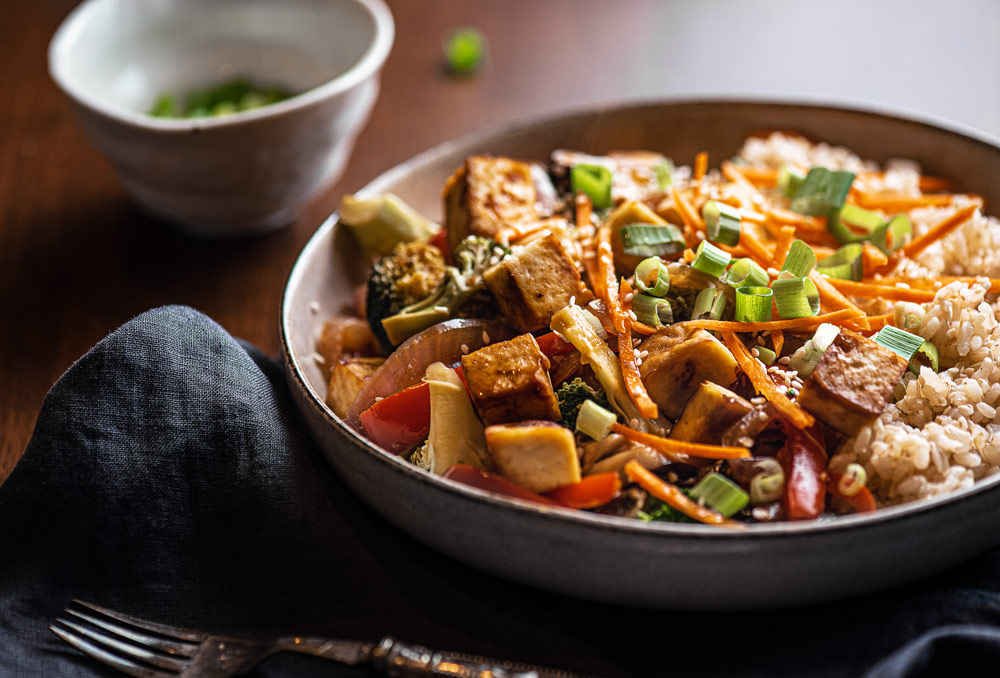 I make this tofu teriyaki stir-fry on the regular. It's super easy and loaded with protein, fiber, complex carbs and antioxidants. 
But I didn't always love tofu because I didn't like it because I had no idea what to do with it!
It sounded foreign and weird and too mysterious for me to cook. But I experimented and eventually I was like Holy Smokes! I love this sh*t!
Bring on the tofu! 
This vegan teriyaki tofu stir-fry is a great opportunity to show you the easiest way ever to make tofu. 
Here are the steps:
Press the tofu:
This means pressing liquid out of the tofu. Do this by taking the tofu out of the container and drain off the liquid.
Wrap the tofu in a clean dish cloth, lay it on a level surface, like your kitchen counter, and place a wide pot, heavy book or something else steady and heavy (~3-5 pounds) on it the tofu so that extra water is pressed out. Leave it for 15 to 20 minutes. 
After the pressing time, unwrap the tofu. It's ready to slice and cook. 
Cut the tofu into rectangular slabs ( ¼ – ½ inch thick) or into ¾ inch cubes (I prefer cubes)
Spread the tofu out in a single layer on a parchment-lined pan. Drizzle with a little  tamari (gluten-free soy sauce) or soy sauce (if gluten isn't an issue). 
Bake for 20 minutes, flip or stir around and bake again for 10-20 minutes or until the surface of the tofu is golden in color. You might even see some charring on the edges. See recipe below for specifics!
That's it. Now you can add this tofu to a buddha bowl or a salad or use it in this Tofu Teriyaki Stir Fry.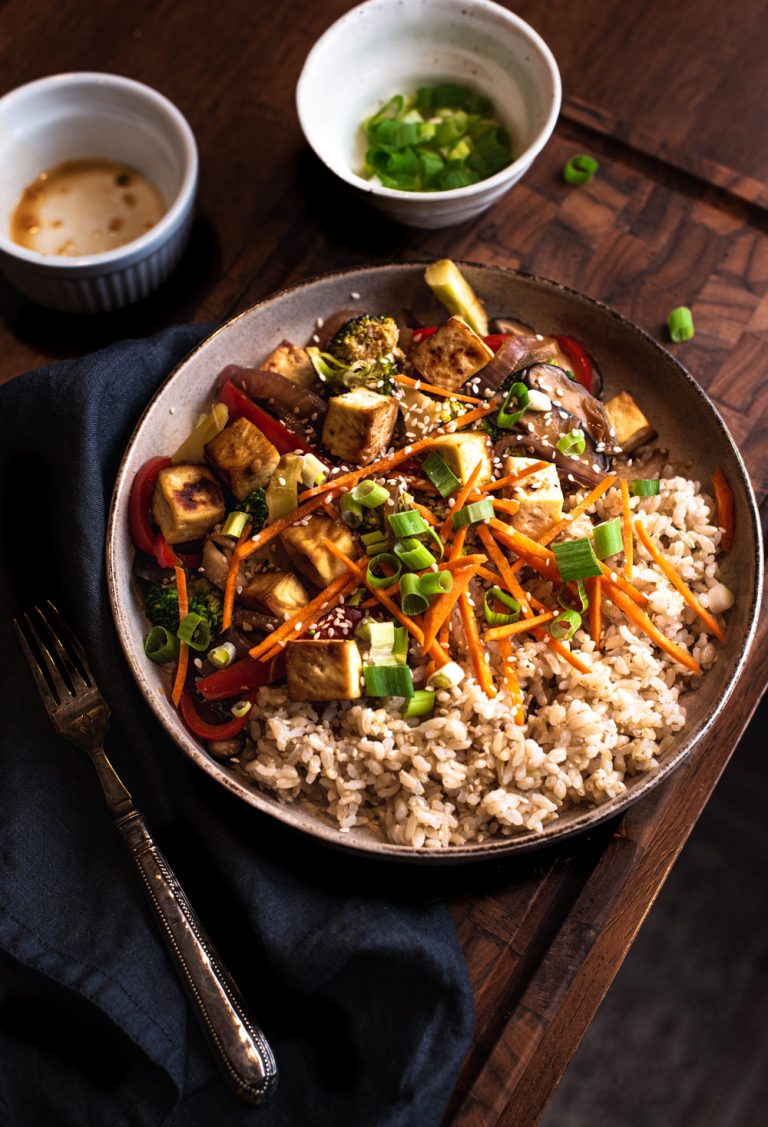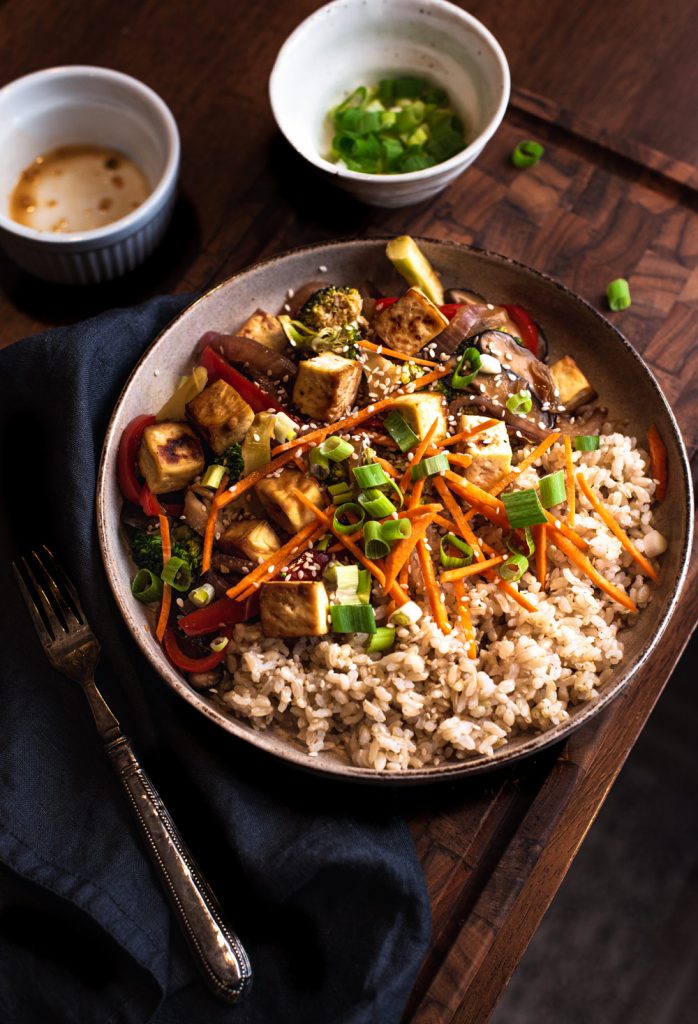 A couple of helpful tidbits about tofu:
Buy organic and non-GMO whenever possible.
It's found in the refrigerated section (usually in the organic or health aisles).
You can also get extra firm "sprouted" tofu which is ideal! Get that one if it's there. 
You can freeze tofu (in its original package) for future use.
Silken tofu is not interchangeable with extra firm tofu (silken is much softer and is found in aseptic boxes). It's still useful, try this Chocolate Pudding made with silken tofu. 
Here's another easy baked tofu recipe Vegan Tofu Curry.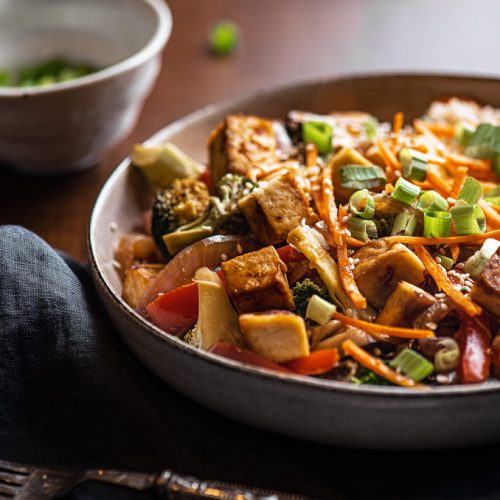 This vegan teriyaki tofu stir-fry is a great opportunity to show you the easiest way ever to make tofu.
Equipment
wide non-stick (or regular) sauté pan
Ingredients
1

cup

dry brown rice

1

12-14 oz package extra firm organic tofu

1

small red onion

thinly sliced

6

ounces

cremini or button mushroom

thinly sliced

1

red bell pepper

thinly sliced

3

cups

bite-sized broccoli florets

Garnish: sesame seeds

sliced green onion, matchstick carrots

Teriyaki Sauce

2

garlic cloves

minced

2

teaspoons

ginger juice (Juice of 1½ inch knob of ginger)

or 1 tablespoon finely minced ginger

1/3

cup

low-sodium tamari

or low-sodium soy sauce

2

tablespoon

brown rice vinegar

(or regular rice vinegar)

1

tablespoon

maple syrup or agave

optional

1

teaspoon

vinegar-based hot sauce

(like Frank's Hot Sauce)

1

tablespoon

arrowroot starch

(I use Bob's Red Mill)

1

cup

of water
Instructions
First, cook the rice according to directions and press the tofu (drain the tofu, wrap it in a clean dish towel and lay something heavy on it for 15-20 minutes to remove extra water). Line a large baking sheet with parchment paper and preheat the oven to 375ºF.

Meanwhile, prepare the vegetables and add all the Teriyaki Sauce ingredients to a bowl or large measuring cup and whisk together. Place the sauce in the fridge until needed.

After pressing the tofu, cut it into ¾ inch cubes. Spread the tofu out on the parchment-lined pan and drizzle with a little tamari. Bake for 40 minutes, gently flipping halfway through for even cooking. The tofu is done when it's browned and firm to touch.

When the rice and tofu are almost done, start sautéing the veggies. This part comes together quite quickly so best to have your veggies chopped and ready. Add the red onion, mushrooms, and red pepper to a wide sauté pan or medium sized pot and sauté over medium/high heat with a few tablespoons of water for 5 to 7 minutes, stirring frequently, until the onion starts to soften and mushrooms begin to brown. Add water as needed to prevent burning.

Now remove the sauce from the fridge, whisk together again so all the arrowroot starch is dissolved and then add this to the pan along with the broccoli. Stir and cover the pan/pot. Bring the sauce to a simmer over medium heat and simmer for 5 to 7 minutes, covered, or until the sauce thickens and the broccoli is bright green and tender. Stir occasionally to prevent sticking

Divide the rice between bowls and layer with teriyaki veggies and baked tofu. Garnish with sesame seeds, sliced green onion, and carrots.
Notes
You can use quinoa instead of brown rice and skip the tofu altogether if you're not a fan of tofu. You can add 1½ cups cooked chickpeas instead.