How To Make Miso Soup? It's Easy!
Miso soup is a traditional Japanese soup. It's usually made from dashi and miso paste. If you don't know what either of these are, stay here! We're going to clear it up so you can get onto making this healing, nourishing soup. 
First, let's review some terms:
Dashi is simply a clear broth. It can be made with a variety of ingredients but vegan versions usually contain kombu (a seaweed) and dried shitake mushrooms. We will make a quick dashi so this miso soup is very easy!
Miso. Miso is a fermented paste made from soybeans and rice but you can also get soy-free versions made from chickpeas and other beans. 
Most notably, miso is full of gut-healthy bacteria that are tremendously beneficial for our digestive and immune systems. There are different types of miso ranging in colour and intensity of flavour but here we are using white, mellow miso or shiro miso. It has a light, sweet flavour. 
Equally important to know is that miso is salty and described as having umami flavour. It's an ingredient I use in all kinds of recipes but its namesake recipe is of course its most popular use. 
Let's do it, onto making miso soup (my version) …
You don't need any special equipment
but there are a couple of ingredients you might want to get familiar with:
shitake, kombu, miso.
Shown left to right below.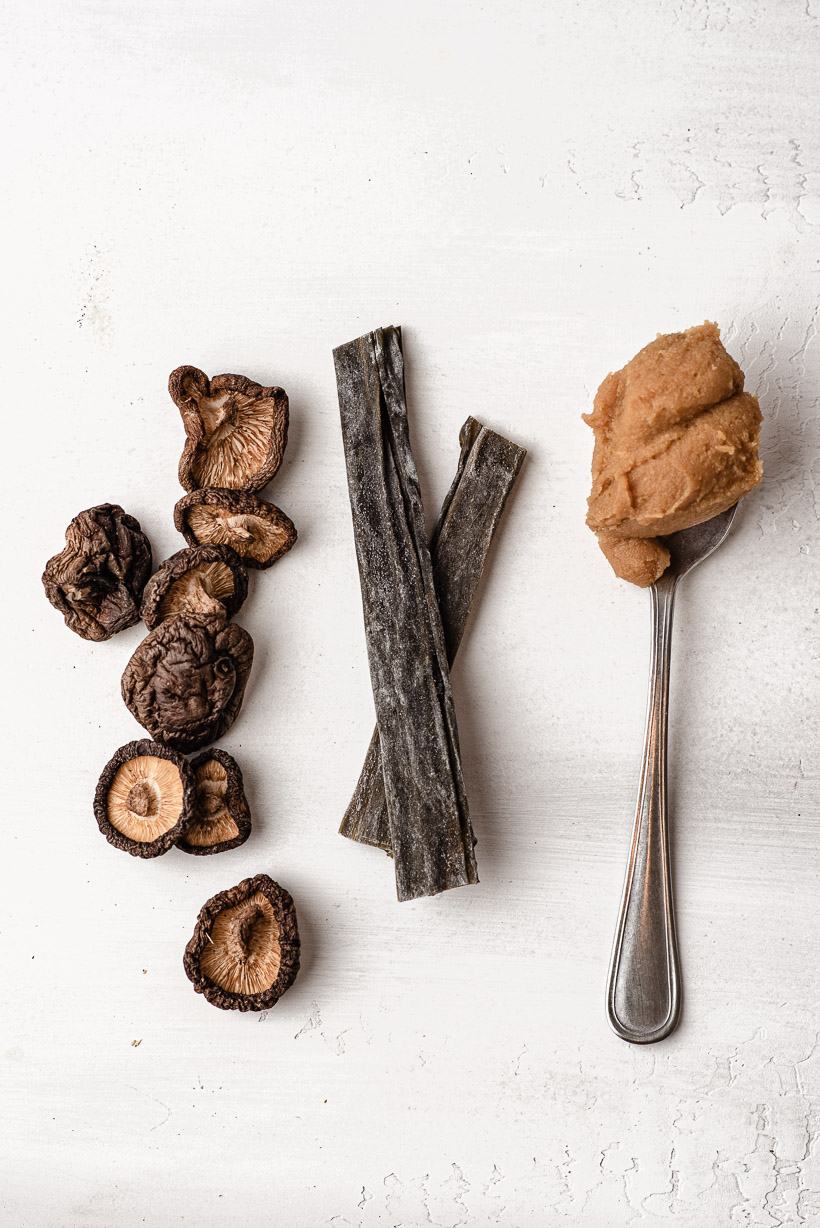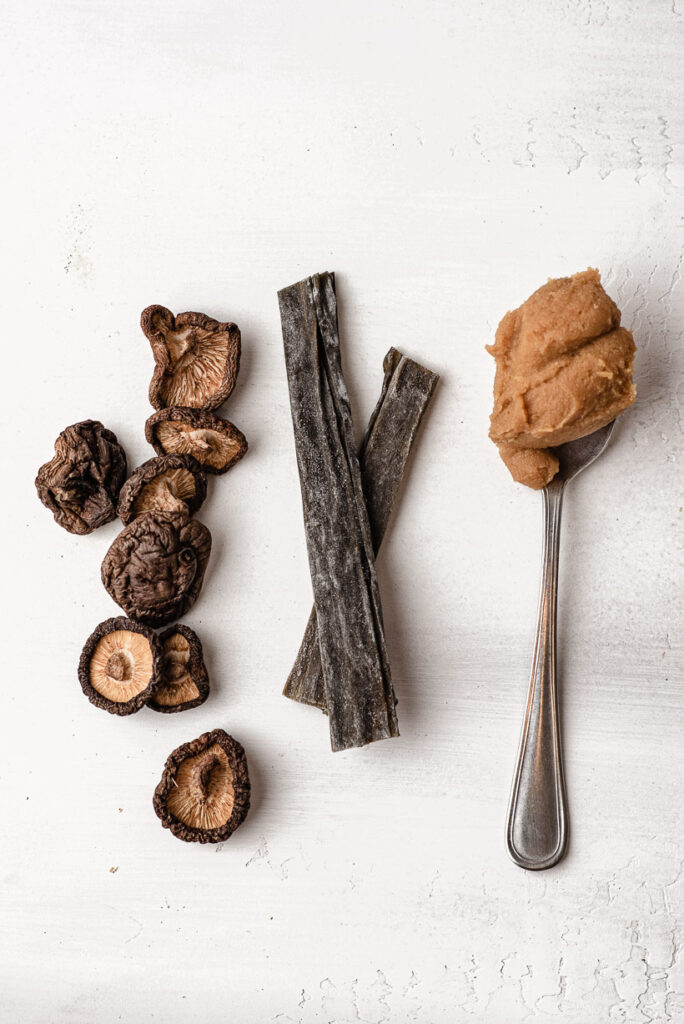 Miso – See the description above. For this easy miso soup you'll need white miso (aka shiro miso).
Kombu – this is a dried seaweed. See here. If you don't want to use kombu, you can simply omit it but your miso soup will lack authentic flavour.  
Dried shitake mushrooms – These are widely available and found in the grocery aisles in bags or plastic containers (not usually in the produce section). If you don't want to use dried, you can use fresh (see notes in recipe). 
Wakame – this is another seaweed often added to miso soup and gives miso soup a distinctive flavour. I often skip wakame as I don't love the texture but use it for a more authentic miso soup! Wakame needs to be rehydrated in a bowl of water before being added to miso soup. It will expand in size. 
Onion – Thinly sliced, really thin. 
Carrots – Julienned or cut into matchsticks. 
Bok Choy – or pak choi. This is a cruciferous veggie used commonly in asian cuisine. We separate the stem from the leaves and finely chop both for this miso soup. You'l find this in the produce section near the other cruciferous veggies. We use small bok choy (see in the corner of the picture above). 
Tofu – medium soft is best. I don't love silken tofu in miso soup (although it's traditionally used) so I use soft or medium-soft block tofu varieties. You can use firm too if that's what you like! Tofu and the amount used is optional in this recipe.
Green onion or scallions – For garnish.
Tamari or soy sauce – to season as needed. I like to use low-sodium varieties.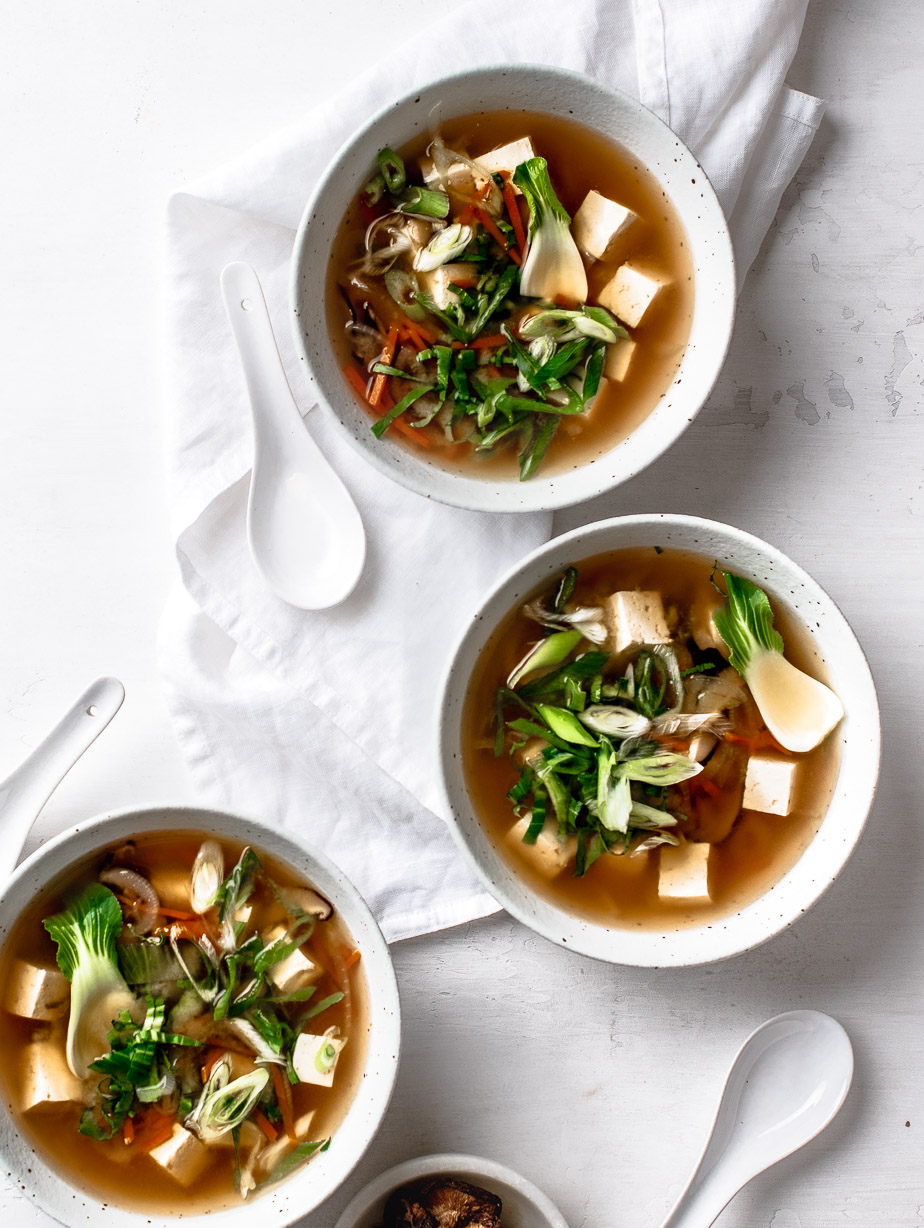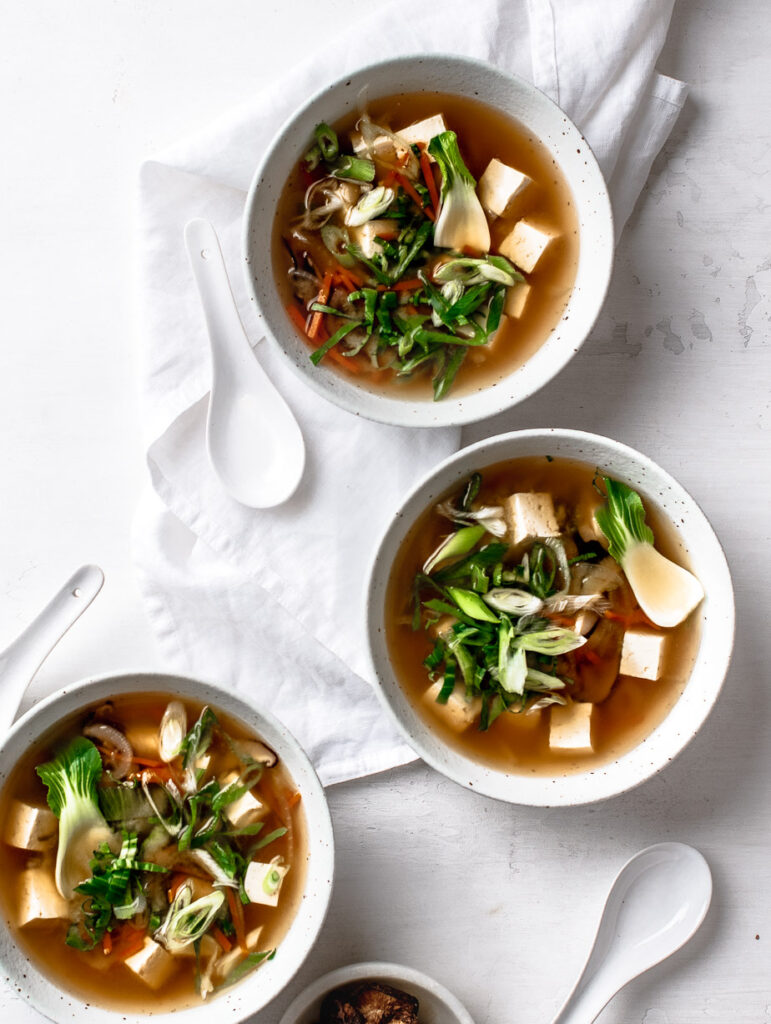 In short, this miso soup involves 3 main steps.
1. Soak kombu and dried shitakes in water in a pot for 1 hour. This is how we make our own dashi. 
2. Simmer the vegetables and tofu (if using) in our dashi broth.
3. Whisk in the miso paste and serve with toppings. 
In Japan, the methods and ingredients used in miso soup vary on the region, season, and chef. This is a simple version we've come to love in our house and we have it regularly paired with brown rice.
My version also has extra veg and a firmer tofu (reminder, we don't love silken tofu) so is a little different than a lot of versions you'll find.
Did you know that most Japanese consume miso broth at least once a day? 
Living in Asia has definitely opened my eyes to the health benefits of different types of foods and meals. I have even made myself miso soup for breakfast – a common occurrence on this side of the world but very rare in the West. 
All things considered, why is miso soup so good for you?
Since miso is made by fermentation, it's a fantastic source of healthy probiotics that support the gut flora. Probiotics continue to be a hot topic in nutritional research and most health authorities suggest we consume more of them! The list of health benefits for eating fermented foods and foods high in pre- and probiotics is long! 
Miso also offers some vitamins and minerals and protein. 
Salt! Miso contains a lot of salt. If you're consuming a mostly whole-foods diet, miso soup or using miso occasionally is not an issue at all. However, if you're on a salt restricted diet, miso might be off limits or need to be consumed in limited quantities. Check with your health care provider. Also check your serving sizes. 
Soup. Soup is hydrating and warming. Soup helps us feel full sooner and is a great vehicle for veggies and greens. If there is any meal or course worth adding to your diet, make it SOUP! 
There you have it! Now you know how to make miso soup! Enjoy this nutritious soup often! Serve it with brown rice for a meal or have a small bowl for a snack or even breakfast!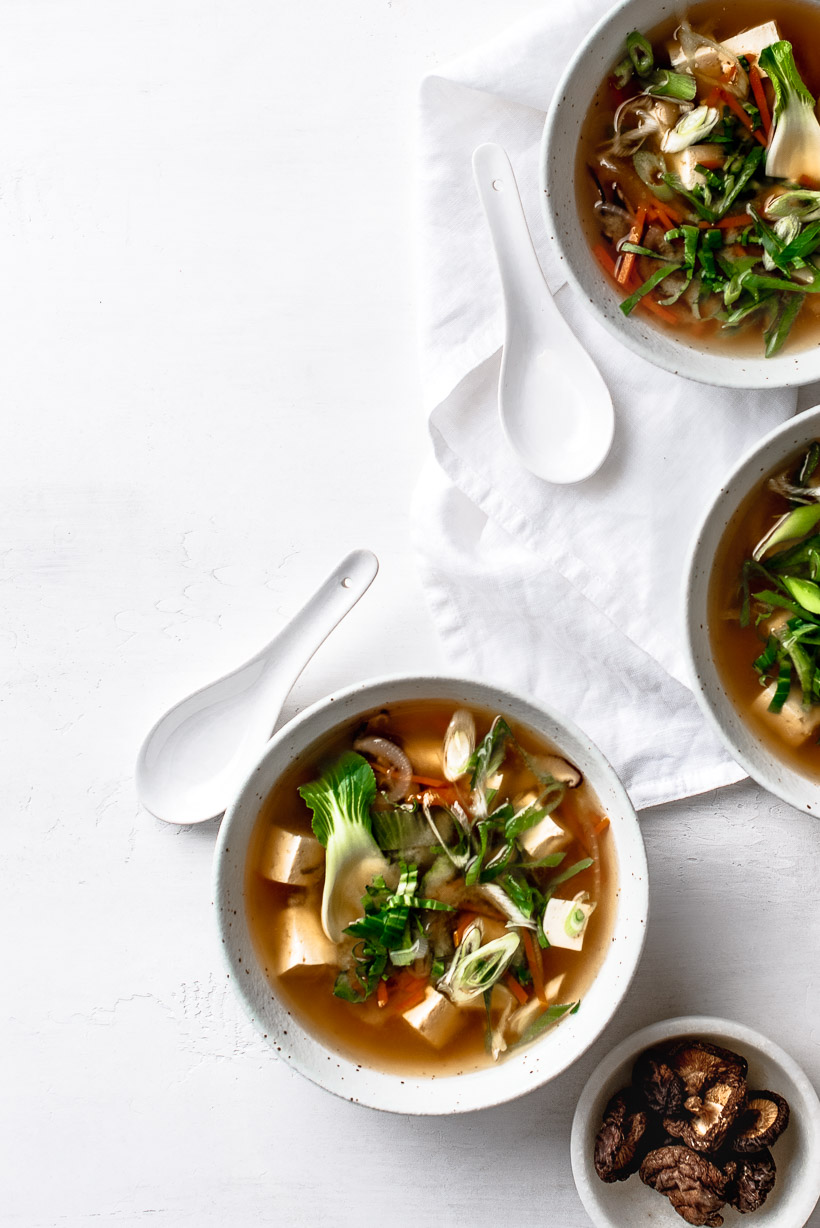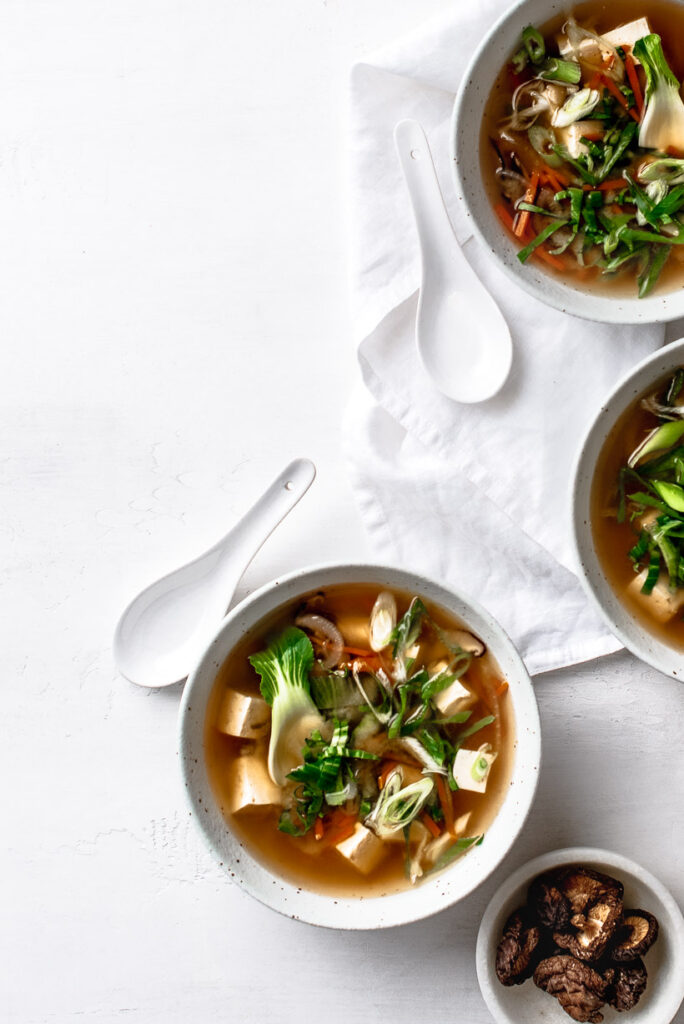 Prep all the veggies ahead of time as this recipe doesn't take long to make once you start simmering. 
Avoid boiling miso! This destroys the beneficial, active compounds in miso. This is why we remove a little broth and dissolve the miso and return to the pot after everything is cooked. 
If you don't want to use kombu or shitake to make your dashi, you can skip this step and use water but the flavor will not be the same. You can try using vegetable broth instead but, depending on the flavour or brand, you may have mixed results. 
If you don't have or can't find dried shitake mushrooms, you can use fresh. Thinly slice them and add them to the simmering soup at the same time as the other veggies. 
Do you! You really can make this miso soup how you like it. Adjust the miso, add more wakame, skip the tofu, add more green onions! This is a flexible recipe!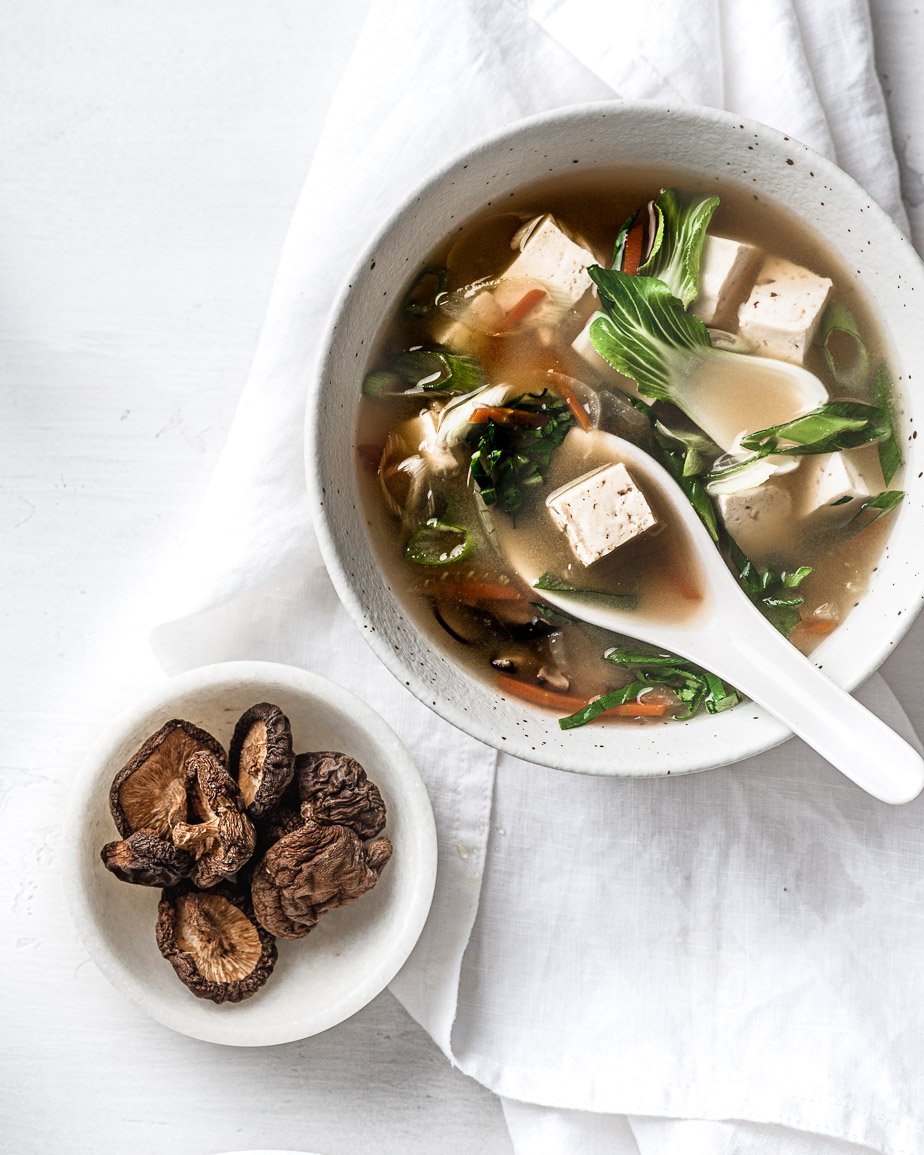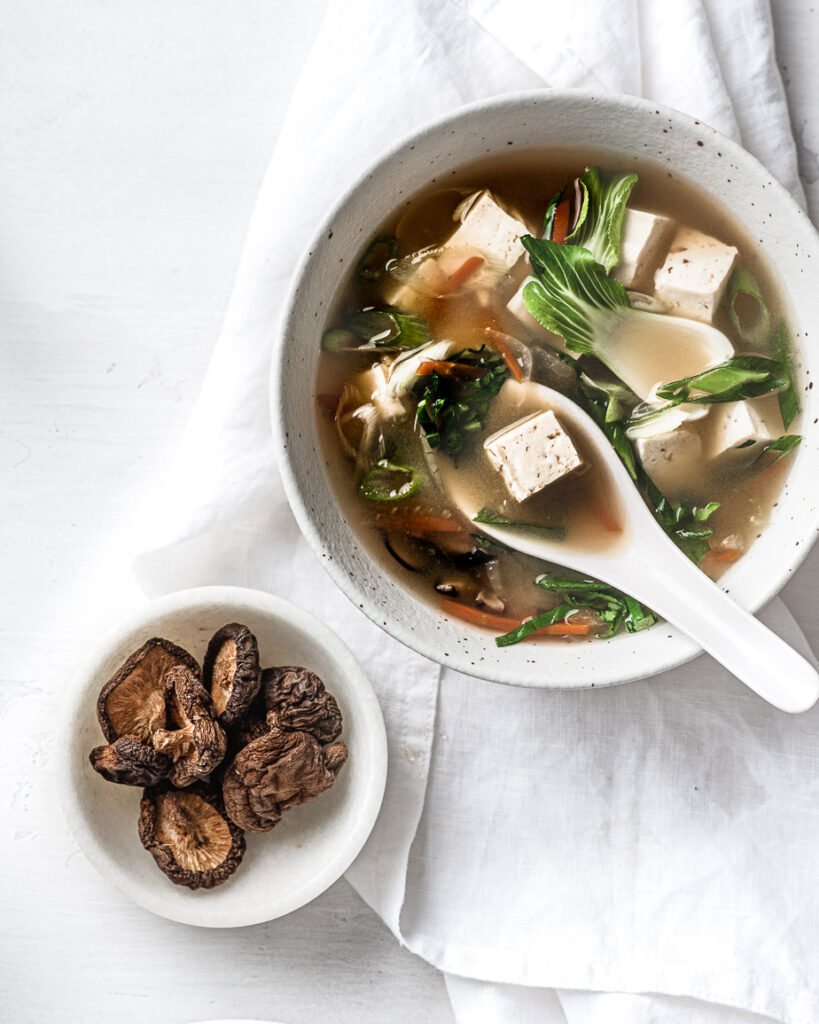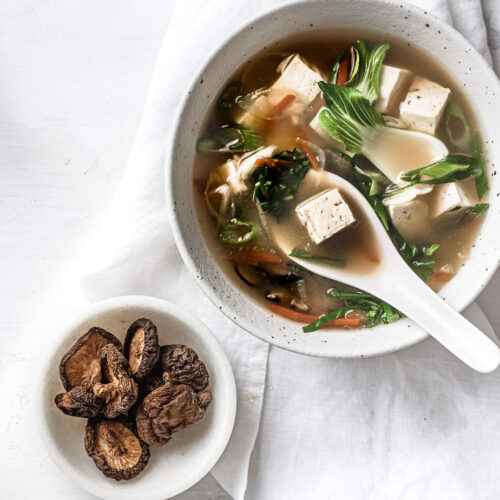 This is my version of miso soup! You can put your own spin on it but this is an easy recipe to put together! Enjoy on its own or serve with warm brown rice. This soup can serve 4 to 6.
Ingredients
6

cups

water

1

(4-inch) piece dried kombu

6

dried shitake mushrooms

2

tablespoons

wakame

, optional

½

yellow onion

thinly sliced (paper thin!)

1

medium carrot

cut into matchsticks (julienned)

1

small bok choy

(pak choi), stem and leaves separated, and both finely chopped

½ to 1

(12-14 ounce) soft or medium soft block tofu (this is different than silken tofu), cut into ½ inch cubes

4

tablespoons

shiro or white miso

3

scallions or green onion

thinly sliced

Tamari or soy sauce to taste

optional
Instructions
Place 6 cups of water in a medium pot. Place the kombu and the dried shitakes in the pot and let soak for 30 minutes to 1 hour (longer if you have time).

If using wakame, soak in a small bowl of water for about 5 minutes to rehydrate. Drain and set aside.

Remove the shitake from the pot and set aside. Bring the water to a rapid simmer. Thinly slice the shitake.

Once the water (or now our dashi) is just about to boil, reduce to a simmer and remove the kombu and discard or compost (or reuse in another recipe). Add the sliced shitake, onion, carrot, sliced bok choy stems (not the leaves), and the cubed tofu to the pot. If you like a lot of tofu in your miso soup (as we do) add the full block. If this is your first time making miso soup, start with half a block or you can omit the tofu altogether for a lighter version.

Simmer the veggies and tofu for 8 minutes or until very tender then turn the heat off and stir in the bok choy leaves and rehydrated wakame.

Remove about ½ cup of the broth from the pot and place in a bowl with the miso. Mix together until the miso dissolves and a loose paste forms. Stir the miso back into the pot. The soup should turn cloudy and no chunks of miso visible.

Ladle the miso soup into bowls and top with sliced scallions. Add a drop or two of tamari or soy sauce to season.
Notes
If oil is in your diet, a little drop of toasted sesame oil can be a nice addition to this miso soup. 
If you use fresh shitake mushrooms instead of dried, slice them and add them to the simmering broth with the rest of the veggies in Step 3.
What Else Can You Make With Miso?
The Plant-Based Cookbook Now Available!
It's out and available for purchase! Miso is an ingredient I love to use in this book! Think Miso Mushroom Gravy, Tofu Ricotta, and Winter Squash and Miso Stew! Purchase here.