About This Tempeh BLT Sandwich
The sandwich you never knew you needed. This vegan tempeh BLT sandwich, known as a TLT (tempeh, lettuce, and tomato) in my house, is about to blow your mind!
This recipe came as a request from my husband, Bernard, because he loves sandwiches and I have resisted them.
Why? I do not know.
I guess it's the memory of mayo smeared, processed meat filled, white bread sandwiches of my adolescence that kept me away from this staple cuisine.
Because after all, the healthy sandwich options are endless these days! In the same way you can load a salad with all kinds of veggies, you can also stack a sandwich with all kinds of healthy goodies.
BREAD. This vegan BLT sandwich starts with whole grain bread. If gluten is in your diet, go for something made with whole grain flours, nuts, seeds, and without added preservatives or oils. Sourdough, whole wheat, spelt, sprouted, or buckwheat breads will all work wonderfully. Your local bakery is a great place to start. Sprouted breads like Ezekiel are always a convenient option. 
If you are gluten-free, again aim for a whole grain bread (not a commercial gluten-free bread – these are usually loaded with extra fat, sugar, starch, and refined flours). I have made this vegan BLT combo on the Amazing Multigrain Bread and Mini Buckwheat Bagels from The Plant-Based Cookbook (both of which are gluten-free) but you can also layer these ingredients in a lettuce wrap, brown rice wrap, raw flax or coconut wrap, or even on top of some warm brown rice. Mmmmm!
TEMPEH – Tempeh is made from whole soybeans that are fermented and packed in to a square or rectangle. Tempeh is high in protein, fibre, and iron (see below!) and my favourite way to enjoy soy beans. In this tempeh BLT sandwich, the tempeh is marinated in a smoky, salty mixture that gives it a real "meaty" taste.
CASHEW SOUR CREAM – The secret sauce (literally) in my vegan tempeh BLT is that I use a homemade, cashew-based sour cream instead of mayonnaise. I love that vegan mayo exists, always great to have vegan alternatives, but I generally steer clear as they're made with heaps of processed oil. The cashew sour cream recipe is here and takes minutes to make.
It is a must-have for our household. 
LETTUCE and TOMATO – Two staples for a BLT sandwich. I suggest buying the freshest versions of both that you can find.
AVOCADO – Adds extra creamy texture and avocado is good on almost everything!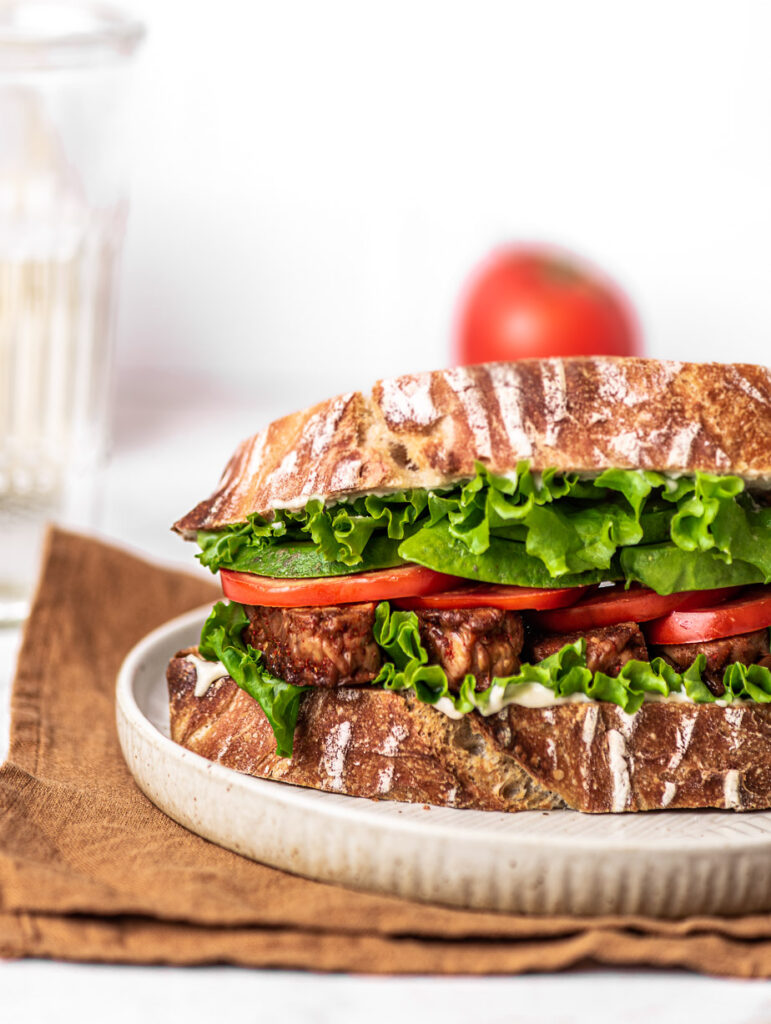 How To Make This Tempeh BLT Sandwich
First you marinate the tempeh in a sweet and smoky mixture of tamari (or soy sauce), smoked paprika, maple syrup, and cumin. 
Make the cashew sour cream!
Next you pan "fry" the tempeh in a non-stick sauté pan until the slices of tempeh start to brown. 
Finally, assemble your sandwich! I like to do a sequence of bread-lettuce-avocado-tempeh-tomato-lettuce with a light smear of cashew sour cream on both slices of bread. It's up to you if you like to toast your bread for extra texture!
A non-stick sauté pan makes cooking the tempeh without oil super easy. 
If you don't have a non-stick pan, you can either bake the tempeh at 400ºF for 20 to 25 minutes or you can cook it in a regular sauté pan either with a tiny bit of oil or with water, adding more water as needed to keep the tempeh from burning or sticking. 
Tempeh is the star of this vegan tempeh BLT sandwich. 
Tempeh is a whole food! It's made with whole, fermented soybeans. The fermentation means that tempeh offers probiotics and is easier to digest.  
If you're new to tempeh, don't worry, it's not scary, weird, or gross. It's easy to handle, slice, and dice and really is a nutritional powerhouse offering (see below!).
My favourite brand of tempeh is Lightlife Original. The flax and multi-grain versions are also delish!


TEMPEH
One 3 ounce serving has:
18 grams of protein, 6 grams of fibre, and 2 mg of iron
Tips, Tricks & Variations
Get all your tempeh BLT sandwich fixins ready and waiting and then cook the tempeh and assemble the sandwich while the tempeh is hot. 
Make the cashew sour cream first or the day before to speed up the process. 
Feel free to add sliced cucumbers, jalapeños, pickles, or any veggie you love on a sandwich. As I mentioned earlier, you can also layer all the BLT ingredients in a wrap or on top of warm grains. 
What you can do with leftovers?
The marinated tempeh will last up to 5 days in the fridge (after it's cooked) and can be added to any salad or paired with steamed vegetables. 
There you have it! Happy tempeh BLT sandwich making!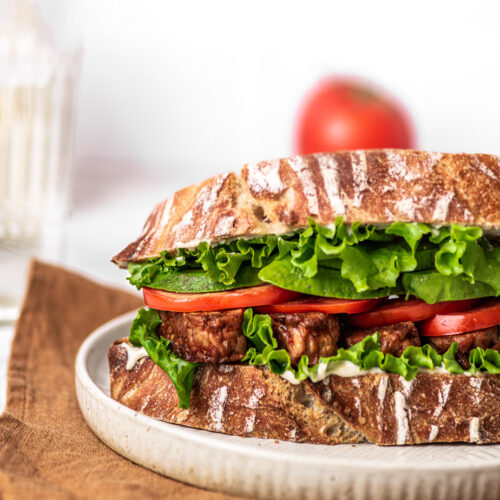 Vegan Tempeh BLT Sandwich
A delicious sandwich layered with creamy avocado, smokey tempeh, crisp lettuce, and tangy cashew sour cream! Makes 2 to 4 sandwiches.
Ingredients
Tempeh
1

(8 ounce) package tempeh

2

tablespoons

tamari

low sodium if desired (or soy sauce)

1

tablespoon

maple syrup

¾

teaspoon

smoked paprika

¼

teaspoon

ground cumin
Sandwich
Cashew Sour Cream

(link to recipe in notes)

1

beefsteak tomato

thinly sliced

1

head leafy green lettuce

, leaves washed and spun dry (or whatever lettuce is freshest!)

1

avocado

thinly sliced

Bread of choice (sourdough, sprouted, gluten-free)

, optional to toast
Instructions
Cut the tempeh into ½ - ¾ inch tick slices set aside.

In a shallow dish or container, mix together the tamari, maple syrup, smoked paprika, and cumin. Lay the tempeh slices in the marinade and let marinate for 15 minutes, flipping halfway through. The tempeh should soak up all of the marinade.

Heat a large nonstick sauté pan over medium heat. Lay the marinated tempeh in a single layer in the pan and cook each side for 2 or 3 minutes or until browned and heated throughout. Set aside.

Now assemble your sammy! Toast the bread if desired, add a smear of sour cream to each slice of bread, then layer one slice of bread with lettuce, avocado slices, tempeh, tomato, lettuce and then top with the other slice of bread. Chow down!
Notes
Cashew sour cream really makes this vegan tempeh BLT special. This is my recipe!
You can use vegan mayo as well, if this is in your diet.