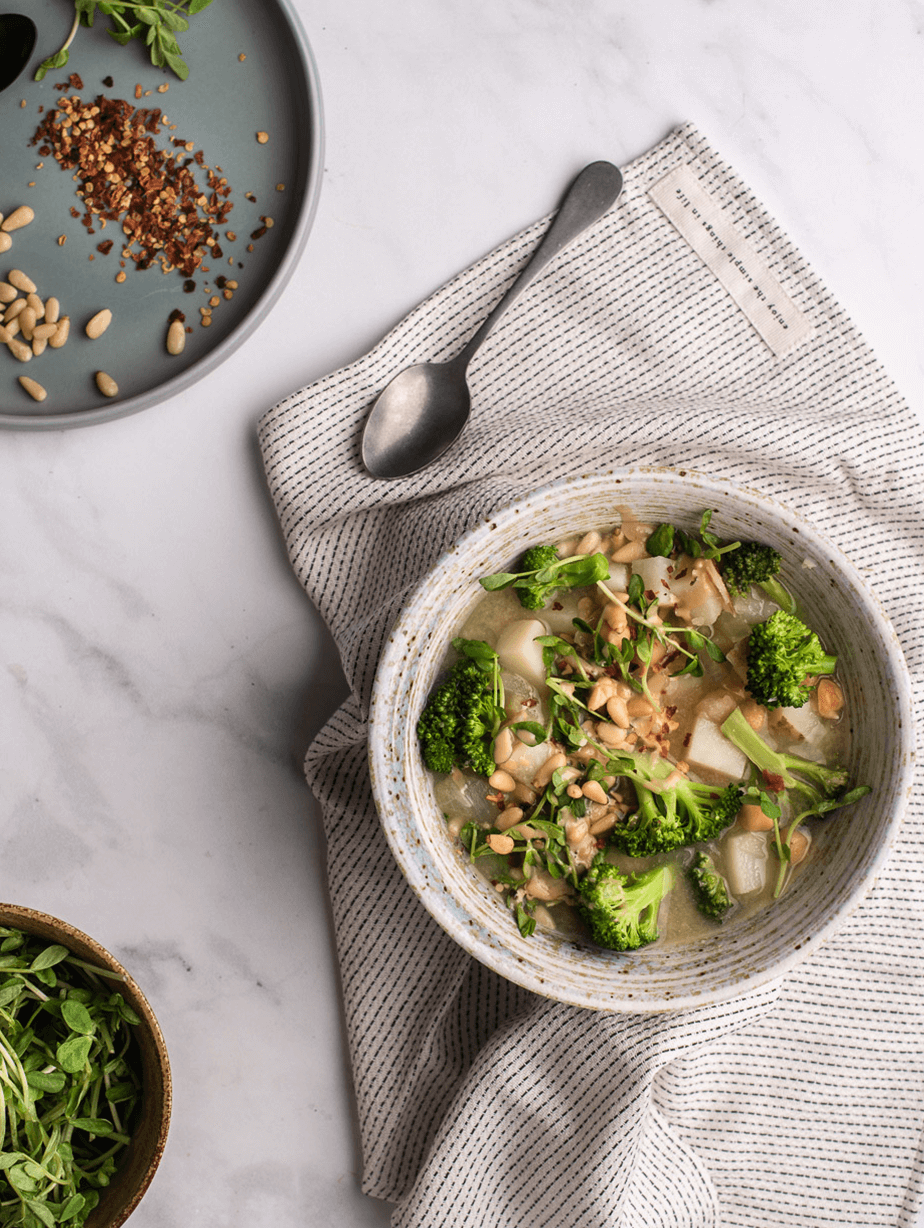 You know when a period of time seems long but also short? 
It feels like 5 weeks or maybe 5 years?
That's what the last month has been like for me. From Canada to Taiwan. From hotels to new apartments. I've been furniture shopping, grocery store browsing, new city acclimatizing. 
It's been so exciting but it's also been REAL. The kind of real where if you talk about it while you're going through it you might just lose your shit. That kind of real. 
Moving to a new city is fun and frustrating. The first couple weeks were like vacation – eating out, going for drinks, browsing all the Zaras (side note, the Zaras and H&Ms here are immaculate, no mounds of unorganized clothes anywhere).
But then….
…then you have to figure out how to apply for residency status, you get sick and have to find a hospital on a Saturday morning when the English department is closed (happened),  you get bills you can't read or understand, the time difference gives you barely a couple of hours to get in touch with everyone you love on the other side of the world. 
It snowballs….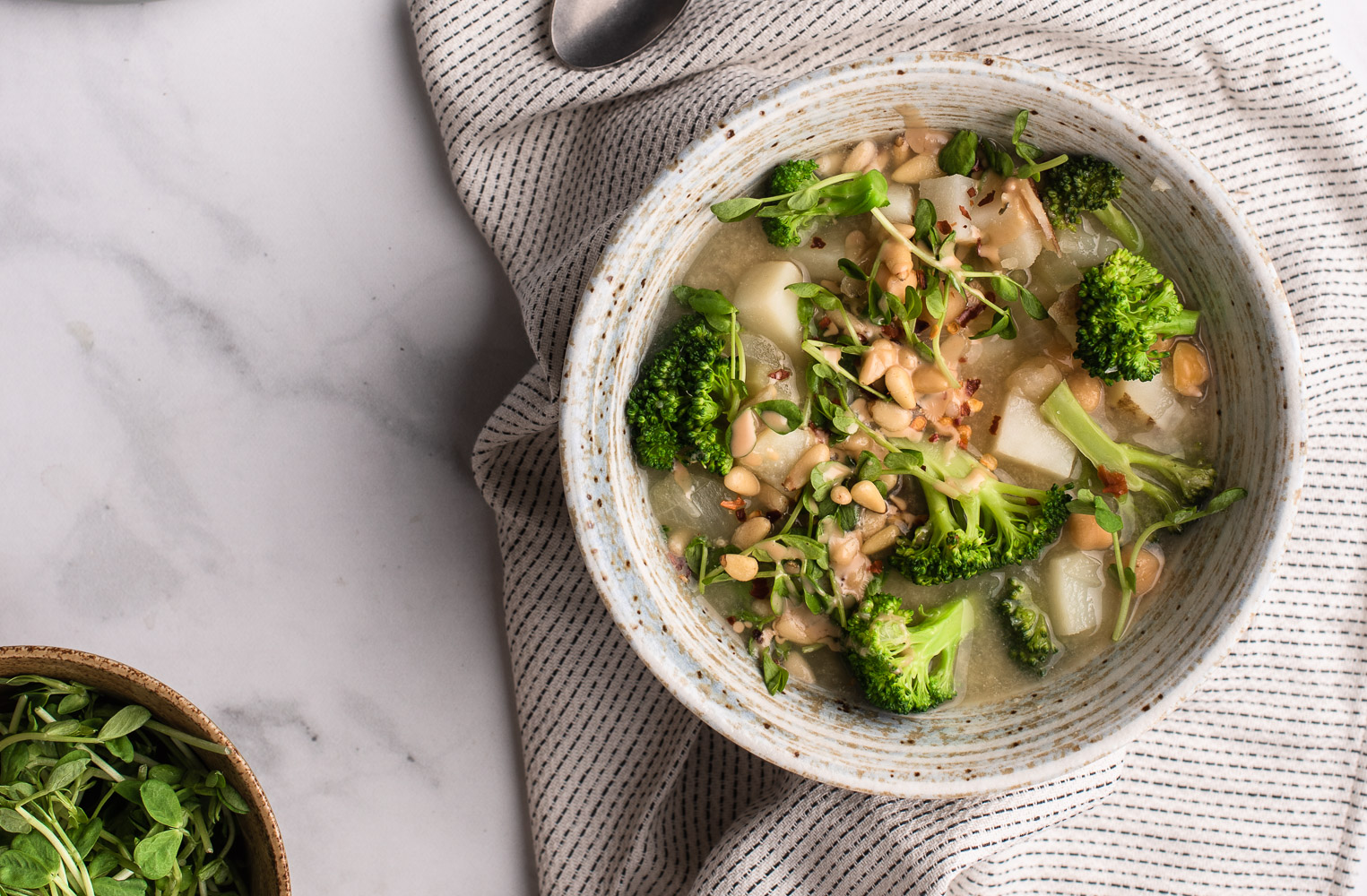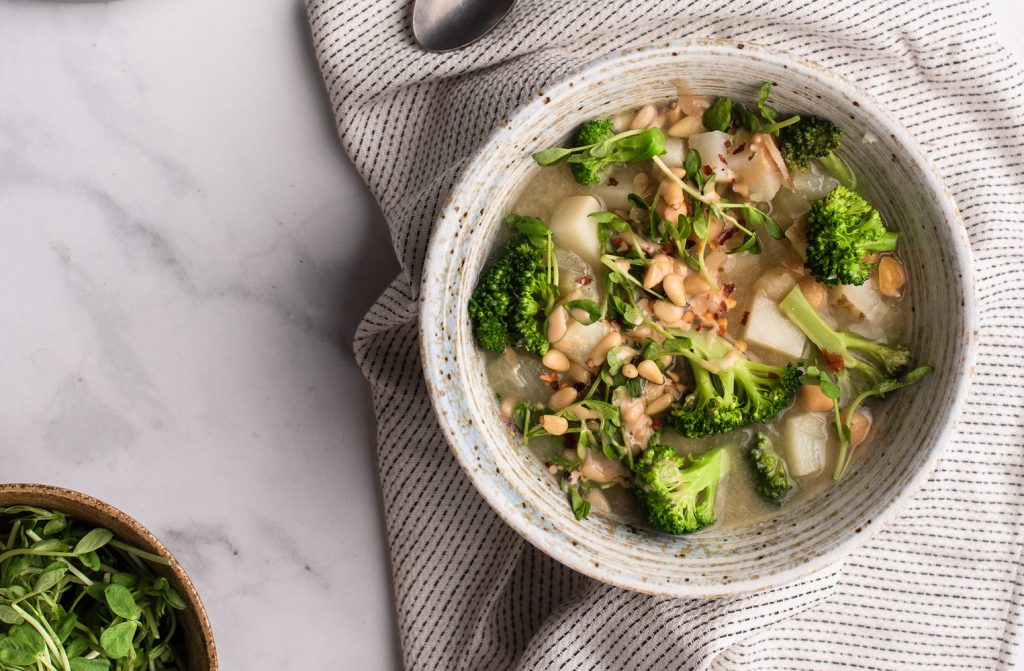 But things move forward and you move through it, but in the moment it's tough. 
So with a lot of red tape behind me, I'm officially a resident of Taiwan, we have an apartment in Taipei City, I've found grocery stores, vegan restaurants, yoga studios and oat-milk lattes. 
You know all the things that fill my soul. 
One massive thing is still missing – my kitchen equipment. 
Everything from measuring cups to food processors are still on their way. And while they're no longer in the middle of the ocean, they still aren't in my kitchen. 
My heart aches for my blender. Like actually. 
So in the meantime, we did purchase some stuff to hold us over. We bought one pot. 
One pot. 
I was smart enough to bring my knife kit and smaller kitchen tools like a vegetable peeler, a spatula and lemon squeezer (I actually packed these things!). I've been able to cook simple things. 
Everything I've cooked has been created and limited by my one-pot situation. 
And you know what? It hasn't been horrible! 
It's brought me back to the fundamentals of cooking and it's given me a new perspective on recipes that require minimal ingredients and basic equipment (knife and cutting board is all I'm working with!). 
At first I was pissed! Vitamix withdrawal for sure.
But then it got fun….my creative juices started flowing! So I have a few no-equipment-required recipes coming for sure.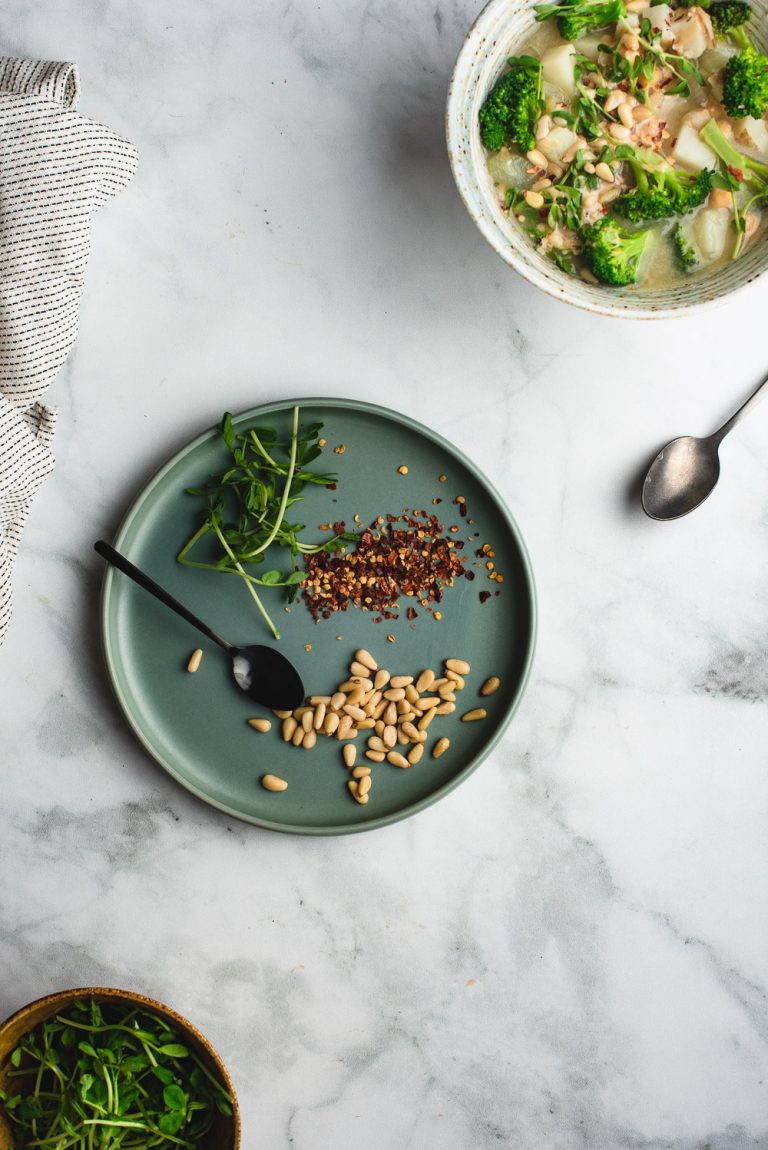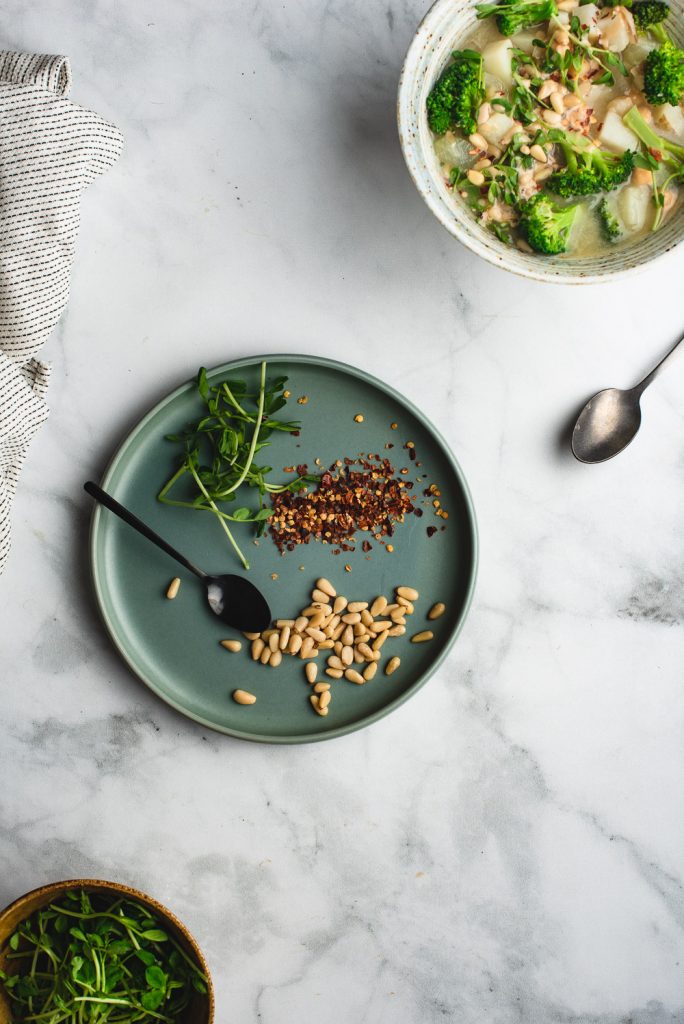 This vegan Broccoli Miso Soup was inspired by local miso I picked up (the grocery stores here have more miso varieties than I've ever seen!). 
Oh and, of course, the one pot business.
Also I made this soup on a cold night – by cold I mean 15ºC, which by Canadian standards is borderline summer.  
Blogged while eating passion fruit and sipping coffee and listening to the Washington Post podcast. 
Recipe Hack: If you have a blender, I'm jealous but also you can blend this soup or a portion of the soup to make it creamier. 
New things: As you can imagine, so much is new here. I'm experiencing new on a daily basis. But there are a few things that stand out. I've been in my first earthquake (and I survived my panic attack), had my first hot pot and celebrated my first Chinese New Year. It's been a big month!
Happy to be back, hope you're ready for some new healthy plant-based creations from yours truly!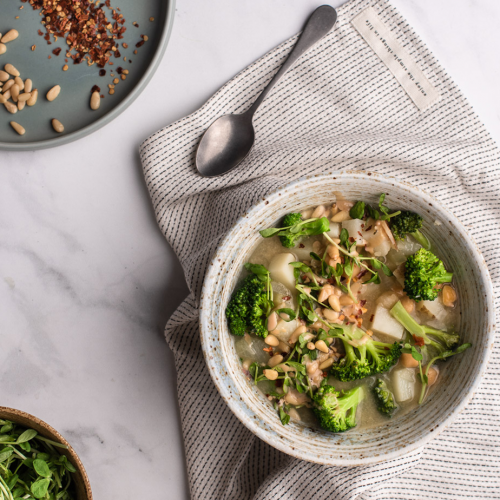 This vegan Broccoli Miso Soup was inspired by local miso I picked up!
Ingredients
1

yellow onion

small diced

3

stalks celery

small diced

4

cloves

garlic

minced

¾

teaspoon

dried thyme

½

teaspoon

red pepper flakes

4

cups

medium diced red potatoes

about 2 medium-large potatoes

6

cups

vegetable broth

low sodium

4

cups

small broccoli florets

~ one broccoli head

1½

cups

cooked or canned chickpeas

2

tablespoons

white miso

3

tablespoons

nutritional yeast

2

tablespoons

tahini

2

tablespoons

lemon juice

salt and pepper to taste

garnish: any nut/seed

microgreens or baby greens, red pepper flakes
Instructions
Add the chopped onion and celery to a 4-quart pot with 3-4 tablespoons of water and cook on medium heat, stirring, until the onions have softened (about 5-7 minutes).

Add the garlic, thyme, and red pepper flakes and cook for another minute until fragrant.

Add the potato and broth and bring to a boil. Once boiling, reduce to a simmer and partially cover the pot. Simmer for 15-20 minutes or until the potatoes are just tender.

While the potatoes are cooking add the miso, nutritional yeast, tahini and lemon juice to a small-medium sized glass bowl. Add ¼ cup of the broth from the pot and whisk together until no lumps remain and the mixture is smooth. Set aside.

When the potatoes are just about tender add the broccoli and chickpeas to the pot and continue to simmer with the cover off for about 3-4 minutes or until the broccoli is bright green and tender. Then add in the miso/broth mixture and stir to combine. The soup will lighten in color. Here you could also blend half the soup to get a thicker consistency. Taste and re-season.

Divide the soup into bowls and garnish with nuts or seeds, more red pepper flakes, and baby greens. Add hot sauce if you like it hot!
Notes
Switch up the potato for sweet potato or the broccoli for cauliflower!