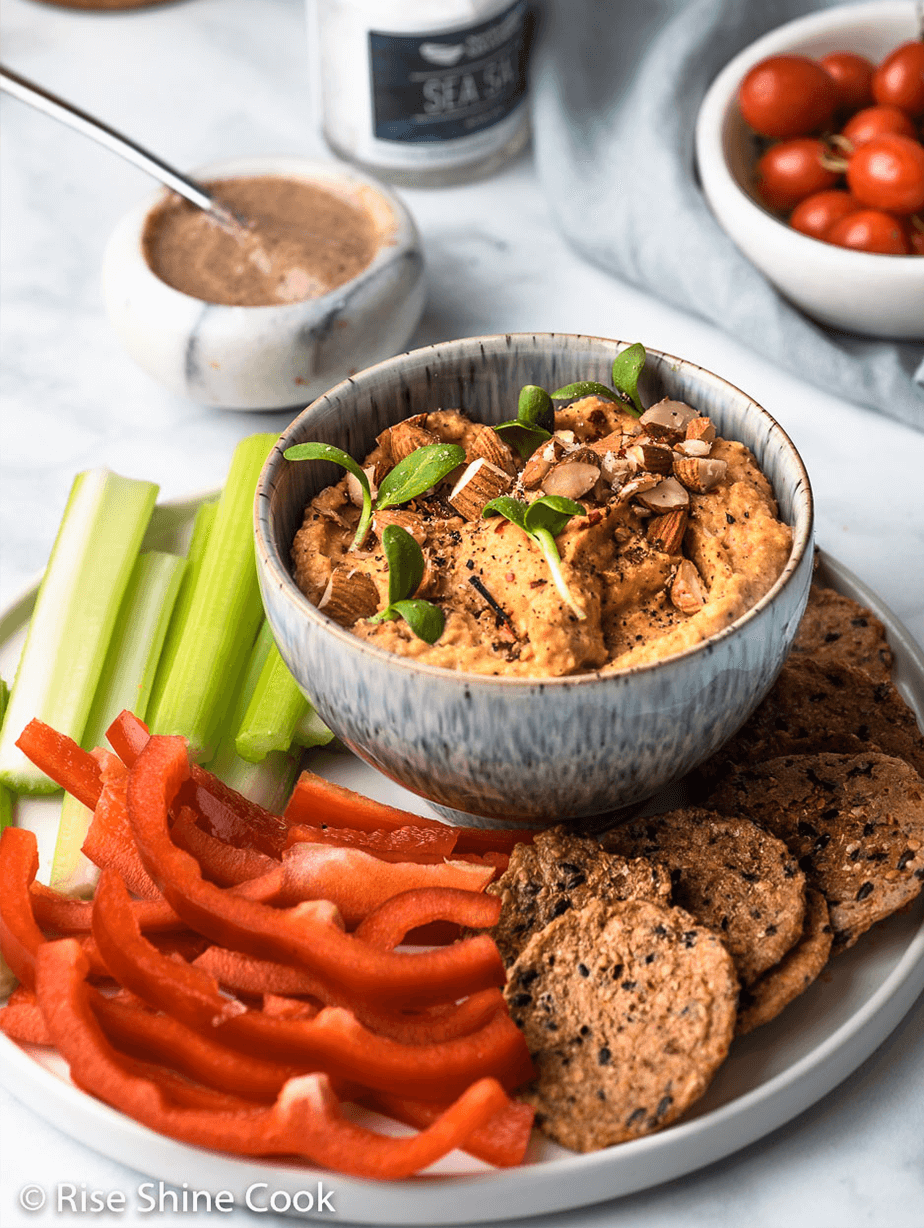 Summon your inner Rachel Ray (or if you're the angry kind of chef, Gordon Ramsay) because I have a hummus blueprint/guide that will help you come up with your own healthy hummus creations without too much fuss!
My latest version is an oil-free Roasted Carrot Hummus with a little kick and a lotttt of flavor. It was the first thing I wanted to make when I had the chance!
See I've recently been reunited with my kitchen gear that I shipped from Canada. I pretty much hugged my Vitamix! I actually kissed it. Here's proof!
After whipping up some almond milk and then making myself a latte with said almond milk (nothing better than a homemade almond milk latte!), I then turned to my food processor, and she knew what was coming…..homemade hummus!
Because homemade hummus is so easy and delicious but also because I like to make mine oil-free (I suggest you try it too!) and it's hard to find that in stores! 
I also like to get a little cray with my hummus.  
Spirulina, green peas, goji berries…I've added it all.  This roasted carrot hummus might be my favorite yet (but I tell that to all my hummus, hummuses, hummus' ….?).
Today however I want to give you the freedom to get your creative juices flowing so you can come up with your own hummus masterpiece. I've never done this before but I realize it only makes sense!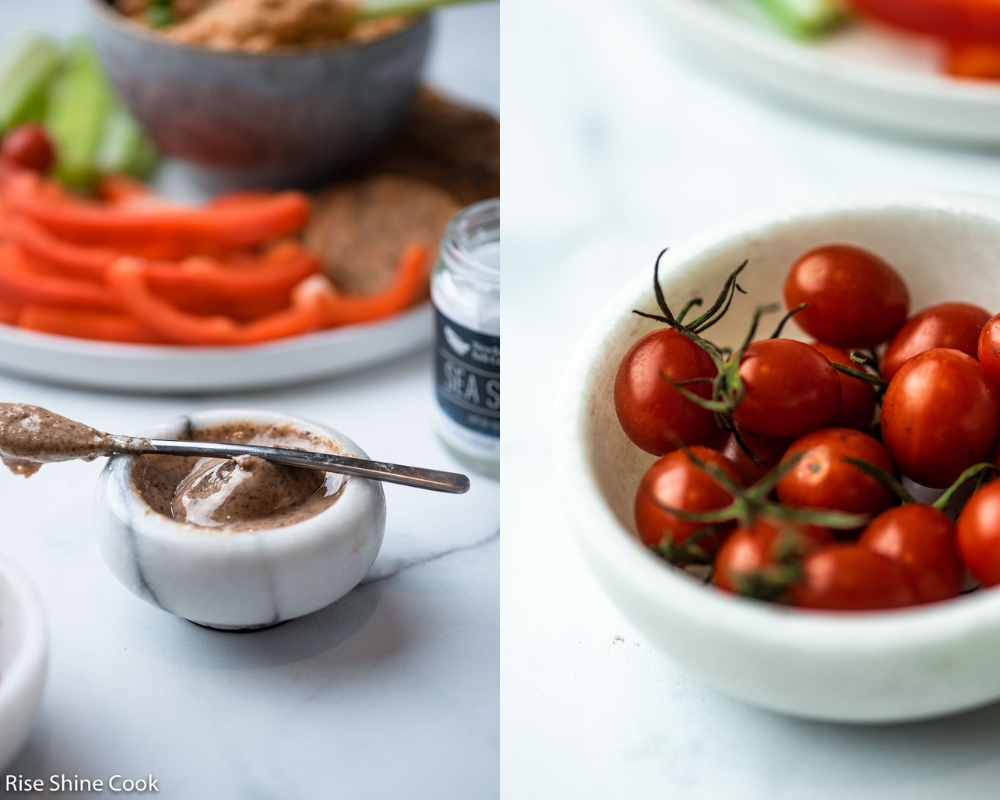 Below you'll find the recipe for this oil-free roasted carrot hummus but you'll also find a hummus 'blueprint'- a guide to help put some variety and flexibility into your own version. 
Blogged while waiting for quinoa to cool so I can make oil-free 
Quinoa Tabbouli
! I plan on stuffing it in some roasted red peppers and topping with avocado! YASSSS!
Recipe Recycle: Slather this roasted carrot hummus on warm pita and top with some arugula or mash with boiled potatoes!
What's new? Taipei is still so foreign, but I'm in somewhat of a routine…meaning I cook every day and sleep in the same bed every night!
Currently Reading: 
Happiness Now by Robert Holden
. I am a self-help book junkie. I can say with complete certainty that self-help literature has helped my personal growth more than anything else I've encountered (therapists included). I am always reading something to help me stay present, grateful or inspired. I go into a bookstore for two things: cookbooks and self help. And the pretty, overpriced decor of course.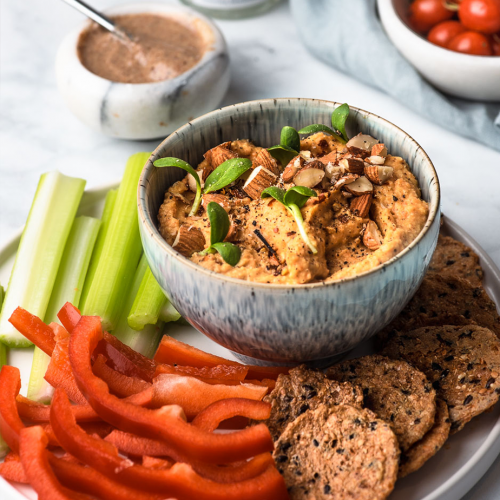 Spicy Roasted Carrot Hummus
 oil-free Roasted Carrot Hummus with a little kick and a lotttt of flavor. 
Ingredients
1½

cups

cooked or canned chickpeas

3

tablespoons

nut butter or seed butter of choice

2

tablespoons

lemon juice

2

garlic cloves

minced

½

teaspoon

cumin*

½

teaspoon

salt

Optional:

1

cup

of any roasted or steamed root vegetable

beet, sweet potato, carrot, squash
Instructions
Add all ingredients to a food processor, starting with ¼ cup water, and process until smooth. Add more water as needed to reach desired consistency. If you add the additional roasted or steamed veggies, be sure to wait until they are cool before adding. You will also need additional water or chickpea cooking liquid as well as more salt if you add the extra veg. Tada!
Notes
Nut/seed butter suggestions: tahini, almond butter, cashew butter, sesame butter, black tahini, cashew butter
* Add 2 or 3 different spices if you wish (red pepper flakes, coriander, oregano, basil, turmeric are great options) but I think sticking with cumin is a safe choice.