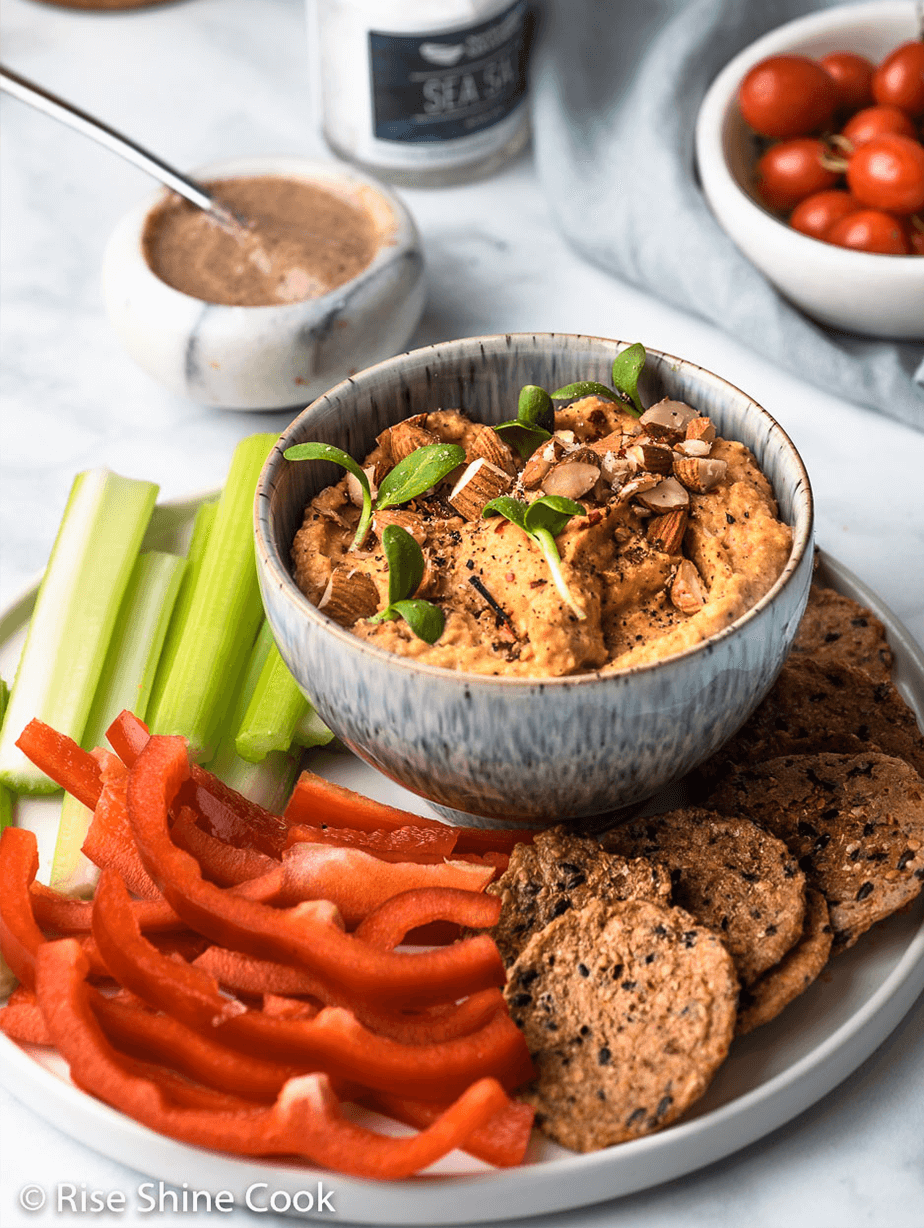 I also like to get a little cray with my hummus. My latest version is an oil-free Roasted Carrot Hummus with a little kick and a lotttt of flavor. 
Homemade hummus is so easy and delicious and store bought brands aren't even comparable!  Spirulina, green peas, goji berries…I've added it all.  This roasted carrot hummus might be my favorite yet (but I tell that to all my hummus, hummuses, hummus' ….?).
It's easy and worth the effort! I hope you enjoy!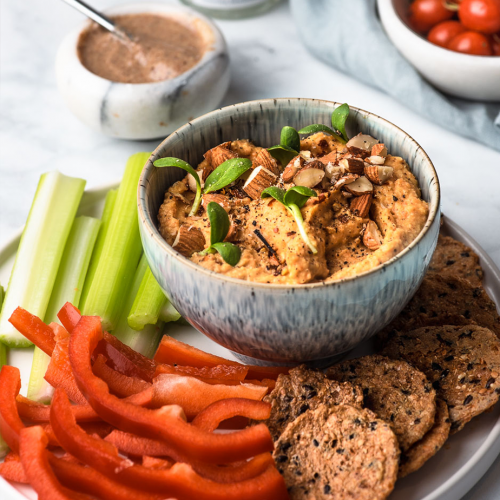 Spicy Roasted Carrot Hummus
Oil-Free Roasted Carrot Hummus with a little kick and a lotttt of flavor. 
Ingredients
4

garlic cloves,

peel on

1

large carrot,

sliced into ½ inch rounds (1 heaping cup sliced rounds)

1½

cups

cooked or canned chickpeas

drained and rinsed

3

tablespoons

almond butter,

sunflower seed butter, or tahini

2

tablespoons

lemon juice

¾

teaspoon

ground cumin

½

teaspoon

ground coriander

¼

teaspoon

ground turmeric

½

teaspoon

red pepper flakes or

less for less spicy

½

teaspoon

sea salt

¼ - ½

cups

water or aquafaba

(chickpea cooking or canned liquid)
Instructions
Preheat the oven to 400ºF and line a baking sheet with parchment paper. Pierce the garlic cloves with a paring knife and lay them on the baking sheet. Spread the sliced carrots out on the baking sheet as well, sprinkle with lemon juice, and season generously with salt and pepper.

Once preheated, place the baking sheet in the oven. After 10-12 minutes, the garlic should be nice and browned, remove from the oven and leave the carrots in for another 10 minutes or until the edges begin to char and you can easily pierce with a fork. Let both the garlic and carrots cool.

Add the chickpeas, carrot, and garlic to a food processor and pulse 5-7 times until the carrots are broken up. Then add the nut or seed butter, lemon juice, spices and salt, and ¼ cup of water or aquafaba and process until your desired consistency is reached. Transfer to a bowl and garnish with seeds, sprouts, and/or extra red pepper flakes if you like it really spicy!