Dear Health Foodies, 
Do you ever wonder 'is it worth it?'
I mean vegan Double Chocolate Vegan Tarts sound heavenly, yes, but they challenged me. 


One failed attempt after another led me to some F-bombs (there is one lurking in here somewhere too, warning!) and got me thinking… 
…what's the point?
Does is it matter? Will anyone else appreciate it?
I have to confess that I get frustrated with failed culinary experiments. And there are many. 
So many. Three already this week. 
Choosing to create recipes that are plant-based, gluten-free and oil-free means I have to work harder and plan more to create delicious, doable recipes. 
Making a cookie would be so much easier if I just threw a bunch of sugar and fat at the recipe. 
But that's not my style. And it is not worth it for me!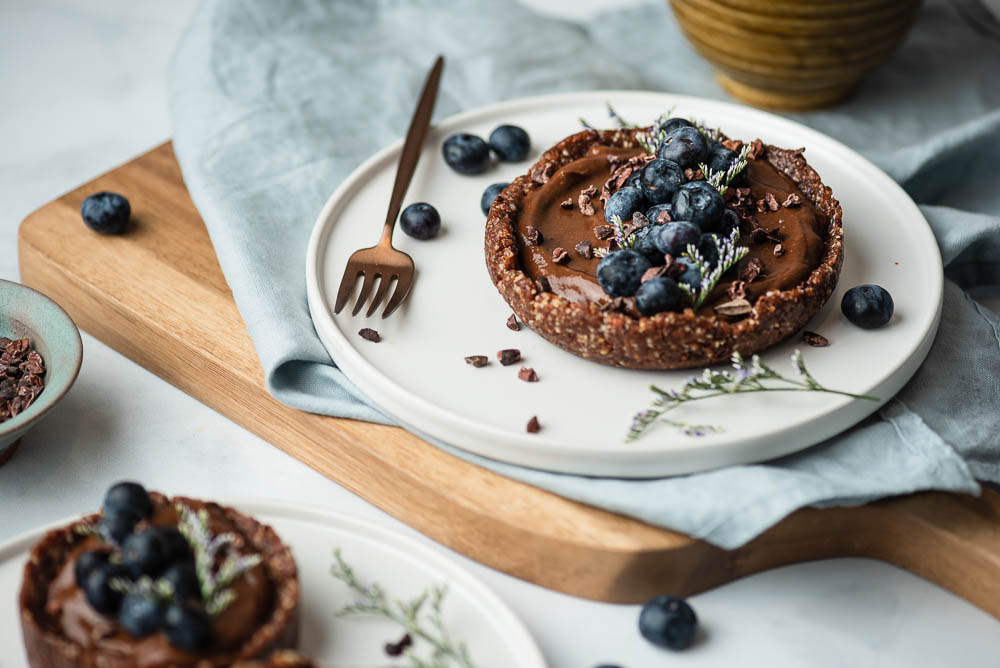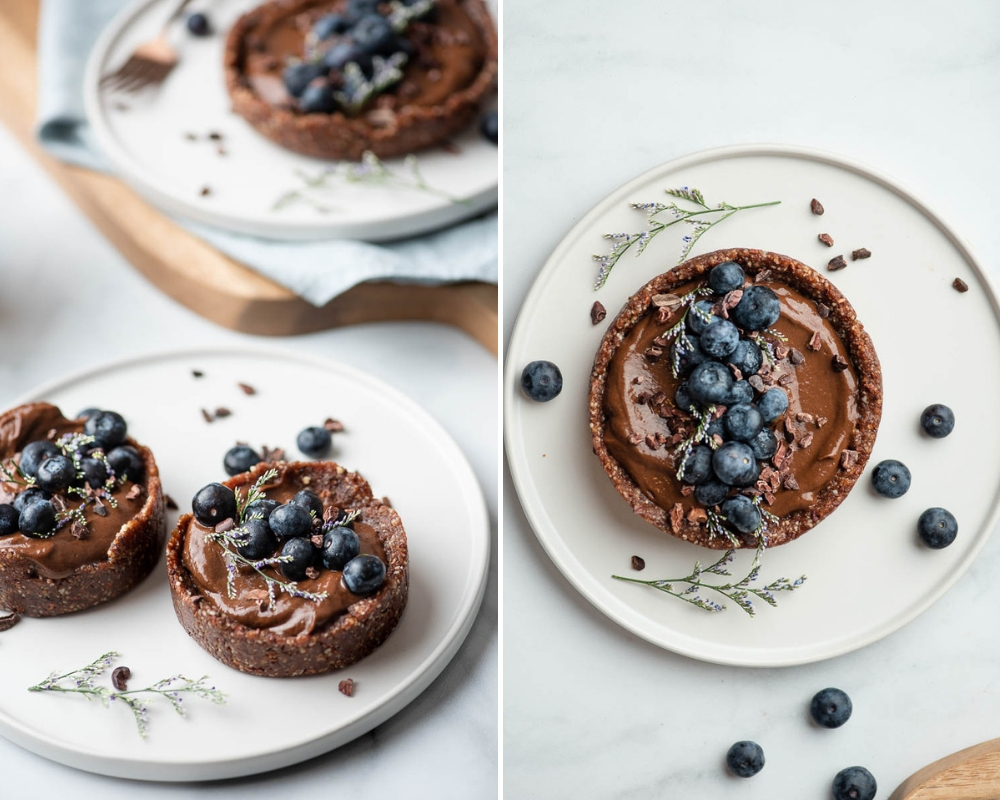 I scroll through Instagram and think about all the things I could make if only I used coconut oil, vegan butters or whipped cream. 
Things don't rise, or crisp, or stick together on the first (second, third) attempt.
I sometimes feel quit-ish….but just -ish.
Because then I remember why I went to culinary school, why I started sharing recipes, why I teach classes and wrote
The Plant-Based Cookbook
; to show people that whole food plant-based food is delicious, that you don't have to sacrifice dietary preferences or needs to have something that tastes incredible and looks amazing. That double chocolate vegan tarts are irresistible! 
It just takes some time experimenting or finding someone (a.k.a me) who will do the experimenting for you!
It ain't always easy and it takes a lot of effort, energy, and money.
But, ultimately, I'm up for the challenge even if there are periods of throwing my hands up in the air and wondering if I even care. 
And I do. I really really care. I'm thinking you might too.
I am genuinely moved by food that nourishes and satisfies. I am inspired by chefs and restaurants that go out of their way to use nutrient-dense, whole-food ingredients as opposed to the much more accessible and cheaper processed ones. 
I applaud all the people out there (You!) who make food for themselves and others with the intent of promoting vitality and health. 
And to all you out there, trying to eat a particular way because of disease or intolerance or experimenting with new ways of eating to see if it makes you feel better, I know sometimes it fucking sucks, but keep going. 
Taking care of yourself, even if it's against the grain, is worth it. And it's also ok to change what taking care of yourself looks like. Sometimes it's taking naps, sometimes it's eating all the Double Chocolate Vegan Tarts.
With all that said, let's get to these plant-based, gluten-free, oil-free,  Double Chocolate Vegan Tarts!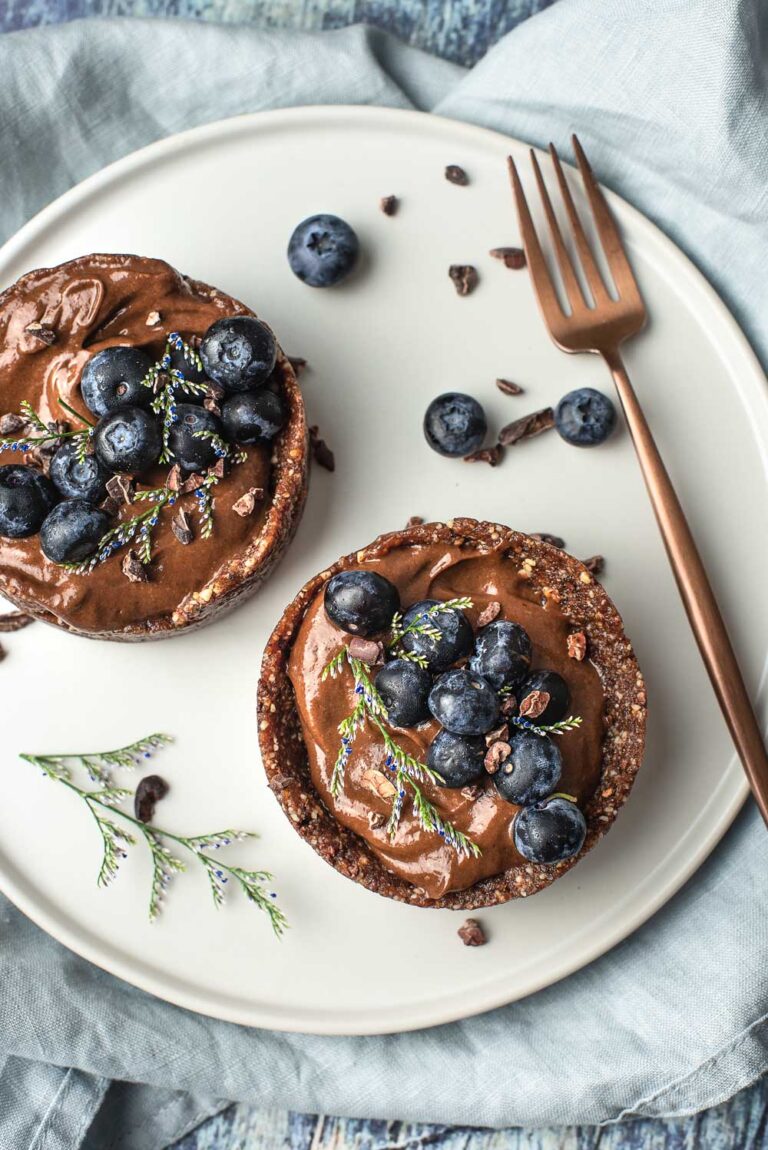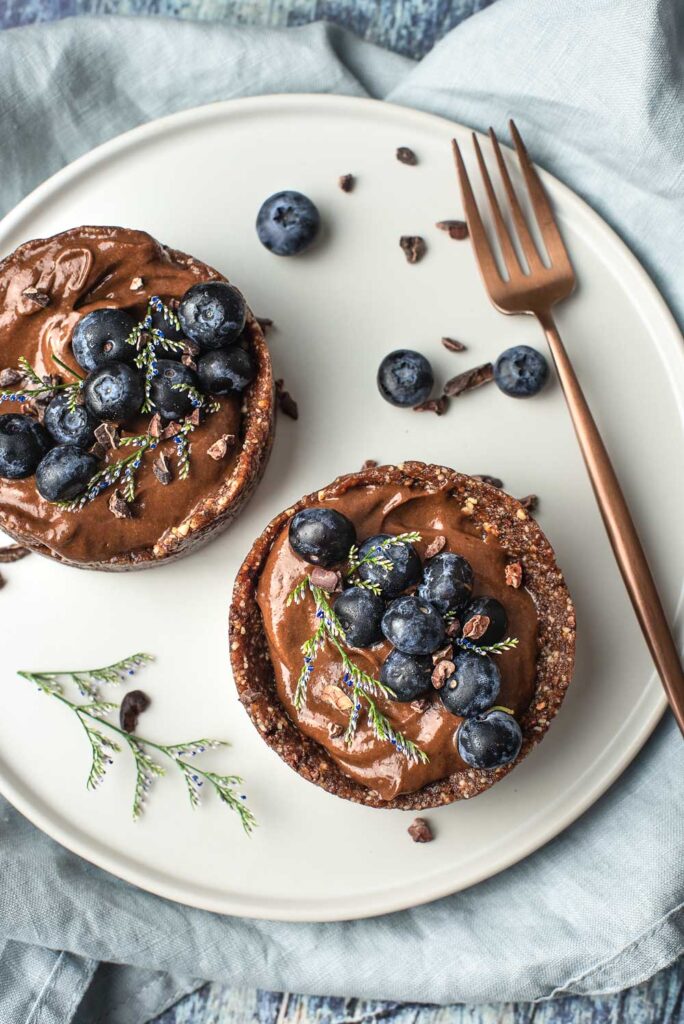 How To Make These Double Chocolate Vegan Tarts
As far as tarts go, this recipe is pretty easy with two parts: crust and filling. 
 It's rich and luxurious but also free from oil and processed sugar! It's made with nuts and avocados and sweetened with dates!
This tart is double chocolate because the crust and filling are both chocolate themed! Top it with some bright and flavourful fruit and you have yourself the most impressive and delicious dessert!
This took a few attempts. Like I said, sometimes I want to give up but I don't. And I'm so glad I didn't because this chocolatey tart is as tasty and pretty as any other. As a bonus, this one is full of fiber, healthy fats and antioxidants!
Happy double chocolate vegan tart making health foodies!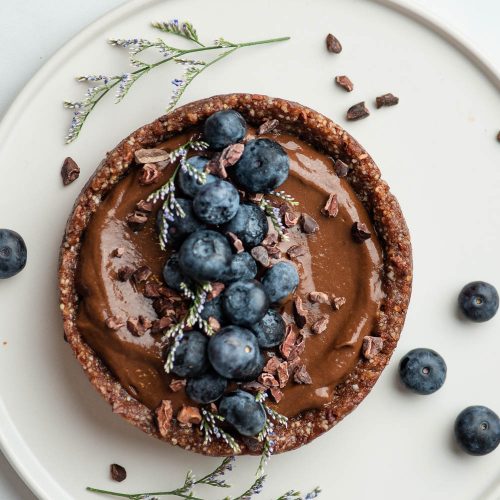 Double Chocolate Vegan Tarts (made with avocado)
Double Chocolate Vegan Tarts made with avocado and a nut-based crust! So dreamy and delicious!
Equipment
Tart Pans

Food Processor

Blender (ideally high-speed with plunger)
Ingredients
Crust
1

cup

almonds

¼

cup

cacao nibs

, optional

1

cup

Medjool dates

, pitted (~ 10 medjool dates)

1

teaspoon

pure vanilla extract

¼

teaspoon

cinnamon

¼

teaspoon

sea salt

1

tablespoon

almond milk

or soy milk
Filling
1

large ripe avocado

, peeled and pit removed

1

large overripe banana

(~ 1 cup mashed)

8

medjool dates

, pitted

¼

teaspoon

sea salt

¼

cup

almond milk

or soy milk

¼

cup

unsweetened cocoa powder
Garnish
Fresh Berries

Hemp Seeds

Cacao Nibs
Instructions
First, make the crust. Add all crust ingredients, except almond milk, to a food processor and pulse 7-10 times until the almonds are broken up. Then process on low until crumbly. Pour in the almond milk and continue to process until the mix starts clumping together. The mix should easily stick together when you squeeze it between your fingers. Transfer the crust to a bowl and set aside.

Line 4 (3-4 inch) tart pans or molds with either parchment paper or plastic wrap, making sure to line up the sides of the pans as well. This keeps the tarts from sticking. You can also use a 6 to 8-inch tart pan.

Divide the crust among the tarts and, one tart at a time, begin pressing the crust into the tart and working it a little bit up the sides. The crust should be no less than ½ inch thick.

If using an 8-inch tart pan, you might not have enough crust to work up the sides of the pan. This is ok. Just press the crust into the bottom of the pan.

Place the crusts-lined pans in the freezer for 20 minutes to set.

Next, make the mousse. Add all the mousse ingredients, except the cocoa powder, to a blender and blend on high until the mixture is combined but not smooth. Now add the cocoa powder and blend again until smooth.

Remove the crusts from the freezer. Remove the tart crusts from the pans/mold and gently peel the parchment or plastic wrap off the crusts and transfer to a serving plate. Fill each tart with the chocolate filling. Garnish with fresh berries, hemp seeds and cacao nibs, if using, and serve!
Notes
If not enjoying immediately, the tarts can be kept in the fridge before serving for about 1 hour. Otherwise, keep the tart shells in the freezer before assembling.
You can also make one big tart as opposed to 4 small ones. I recommend using a 6 to 8-inch tart pan. The bigger the tart pan, the thinner the crust will be.
If you have hard dates, you can soak them for 15 to 30 minutes in warm water.