Cappuccino overnight oats for you coffee-loving breakfast fanatics! MEEE!
Coffee is definitely not everyone's cup of tea (coffee..?) but, for me, coffee is more than a source of caffeine. 
I love coffee culture, coffee flavor, coffee mugs! Making my morning coffee is ritualistic, almost sacred. 
Another thing I love is breakfast. If I ever open my own restaurant or café it would without a doubt have to have a strong breakfast theme!
So here we go, these cappuccino overnight oats are a combination of my two favorite things!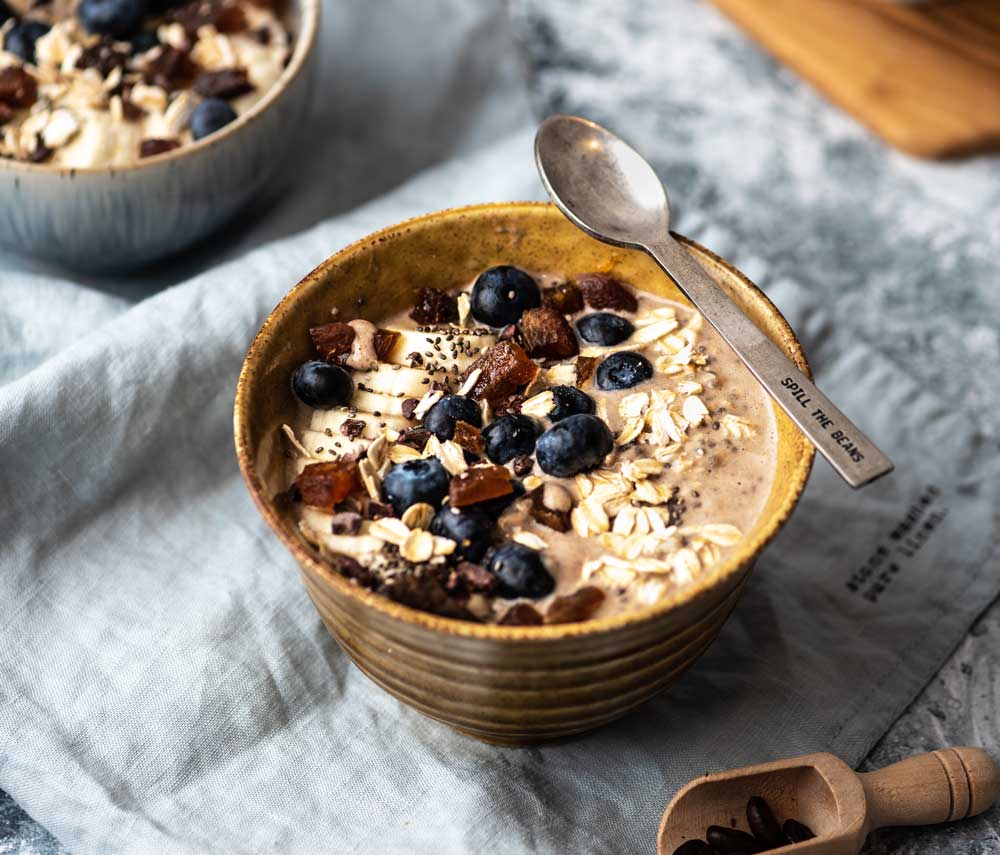 About this recipe: Make this the night before and let it sit in the fridge for at least 6 hours. Make sure you start with cooled coffee, otherwise the texture will be off. And don't skip on the fun toppings! I think dried apricots and blueberries go well with these flavors but feel free to add any nut, seed, fruit or "superfood" you like! I made these cappuccino overnight oats with some leftover coffee (strong coffee!) and a need for a quick, to-go breakfast the next day!
Blogged while watching Beyoncé's Homecoming on Netflix. I feel like this is one of those rare things that is actually worthy of being labeled EVERYTHING. 
Actually, I couldn't focus on anything but the show so I put this together afterward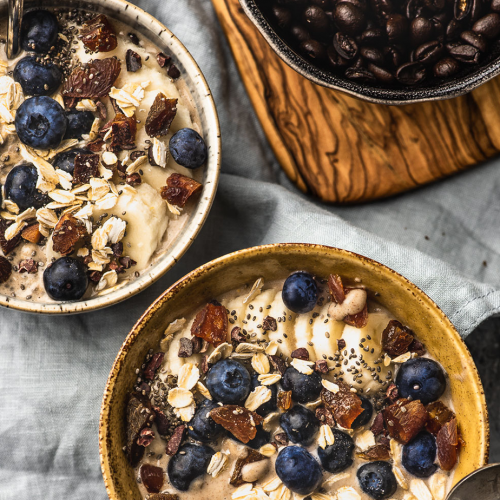 Cappuccino Overnight Oats
Cappuccino overnight oats for you coffee-loving breakfast fanatics! MEEE!
Ingredients
1/3

cup

cashews

soaked in water for 15 –30 minutes

6

Medjool dates

pitted

1

cup

strong coffee

1

cup

unsweetened almond or soy milk

1

teaspoon

vanilla extract

¼

teaspoon

cinnamon

Pinch

salt

1 ½

cups

rolled oats

2

tablespoons

chia seeds

Garnish: blueberries

chopped dried apricots, banana slices, cashews, cacao nibs
Instructions
Drain the cashews and add them and the dates, coffee, almond milk, cinnamon and salt to a blender and blend on high until smooth.

Transfer the blended mix to a large glass container. Add the oats and chia seeds and mix. Cover and refrigerate overnight. The next morning divide among bowls and garnish with sliced bananas, chopped apricots, berries, cashews and/or cacao nibs. Serve cold.
Notes
You can use decaf coffee if you're not into caffeine. If you want a thicker consistency, add ½ banana to the blended portion!