Trendy, versatile, magical! Chia seeds are like culinary unicorns! 
But I must add NUTRITIOUS to that list! 
This mango chia pudding is great for breakfast, a snack or dessert.
Let's get right to it….chia seeds are tiny black/white seeds (the same ones that grew our ch ch ch chia pets in the 90s). They are super special because of their nutritional profile – calcium, magnesium, protein, fiber, healthy fats – and also their ability to absorb 10-12 times their weight in water. 
When whole chia seeds are mixed with a liquid, they absorb that liquid and develop a gel-like consistency. This makes chia seeds perfect for making puddings (hence this Mango Chia Pudding) and great binding agents (similar to eggs) in baked goods.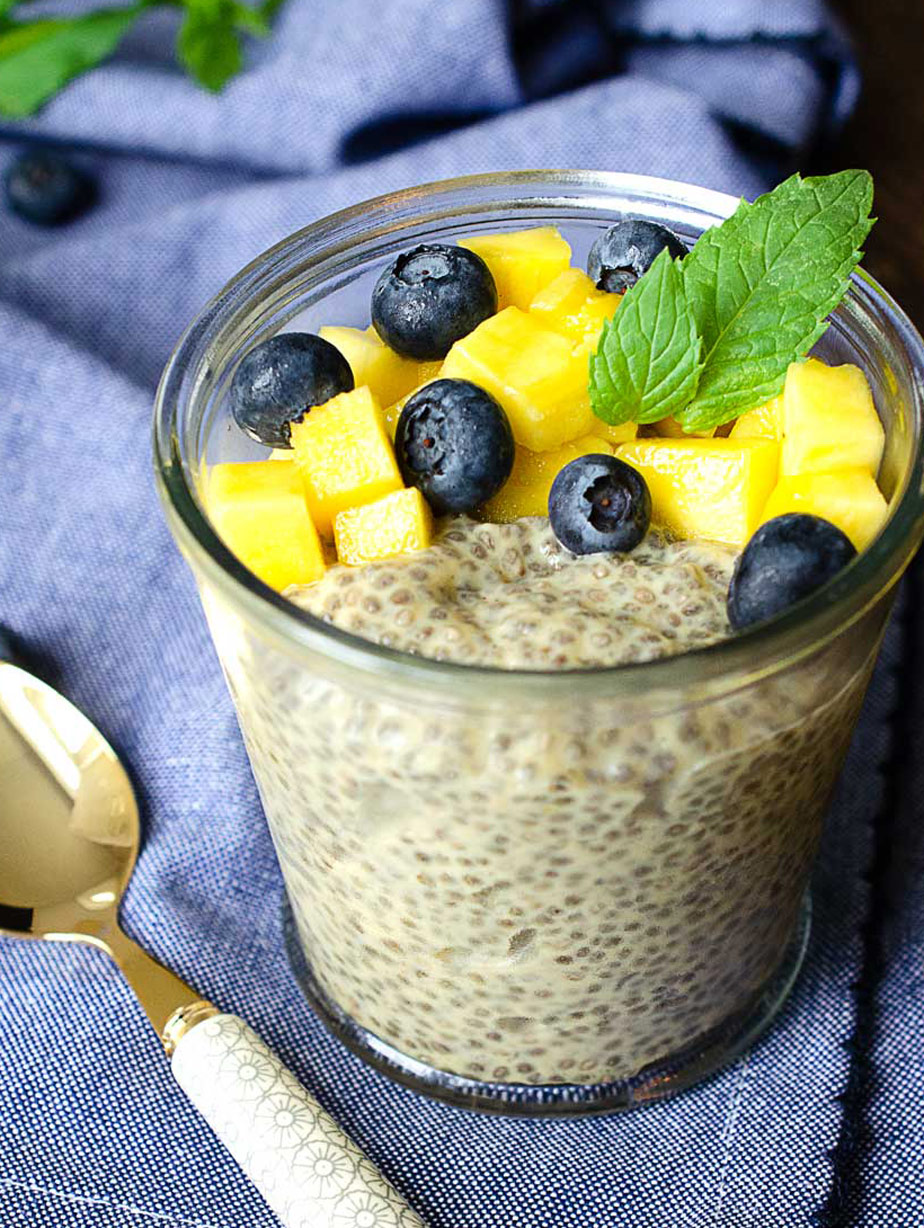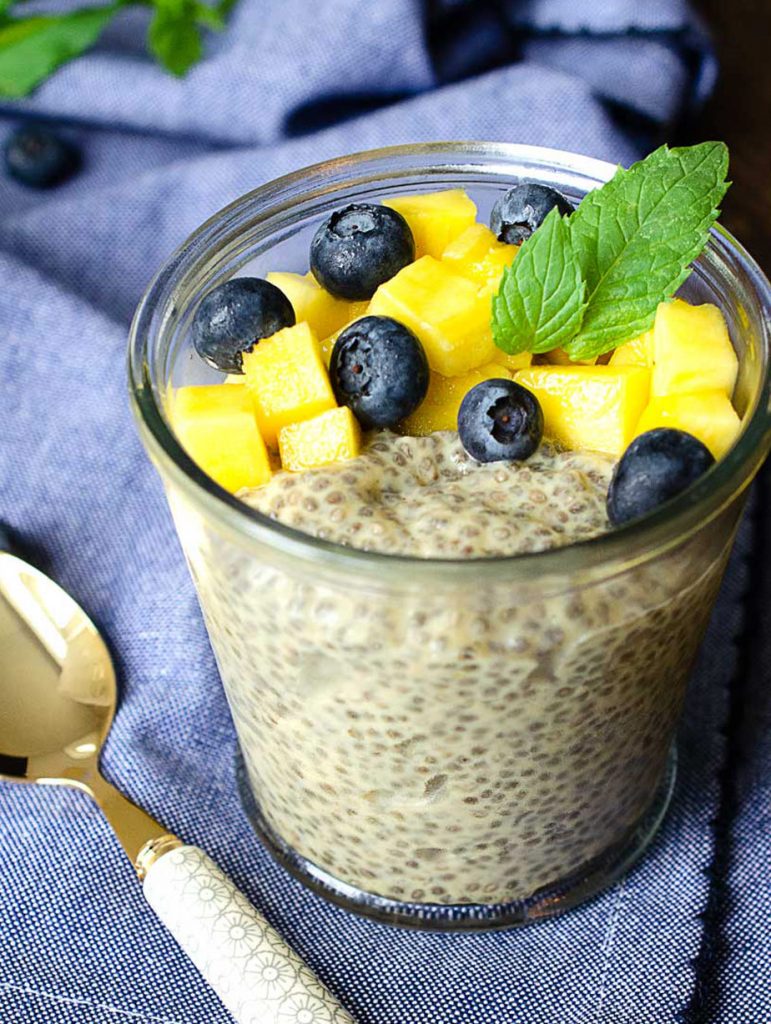 Not everyone feels the chia love though. Chia pudding texture is both creamy and crunchy and reminiscent of tapioca pudding. I like a creamier chia pudding while others like a firmer, thicker end product. This mango chia pudding is velvety and creamy!
Either way, there are some things to consider when making a chia pudding. 
My Chia Pudding 101 Guide!
Ratio
The milk/liquid to chia seeds ratio will determine the consistency of your chia pudding. This is a personal preference but my rule of thumb is about ¼ cup chia seeds for every 1 cup of liquid.
Fat
The creamy dreamy texture of a great chia pudding is achieved with some plant-based fat. This makes nut milk ideal for making chia pudding. Coconut milk and nut butters are also great for achieving a rich texture.
Flavor
…or flavor for our friends south of the border! After you've decided on your liquid, you get to choose your flavor! You can use fresh or frozen fruit, flavor extracts, powders like cocoa powder or matcha. I like to blend these things into the liquid portion. If plain is your jam, you don't need to add anything extra!
Sweetener
Also a matter of preference. My taste buds have changed over the years and now just a touch of sweetness is enough for me and I often leave my pudding unsweetened. However, there are many ways to achieve your own desired level of sweet! Try blending the following with the liquid portion:
Dried fruit like dates or raisins 
Fresh or frozen fruit
Maple syrup or agave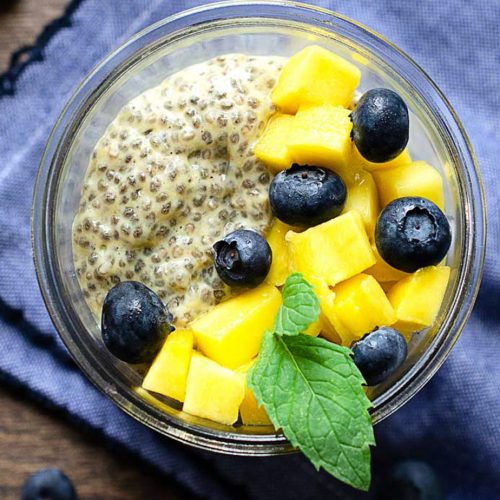 A creamy, easy, healthy snack or breakfast!
Ingredients
2

cups

unsweetened soy or almond milk

Homemade almond milk works great!

1

heaping cup frozen mango chunks

2-3

tablespoons

maple syrup

optional

¼

teaspoon

cinnamon

2

teaspoons

vanilla extract

¼

teaspoon

salt

½

cup

chia seeds
Instructions
Add all ingredients, except chia seeds, to a blender. Blend until smooth.

Add the blended mix to a medium glass bowl. Add the chia seeds, stir and refrigerate for at least 6 hours.
Notes
It's helpful to stir the chia seeds again after about an hour, if possible.
If you want an extra creamy texture, you can add ¼ cup cashews (soaked in water for 2 hours then drained) to the blender as well.
This will keep in the fridge for up to three days.