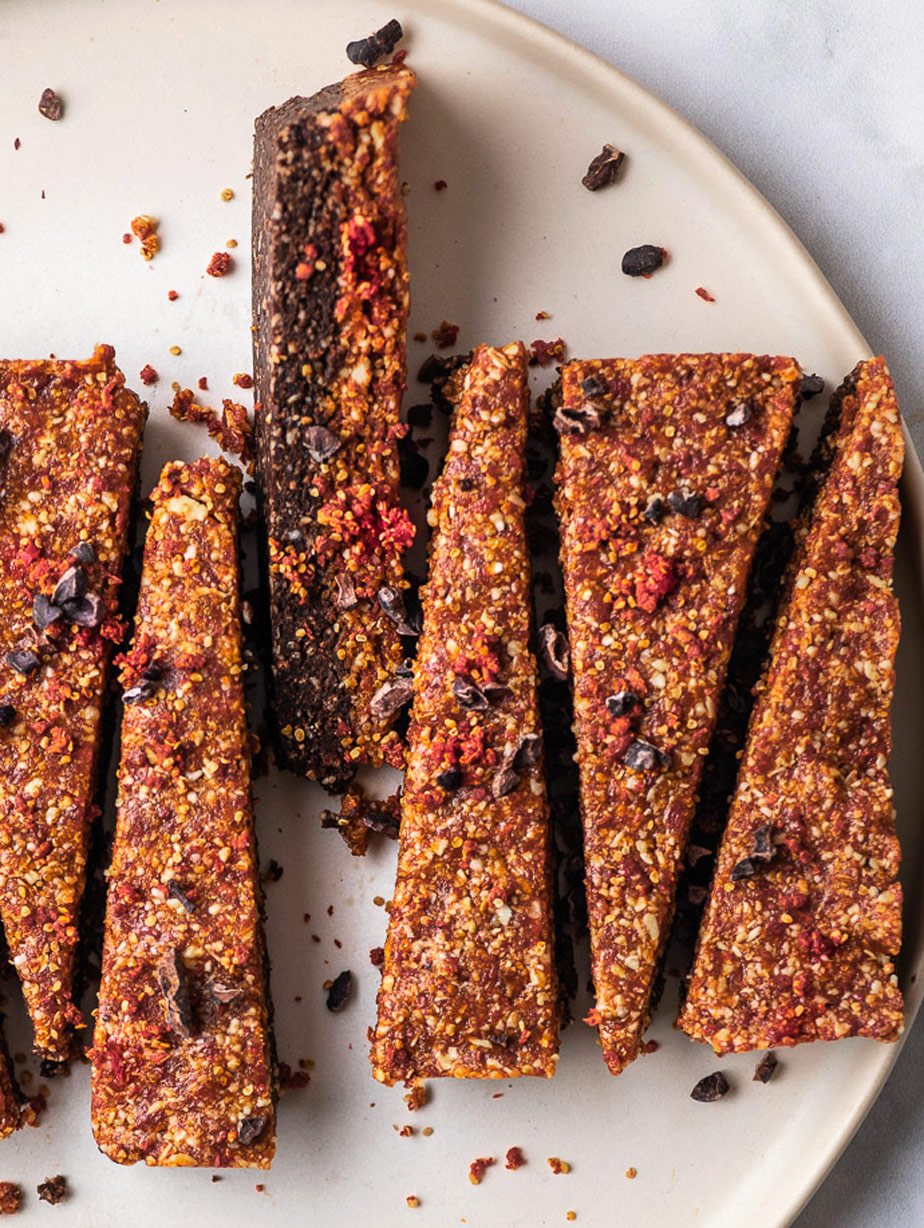 Maybe it's just that I've become a little lazy? 
Or impatient. 
Or just want to save on the electricity bill? 
I'm not sure why I've gravitated towards raw desserts, meaning desserts or sweets that don't require any cooking or baking. This Chocolate Goji Berry Cookie Tart (yes all those words, SEO whatever!) came about because we were having our first dinner party here in Taipei and I just couldn't bring myself to cook anything else. 
I needed something I could make earlier in the day and have ready-to-go come dessert time.  
That's another thing, the key to easy dinner when you're having people over is to serve stuff that doesn't require a lot of work on demand.  
My sweet tooth has turned into a bit of a raw-vegan sweet tooth. I love the texture of crunchy nut crusts and chewy bliss balls. And maybe it's the heat here (it's so hot here, and only going to get hotter I'm told) but the last few desserts I've made have been no-bake like these 
Double Chocolate Tarts
 and 
Apple Pie Bliss Balls
.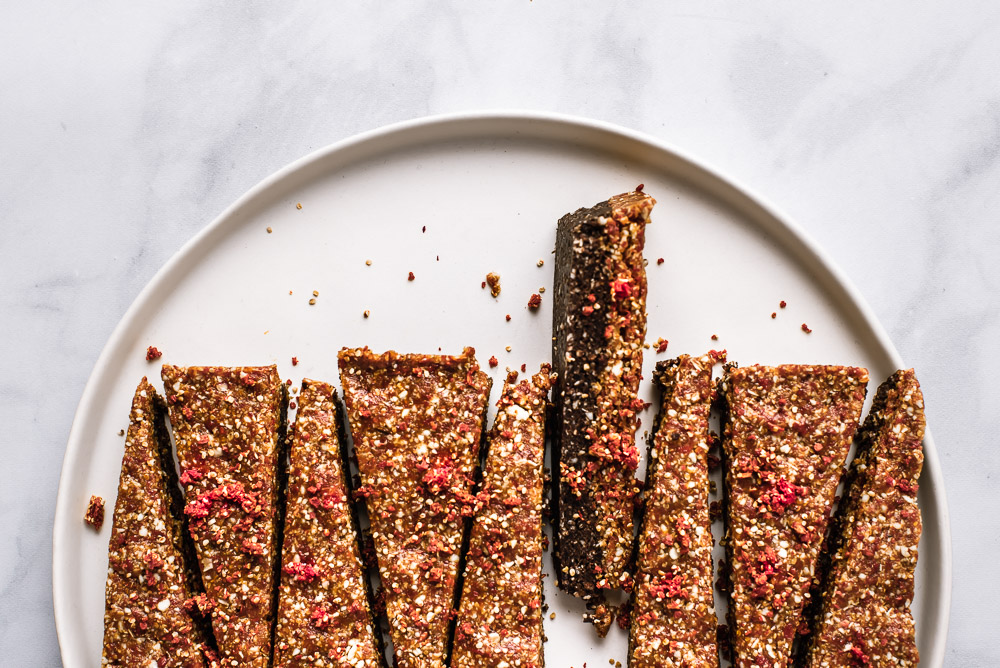 About this Chocolate Goji Tart 
Not a Brownie. Got it.  I originally called this a 'brownie' and one of my sweet dinner guests politely commented that 'this is delicious, but it's not a brownie'. Got it. She also isn't vegan or plant-based so she had a pretty solid definition of what a brownie represents to most people. Point taken, not a brownie. Really, it's a hybrid of a raw cookie, cake and tart. The important thing is it's good and takes most desserts to school in terms of health! 
Goji Berries: Also called wolfberries, these anti-oxidant jacked dried berries are available everywhere here in Taiwan. They can be pricey but a little goes a long way. There is ½ cup in this recipe and, although I can't confirm because I haven't tried it, you could probably sub dried apricots or mulberries if that works for you! 
Two layers: I love the ou-ah factor of two layers. Looks fancy but isn't really!  
Bread Pan: I like the interesting and unexpected shape of these Chocolate Goji Cookie Tarts. It's not the usual kind of pan you use to set a cookie or tart but here it works and makes for easy presentation. I've cut the tart into triangles, you can try squares too! 
Sharp Knife, Clean Cuts: It's really important here to freeze the tart before cutting and also to wipe your sharp knife in between slices. This ensures clean slices and less cake loss through crumbling.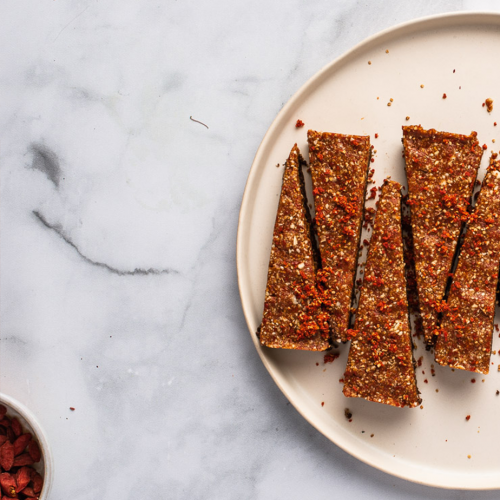 Chocolate Goji Cookie Tart
This is the kind of sweet treat you can make and leave in your freezer to have as an as-needed dessert. 
Ingredients
Layer 1
½

cup

almonds

½

cup

walnuts

½

cup

rolled oats

12

medjool dates

pitted (~ 1 ½ cups dates)

¼

cocoa powder

or cacao powder

3

tablespoons

cacao nibs or dairy-free chocolate chips

optional

¼

teaspoon

salt
Layer 2
¼

cup

almonds

¼

cup

walnuts

½

cup

oats

½

cup

goji berries

¼

teaspoon

cinnamon

Pinch

salt

2

tablespoons

maple syrup

2

tablespoons

tahini
Easy Chocolate Sauce (optional)
1

tablespoon

cocoa or cacao powder

2

tablespoons

maple syrup

1

teaspoon

tahini
Instructions
Line a traditional bread loaf pan with parchment paper so that there is enough parchment paper hanging over the sides of the pan.

Start with layer one. Add the almonds and walnuts to a food processor and process until the nuts are crumbly. Add the rest of layer 1 ingredients and process until the mix starts to stick together. This will take 1-3 minutes. Stop and scrape down the sides a couple of times.

Remove the mix from the food processor and transfer to the parchment-lined pan. Press into the pan firmly so that mix is evenly distributed and level. Set the pan in the freezer.

Wipe out the food processor with a damp cloth and start layer 2. Add the almonds, walnuts, oats, goji berries, cinnamon and salt to the food processor and process 10-12 times until the nuts are broken up. Now process continuously and pour the maple syrup and tahini through the feed tube. The mix will begin to clump together in a ball. At this point stop processing and transfer to the loaf pan with layer one. Press this second layer into the first layer, evenly distributing the mix and doing your best to make it level on all sides. Place the loaf pan in the freezer for 2 hours to set.

After two hours, remove from the freezer and using a sharp, clean chef's knife slice the cookie/loaf into narrow triangles (or however you like!). Wipe your knife between slices to create clean edges and reduce crumbling. Serve as is or drizzle with chocolate sauce.
Notes
Keep this chocolate goji berry tart in the freezer if it won't be enjoyed within a day or two. I like to grab a piece directly from the freezer for a sweet snack.