About These Baked Tofu Skewers
A skewer for summer! These baked tofu skewers were a request from my sister! I like to make these in the oven (hence baked) because it means they're an option all year round!
But, you can also cook these on the BBQ! See BBQ Option below.
Here's why you'll love these baked tofu skewers: 
They're easy, fun, delicious!
They're marinated in a smoky, tangy, mildly sweet BBQ-inspired marinade.
You can add or subtract veggies to your liking!
How To Make Baked Tofu Skewers
Marinate the tofu. First, you need to whisk together the marinade (which takes seconds), cut the tofu into big cubes, and then marinate the tofu for 6 hours. You can marinate for shorter too but the longer you let the tofu soak, the more flavour gets absorbed by the tofu cubes. 
Soak your skewers for a couple of hours so they don't burn in the oven or on the BBQ.
Thread the tofu and whatever veggies you like onto the skewer. 
Bake, rotate, baste, bake. 
Heat the leftover marinade with some arrowroot starch to thicken and give the baked tofu skewers a final slather of marinade and enjoy!
Wooden skewers (about 8)
Extra firm tofu (2 blocks)
1 zucchini (or whatever veggies you want)
Soy Sauce or tamari for gluten-free
Balsamic vinegar
Red wine vinegar
Yellow mustard
Maple syrup
Smoked paprika
Onion powder
Garlic powder
Can you say plant-based protein! 
Hell yah! Loads of it. 
I love that these baked tofu skewers are oil-free as well. A lot of skewered recipes involve a healthy dose of vegetable oil to achieve a "crisp" or "blackened" finish. 
But here, we're getting flavour and texture by pressing the tofu, baking and rotating, and by using some of my favourite plant-based flavouring agents like vinegars and spices.
The soy sauce/tamari is a source of sodium, so feel free to reduce as needed or use low-sodium varieties. 
Tips, Tricks, & Leftovers
You will likely have leftover marinade.
I like to make sure you have plenty of marinade to slather onto the baked tofu skewers once they're out of the oven. If you're serving a crowd, you can even stretch the marinade to make 3 blocks worth of baked tofu skewers. 
But generally, I go with 2 x 14 ounce (397 gram) blocks and I use the remaining thickened marinade as a stir-fry sauce or I drizzle it on steamed vegetables. 
Pressing tofu. 
I've included brief instructions on how to press tofu to remove extra liquid but full disclosure; I skip this step ALL THE TIME. 
Especially if I'm using extra-firm tofu. I find it's an easy step to ignore if you don't have the time. 
Veggies
I keep my tofu skewers simple with just tofu and zucchini.  I like to serve the skewers with a vibrant, veggie-forward grain dish (like this recipe for oil-free quinoa tabbouleh) or salad. But, you can easily jazz up your baked tofu skewers by adding more veggies. I've listed some suggestions in the Notes section of the recipe card below.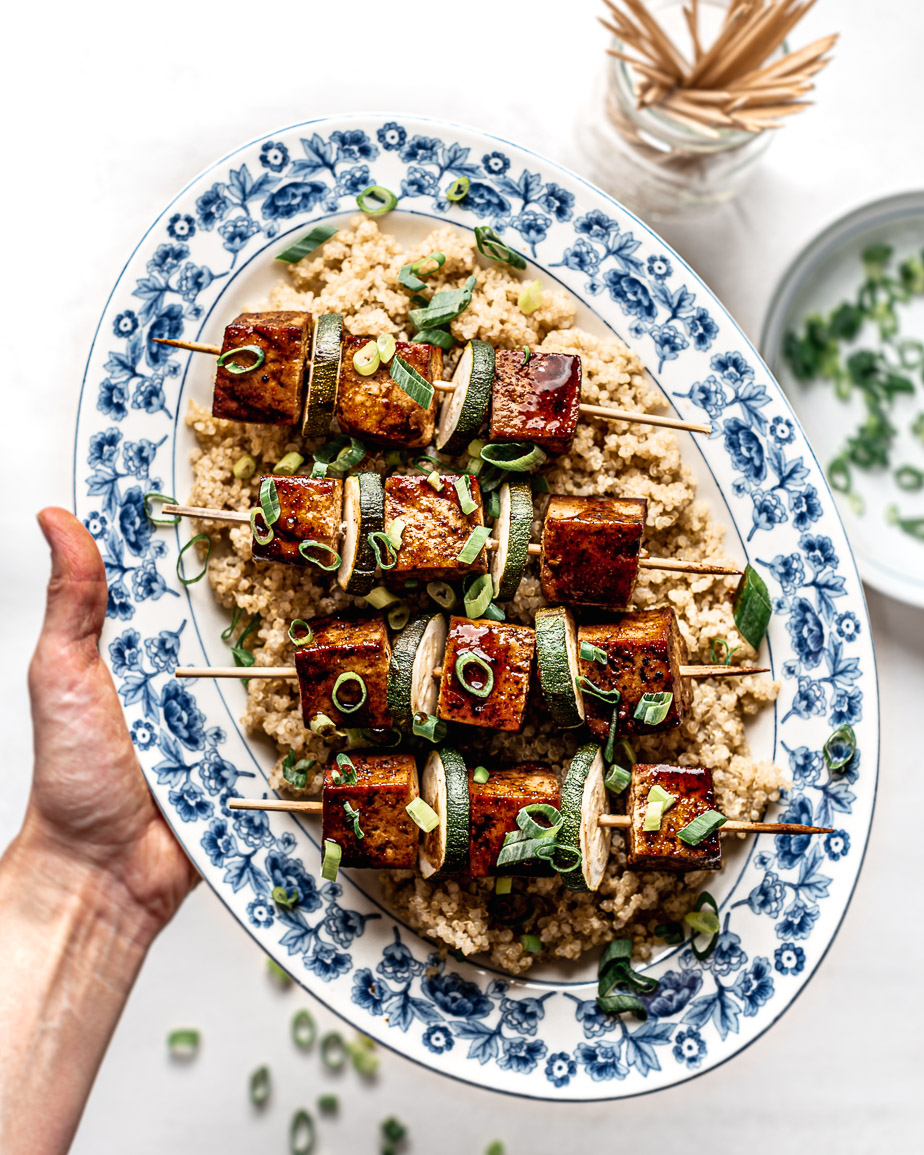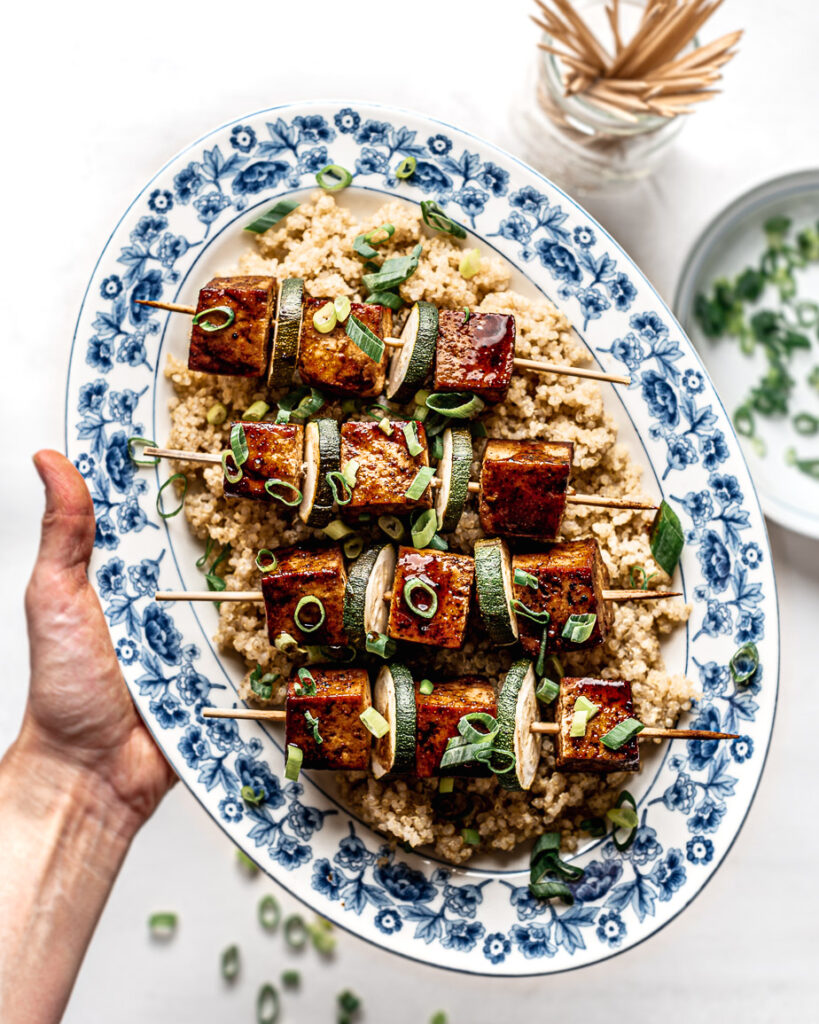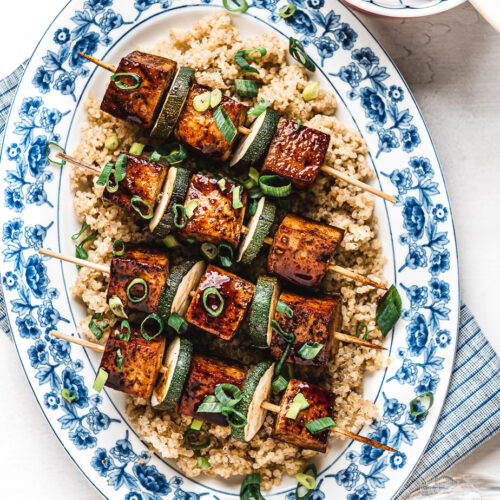 Easy tofu skewers to bake in the oven or toss on the BBQ! For more veggies on your skewer, see notes! Makes 6 to 8 skewers.
Ingredients
8 wooden skewers (soaked in water for 2 to 3 hours)
Marinade
¼

cup

low-sodium tamari or soy sauce

if gluten isn't an issue

2

tablespoons

balsamic vinegar

2

tablespoons

red wine vinegar

2

tablespoons

maple syrup

1

teaspoon

yellow mustard

¾

teaspoon

smoked paprika

½

teaspoon

onion powder

½

teaspoon

garlic powder
Tofu and Skewers
6 to 8

wooden skewers

2

14 ounce/397 gram packages extra firm tofu (organic if possible!), pressed

(see instructions)

1

zucchini cut into ½ inch slices

1

teaspoon

arrowroot starch

or cornstarch

2

tablespoons

water
Optional Garnish
Fresh herbs or sliced scallions/green onions
Instructions
Before you get started:
To press the tofu, wrap it in a clean dish cloth and lay something heavy on it (about 3 to 5 pounds) for 20 minutes. Unwrap and you're ready to go. If I'm using extra firm tofu, I skip "pressing" all the time without much consequece. I like cutting corners!

Soak your skewers so they don't burn.
Skewers and Marinade
Whisk all the marinade ingredients together in a bowl. Set aside.

Unwrap the tofu (if you pressed it) and cut into 1 to 1½ inch cubes (I err on the bigger side for skewers). Place the tofu in a rectangular container with a tight-fitting lid. Pour the marinade over the tofu and place in the fridge for 6 hours (you can even go overnight), flipping the container 2 to 4 times throughout for even marinating.

Preheat the oven to 400ºF and line a baking sheet with parchment paper.

Thread the tofu and zucchini onto each skewer. I like to do three pieces of tofu and two to three zucchini per skewer. Reserve the leftover marinade. Lay the skewers on the baking sheet.

Bake for 20 minutes, rotate, baste again with the marinade (still reserving the leftovers), and bake for another 15 to 20 minutes until the tofu is firm and maybe even a little charred on the edges.

When there are a few minutes left on the skewers, pour the leftover marinade into a small pot and bring to a gentle simmer.

In a separate small bowl, whisk together the arrowroot starch and 2 tablespoons of water (this will help thicken the marinade) and stir this into the simmering marinade. Simmer for another couple of minutes until the mixture thickens. Remove from heat.

Remove the skewers from the oven. Baste generously with the hot, thickened marinade, garnish with herbs or green onion, and serve!
Notes
For BBQ:
Prepare the skewers as is directed and BBQ for a few minutes on each side until grill marks are formed. The time will vary depending on your BBQ. 
Use leftover marinade as a stir fry sauce or mix with steamed vegetables and cooked noodles!
Want more veggies on your skewer? Add the following to your skewer in any order or sequence you like!
½ red onion, cut into chunks
1 red bell pepper, seeds, and stem removed and cut into 1-inch pieces
Button mushrooms (as many per skewer as you want!
Pineapple chunks! Fruit, not veg, but can upgrade your skewer tremendously!
Serving suggestions:
Serve these baked tofu skewers on a bed of warm cooked grains like brown rice or quinoa and pair with a big side salad for a delicious summer-y meal!
Salad ideas:
Quinoa Tabbouleh
Spinach Salad