About This Pineapple Basil Sorbet
It's so FRESH & CREAMY! If summer has arrived, try this Pineapple Basil Sorbet asap!
No added sugar, vegan, plant-based, dairy-free, and takes less than 5 minutes! It's special!
This past year I've been experimenting a lot with adding fresh herbs to baked goods and more dessert-y foods and it's been such a joy! Fresh basil has been a stable in my morning routine (with this Tropical Basil Green Smoothie) for a long time, now I'm adding it to my after-dinner nice cream! 
*Nice cream= ice cream made from pureed bananas!
Add the simple handful of ingredients to a high-speed blender. Ideally a blender with a plunger (I use a Vitamix).
Blend and plunge until smooth. If you don't have a plunger, you can add more almond milk but this pineapple basil sorbet will be loose. 
Serve and enjoy!
Ingredients You'll Need for Pineapple Basil Sorbet
Frozen bananas (already peeled and sliced before freezing)
Frozen pineapple chunks
Dairy-free milk
Fresh basil 
Cinnamon
What Makes this Pineapple Basil Different (better!)?
This pineapple basil sorbet has no added sugar (most sorbets are secret havens for boat loads of the stuff!). 
Instead I've used pineapple and frozen bananas which adds natural sweetness but the bananas also make this sorbet super creamy!
Tips, Tricks, & Leftovers
Don't be afraid to give your Vitamix a workout! It can handle the initial loud blending! You can add more milk if needed, but some good old fashioned elbow work and powerful blending will get you a smooth, creamy pineapple basil sorbet in a couple of minutes!
Serve immediately (or shortly after)! Serve this sorbet as soon as it's whipped up. It will melt quickly! 
However, I have transferred it to a freezer-safe container and kept it in the freezer for up to 3 hours before serving it for a light dinner party dessert. 
If you freeze it for much longer, it will get icy and hard (as it has no fat). You can still eat it, of course! But it will need time to defrost and soften on the counter. 
Add-in some super foods! I have added all of the following to this pineapple basil sorbet to increase the nutritional profile or add a little extra something special. 
1 tablespoon ground flaxseed
1 tablespoon hemp seeds
2 tablespoons almond butter
1/4 teaspoon spirulina to make it extra green and vibrant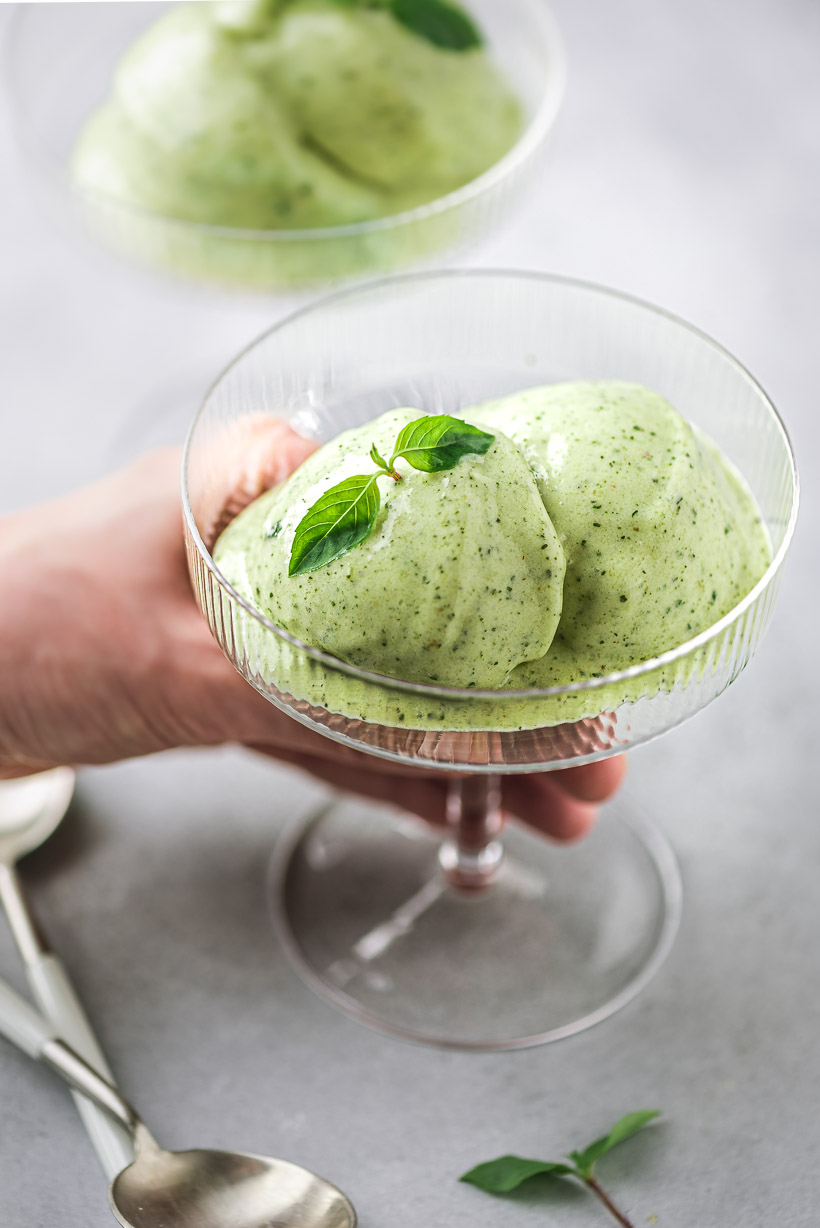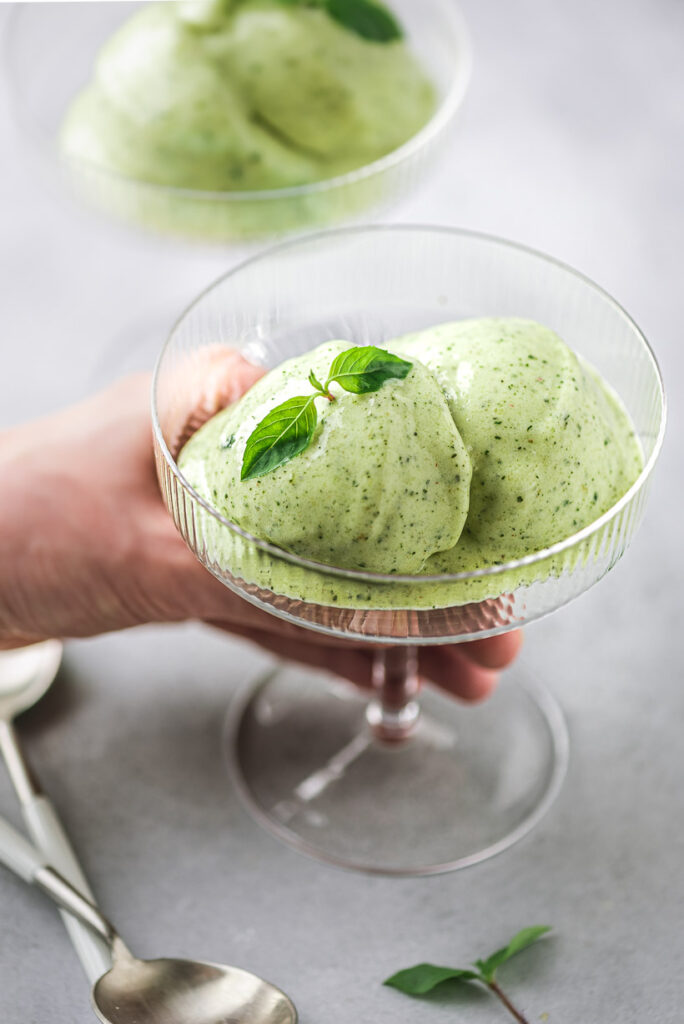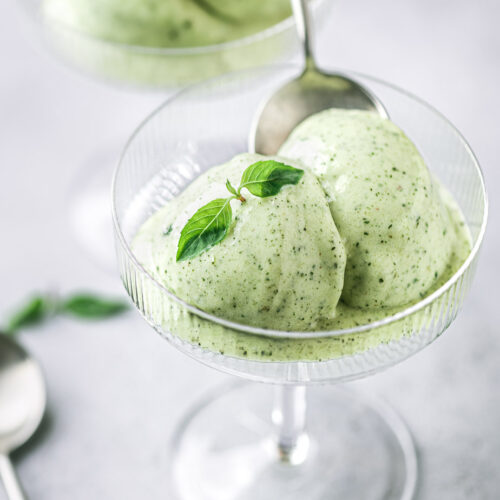 Pineapple Basil Sorbet (Nicecream)
Refreshing and creamy! This take on sorbet is my summer dessert go-to. It's best served right after it's made but you can also pop it in the freezer for a couple of hours before serving.
Equipment
High-speed blender with plunger
Ingredients
2

large frozen bananas

(already peeled and sliced before freezing)

1

heaping cup frozen pineapple chunks

¼

cup

packed fresh basil leaves

(leaves only)

Pinch

cinnamon

¼

cup

unsweetened almond milk

or preferred dairy-free milk
Instructions
Add all the ingredients to a high-speed blender and blend on high. Use the plunger to incorporate all ingredients until you get a smooth consistency and all the basil is blended (tiny specs of green will remain). This requires a little bit of elbow work but is worth it! See notes if you've never made "ice cream" with a high-speed blender.

Enjoy immediately, or for scoopable ice cream, transfer to a freezer-safe dish and freeze for up to 3 hours. Then remove from the freezer, let sit for a few minutes, and scoop out individual portions.
Notes
Making sorbet and ice cream in a high-speed blender:
I use a Vitamix for this pineapple basil sorbet and for all "nice cream" (ice cream made from bananas) experiments. 
After all the ingredients are in the blender and you turn it on, it will make a lot of noise. This is ok!
Plunge the mixture up and down as it blends and after a couple of minutes it will all come together and swirl together, thick and creamy. Once it reaches this stage, it's ready. 
This pineapple basil sorbet was inspired by my favorite green smoothie: Tropical Basil Green Smoothie!
If you're not used to using fresh basil, start with this smoothie!
Optional additions:
1 tablespoon ground flaxseed
1 tablespoon hemp seeds
2 tablespoons almond or cashew butter

¼

 teaspoon spirulina to make it extra green and vibrant