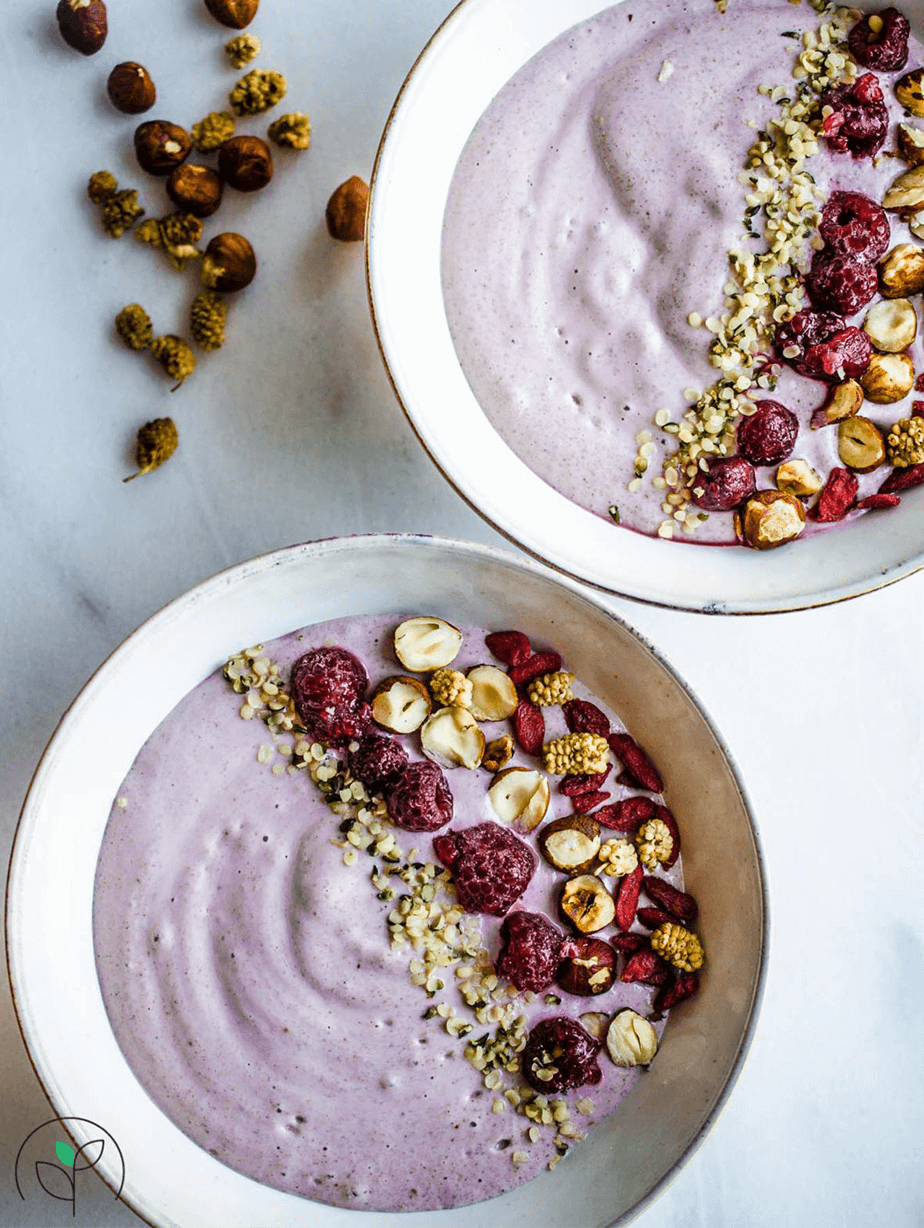 This vegan gluten free Raw Raspberry Buckwheat Porridge is a protein packed plant based breakfast. But first let's talk lazy.
This is the kind of day I'm having:
I sat at my computer for 4, FOUR, hours and only managed a 9 line paragraph for an article I'm writing for a health magazine. I had my workout clothes on for 5 hours before I gave in and resorted to my couch and switched into pyjamas. My lunch was cold leftover pasta that I ate from a jar standing in my kitchen (with said workout clothes on). I'm currently googling "how much exercise do we really need?" hoping I'll find some kind of health advice reinforcing my decision to not exercise (even though I know exercise will make me feel better!).
I'm just having that kind of day. I'm lazy and cold and want to wrap myself in a fleece blanket and grow onto my couch.
The different shades of grey sky day after just perpetuates my desire to constantly nap and drink hot beverages! Is anyone else feeling me?
Ok so besides spewing my internal dialogue into a blog post I decided to share this breakfast recipe. I think this might even bring a little satisfaction to my useless day (full acknowledgement that sometimes useless days are needed to recharge).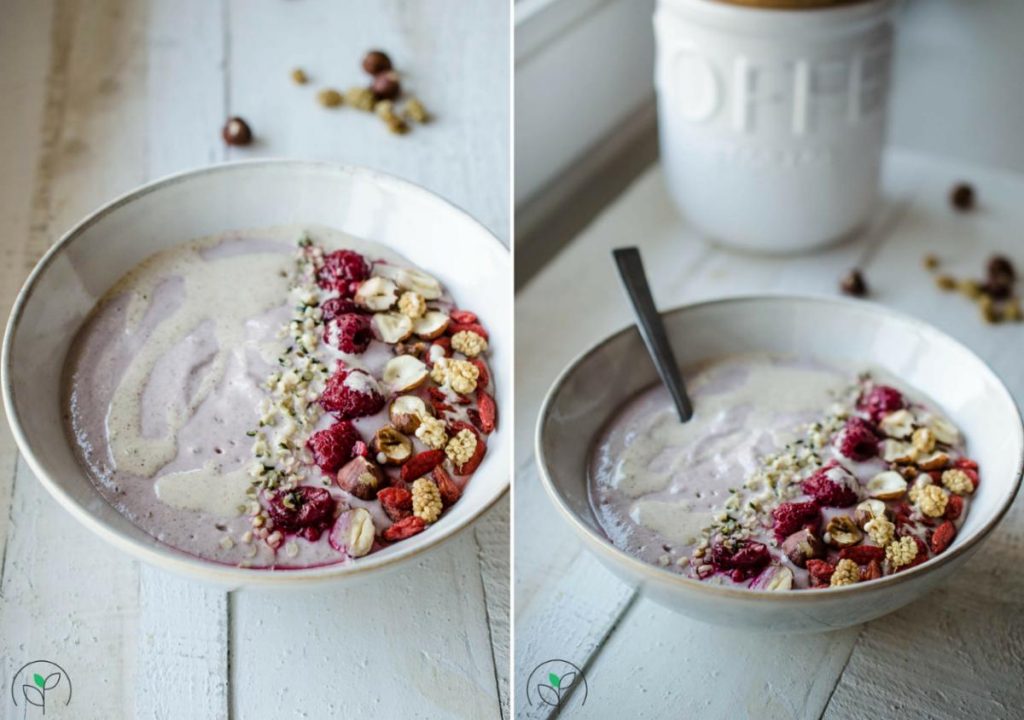 This bowl, the actual bowl, makes me happy. It's one my favourite dutch purchases! What's in the bowl makes me even happier-pastel pink colour, almond butter swirl, loosely chopped hazelnuts, chewy dried mulberries and just thawed raspberries. Mood is lifting and my hunger is at like a 10.
If you follow 
me on Instagram 
you know I love breakfast, bowls and buckwheat and I combine all three whenever possible. This delicious, thick and creamy Raw Raspberry Buckwheat Porridge is one of my recent experiments.
Buckwheat is a gluten free whole grain (actually it's a pseudograin) that provides complete protein (all essential amino acids). It's a superfood for sure and I keep multiple bags on hand all the time. I was first introduced to raw buckwheat porridge years ago but it never took off in my kitchen because I was too preoccupied with smoothies. 
Now that I've had a chance to play with it and trial different flavour combinations I can't get away from using raw buckwheat groats to make breakfast. It's very filling and lends nicely to fruity flavours but also tames the earthiness of greens like spinach and kale. 
Buckwheat on its own is nutty but a little bland. Instead of adding sweeteners I like to blend it with fruit, like raspberries or blueberries, and top it with nut butters and superseeds. If you need a sweeter version, add additional pitted dates or a couple of teaspoons of maple syrup.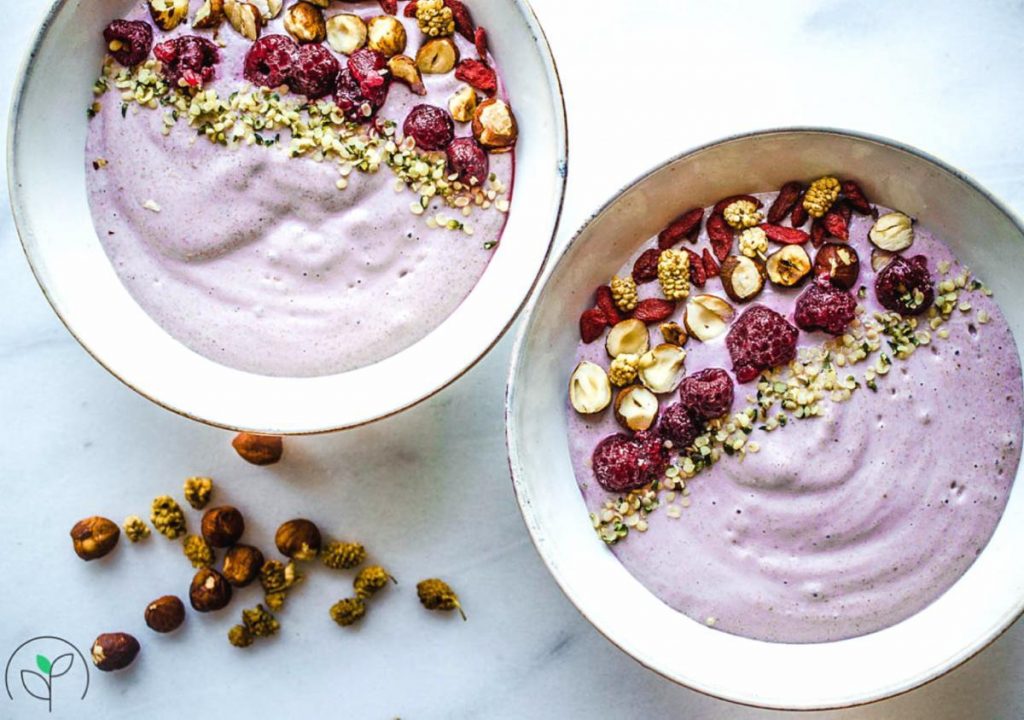 If you're new to making buckwheat this way, don't be intimidated . Go for it. 
If you like overnight oats or smoothie bowls this will be your next favourite!
Other delicious toppings added to this bowl are goji berries, raw hazelnuts, dried mulberries and hemp seeds. 
Note that this Raw Raspberry Buckwheat Porridge is thick. Add more almond milk if you prefer a thinner consistency.
Blogged while: Having the laziest day of all time. I'm giving in, curling up on the couch and reading a book! What am I reading? A book that's been on my list for a while; 
A Man's Search For Meaning
. 
Nutritional highlight: Buckwheat. It's everything . Be sure to soak it for this recipe or you want get that creamy texture I'm promising .
Quick tip: A warning about buckwheat goop; When buckwheat is soaked it gets a little gelatinous. You'll know what I'm talking about when you drain it. Don't concern yourself too much with the right way to soak the buckwheat. Throw in a bowl and cover it by 2-3 inches of water, cover with a clean dish towel and leave overnight. The next morning poor it into a fine mesh strainer and let most of the goop run down the drain. I like to quickly rinse it under running cold water. You can also drain it old school and hold your hand on the side of the bowl while you pour the soaking water into the sink. This way is a littler messier.
Where to find buckwheat: You can find buckwheat in some grocery stores (like Whole Foods) but most specialty or health food stores will carry it. Note that buckwheat is different than kasha. You're looking for raw buckwheat groats. If you can't find buckwheat in store, go online. I've purchased it on Amazon and 
Upaya Naturals
.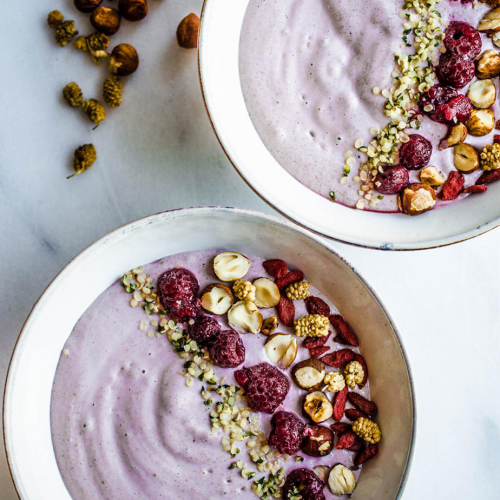 Raw Raspberry Buckwheat Bowl
Raw Raspberry Buckwheat Porridge. Protein Packed Plant Based Breakfast.
Ingredients
1

cup

buckwheat groats

soaked overnight

1

cup

frozen raspberries

1 ¼

cup

unsweetened almond

hazelnut or soy milk

1

tablespoon

almond or hazelnut butter

1

medjool date

pitted

1

tablespoon

chia seeds

1

tablespoon

ground flax seed

¼

teaspoon

cinnamon

pinch

salt

Toppings

for 2 bowls

¼

cup

chopped hazelnuts

¼

cup

fresh or frozen berries

2

tablespoons

mulberries

2

tablespoons

goji berries

1

tablespoon

hemp seeds

1

tablespoon

nut butter
Instructions
Drain the buckwheat using a fine mesh strainer and transfer to a blender along with all other ingredients. Blend on high until all ingredients are combined. If you prefer a little more texture, don't blend until completely smooth.

Divide buckwheat porridge between two bowls and top with suggested or desired superfood toppings.
Notes
If the porridge is a little too thick for your liking, add an additional ¼ cup of milk.
Depending on your blender you might need to add a bit more milk to get the blender going. A Nutribullet, Vitamix, Blendtec or Ninja blender will handle the recipe as is.