This vegan, gluten-free Raw Raspberry Buckwheat Bowl is a protein-packed, plant-based breakfast. 
And I cannot get enough and it's one of my favourite ways to supercharge my morning routine!
If you like overnight oats or smoothie bowls, this will be your next favourite!
WHat's In This Raw Raspberry Buckwheat Bowl?
Buckwheat and raspberries. Of course. 
But more specifically you'll need:
raw buckwheat groats
frozen or fresh raspberries
unsweetened dairy-free milk
almond or hazelnut butter
chia seeds
flax seeds
dates (optional)
Toppings: toasted nuts, sprouted buckwheat, fresh berries, goji berries, dried mulberries, pomegranate seeds, and/or hemp seeds.
I say load up on the superfoody toppings for this raw raspberry buckwheat bowl!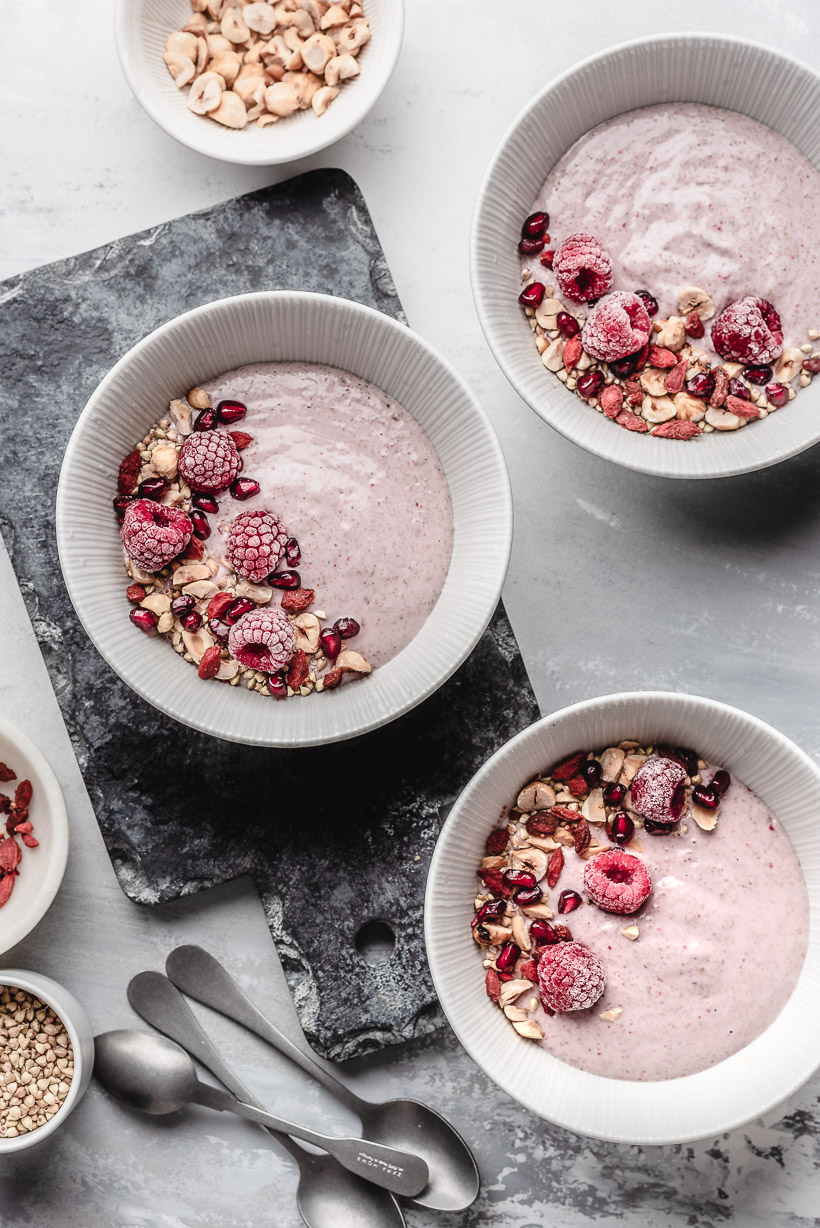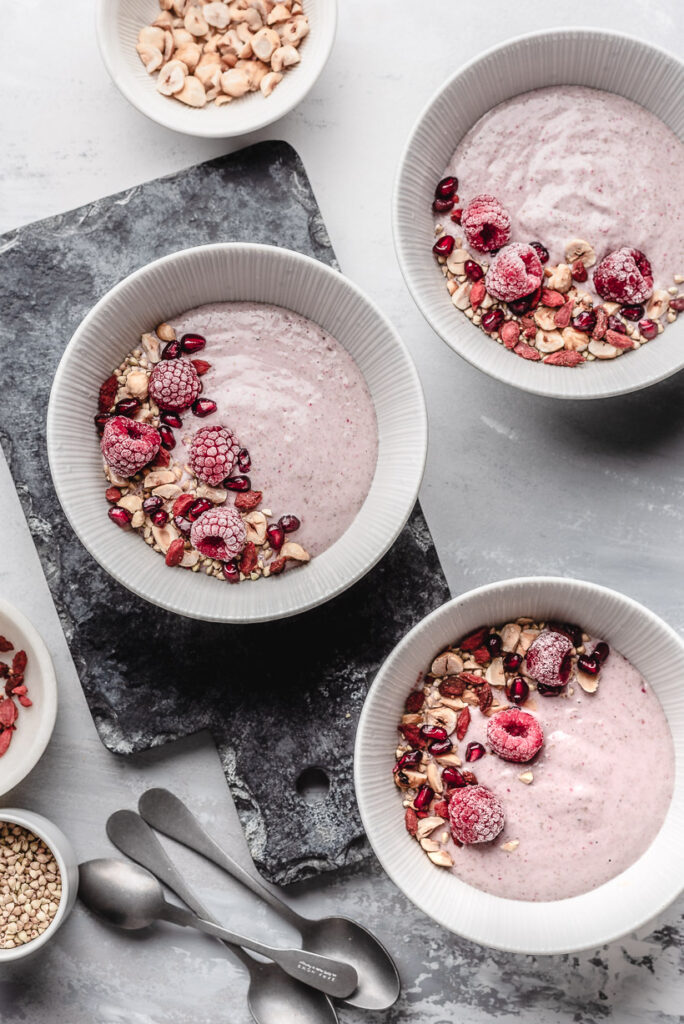 Buckwheat is a gluten-free whole grain (actually it's a pseudograin) that provides complete protein (all essential amino acids). 
It's a superfood for sure and I keep multiple bags on hand all the time. I was first introduced to raw buckwheat porridge years ago but it never took off in my kitchen because I was too preoccupied with smoothies. 
Buckwheat on its own is nutty but can be a little bland. Instead of adding sweeteners, I like to blend it with fruit, like raspberries or blueberries, and top it with nut butters and superseeds. If you need a sweeter version, add additional pitted dates or a couple of teaspoons of maple syrup.  
What does "raw" mean? Raw means the food or meal hasn't been cooked. There are many benefits to raw recipes like the preservation of fragile vitamins, enzymes, and antioxidants. Raw recipes often involve soaking. 
Soaking is actually a very traditional method of food preparation where you soak the food in question (usually grains, beans, nuts, seeds) in water to activate key nutrients, improve digestion and assimilation, and to alter the texture. 
We soak buckwheat for the raw raspberry buckwheat bowl to soften the groats, to get the sprouting energies flowing, and to help with digestion.
Fine mesh strainer or cheesecloth (to drain the soaked buckwheat)
Blender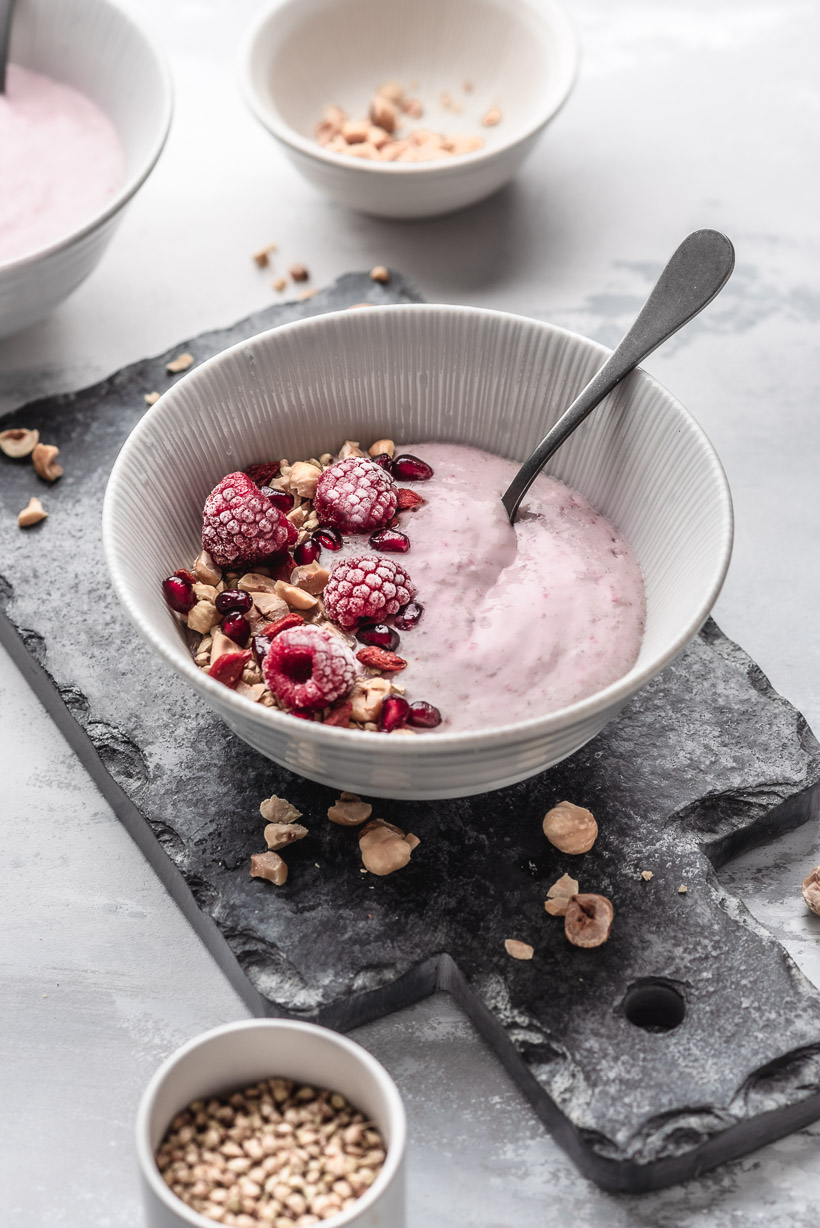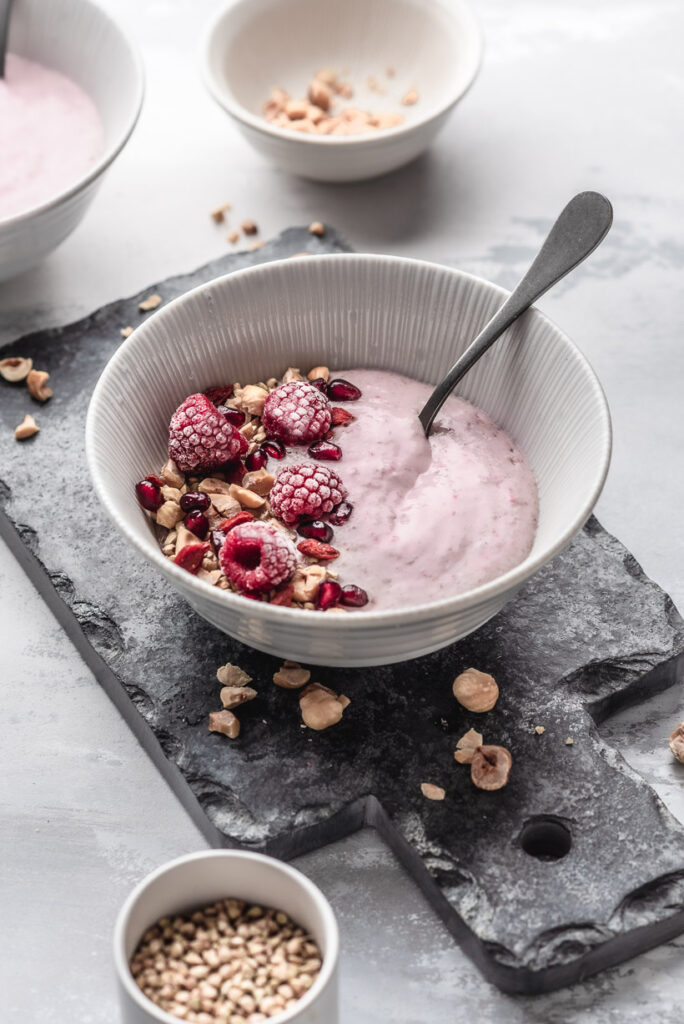 Quick tip: A warning about buckwheat goop! When buckwheat is soaked it gets a little gelatinous. You'll know what I'm talking about when you drain it. Don't concern yourself too much with the right way to soak the buckwheat. Here's a summary:
Throw in a bowl and cover it by 2-3 inches of water, cover with a clean dish towel and leave overnight. 
The next morning poor it into a fine mesh strainer and let most of the goop run down the drain. I like to quickly rinse it under running water. You can also drain it old school and hold your hand on the side of the bowl while you pour the soaking water into the sink. This way is a littler messier.
Where to find buckwheat: You can find buckwheat in some grocery stores (like Whole Foods) but most specialty or health food stores will carry it. Note that buckwheat is different than kasha. You're looking for raw buckwheat groats. If you can't find buckwheat in store, go online. I've purchased it on Amazon and Upaya Naturals.
Thickness: Note that this Raw Raspberry Buckwheat Porridge is thick. Add more milk if you prefer a thinner consistency.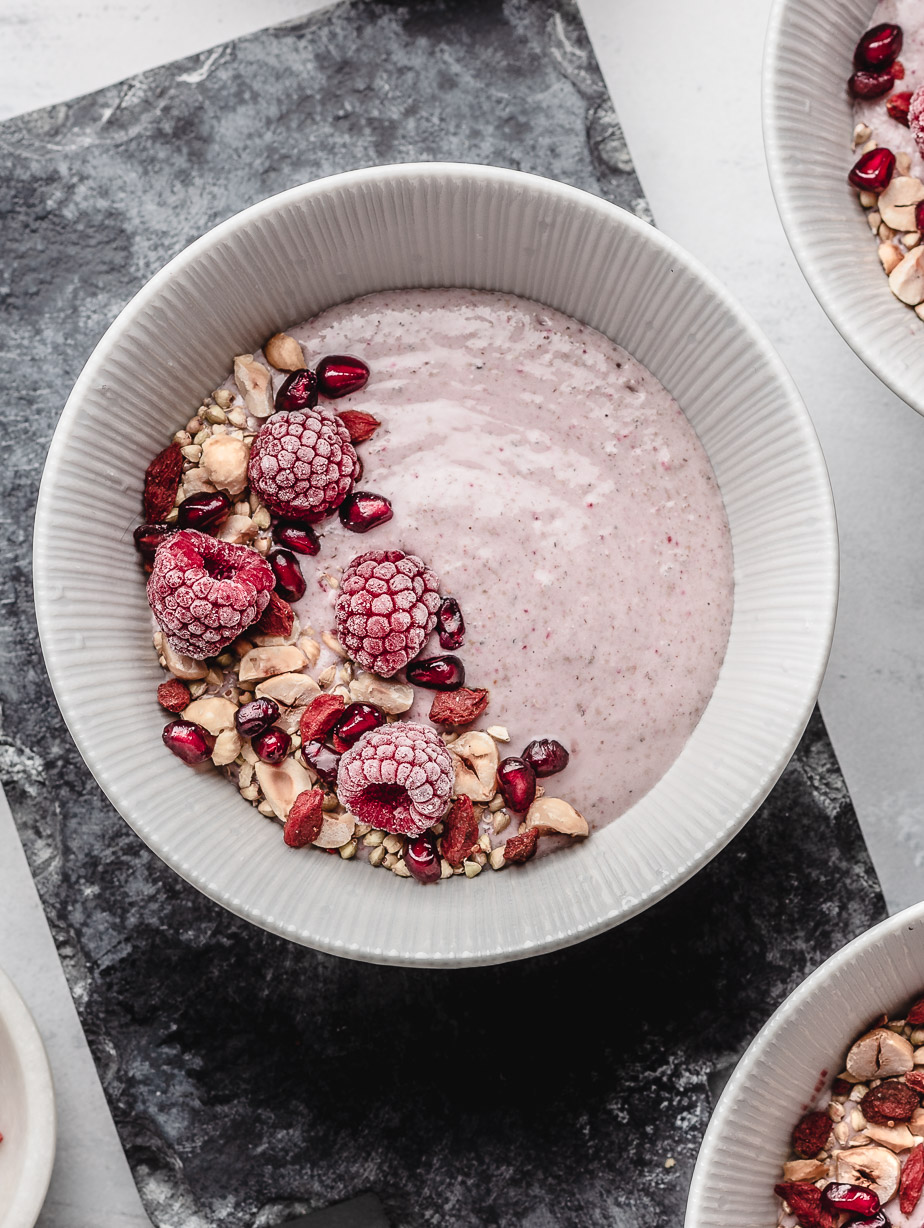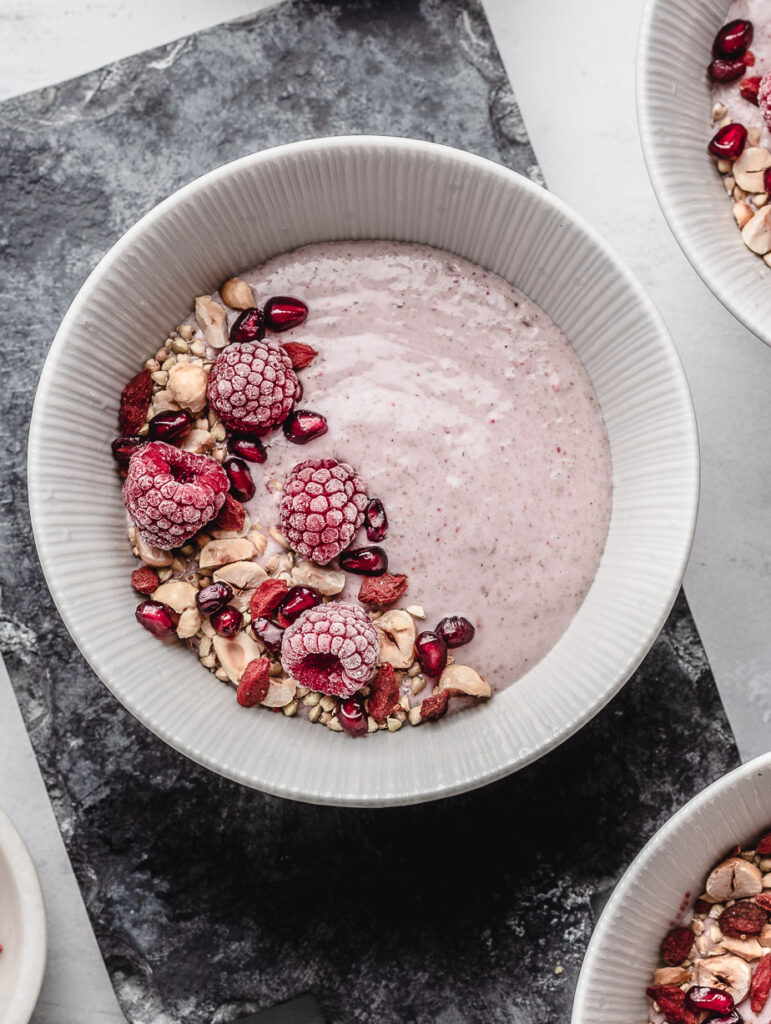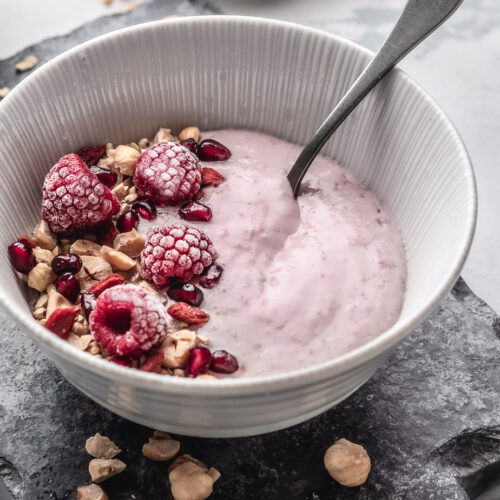 Raw Raspberry Buckwheat Bowl
Raw Raspberry Buckwheat Bowl! If you love overnight oats, this is the next recipe you must try! Protein, fiber, anti-oxidants, vitamins, and minerals! Jazz it up with all the toppings! Prep time is short but you do need to soak the groats overnight.
Equipment
BLENDER

mesh strainer or cheese cloth
Ingredients
1

cup

buckwheat groats

soaked overnight

1

cup

frozen raspberries

(or fresh*)

1 ¼

cups

unsweetened almond milk or

hazelnut or soy milk (less for thicker, more for thinner consistency)

1

tablespoon

almond or hazelnut butter

1

medjool date

, pitted (optional)

1

tablespoon

chia seeds

1

tablespoon

ground flax seed

¼

teaspoon

cinnamon

pinch

salt

Optional Toppings

chopped toasted hazelnuts or almonds

fresh or frozen berries

dried mulberries

goji berries

hemp seeds

sprouted buckwheat
Instructions
Drain the buckwheat using a fine mesh strainer or cheesecloth over the sink. The run off will be thick and take a few minutes to completely drain off.

Transfer the drained buckwheat to a blender along with all other ingredients. Blend on high until all ingredients are combined. If you prefer a little more texture, don't blend until completely smooth.

Divide buckwheat porridge between 3 bowls. Let is sit for a few minutes to set then top with suggested or desired superfood toppings. Enjoy immediately!
Notes
*If using fresh raspberries, start with half the amount of milk and add more as needed.
If the porridge is a little too thick for your liking, add an additional ¼ cup of milk.
Depending on your blender you might need to add a bit more milk to get the blender going. A Nutribullet, Vitamix, or Blendtec will handle the recipe as is.
Leftovers won't be as fresh, but are still delicious! I make this and keep two servings in the fridge for grab-and-go breakfast.