About This Easy Vegan Stuffed Squash
This recipe is, as promised, EASY! Squash with brown rice, pecan and sage stuffing sounds so oh la la (to me anyways) but it's oh so easy to execute and is definitely a nice change from your regular weeknight dinner.
I think "stuffed" vegetable recipes come off as complex. But they're usually pretty easy and straight forward. It's my favorite way to eat more vegetable – stuffing vegetables with more vegetables! 
Squash stuffed with brown rice, pecan and sage is a full of anti-inflammatory nutritional goodies!
This recipe came about when I was strolling through a local market here in Taipei and found some small kabocha squash (see winter squash varieties here). They were the perfect size for stuffing and as the temperature was coming down, I was craving sweet, creamy, pumpkin and squash recipes! This drop is nowhere near the kind of temperature plummet we experience as fall turns to winter in North America, but still cold enough to make me want warmer foods!
I had some fresh sage and fresh rosemary on hand (fresh herbs aren't essential, you can use dried) and so when I was thinking of what I would "stuff" the pumpkin with, I quickly went on a winter-y ingredient spiral!
Woody herbs, mmm yes!
Carrot, celery, definitely. 
Pecans, cranberries, apples! Yes, yes, YES!
Add all that to warm and fluffy brown rice and stuff it in a creamy baked squash. A resounding YESSS!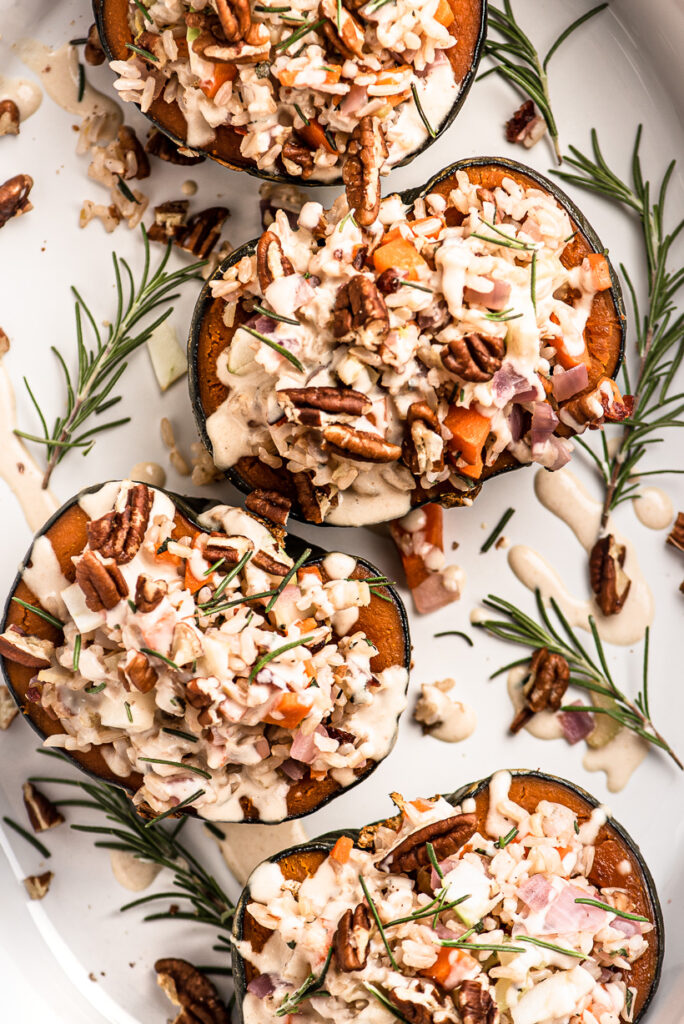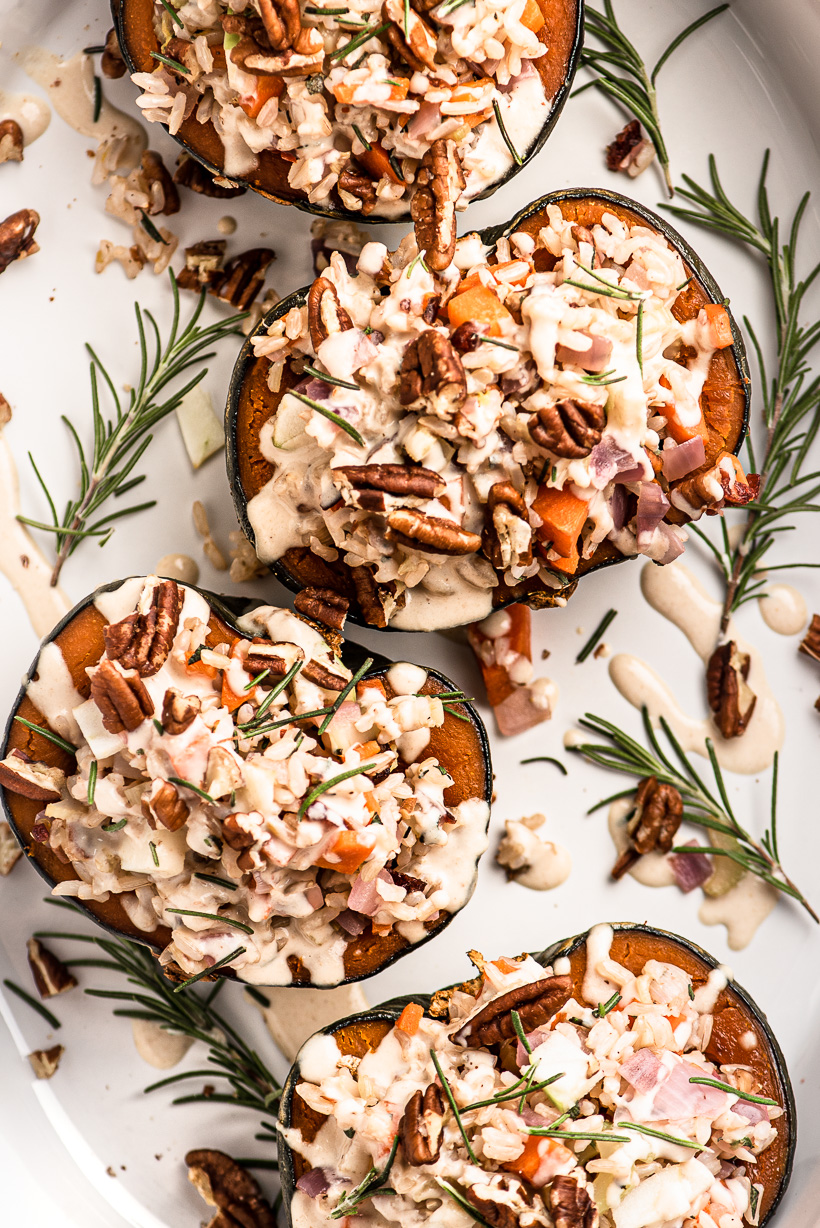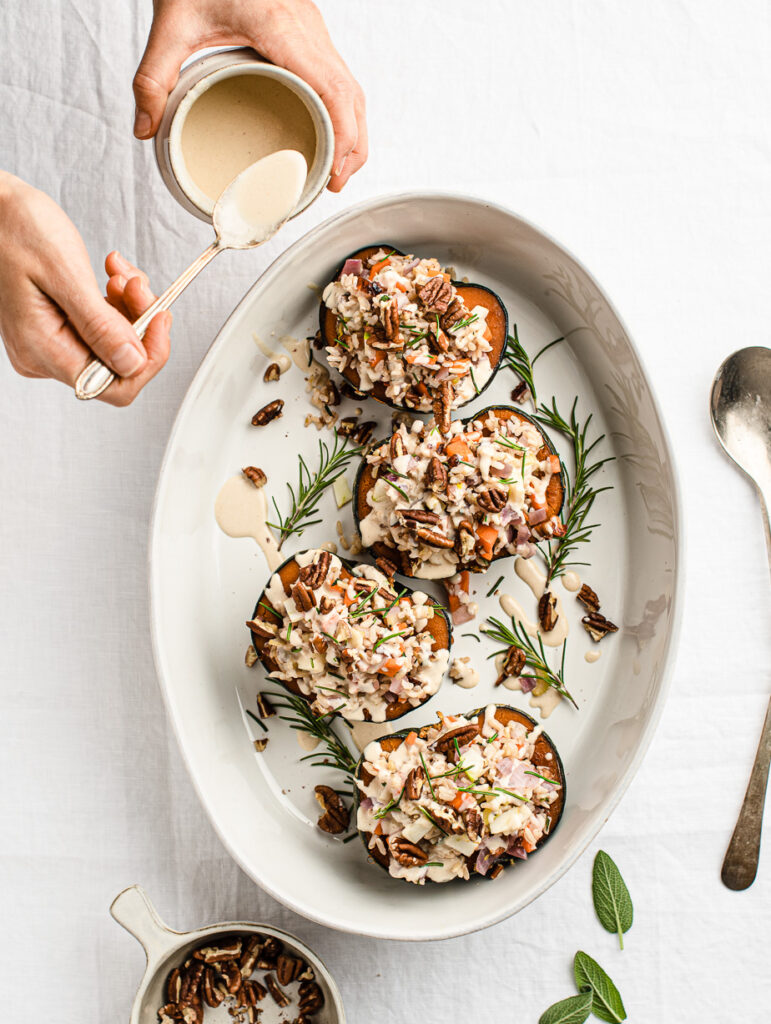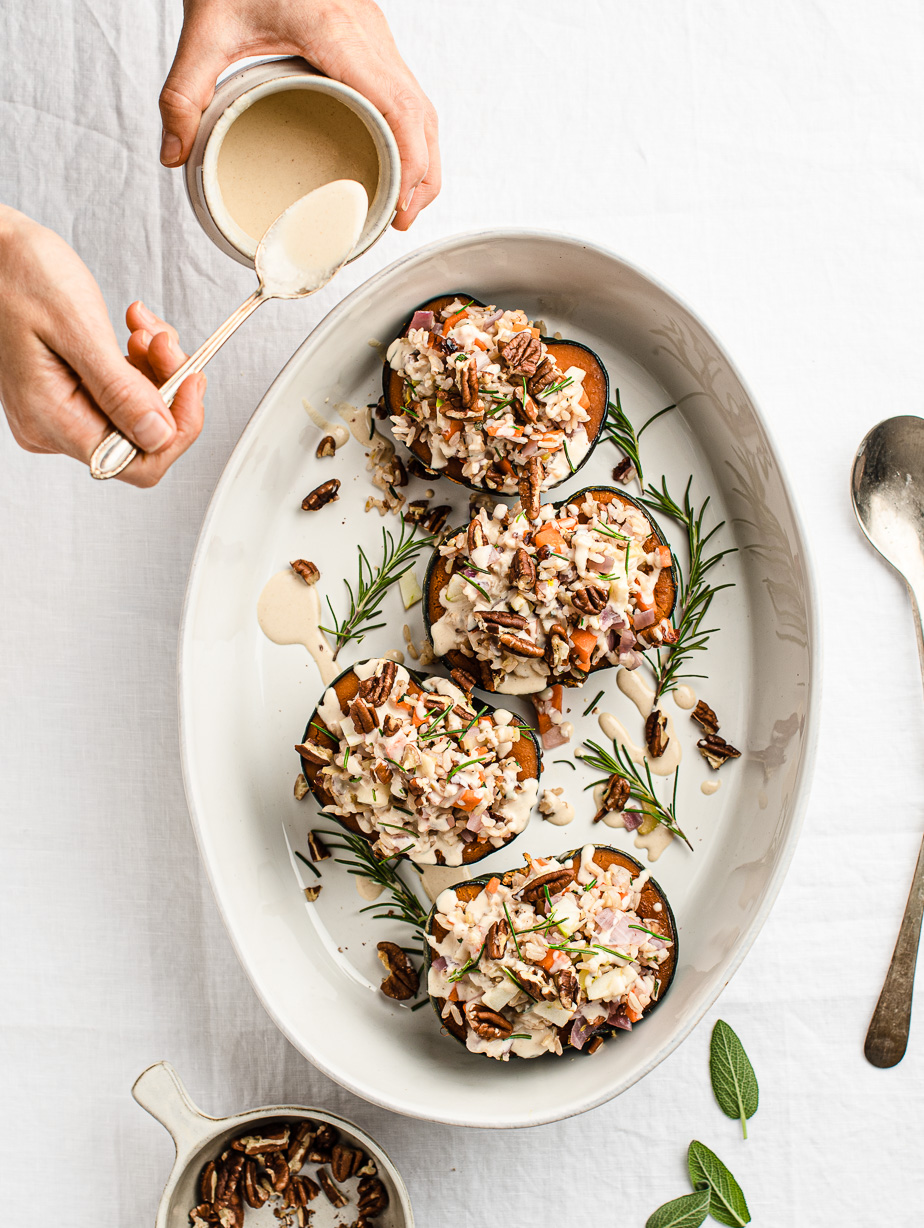 This stuffed squash recipe is different than some other similar recipes in that here we will make the two components of the recipe –the stuffing and the baked squash– separately and then assemble the baked squash WITHOUT baking again. This saves time. 
First, choose your squash!
I used small kabocha (Japanese pumpkin) but equally delicious would be acorn squash, the bottom, rounded part of butternut squash (peeled), or red kuri squash. 
Best Squash for this recipe:
Kabocha
Acorn
Butternut (bottom rounded part)
Red Kuri
Bake!
Preheat the oven to 375ºF, cut the squash in half, remove the seeds, and lay on a parchment-lined baking sheet, cut-side down. Bake the squash in the oven for anywhere from 40 to 60 minutes. The time needed will depend on the size and type of squash used. They're ready to be stuffed when the skin gives when pressed and some juices are being released. 
The filling!
The filling is made while the squash is baking. You simply sauté some veggies in water, add already-cooked brown rice, a hit of lemon, salt, and our winter-inspired goodies – pecans, cranberries, apples. Fold in some fresh sage and rosemary and cover to keep warm and let those yummy flavours deepen. 
Assemble!
When the squash is cooked, turn them over and fill until overflowing with brown rice, pecan and sage stuffing.
Sauce
I like to add a super simple lemon-tahini sauce for some moisture and extra flavour but this is optional, see recipe below.
Squash – When I think squash, I think beta-carotene! What do we need beta-carotene for? Beta-carotene is a precursor for Vitamin A. This means it is converted to vitamin A in our bodies which is essential for our immune system, skin, eyes, fighting against cancer-causing free radicals, and more! Other sources of beta-carotene include sweet potatoes, carrots, dark leafy greens, ripe bell peppers, and broccoli. 
Fresh Herbs – Herbs and spices not only lend gorgeous flavour to this dish, but they also offer unique phytonutrients! Herbs and spices are used all around the world for their healing properties and know that even a little provides anti-inflammatory and health supportive nutrients!
Pecans – Nuts are nutritional powerhouses! Pecans offer vitamin E, B vitamins, protein, and fiber! Here, the fat in the pecans helps with the absorption of the carotene nutrients from the squash.
Onions – A member of the allium family which includes garlic and leeks, onions are the first ingredient in countless recipes in all types of cuisines! Onions are essential flavour builders but they're also immune system boosters! Onions contain organo-sulfur compounds that help fight inflammation and support overall health. Pro tip – chop your onions and let them rest on the cutting board 20 minutes or so before you cook them. This allows cancer-fighting sulfide compounds to develop through some complex reactions. It's not essential but worth the wait and your meal will be that much healthier!
Tips and How To Save Time
Cook the rice before starting the recipe or the night before. This saves time. I made my rice a few hours before and let it sit until I was ready to make the stuffing. You can even make the stuffing the day before!
Cutting Squash – This can be a pain in the butt but is still easy to do once you get the hang of it. 
Make sure you have a medium, sharp chef's knife. 
Lay the squash on a flat and steady cutting board.  
Cut around the squash, from stem to tip. 
Separate the halves and scrape out the seeds with a fork. You can discard these or save them for future use. 
Pierce the skin of each half in a few different places, this helps for even cooking, then you're ready to bake. 
Nothing special needed for these easy vegan stuffed squash.
Just make stuffing! Skip the squash and just make the brown rice, pecan, and sage stuffing as a warm grain dish or side dish. If you're enjoying the stuffing solo, go ahead and add a handful of chickpeas or baby spinach to make it a more filling and nutritionally balanced. So delicious!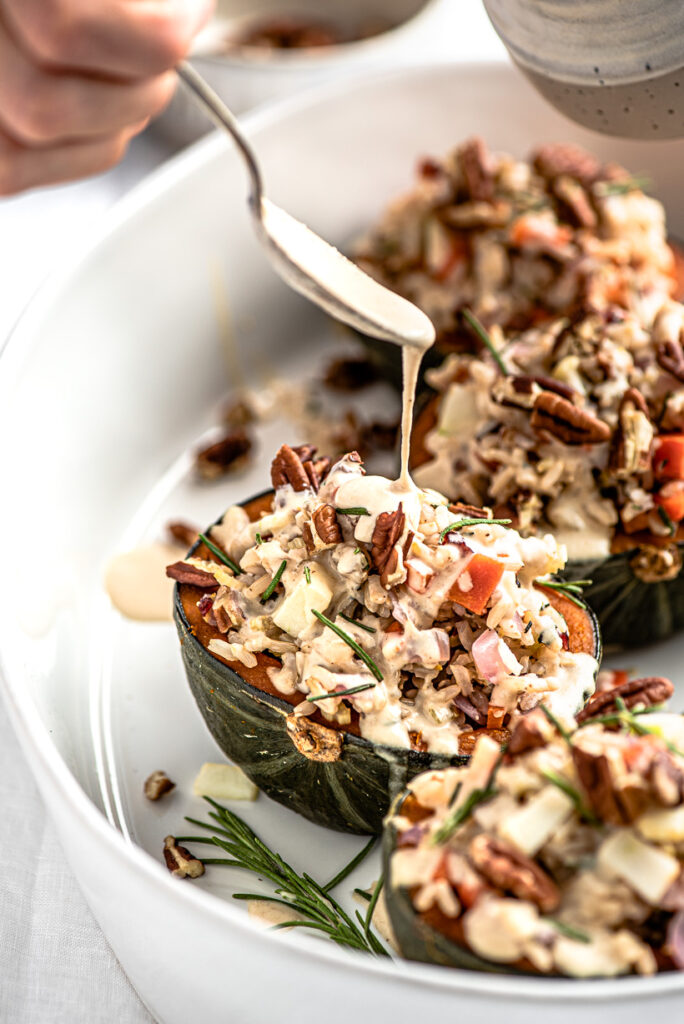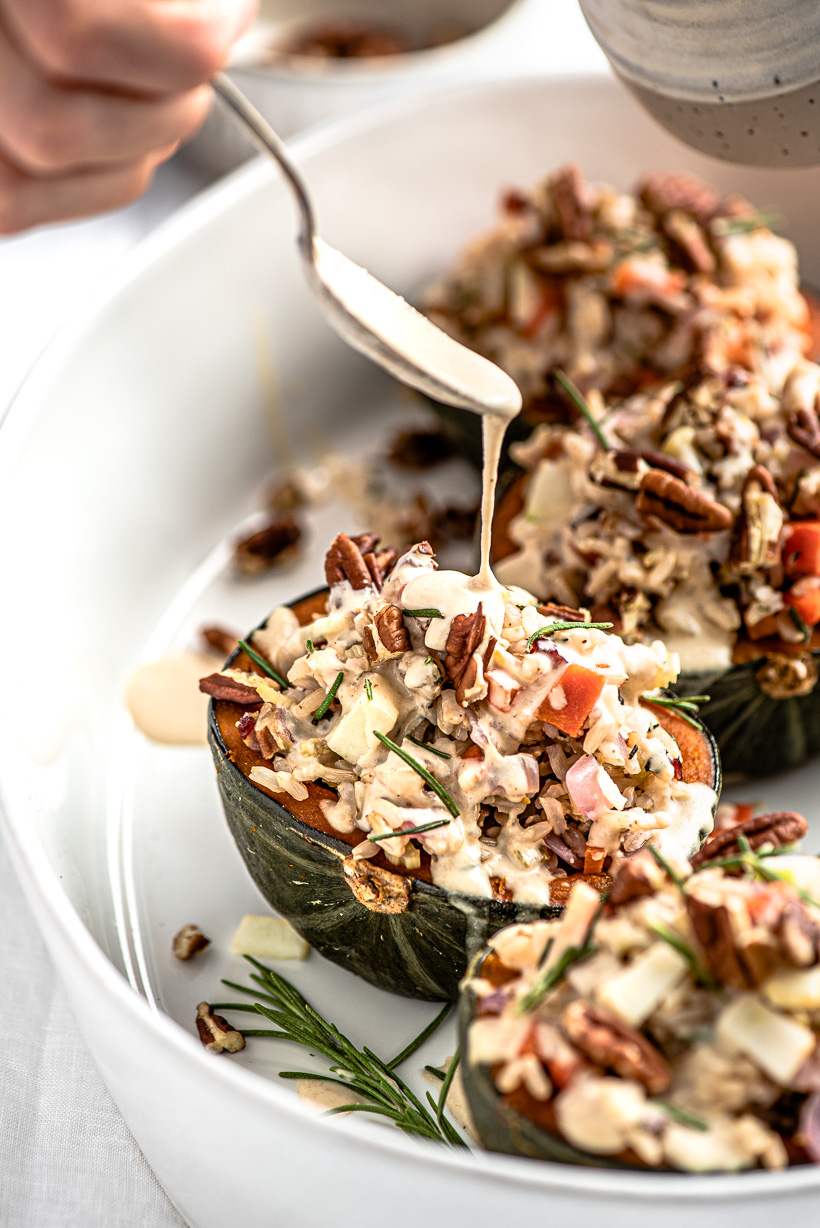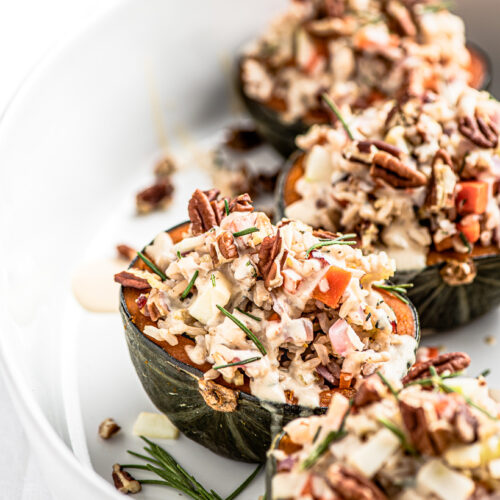 Easy Vegan Stuffed Squash with Brown Rice, Pecans, and Sage
This is a filling, wholesome recipe celebrating delicious winter squash!
Ingredients
Brown Rice, Pecan and Sage Stuffing
1

cup

dry brown rice

1

large red onion

diced

2

celery stalks

thinly sliced

1

large carrot

finely diced

5

garlic cloves

minced

¼

teaspoon

red pepper flakes

Pinch

black pepper

1

tablespoon

finely chopped fresh sage

or ¾ teaspoon dried sage

2

teaspoon

finely chopped fresh rosemary

or 1 teaspoon dried rosemary

1

tablespoon

fresh lemon juice

⅓

cup

finely chopped dried cranberries

½

Granny Smith apple

finely chopped (peel on or off)

⅓

cup

chopped pecans

½

teaspoon

sea salt

Optional garnish: chopped pecans,red pepper flakes, chopped rosemary
Squash
2

acorn squash

(or similar sized kabocha squash)
Tahini Sauce
¼

cup

well stirred tahini

3

tablespoons

freshly squeezed lemon juice

2

teaspoons

maple syrup

Pinch

salt

Water to thin
Instructions
Filling
Cook the brown rice according to directions. Once cooked, fluff with a fork and set aside, covered, until needed.

Meanwhile, preheat the oven to 375ºF and line a baking sheet with parchment paper.

Cut the squash in half (from stem to tip) and scoop out the seeds with a fork. Discard or save for later and toast! Place the squash halves face down on the baking sheet and pierce the flesh a few times with a knife. Bake for 40 to 45 minutes or until the squash begins releasing some juices and the flesh gives when pressed. Baking time will vary depending on the size and type of squash used.

While the squash is roasting make the stuffing. In a large non-stick sauté pan, sauté the onion, celery, carrot with about ¼ cup water for 10 to 12 minutes until the onions are translucent and the carrots are tender. Then add the garlic, red pepper flakes, pepper, sage, and rosemary and continue to cook for another minute. Turn the heat off. If the rice isn't cooked yet, set the veggies aside until the rice is ready.

Add the cooked rice to the pan of veggies. Mix in the lemon juice, cranberries, apples, pecans, and salt. Taste and reseason with salt and pepper as needed. Cover to keep warm until the squash are ready.
Tahini Sauce
To make the sauce, whisk the tahini, lemon juice, maple syrup, and salt in a small bowl. Add water, 1 tablespoon at a time, and continue to whisk until smooth.
Assemble
Carefully turn the squash halves over. Add a drizzle of the tahini sauce to the bottom of each squash half and then fill with the brown rice stuffing. Pile the stuffing high until it's spilling out. Drizzle with more tahini sauce, if desired, and garnish as you wish! Enjoy!
Notes
Leftover stuffing makes for delicious rice pilaf or grain salad.