About These Oil-Free Spiced Nuts
I used to make batches upon batches of spiced nuts to give as gifts over the holidays or to hand out to family and friends to take home after a visit. 
It was the same recipe every year: nuts, spices, brown sugar, and boat loads of olive oil. 
And then I shifted my diet to reduce added oils in my own home cooking and I felt weird giving people a gift I wouldn't eat. Not a gift I bought, but that I actually made!
If I didn't value it, I didn't feel like I could gift it.
How could I explain myself? "I try and minimize processed sugars and oils so I wouldn't eat this but I'm going to give it to you". Merry Christmas! Eek! No. 
So, for years I forgot about spiced nuts because I figured there was no healthier way to make them.
And, yes, I know on a plant-based diet, nuts and seeds represent a smaller percentage of caloric intake, but I still wanted something I could give that represented my culinary style and nutritional values. As holiday season rolled around this year, I was hell-bent on making an oil-free, low-sugar version!
So I worked on it!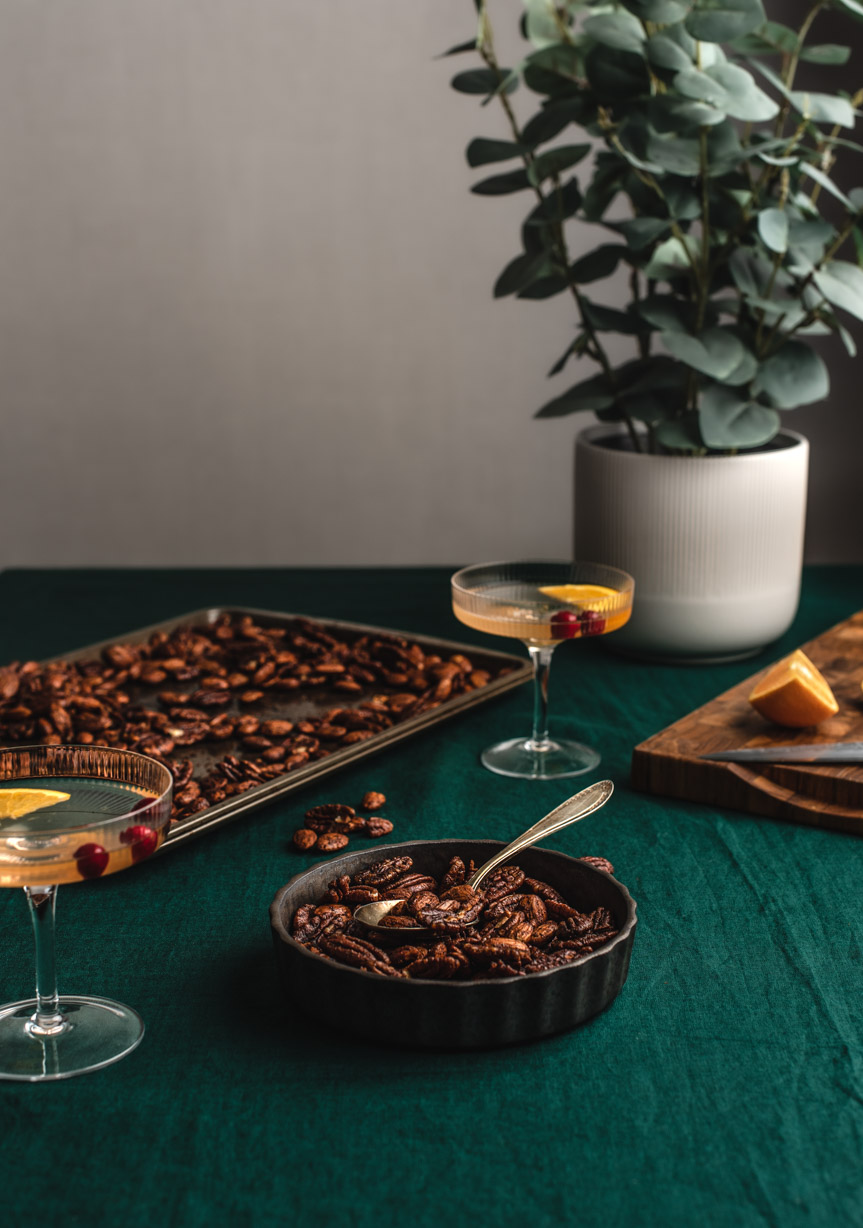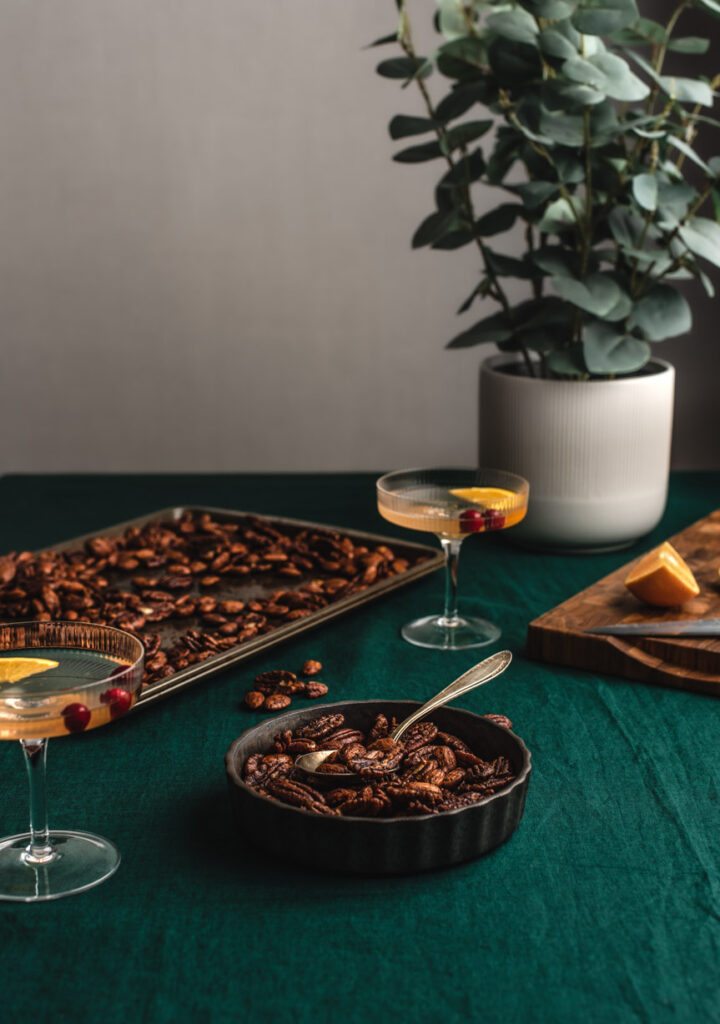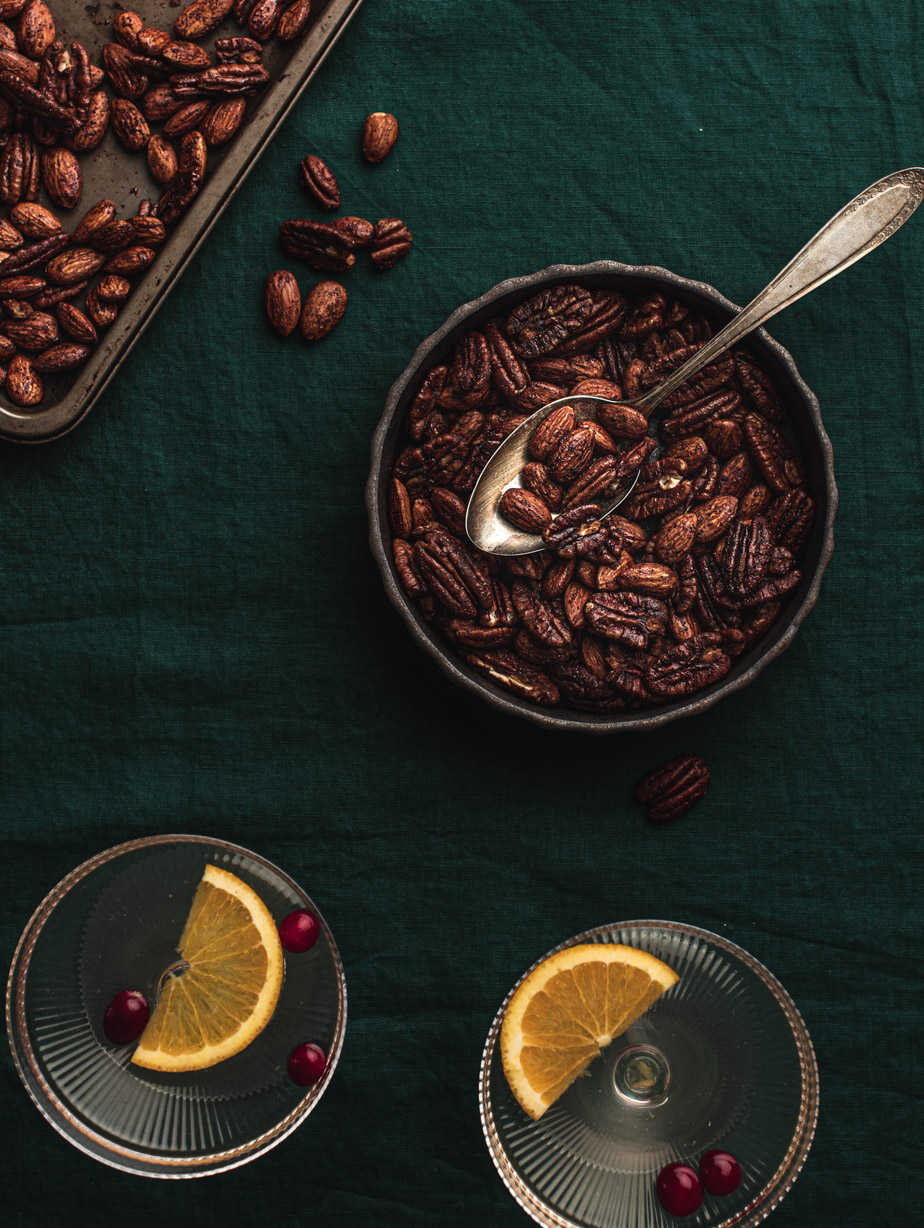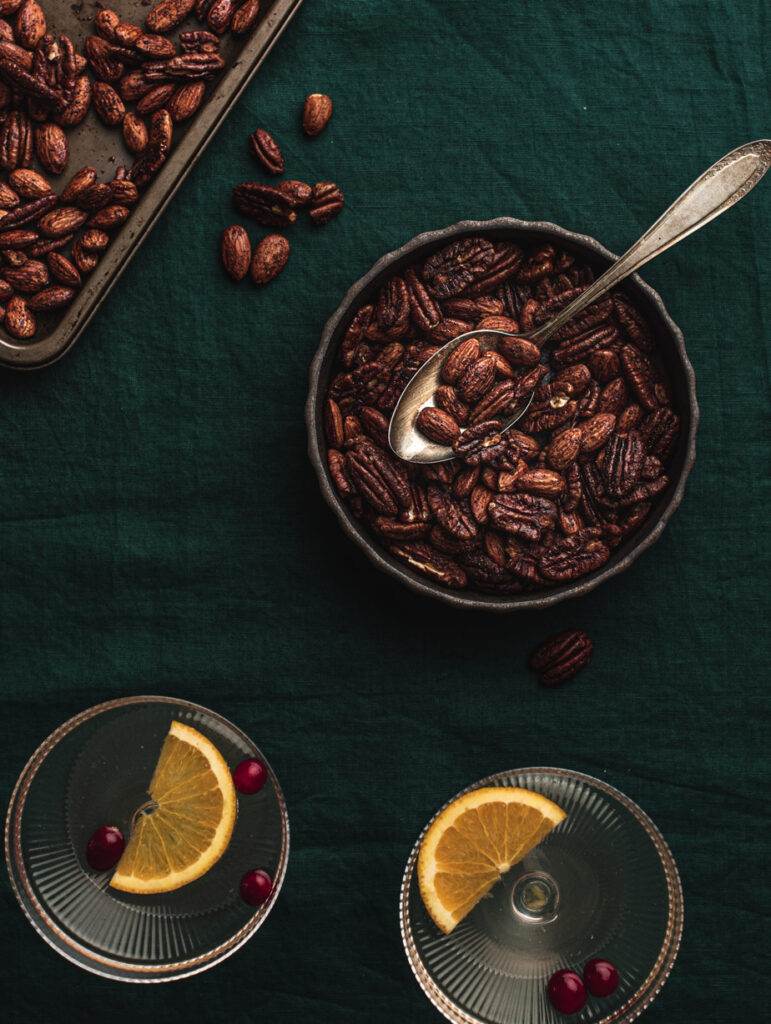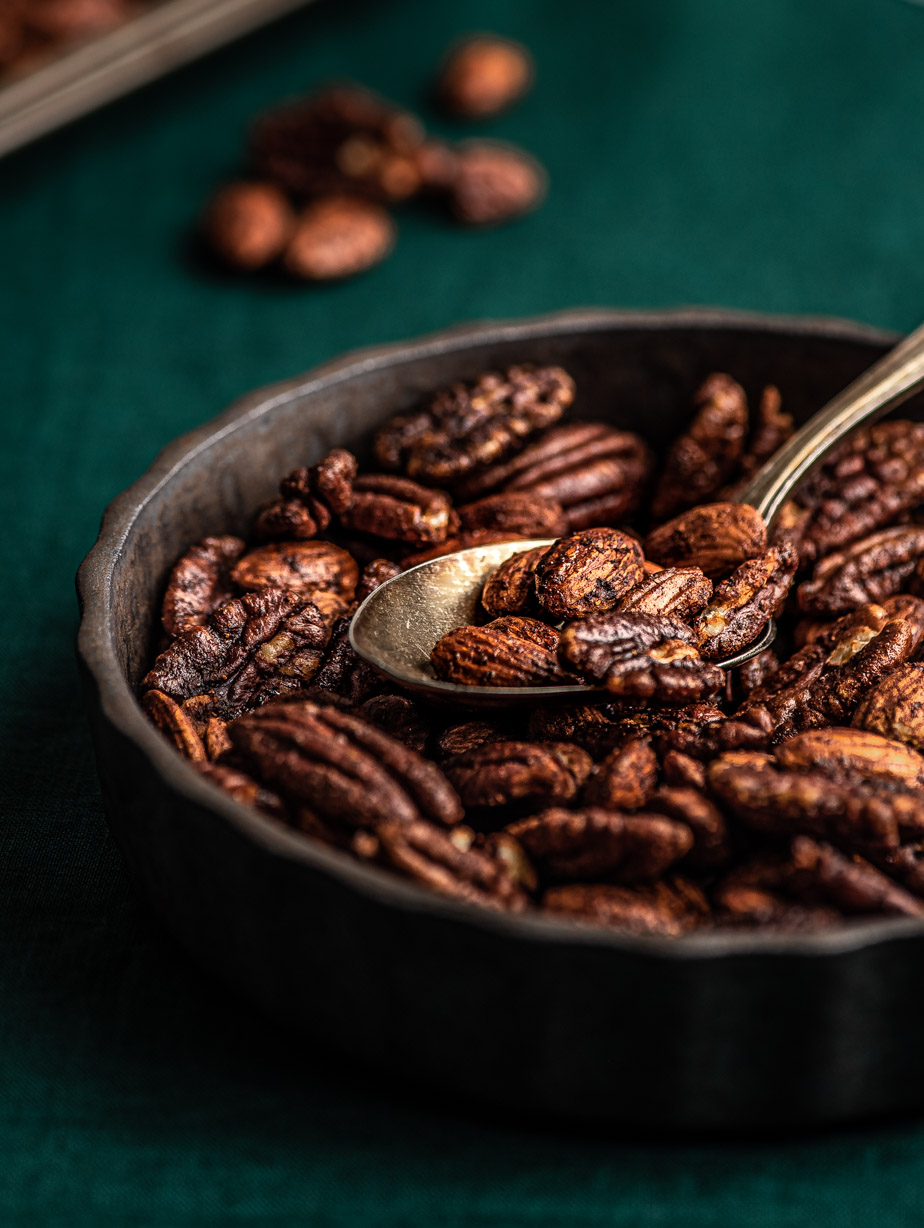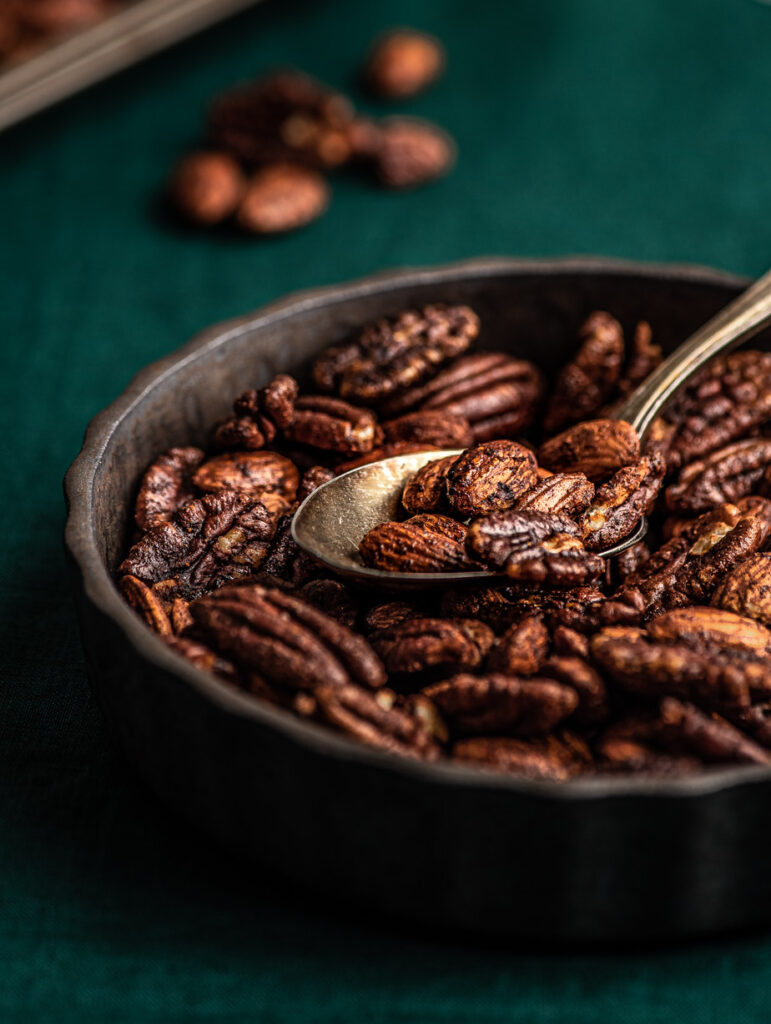 A couple of months ago, after my cookbook was out of my hands and off to the publisher, I was still in recipe-creation mode and found myself testing and re-testing recipes for no reason. 
These oil-free spiced nuts were amongst the tested!
I tried different ratios of spices and volumes of liquid. I tried to balance the sweet, salty, and spicy elements. I varied the temperature to preserve nutrients while offering some toasty vibes.
I became a little obsessed!
Let's just say we had an abnormal stock of spiced nuts laying around in dishes everywhere. 
A friend dropped over and she left with a big jar of oil-free spiced nuts. We had a holiday party and there were little bowls of oil-free spiced nuts on every single surface. They've been incorporated in so many dishes as cake garnishes and oatmeal toppings. 
I made way too many but the good news is that I found an oil-free spiced nuts recipe that works for me and might be helpful for you!
I once again have been gifting holiday spiced nuts. But these ones, I'll eat too!
Almonds
Pecans
Maple syrup
Soy Sauce or tamari (gluten-free soy sauce)
Chili powder – this is the one I use from Simply Organics. Chili powder flavours can vary depending on brand – just something to note when making the recipes!
Ground cumin
Cinnamon
Ground allspice
Cayenne pepper
Nothing special needed for these oil-free spiced nuts!
Parchment paper
Sheet pan (a large one so the nuts can be spread out in a single layer)
Nuts. This recipe uses 2.5 cups each of almonds and pecans. The pecans are always my favorite so feel free to use 5 cups of only one type of nut.
Other spices you can add and exchange for the spices used include smoked paprika, coriander, nutmeg or curry powder.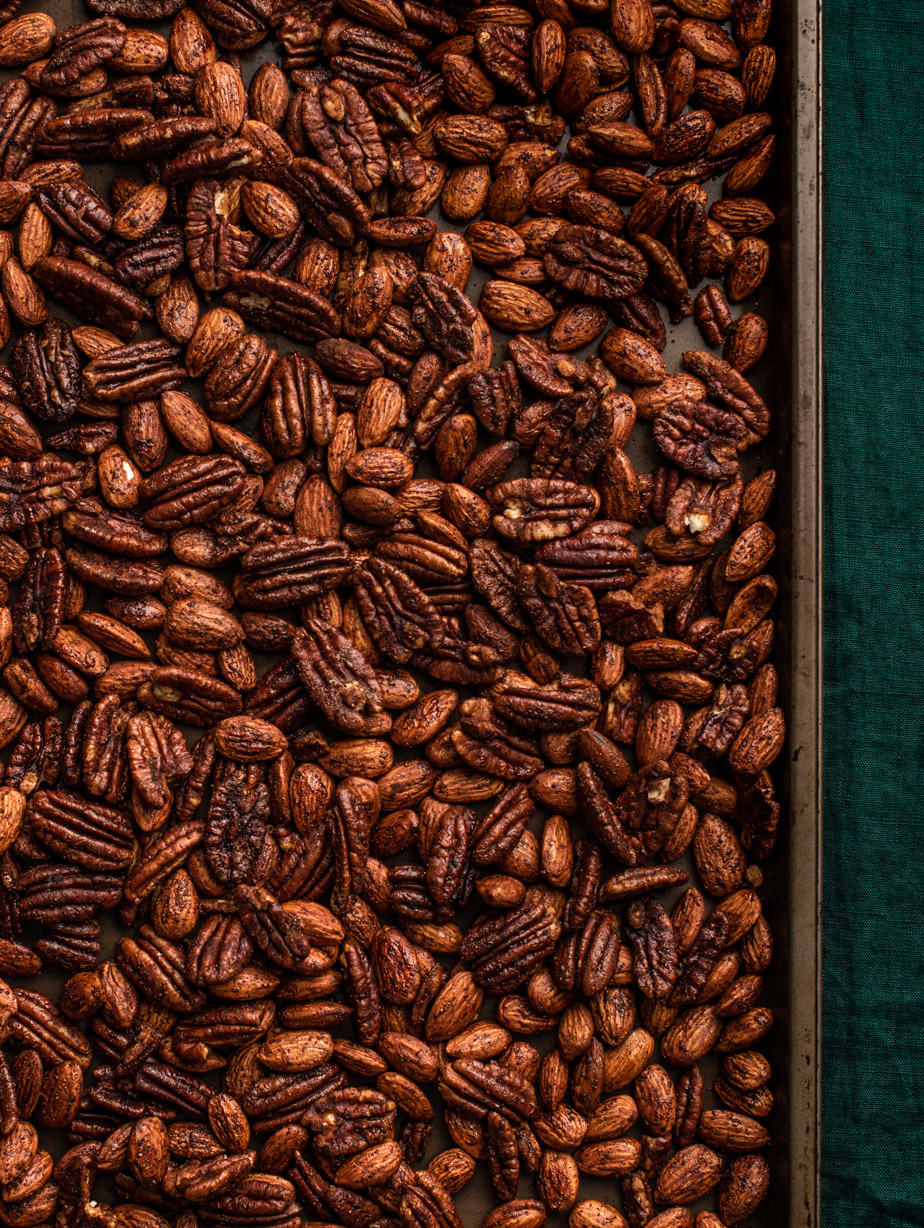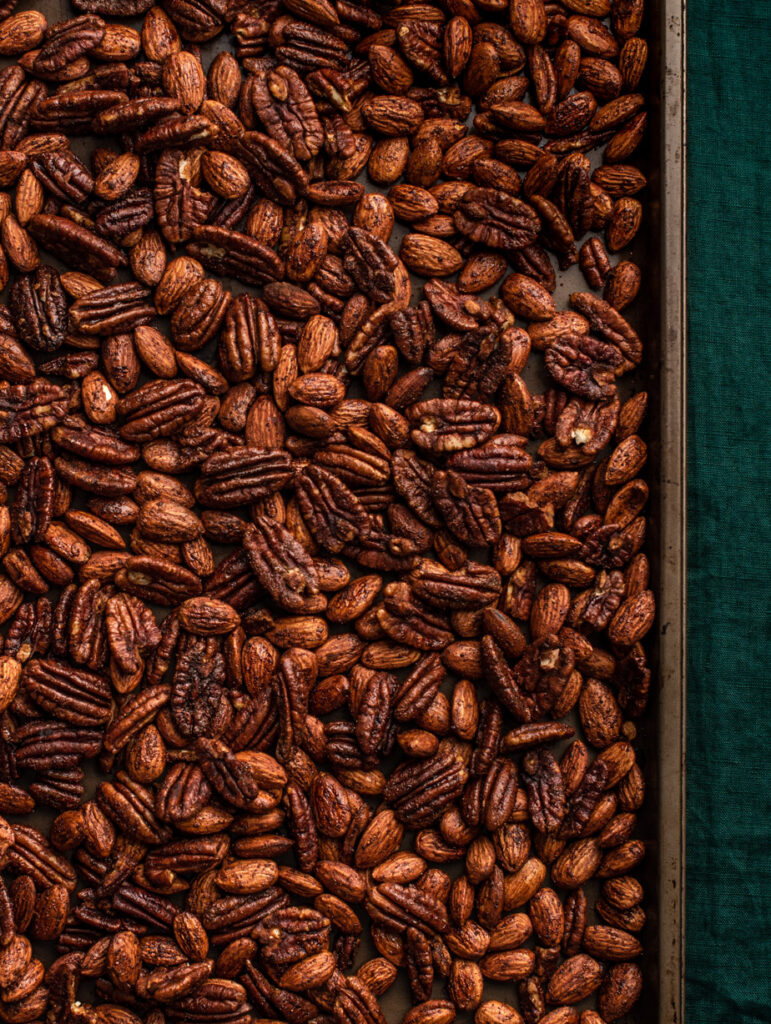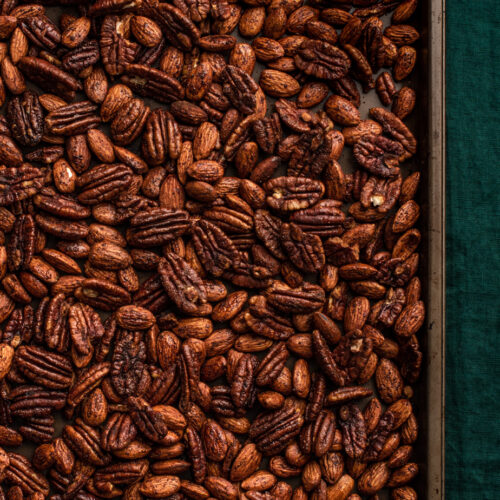 These oil-free spiced nuts are great for the holidays! Enjoy or serve as snacks or give them as a gift!
Ingredients
2½

cups

unsalted

raw almonds

2½

cups

unsalted

raw pecans

2

tablespoons

maple syrup

3

tablespoons

tamari or soy sauce

2

teaspoons

chili powder

2

teaspoons

ground cumin

1½

teaspoons

cinnamon

½

teaspoon

ground allspice

½

teaspoon

cayenne

more if you like it spicy
Instructions
Position the oven rack in the middle of the oven and preheat to 300ºF. Line a large baking pan with parchment paper.

Put the nuts in a medium bowl. In a separate small bowl whisk together the tamari, maple syrup and all spices. Add the wet spice mix to the nuts and mix until all nuts are coated.

Transfer the nuts to the parchment-lined pan in a single layer and bake for 35 to 38 minutes. Flipping two times throughout for even baking. They'll be fragrant and almost dry to the touch when they're done. Remove from the oven let cool completely on the pan. They'll crisp-up as they cool. Store in a sealed container, in a cool, dry place for up to 2 weeks.
Notes
Nuts can burn fast, so this is a recipe where it's helpful to know your oven. I suggest keeping a close eye on the nuts for the last 5 minutes. 
Be sure to use a large sheet pan so the nuts can lay in one single layer. If they're too crowded on the pan, they won't bake properly. 
A note on chili powder (brought to my attention by a lovely recipe tester), different brands can have different levels of intensity. If you have a very strong chili powder, feel free to reduce the amount used. I use this brand from Simply Organics.