I wanted a holiday themed nut and dried fruit ball I could give as an edible gift. That's how these vegan gingerbread bliss balls came to be!
About These Gingerbread Bliss Balls
Bliss balls, also known as energy balls or power balls, are easy to make and super convenient because you can just pop them in the freezer and take them out a few minutes before serving. 
I make a few variations but this one is Christmas themed and inspired by the warm and cozy spices in gingerbread cookies. If you're looking for other whole-food bliss ball recipes, check out these Apple Pie Bliss Balls and Chocolate Beet Bliss Balls. 
Pecans or almonds – Either work! Just make sure they're unsalted and unroasted.
Rolled oats – I use old-fashioned, gluten-free rolled oats but you can use regular if gluten isn't an issue. Avoid quick cooking rolled oats.
Flaxseed – Ground flaxseed. You can purchase this but it's even better to buy the seeds whole and grind them yourself in a spice or coffee grinder.
Dates – I suggest Medjool or Deglet Noor dates for this recipe. Make sure you remove the pits!
Blackstrap molasses – Blackstrap molasses has a stronger, more bitter flavor than regular molasses and has some health benefits (see below). If you can't find blackstrap, use regular. I use this blackstrap molasses.
Orange juice – Use freshly squeezed orange juice and not bottled. For this recipe, you only need 1 tablespoon of juice – which is juice from about half a small orange.
Spices – Ground ginger, ground cloves, ground nutmeg.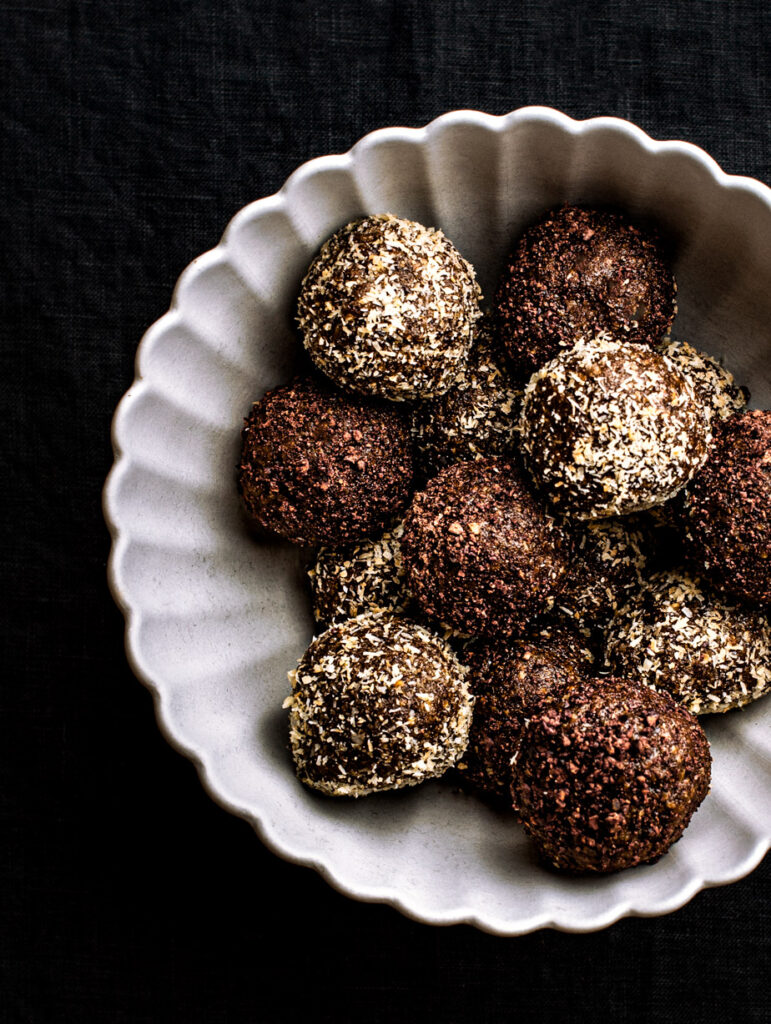 Super easy! 
Everything goes into the food processor. Process until the mixture easily sticks together when pressed between your fingers. 
Shape the mixture into balls and you have the option to roll the gingerbread bliss balls in coconut or ground cacao nibs. I like to mix it up and leave some plain.
Food processor
I like to use a 3/4 ounce disher (spring-release scoop) to scoop and shape the bliss balls but you can easily do this with your hands. Here's the disher I use. 
Tips, Tricks & How To Simplify
Soft dates. Use dates that are soft and juicy. Old dates can be dry and crumbly and won't work as well in helping all the ingredients stick together. 
Roll right away. If you're rolling you bliss balls in coconut or cacao, I find it works best to do this as soon as you've made the gingerbread bliss balls while they're still a little warm and moist. Put the coconut or ground cacao in a small bowl and toss around the ball until coated.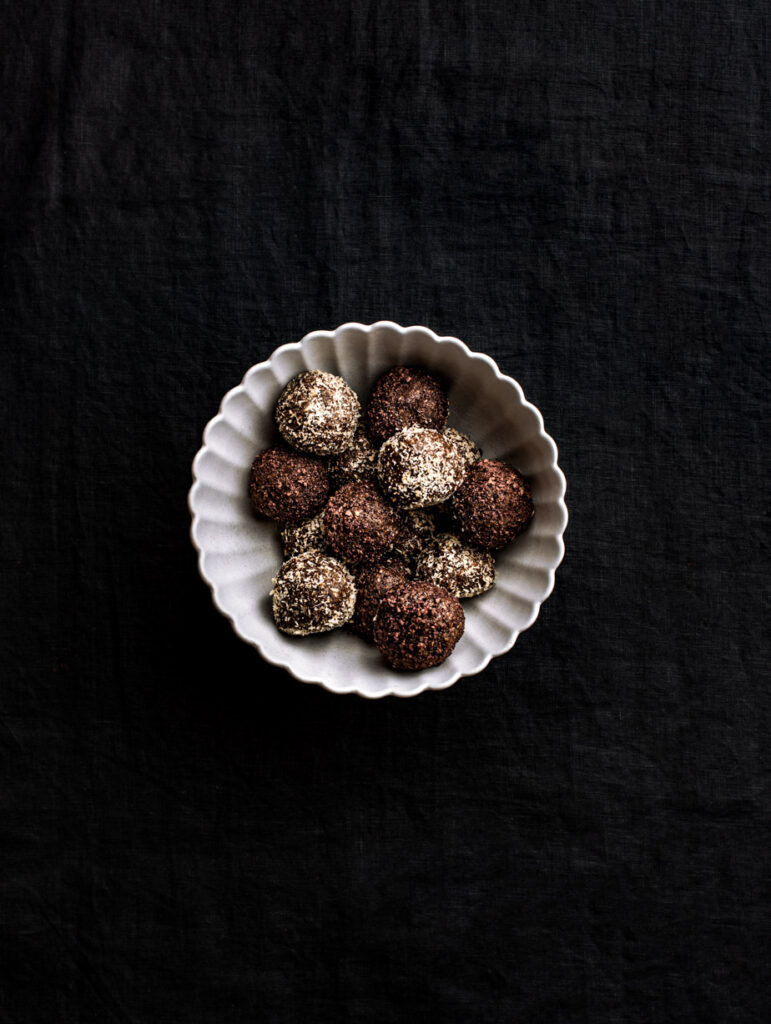 Blackstrap molasses stands out because, although it is a sweetener, it offers an impressive list of minerals like calcium, iron, and magnesium. We're only using a little bit in this recipe, but it is still a noteworthy ingredient.
Dates! Dates are the main sweetener in these gingerbread bliss balls and my preferred sweetener for so many desserts, sauces, and baked goods. Dates are sweet and can often be used to replace refined sweeteners. Whereas white sugar has zero health benefits, dates are high in fiber and offer some minerals like potassium and phosphorus. 
You can use pecans or almonds. You can also use hazelnuts, although I've never tried.
You can swap the coconut or cacao for hemp seeds or sesame seeds or skip the rolling garnish altogether.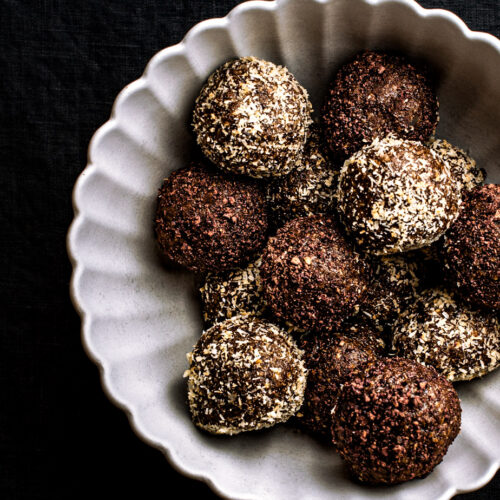 A vegan, gluten-free, and oil-free bliss ball for the holiday season! I like to keep these in the freezer and take them out about 10 to 15 minutes before serving!
Ingredients
1

cup

unsalted and raw pecans or almonds

1

cup

old fashioned rolled oats

gluten-free if needed

¼

cup

ground flaxseed

1

packed cup

pitted soft medjool or deglet noor dates

1

tablespoon

+ 2 teaspoons blackstrap molasses or regular molasses

1

tablespoon

freshly squeezed orange juice

1

teaspoon

cinnamon

¾

teaspoon

ground ginger

¼

teaspoon

ground cloves

¼

teaspoon

ground nutmeg

¼

teaspoon

sea salt
For Rolling
¼

cup

toasted coconut or ground cacao nibs (see notes),

optional
Instructions
Place the nuts and oats in a food processor and pulse several times until the nuts are broken up.

Add all remaining ingredients (except coconut or cacao for rolling) to the processor and process continuously for about a minute or until the mix sticks together easily when squeezed between your fingers.

Roll about 2 tablespoons of the mix together and shape into a tight ball. Roll in toasted or raw unsweetened coconut or ground cacao nibs if desired. Keep in the fridge for up to 5 days or the freezer for up 3 months.
Notes
I like to use a

¾

spring-release disher like this one to shape the gingerbread bliss balls.
I make ground cacao by grinding cacao nibs in a spice or coffee grinder (the same one I use to grind flaxseed).