What's on the menu this holiday season? For me, it's this vegan chickpea loaf – also known as a vegan "meatloaf".
Bean and nut loaves have taken centerstage as THE plant-based entrée during the holidays and if you haven't tried a vegan meatloaf, this year is the year! I'll walk you through it!
This vegan chickpea loaf is hearty, fragrant, and filling and it's my version of what's now become a vegan holiday classic.
About This Vegan Chickpea Loaf
At first glance, it may seem totally random that a legume-based loaf has become a staple meatless holiday meal. But it actually makes so much sense. There are many great reasons why this chickpea loaf (or any bean loaf) should hit your holiday table! 
Here are just a few: 
It takes time (in a good way!)
In our fast-paced world, everyone's, understandably, looking for easy recipes that can be thrown together in minutes. But, the holidays are about making things! 
Making things from scratch – rolling out doughs, decorating cookies, simmering, stewing, slow baking cakes and casseroles. 
I, with my whole-food-loving heart, savour that. 
This is what the holidays are about – time together making things! Whether it be Christmas cards, gingerbread houses, or vegan chickpea loaves. 
A bean loaf is a process. It's not overly difficult, by any means, but it will take an hour or two and some sleeves will be rolled up. 
There's chopping, stirring, basting, and baking. And, if you decide to cook the chickpeas from scratch and soak your nuts (highly recommended), then the process starts the day before. Lean into it!
It serves a crowd (and leftovers are even better!) 
A bean loaf can serve everyone around the table which is also essential for a holiday gathering. I mean Bernard and I alone can devour a loaf in a day, but we're self-proclaimed gluttons!
If you don't have too many mouths to feed, leftover loaf reheated slowly the next day in the oven served with some mashed potatoes is delicious. 
Or, you can just pick a little bit off every now and then as you walk by the kitchen. Which reminds of another holiday tradition I love – unhinged snacking!
Hearty!
This chickpea loaf will leave you satiated and satisfied! A holiday meal is notoriously hearty with overflowing plates and rich, dense foods. This loaf has you covered on all fronts!
Flavors! 
Warm walnuts, thyme, rosemary, thick "meaty" slices – the flavors and textures going on in this loaf are just begging for slippers and warm sweaters. This chickpea loaf is a winter wonderland of culinary celebration that meets the holiday moment.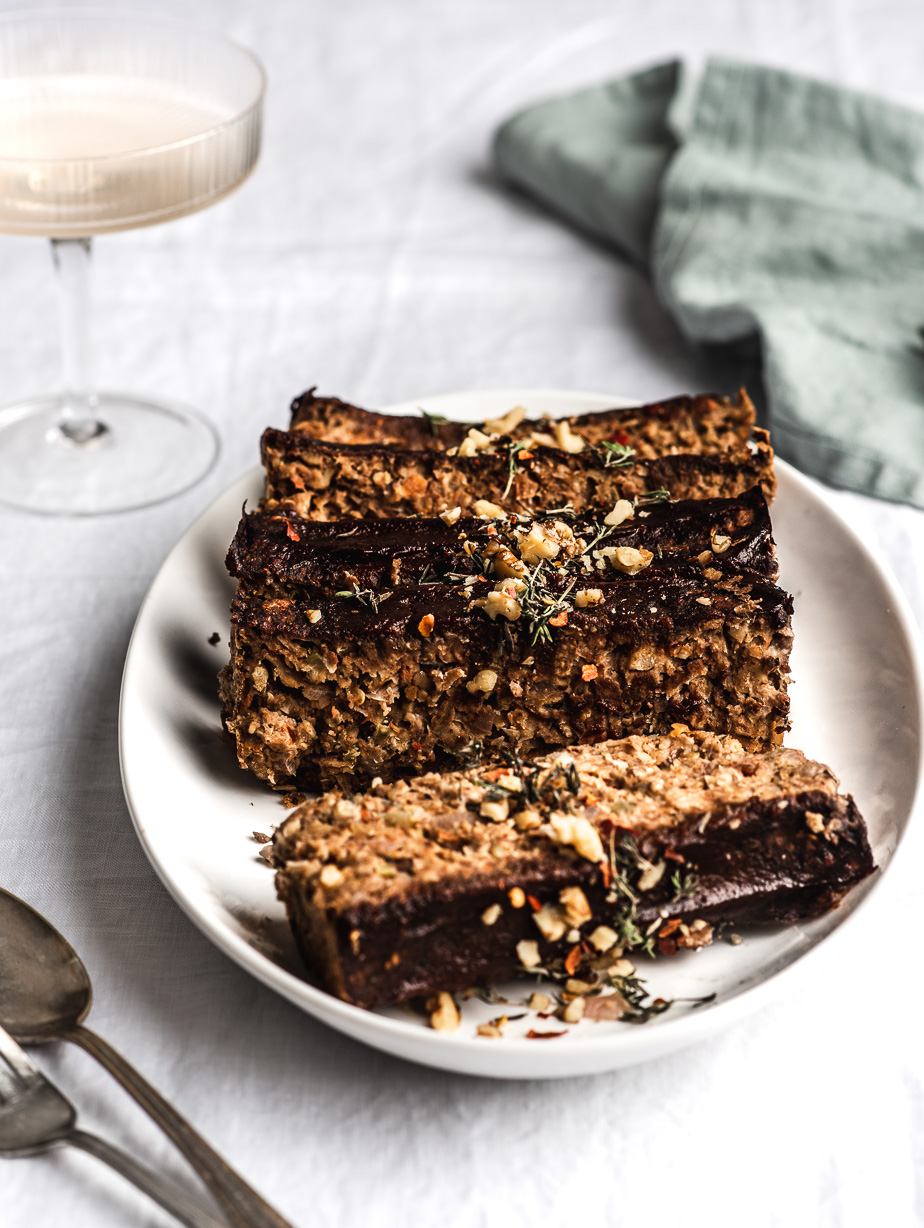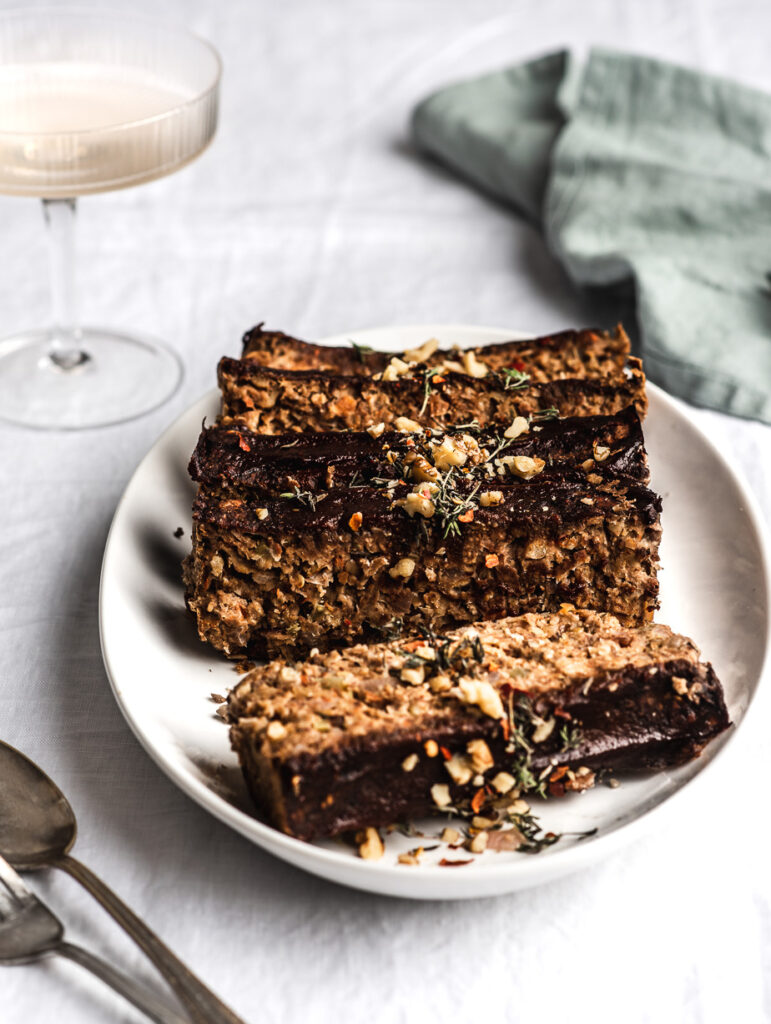 To quickly summarise the process: 
Add almost all the ingredients to a food processor and process until well combined with some texture remaining. Then transfer to a parchment lined bread pan (the same pan you'd use for a  banana bread like this spelt chocolate chip banana bread). 
You have the option to baste the surface of the chickpea loaf with with BBQ sauce – this adds flavor and moisture. I use my no-added sugar BBQ sauce from The Plant-Based Cookbook (plug alert!) but you can use your favorite BBQ sauce or even skip it altogether and serve with a vegan gravy (my fav gravy is also in my cookbook. I'm shameless!). I would suggest avoiding any themed or uniquely flavored BBQ sauces, however. 
Once the loaf is baked, you let it cool in the pan for a bit. Then you remove it from the pan and let it cool some more. Then slice and serve.
Food processor (definitely one with a 12 cup container or larger)
Bread pan
Parchment paper
Tips, Tricks & How To Simplify
Line the pan. 
Because we aren't greasing the pan (there's no need), we use parchment paper to keep the loaf from sticking. Letting the parchment hang out over the sides of the pan by an inch or two also makes it easy to remove the loaf from the pan once it's done.
There are two ways you can line the bread pan with parchment paper: 
The first is by using a piece of parchment paper that is big enough to hang out over the longest two opposing sides of the bread pan. If you choose this method, when the loaf is ready to be removed from the pan you need to run a thin spatula or butterknife between the loaf and the pan on the shortest ends to loosen the loaf from the pan. This is the method I use most often.
The second method is done by laying the bread pan in the middle of a large piece of parchment paper and drawing straight lines away from each corner of the pan and then cutting out the shape. It will be like a t shape with a very thick middle. This is a 15 second how-to video.
This way, the parchment fits directly into the pan and parchment will hang out over all sides. This might sound confusing, but one go at it and it'll make sense. 
Soak the nuts (and avoid nut gut!) 
I get so sad when someone says they can't eat beans or nuts because they cause tummy aches or poor digestion! There are ways around this!
Canned beans can be  hard to digest, especially if you don't eat beans often. My suggestion is to cook dried chickpeas from scratch. 
How?
Soak the chickpeas overnight (or even 24 hours) in a big bowl covered by at least 3 inches of water. 
The next day, drain the chickpeas and transfer them to a large soup pot. Cover with water again by about 3 inches. Add a piece of dried kombu (a thin piece of dried seaweed that helps with digestion –optional), and simmer for 1 to 2 hours until the chickpeas are easily squished between two fingers but not falling apart. 
Finally, drain the chickpeas, discard the kombu if you used it,  let the chickpeas cool, and then keep them in container, covered,  in the fridge until ready to use. 
If you're thinking this is too much work, use canned beans (I like Eden) or summon your holiday spirit and enjoy the process!
The same goes for nuts. Soaking them helps with digestion and absorption of nutrients. Soak the walnuts for 4 to 6 hours in a bowl of water. Drain and they're ready to use. 
Patience 
Patience is definitely a virtue and one you can practice in the kitchen! There actually isn't a lot of down time once you get moving on this chickpea loaf. However, once it comes out of the oven, it's best to let the loaf rest. 
If you cut the loaf when it comes right out of the oven, it will fall apart. The longer you wait to slice it, the better the texture will be. 
I recommend letting the loaf rest for at least 15 minutes in the pan and 10 minutes on the cutting board but longer is even better! I even like to make this loaf one day ahead and reheat it slowly the day of for best results.
Make Ahead
If I'm planning to make this vegan chickpea loaf for Thanksgiving and Christmas (which I am) then I'll make 2 the day before Thanksgiving. I'll keep one in the fridge which I'll reheat for about 30 to 40 minutes at 300ºF on Thanksgiving and I'll freeze the other once for Christmas.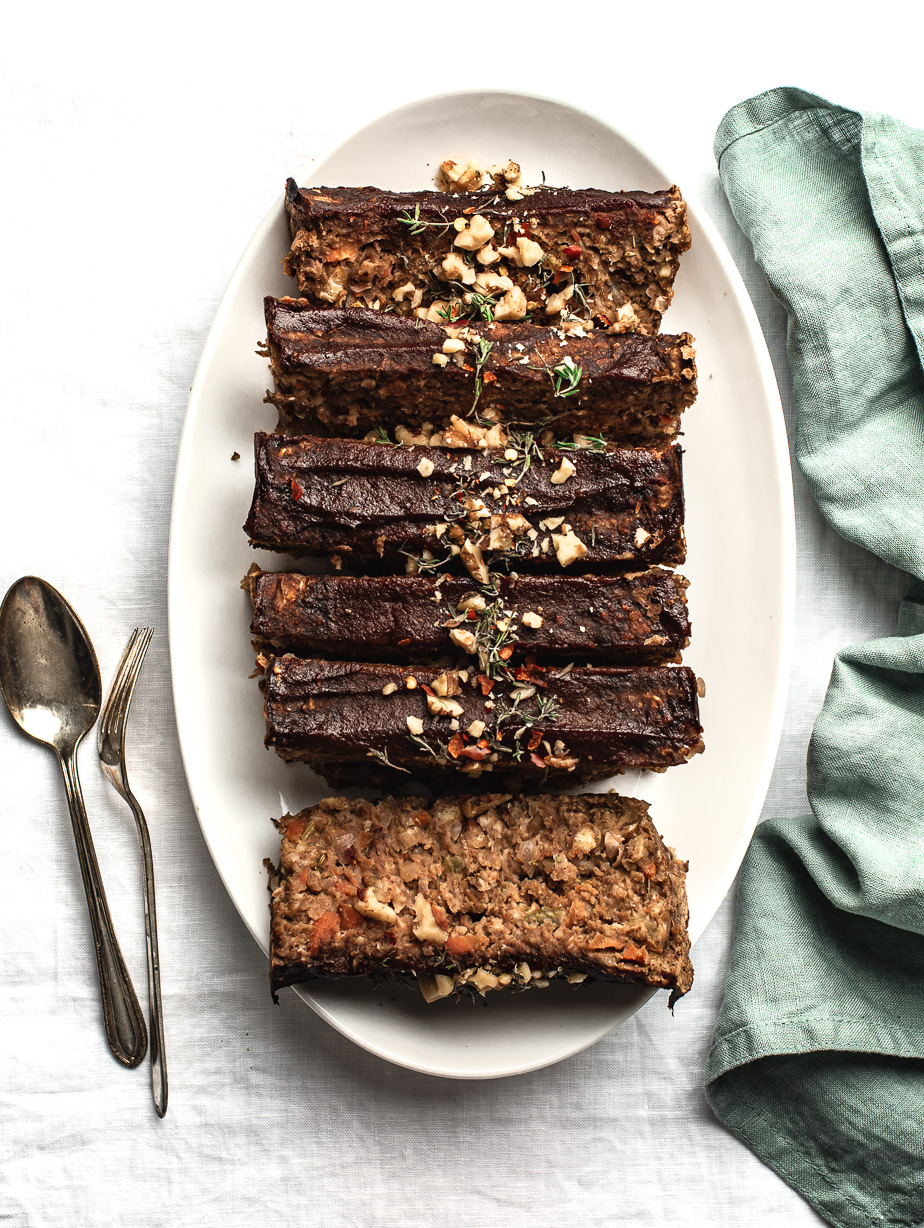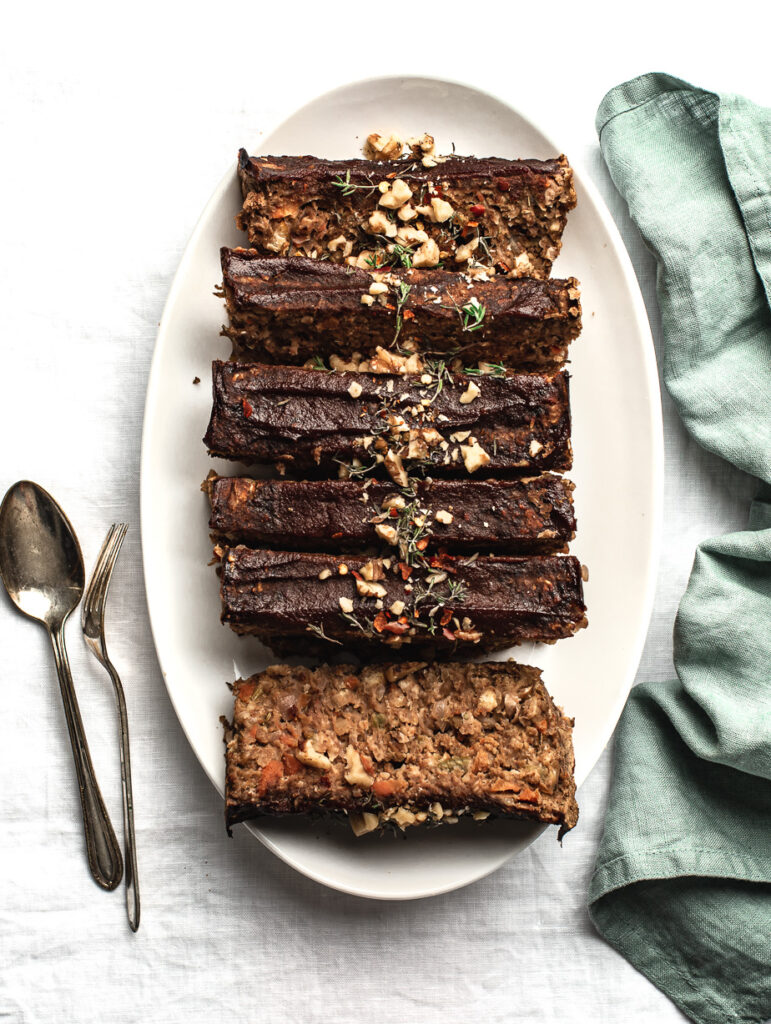 There are so many! I'm going to list a few tidbits of nutritional wisdom – some fun facts you can share around the table or use to back up your position on the health benefits of a plant-based diet!
Chickpeas – So much protein and fiber packed into a delicious little bean. One cup of cooked chickpeas has about 15 grams of protein and 12 grams of fiber and has no cholesterol or trans fat!
Walnuts – Walnuts have amazing omega-3 fatty acids that help to decrease and control inflammation in our bodies. Walnuts have the most omega-3 fats of any nut. And they look like little brains if you need a reminder!
Flaxseeds – Like walnuts, flaxseeds are a great source of omega-3's, specifically a fatty acid called ALA. They're also an impressive source of cancer-fighting lignans. Dr.Michael Greger, creator of NurtitionFacts.org, suggests 1 tablespoon of ground flaxseed a day! I am down for that!
You can use pecans instead of walnuts. I've never tried it, but I think you can easily swap sunflower seeds for nuts to make this chickpea loaf nut-free.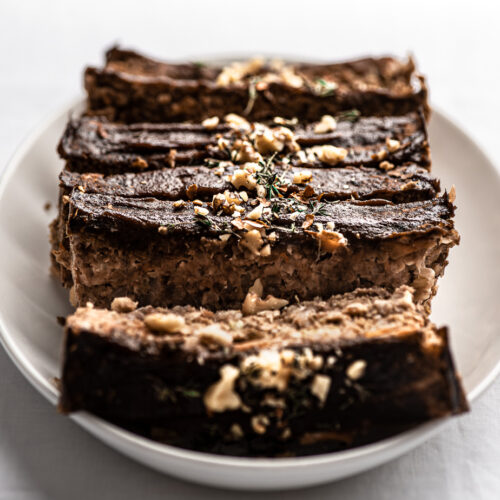 This loaf is ideal for the holidays when you want to serve a crowd something hearty, delicious, and vegan! It's also gluten-free and made without added oils! It makes 8 slices which can serve anywhere from 4 to 8 people depending on serving size.
If you've never made a bean or nut loaf, I suggest you skim through the post for tips!
Ingredients
3

tablespoons

ground flax seed

5

tablespoons

water

1

large red onion

diced small (~2 cups)

1

large carrot

diced small (~1 cup)

1

large celery stalk

diced small (~1 cup)

5

garlic cloves

minced

3

cups

cooked or canned chickpeas,

drained and rinsed (2x15 oz cans)

1

cup

raw walnuts

(soaked in water for 4 to 6 hours – optional)

2

cups

old-fashioned rolled oats,

gluten-free if desired

2

tablespoons

tamari

(or soy sauce if gluten isn't an issue)

1

tablespoon

balsamic vinegar

1½

teaspoons

dried thyme

1½

teaspoons

dried rosemary

½

teaspoon

ground sage

¼

teaspoon

red pepper flakes

or more if you likely it spicy or omit altogether

¾

teaspoon

sea salt

Big pinch black pepper

1/3

cup

low-sugar BBQ Sauce or preferred BBQ sauce
Instructions
Preheat the oven to 375ºF and line a bread pan with parchment paper so that the parchment hangs out over the two opposing longer sides and set aside. See the explanation and video in the post.

In a small bowl, mix the flaxseed with 5 tablespoons of water and set aside for 5 minutes to thicken.

In a large sauté pan, sauté the onion, carrot, and celery in ¼ cup of water for 10 to 15 minutes or until the onions have softened and the carrots are tender. Add water as needed, 2 or 3 tablespoon at a time, to prevent burning. Add the garlic and sauté for another minute or until any liquid in the pan has evaporated. Remove from the stove and set aside.

Now add the chickpeas, walnuts, and rolled oats to a food processor and pulse until everything Is broken up.

Next, add the tamari, balsamic vinegar, thyme, rosemary, sage, red pepper flakes, salt, pepper, thickened flax/water mixture, and cooked veggies to the food processor as well. Pulse a few times then process or pulse until everything is combined. Stop and scrape down the sides and bottom of the processor a couple of times throughout to prevent the mix from getting too smooth. If your processor is smaller, you will have to process the mix in batches and then mix together in a bowl. You want the mix to have a thick but rough texture, not like a smooth paste.

Transfer the mix to the parchment-lined bread pan and even out the surface using the back of a spoon or spatula. Spread the bbq sauce over the top.

Put the loaf in the oven and bake, uncovered, for 45 minutes. Remove from the oven and let cool in the pan for 15 minutes, loosely covered to keep warm.

Slide a butter knife or thin spatula along the sides of the loaf to release it from the pan (the sides without parchment) and pull the loaf out of the pan and onto a cutting board. If you can wait, wait another 5 to 10 minutes before slicing to let the inside firm up. Using a sharp chef's knife, cut into 8 slices and serve!
Notes
If you have time to prepare ahead, I suggest letting the loaf cool completely after it's removed from the oven. Refrigerate it overnight and the following day, reheat the loaf at 300ºF for 30 to 45 minutes or cut the loaf into slices and warm the slices in the oven until warm.