About This Vegan Spelt Banana Bread
An oil-free vegan Spelt Banana Bread that's healthy and wholesome.
An unlikely recipe from me as most of my desserts are gluten-free but this came about as many of my recipes do – I had leftovers.
I had leftover spelt flour (exactly 2 cups) and vegan chocolate chips from a recipe shoot I did months ago, and I wasn't sure what their destination would be, but they weren't going to be wasted.
And I always, always, have overripe bananas on my counter or in my fridge. 
Those three things combined gave me the idea to get going on a vegan spelt banana bread.
It's beyond delicious.
My first version had a little over 1 cup of mashed banana but I felt the texture was a little dry and needed just a teeny bit of added sweetness. I'm not a fan of banana breads that taste like cake, but the hearty whole grain spelt flour could handle a little more mashed banana and a splash of maple syrup. So I added a bit of both.
If you're not down with vegan chocolate chips, use the same amount of your favorite nut or dried fruit.
Spelt is an ancient grain related to wheat so it's not gluten-free however some people who have a gluten sensitivity (not allergy) can tolerate spelt flour. For this vegan spelt banana bread, I used Bob's Red Mill Spelt Flour. This is a whole grain flour with some nutty notes that lend well to the infamous banana bread . You can find this flour in most health food stores or health food or baking aisles. 
whole grain spelt flour
baking powder
 baking soda
ground flaxseed
cinnamon
nutmeg
salt
very ripe bananas (about 4 medium to large bananas)
creamy nut butter (peanut butter or almond butter)
maple syrup
vanilla extract
vegan chocolate chops or chopped nuts or dried cranberries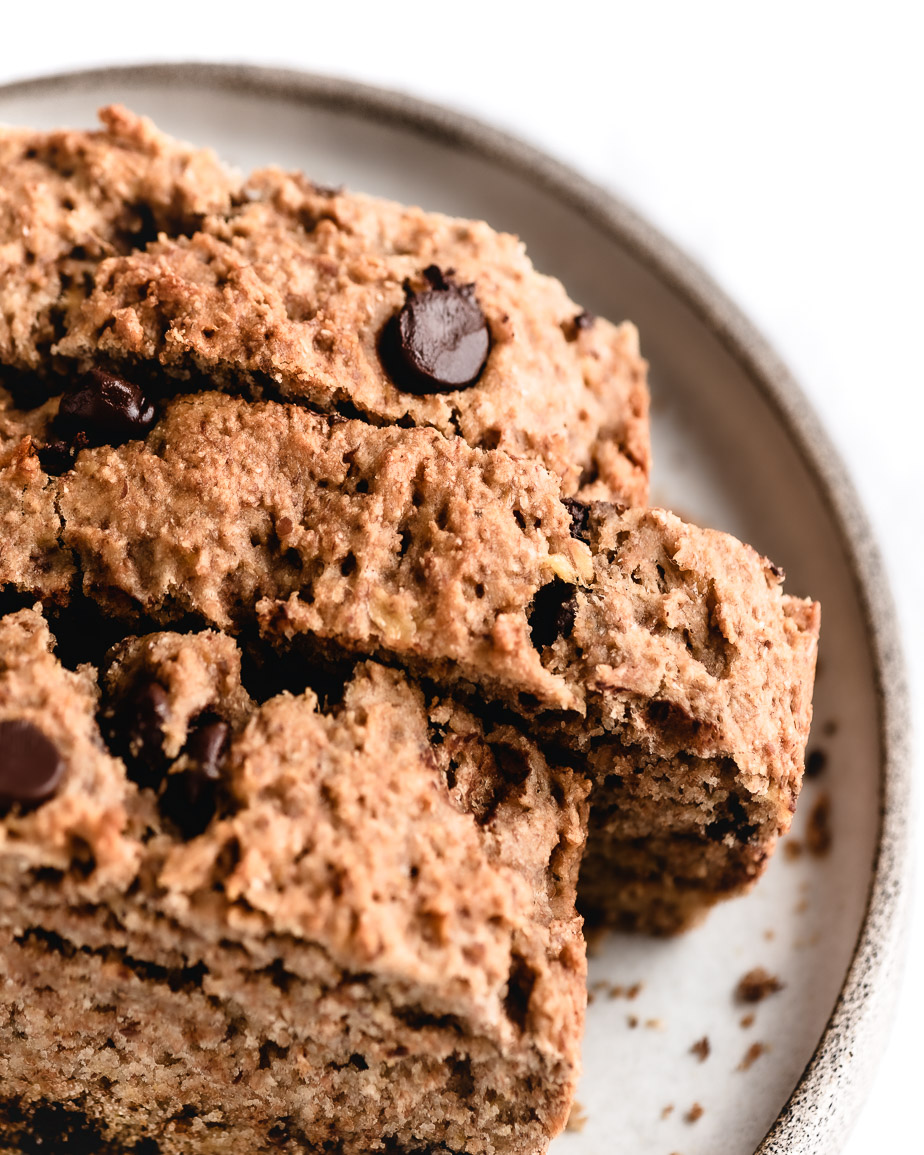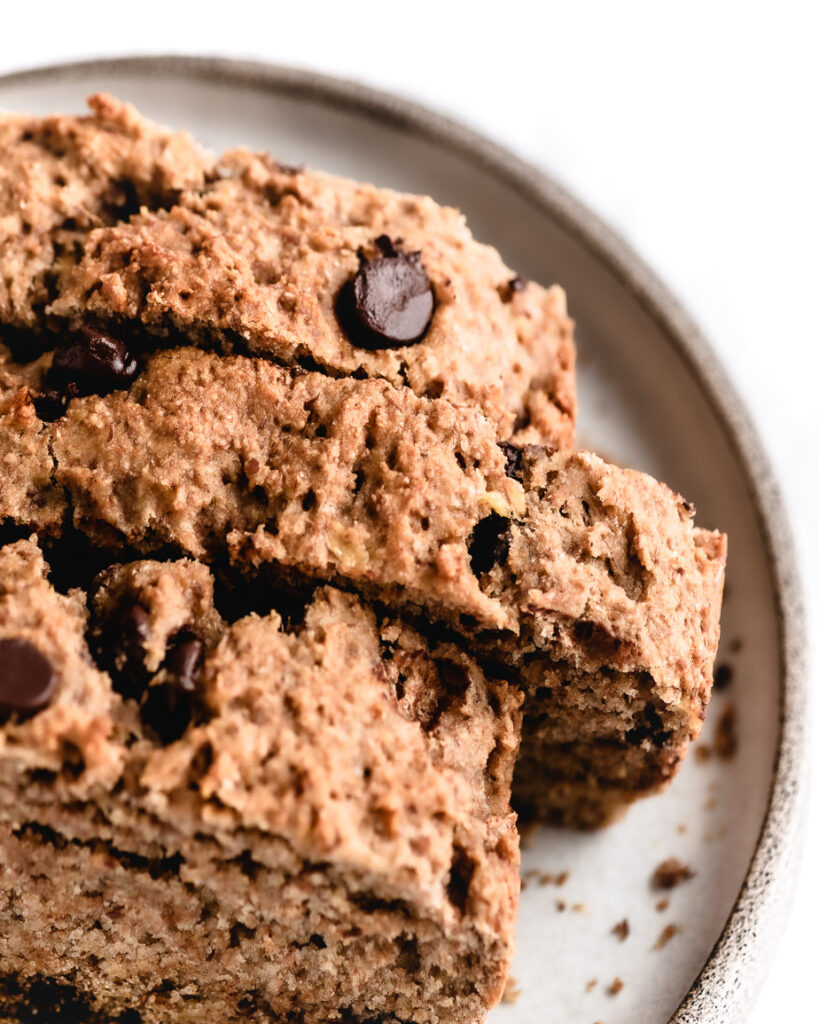 Don't over mix the bread. Spelt flour does contain gluten so if you overmix (also known as overworking) the batter, you will stretch the gluten and create a tough texture. Just mix to combine and until no dry spots are remain. Also why I love gluten-free baked goods – you can mix and stir your heart out as there is no gluten to overwork! Try these gluten-free Banana Bread Muffins.
Stir your nut butters. Well! If nut butters or seed butters aren't mixed well, you end up with some spoonfuls that are oily and loose and others that are hard as a rock. It can be messy but give your nut butters a good stir round and round and up and down until the mixture is smooth. This is especially important if you're just opening a new jar.
Let the banana bread rest and cool completely before cutting. A cruel suggestion but it is essential to allow the inside of the spelt banana bread to finish cooking once it's out of the oven.
Cut with a sharp knife and wipe the knife between slices. A blunt knife or serrated knife will pull the bread apart. I like to heat a sharp knife under running hot water, dry it, then go in for the first slice.
Lay slices flat in a freezer safe bag and layer parchment paper between the slices to keep them from freezing together so you can grab one slice at a time for a quick treat.
Reheat in the oven! This will give the vegan spelt banana bread that warm gooey just-out-of-the-oven texture and a little extra crisp on the surface! I think it's even better this way!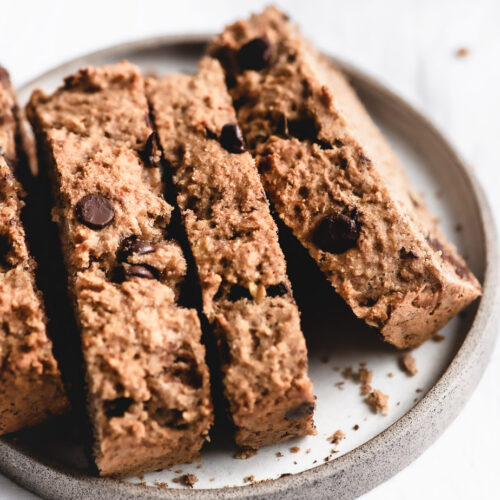 An indulgent yet simple banana bread. It's not too sweet and is extra special thanks to nut-butter and vegan chocolate chips (or nuts!).
Ingredients
2

level cups

spelt flour

2

teaspoons

baking powder

½

teaspoon

baking soda

2

tablespoons

ground flaxseed

(also known as flax meal)

¾

teaspoon

cinnamon

¼

teaspoon

nutmeg

½

teaspoon

sea salt

1 ½

packed cups mashed overripe banana

(about 4 medium/large bananas)

½

cup creamy nut butter

(peanut butter or almond butter)

⅓

cup

maple syrup

1

teaspoon

vanilla extract

¾

cup

vegan chocolate chips

(chopped nuts or dried cranberries)
Instructions
Preheat the oven to 350ºF and line a 9x5 inch bread pan with parchment paper so that the paper falls over all four sides.

In a medium bowl mix together the dry ingredients (spelt flour through salt).

In a separate medium bowl mash the bananas. About 4 medium/large bananas should get you 1½ cups. Mash until no big lumps are left. Then stir in the nut butter, maple syrup, and vanilla.

Pour the banana mixture in with the dry ingredients and mix until just combined and no dry spots remain. Fold in the chocolate chips (or nuts/dried fruit).

Tip the batter into the lined bread pan, gently smooth out the surface, and bake for about 45 to 50 minutes until browned and firm to touch.

Let the bread rest in the pan for 15 minutes then transfer to a cooling rack to cool completely before cutting into 8 to 10 thick slices.
Notes
Keep the banana bread in a sealed container in the fridge for up to 5 days. Freeze for up to 3 months.