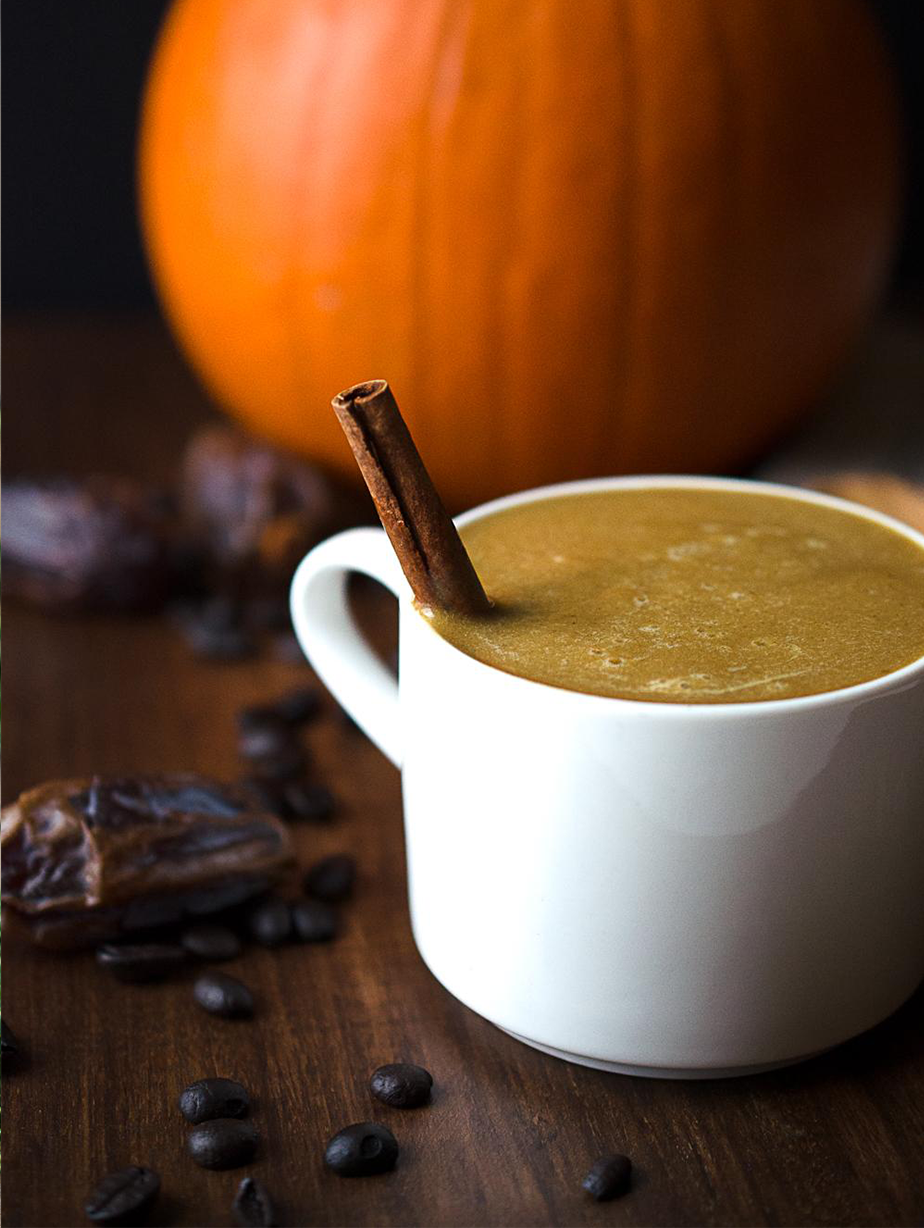 Coffee is not a health food! I'm not getting it twisted!
However, during the holiday season those flavoured, creamy coffee treats are just irresistible!
…Because they're delicious, sure. But mostly because they FEEL so spirited and special. 
And they are! 
But they're usually made with sugar laden syrups, dairy, artificial ingredients…yada yada. I am such a Debbie Downer for all commercially available treats. I know, I wear the badge with pride!
Womp wooommmpp. 
But I usually refrain from shitting on one type of food without offering an alternative!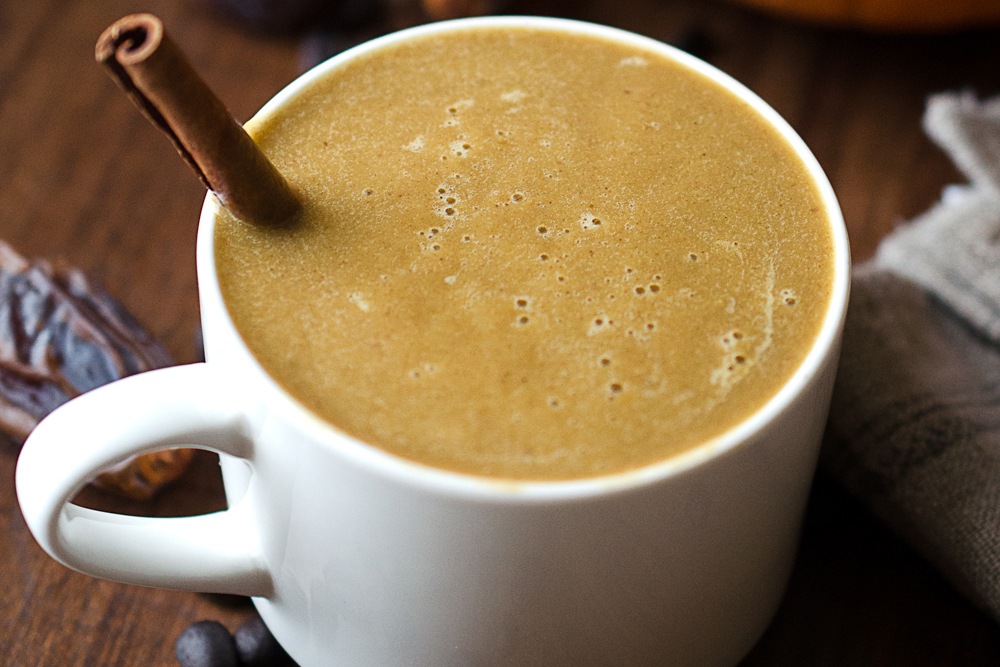 Here is my take on a healthier Pumpkin Spiced Latte. It's made with real pumpkin, dates, strong (quality!) coffee and dairy-free milk. For the absolute best result, I suggest making this latte with 
homemade almond milk
 but an unsweetened soy milk will do too. I find boxed almond milks (most varieties anyways) don't have the right texture for warm, blended beverages. 
This latte isn't totally sugar free but the sugar does come from whole food sources which is a huge leap forward in terms of nutrition. 
Dates and real pumpkin puree make this latte sweet and also act as a thickener.
This latte is a latte meaning it's made with coffee! If coffee isn't your jam, you can omit it or use decaf. If you don't have a high speed blender, soaking the dates for 15-20 minutes before blending will achieve a smoother texture.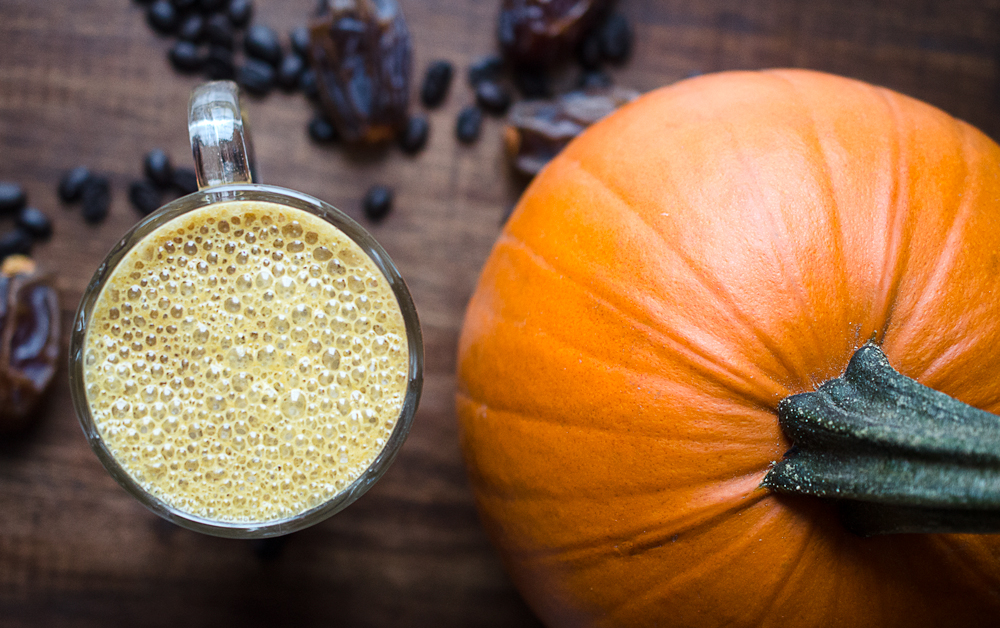 Blogged while waiting for a 
vegan Pumpkin Pie
 to come out of the oven. 'Tis the season!
Blog confession: I bought this pumpkin specifically for this photo shoot! I also take these shots right in front of a big window in my living room. So all those naturally scattered coffee beans (read: intentionally placed) inevitably end up under my heater and all over the floor. The things that go on in my life in the name of food photography. 
Other uses for pumpkin: First, you can use canned pumpkin puree for this latte. There are organic versions avaiable as well! But what do you do with the leftover pumpkin? Make 
Pumpkin Pie
, 
Pumpkin Loaf
 or 
Pumpkin Muffins
!
Vegan Pumpkin Spiced Latte
...Because they're delicious, sure. But mostly because they FEEL so spirited and special. 
Ingredients
2

cups

unsweetened soy or homemade almond milk

3-4

medjool dates

pits removed

2/3

cup

hot strong coffee or espresso

1/3

cup

boiling water

¼

cup

pumpkin puree

½

teaspoon

pumpkin spice

½

teaspoon

vanilla
Instructions
Add the milk and dates to a small pot and warm on low-medium heat (avoid boilng).

Add the hot milk/date mix and remaining ingredients to a blender and blend on high until smooth.

Divide among cups and dust with extra pumpkin spice and serve!
Notes
Replace the coffee with more milk for caffeine free or use decaf coffee. Or, omit coffee altogether and add more milk if needed.
For an iced version, swap 4 ice cubes for the boiling water and use cold or cooled coffee and blend as above. Serve over additional ice!