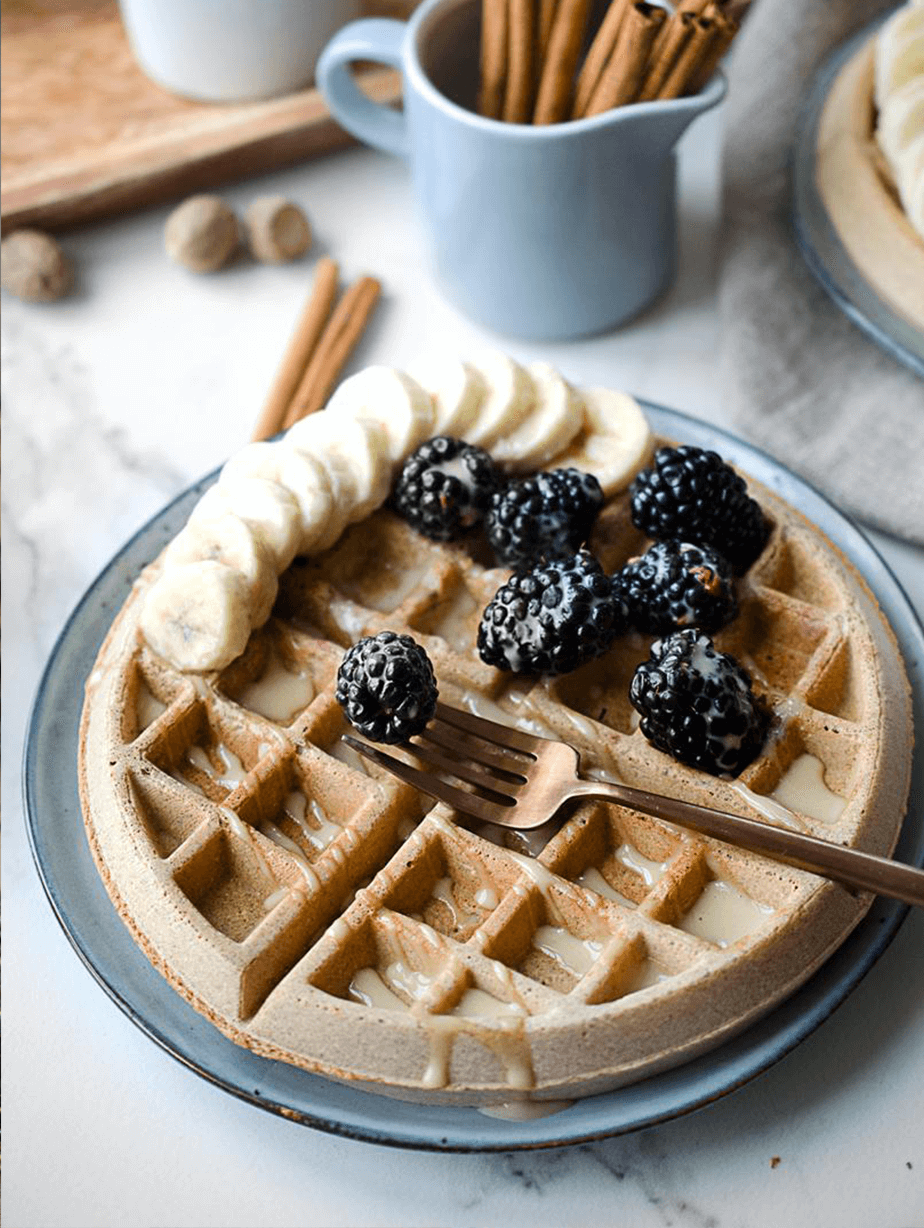 The heat is on! Literally, I've been cranking up all the thermostats in my house because the crisp, autumn chill is in the air! I wish fall could last as long as winter does here in Newfoundland. It's breathtakingly colourful and fresh! But, before we know it, we'll be scraping ice off our windshields and studying the forecast like it's our profession – trying to plan our lives around the ever unpredictable succession of winter storms we've grown accustomed to. 
Fall, without a doubt my favourite season…for the weather and of course the food. 
I have a collection of pumpkins and squash (squashes?) in the corner of my kitchen waiting to be turned into new recipes. Some will make the cut and show up here on the old blog. 
Most will be flops. But that's how it goes. 
I made three batches of these vegan and gluten free chai waffles before I was satisfied. They were inspired by 
The Vegan 8
, one of my favourite food blogs. I was prepping for my regular morning Saturday pancake/waffle routine when I decided to step it up a notch and spice up my waffle repertoire.  
Chai anything translates to warm, comforting, spicy yet smooth and I'll always opt for a chai baked good. However, keep in mind that chai recipes are often made with chai concentrate – either liquid or powder. This isn't a bad option but you're probably signing up for a littler more sugar than expected. Some chai blends are made with dairy so I always double check!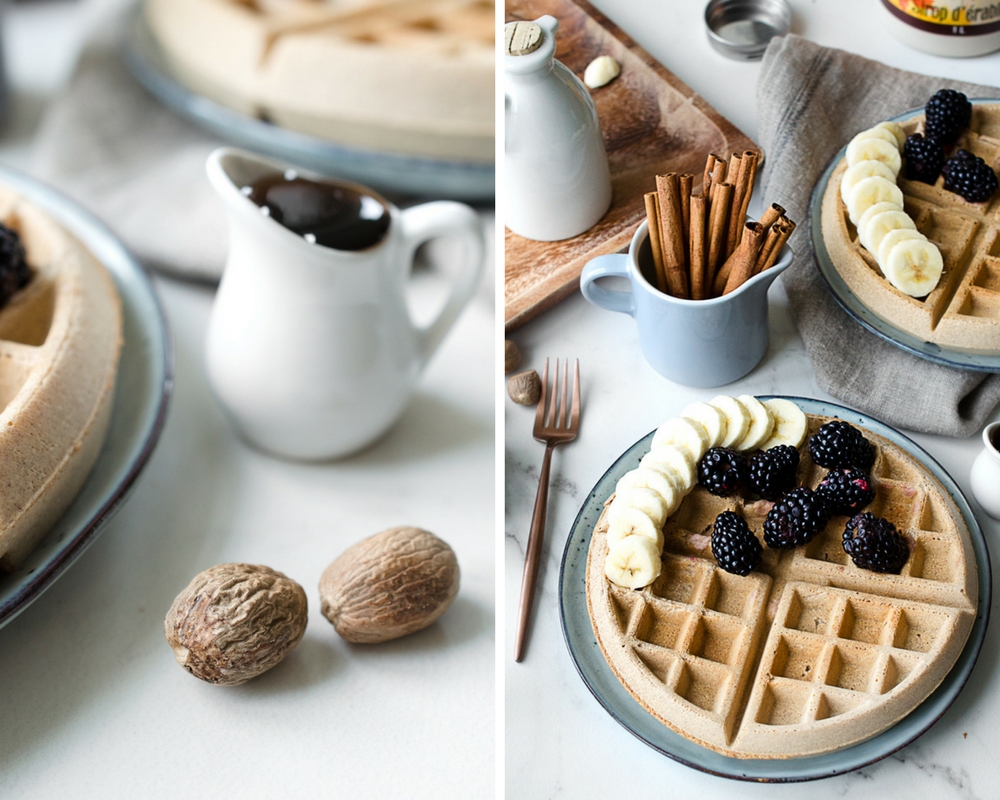 A note on waffle makers. I've used many waffle makers. My favourite by far is the 
stand-up Cuisinart model
. Christmas gift alert!!! I voluntarily endorse it! But remember that each waffle maker is different. This recipe might not make the same number of waffles with a different waffle maker and cooking time will vary. 
That waffle crisp… usually comes from oil and fat. There is some almond butter in these vegan and gluten free chai waffles but they're gloriously oil-free. They don't have enough fat to get that same waffle-house-crisp that results from an abundance of butter and/or oil. To keep the waffles from getting too soft follow these tips. 
Keep the waffles or pancakes in a single layer in the warming drawer or in the oven while cooking the rest of the batch. Piling them on top of each other will make them limp.
After the waffles are done, pop them in a preheated oven around 400ºF for a few minutes and they'll crisp up!
Reheat the waffles in the oven, not the microwave.
No waffle maker? No problem. These vegan and gluten free chai waffles can also be made as pancakes. 
What is chai? Chai is an indian black tea beverage that's made by steeping the tea with spices and herbs. You can achieve a chai flavour without the black tea, as we're doing with these waffles. Creating your own chai-y effect just requires some easily available spices like cinnamon, nutmeg, cloves, cardamom and ginger. And your house will smell like Christmas! Ahhhh Christmas…already getting excited!
Where to find chai spices? Easy, these will all be found in your grocery store in the spice aisle. Ground nutmeg will do just fine but I now buy whole nutmeg (picture above on the left) as oppose to the pre-ground stuff. Nutmeg seeds are cheap and will retain their flavour much longer. I've had a bag of nutmeg kernels for about 2 years! You simply use a fine microplane when to grate the nutmeg when needed. 
Make or buy oat flour? I like to make my own oat flour on an as-needed basis as oppose to buying actual flour. You can do this by adding whole oats to a dry blender or food processor and blending on low until you reach a flour-like consistency. Be careful wth high-speed blenders. Sometimes if you over process the flour gets clumpy. Start slow and do it in small batches of 1-2 cups. 
Syrup substitutions? Pancakes and waffles don't have to translate to sugar. Syrup is usually the weakest link in a pancake/waffle breakfast and it's so easy to go over board. Measure out 1 tablespoon of maple syrup and you'll see how you're likely using A LOT of syrup. I've suffered one too many pancake sugar comas.
The subtle spice flavour in these chai waffles reduces the need for maple syrup (in my opinion). I chose some dark and juicy blackberries and fresh banana cream (and excellent substitution for nut based creams or straight up syrups) as my toppings.
Over the last few years I've been working on syrup alternatives. Yes they have sugar in them but I try and make sauces and syrups out of whole foods like bananas, dates and nuts. This Banana Cream is a great syrup substitution. If you want it even a little less sweet, omit one date or the teaspoon of maple syrup. 
Cinnamon Spiced Almond Cream
 is another great option for a reduced refined-sugar syrup.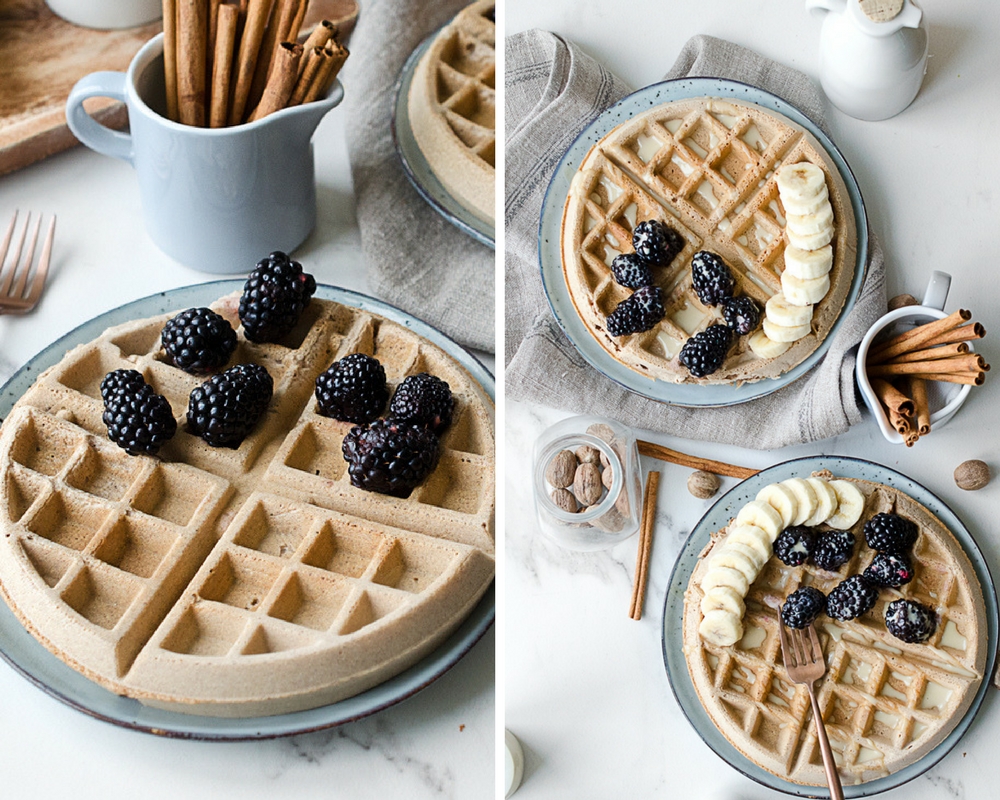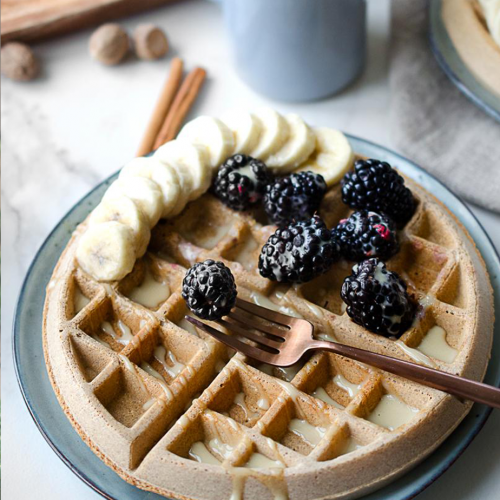 Chai anything translates to warm, comforting, spicy yet smooth and I'll always opt for a chai baked good.
Ingredients
BANANA CREAM SYRUP INGREDIENTS
1

large

ripe banana (~ heaping 1 cup)

½-¾

cup

unsweetened almond or soy milk milk

2

medjool dates

pitted and soaked

1

teaspoon

maple syrup

¾

teaspoon

vanilla extract

⅛

teaspoon

cinnamon

Pinch

salt

Optional: 2 tablespoons hempseeds or 1-2 tablespoons nut butter!
Dry
1 ½

cups

oat flour

2

tablespoons

arrowroot starch

2

teaspoons

baking powder

1 ¼

teaspoons

cinnamon

½

teaspoon

ground ginger

½

teaspoon

ground cardamom

¼

teaspoon

nutmeg

¼

teaspoon

salt

⅛

teaspoon

ground cloves
Wet
1 ¼

cup

unsweetened almond or soy milk

3

tablespoons

almond butter

2

tablespoons

maple syrup

1

teaspoon

vanilla extract
Instructions
WAFFLE INSTRUCTIONS
Add all dry ingredients to a large bowl and mix until well incorporated. Set aside.

Set the waffle maker to medium heat or setting 4 on the stand-up Cuisinart waffle maker. Add all wet ingredients to a blender and blend until smooth.

Add the wet ingredients to the dry and mix until well combined.

Pour the batter into the waffle maker and cook according to your waffle maker's settings. Alternatively, pour ¼ - ⅓ cup of the batter onto a warmed non-stick pan. Cook for 3-5 minutes, flip and cook for another 2-3 minutes. Repeat with remaining batter (as waffles or pancakes).

Serve with fresh fruit and Banana Cream or sweetener of choice!
BANANA CREAM SYRUP INSTRUCTIONS
Soak the medjool dates in a bowl of hot water for 15 minutes. Remove from the water and drain well. Remove the pits and add the pitted dates and all other ingredients (starting with ½ cup milk) to a high-speed blender and blend until smooth. Add more milk to achieve desired consistency as needed. Let sit for 5 minutes before serving!
Notes
Vegan and Gluten Free Chai Waffles
Use a slightly overripe banana – this will provide the sweetness!
To make a nut butter flavoured banana syrup, add 1-2 tablespoons of peanut or almond butter. Banana Cream Syrup
These freeze great! Make a double batch and reheat frozen waffles in the oven on low heat.