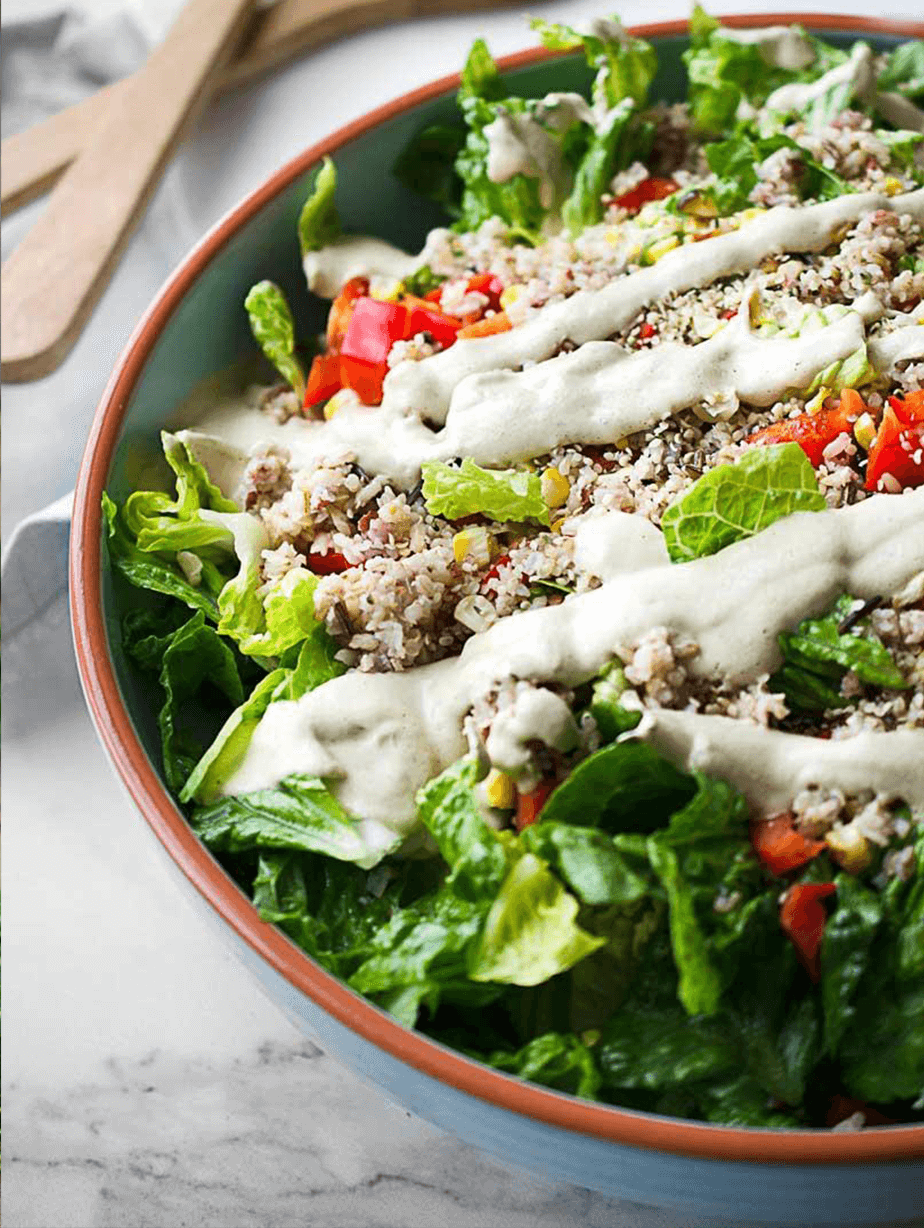 My personal nutrition mantra is "more plants, less processed". This loaded vegan Caesar Salad with Roasted Corn & Romain is all plants and zero processed! 
There are millions of Google pages worth of nutritional advice out there and a lot of it is contradicting.
Nutritionists, foodies and health care practitioners grapple over nutritional details and dietary nuances while the most helpful and simple guidance remains misunderstood. 
All the back and forth and dietary debate blurs the truth, which is that all healthy diets have 2 guiding principles at their core: eat more plants and eat fewer processed foods. 
This is what I like to teach others and show them how to apply it in their own lives. It might sound easy and simple but most often it's not. 
To keep this idea from becoming overwhelming, just take one nutritional decision at a time. Instead of frozen french fries as a side have steamed broccoli, instead of white sugar to sweeten baked goods use pureed fruit, instead of canned soup make your own. 
Take it one step at a time.
My own family is no different.
My mom used to call me the food police, I'm certain she still does! I would criticize almost everything in my parent's cupboards! This is a good place to note that most of your food should be coming from the fridge and not the pantry, unless you're reaching for whole grains or beans. 
My family has been putting up with my unwanted nutritional advice for over a decade. 
And you know what? It's worked! 
My parents have made major changes to their diet. My dad ate a tempeh burger the other day and said it was delicious and asked for more. 
Mission accomplished!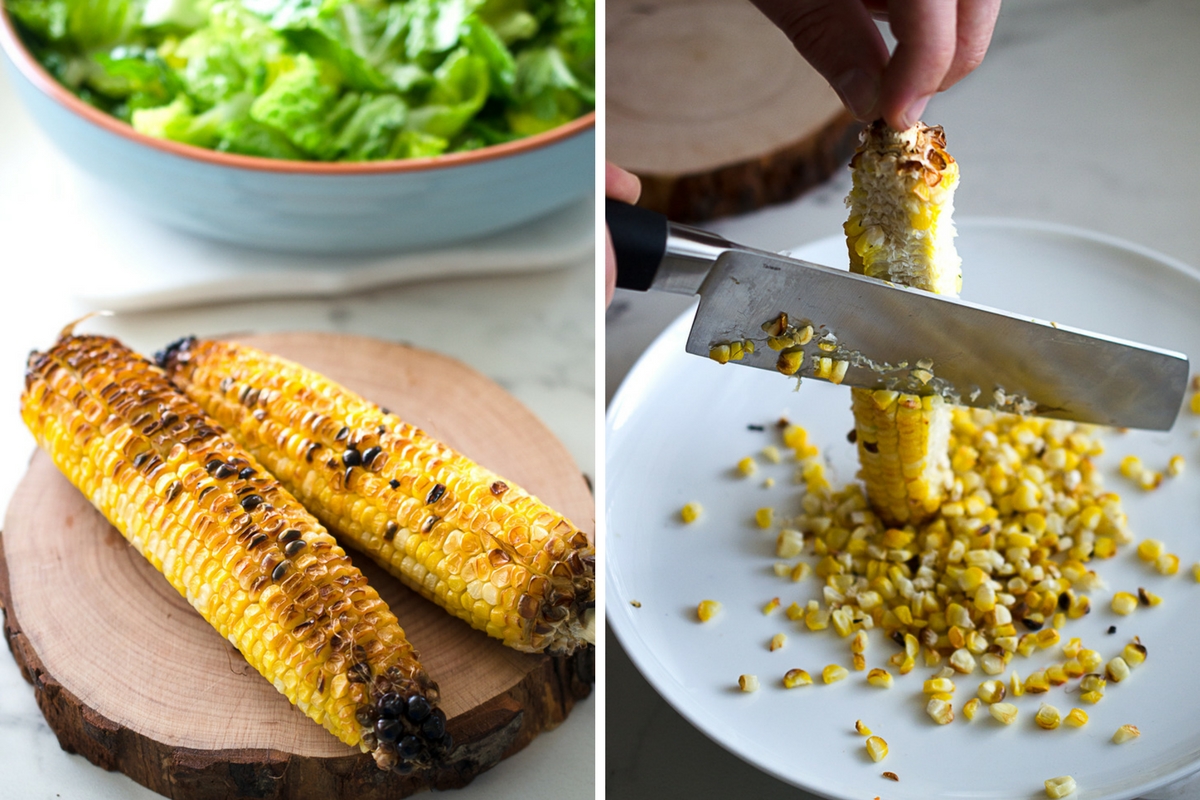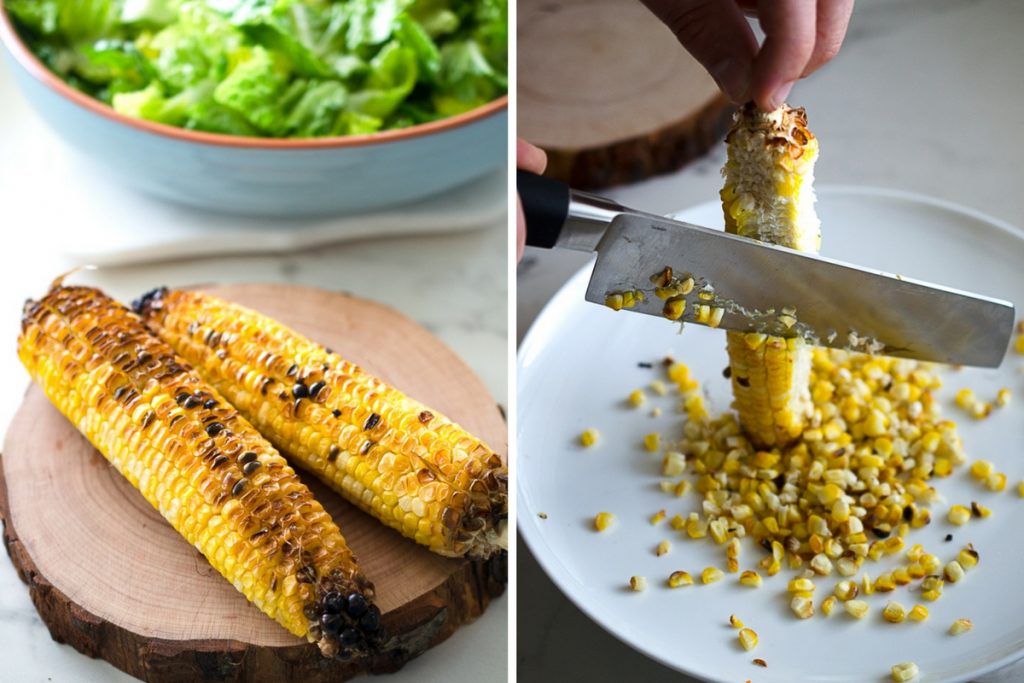 But there was always one thing I had to pry out of my parents hands and that was bottled caesar salad dressing.
Look at the nutritional and ingredient label of any caesar salad dressing in the supermarket (even the blue one!) and you'll know what I mean.
Commercial caesar salad dressings are like inflammation in a bottle. They're filled with trans fat, processed oils, weird dairy byproducts, artificial ingredients and a bunch of other unhealthy crap.
I refer you back to my definition of 
crap
 – I still stand by it. 
So I worked really hard to make a healthy Caesar salad dressing that is not only vegan but gluten free and oil free too. 
This Loaded Vegan Caesar Salad dressing is tangy, thick and creamy and stands up to crisp greens! 
Adding roasted corn on the cob adds an extra hit of sweetness and makes this caesar salad extra flavourful and summery! It also has whole grains and chickpeas, so it is fully loaded and makes for a filling salad.
I served this salad most recently at a family dinner party I hosted with 
Carrot Tempeh Burgers
! Everyone left with full bellies and healthy arteries! 
So bottom line, eat more plants, take out the processed stuff one step at a time (or cold turkey if you are a total badass) and try this Loaded Vegan Caesar Salad with Roasted Corn!
Blogged while dehydrating some buckwheat for…..no reason. I have a ginormous dehydrator that I never use and am having some guilt! Expect dehydrator recipes in the future! I've been sharing some of my dehydrator experiments over on 
Instagram!
Nutritional Highlight – This Loaded Vegan Caesar Salad with Roasted Corn is very different than a traditional caesar but what I love most is that it's oil free! Hemp seeds and cashews make it creamy instead of oil – which is pretty much all fat. Yes this version is high in fat but good fat that comes with a lot of other nutrients and a little goes a long way! Also don't skip the capers! They are necessary to achieve that briny taste. 
Speaking of capers…What are capers? If you want to ask this question but feel too embarrassed, don't! I thought capers were some kind of fish until recently (very recently). Turns out capers are actually unripened flower buds! They're usually sold in slender bottles next to the bottled olives and other condiments.
Speaking of romaine….does romaine lettuce have nutritional value? YES! Often confused with iceberg lettuce (which is pretty low in nutritional value), romaine offer up vitamins A, K, C and B as well as minerals like calcium, phosphorus and potassium. Romaine is of course low in calories and has a nice crisp texture. Be sure to wash it and spin dry before using it in salads. This caesar dressing also makes a mean kale caesar! Be sure to massage the kale first with a little dressing to soften the texture.
Loaded Caesar Salad with Roasted Corn
Ingredients
Salad
2

corn on the cob

husks and silk removed

3

heads romaine lettuce

cleaned and chopped

1

red pepper

medium diced

1

cup

diced cherry tomatoes

1

cup

cooked and cooled quinoa or wild rice

1

cup

cooked or canned chickpeas

¼

cup

hemp seeds
Dressing
5

roasted garlic cloves

see directions

¾

cup

raw cashews

soaked in water for 4 hours

½

cup

+ 3 tablespoons water

¼

cup

capers

3

tablespoons

hemp seeds

3

tablespoons

lemon juice

zest of 1 lemon

1

tablespoon

tamari

reduced sodium

1

tablespoon

Dijon mustard

1

tablespoon

apple cider vinegar

½

teaspoon

sea or Himalayan salt
Instructions
Preheat the oven to 400°F and line a baking sheet with parchment paper. Pierce the whole garlic cloves with a knife and place the garlic and corn on the baking sheet and into the oven.

Remove the garlic cloves after 10-12 minutes but continue baking the corn for a total of 1 hour, rotating every 15-20 minutes to achieve even browning.

Peel the garlic cloves and roughly chop them. Drain the cashews and add to a blender along with the chopped roasted garlic, and all other dressing ingredients and blend until smooth. Transfer to a glass container until needed.

When the corn is done, remove from the oven and let cool for 5- 10 minutes. Once cool enough to handle, remove the kernels from the corn by holding the corn upright by the stem and cutting in a downward motion on a cutting board.

Assemble the salad by adding all salad ingredients, including the roasted corn, to a large bowl and tossing. Add ½ the caesar salad dressing and mix. Add additional dressing as desired (I like to use it all) and toss again. Divide among plates and enjoy!
Notes
Feel free to add additional veggies to this salad. Leftover dressing makes a great veggie dip!