About These Baked Vegan Chocolate Donuts
A baked vegan chocolate donut made without oil, flour, or processed sugar? And smothered in a pumpkin nut frosting?
Yeassssss please! See the VIDEO below on how-to make these delicious babies!
Truth – cooking oil-free and vegan sometimes leaves me envious as a food photographer. I shoot all my own photos and sometimes I know I'm missing out on some pleasing visual cues like the crispy edges from pan searing or the textures from deep frying.
I never miss these from the actual food, never! But I do go to great lengths with food styling so that my whole food recipes are equally appetizing.
This is where donuts come in.
I rarely scroll the Gram; I'm almost allergic. It's not good for my mojo. But when I do, I am drawn to the stacks of colourful donuts and intricate baked goods that make my mouth water and eyes widen.
AND I WANTED IN!
So I decided I was going to find a health-supportive way to play with donuts.
How? See Equipment below for the (not so secret) secret how-to.
And the donut playing paid off because not only did I come up with this baked vegan chocolate donut recipe, but it also gave birth to one of my favourite recipes in The Plant-Based Cookbook – Mini Buckwheat Bagels.
These bagels take about 5 minutes to whip up and get in the oven and they are DELICIOUS, healthy, and cute to boot!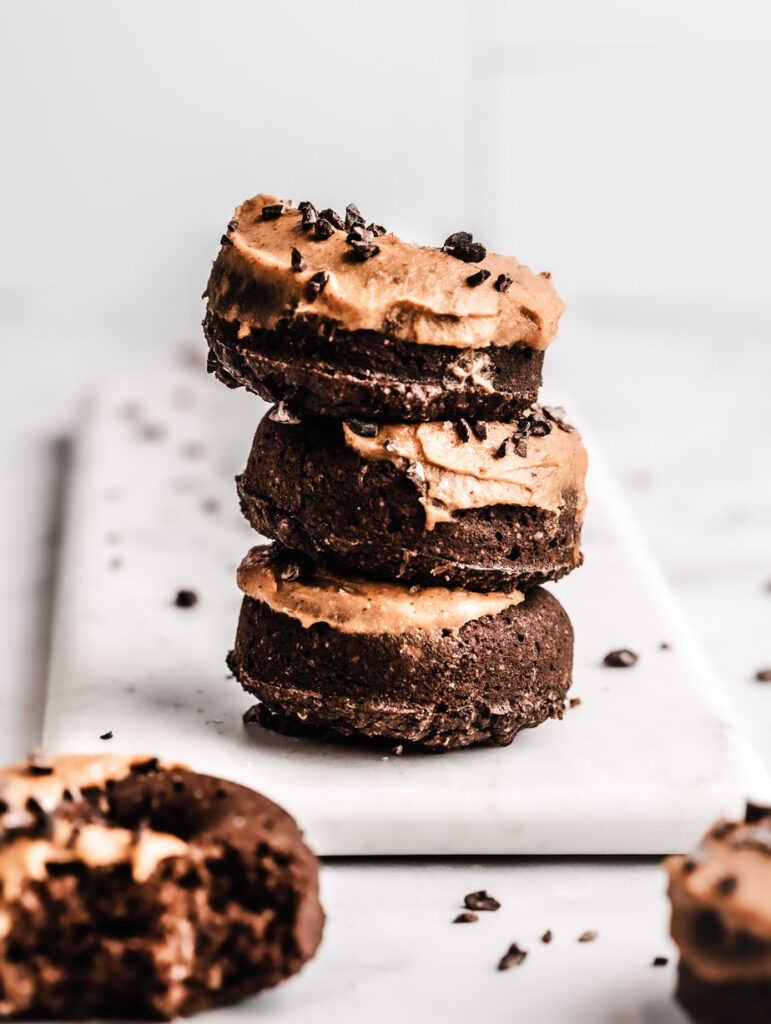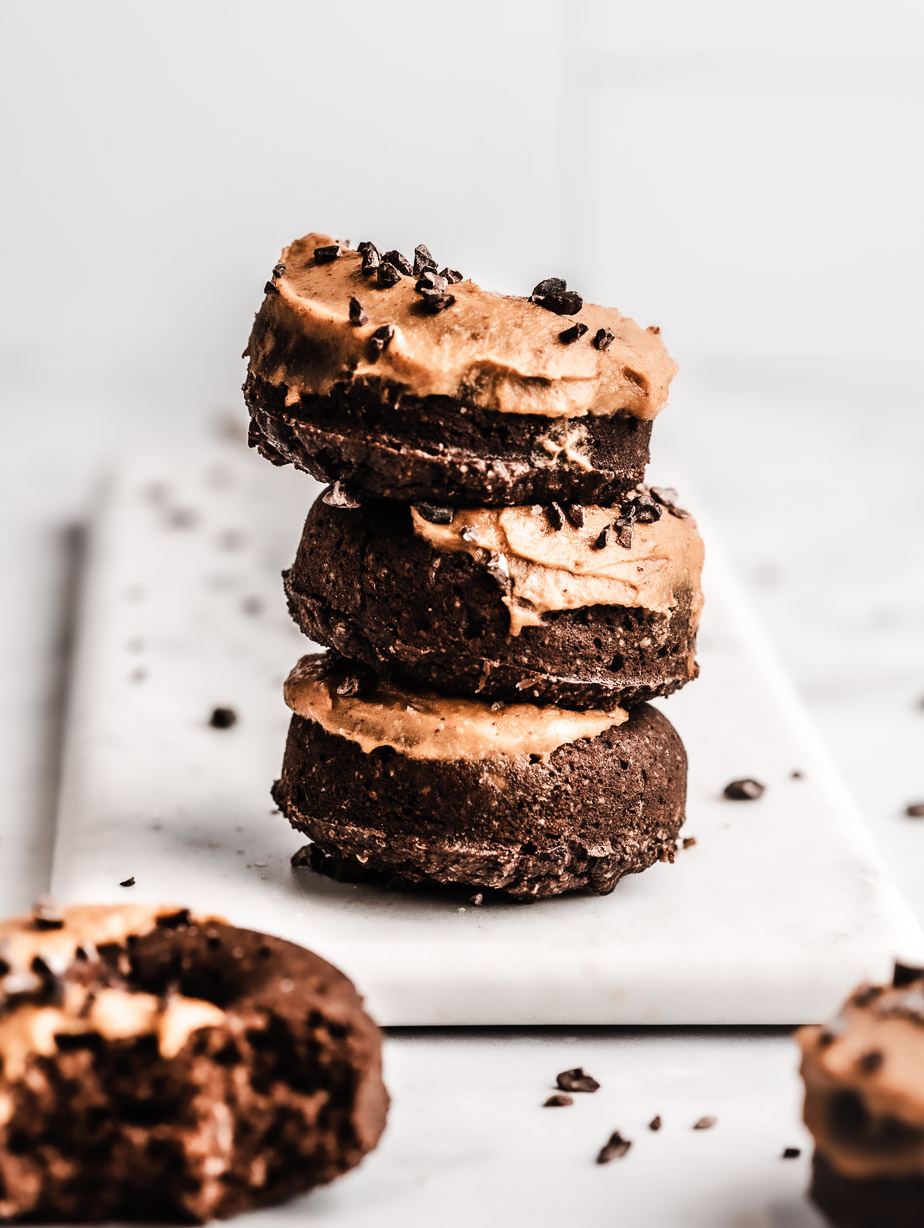 Back to vegan chocolate donuts! These are easy to make. Here are the ingredients you need:
Cocoa powder – Unsweetened cocoa powder (you can also use cacao) gives these chocolate donuts the chocolate part. 
Psyllium husk – One of the coolest pantry ingredients I can think of! Psyllium husk is a soluble fibre that acts as a binder in these donuts. Here is a brand I use often.
Oat flour – Easy to find or make on your own. I add whole, rolled oats to my Vitamix and blend until a flour-like texture is reached. You can also do this in a food processor.
Almond flour – I use blanched almond flour that I get in big bags from Costco. 
Coconut palm sugar – This is a lower-glycemic index, caramel-ish sweetener that I turn to often in baked goods. Now widely available (searching for this eco-friendly sugar used to be frustrating as hell) in grocery stores, health food stores, and online. 
How To Make These Baked Vegan Chocolate Donuts
We can break this vegan donut recipe down to 3 steps!
First, mix the water with the psyllium husk and let it thicken – this will act as the binder. 
Second, add all the dry ingredients to a bowl and mix. Then add all the wet ingredients to the dry ingredients and mix into a batter (this is like step 2½). 
Third, distribute the batter into the donut muffin moulds in your silicon donut pan and bake. See video for how-to. A little messy but super easy.
Donuts: Which brings me to the donut pans! Silicone donut pans like these are easy to find and super easy to use. 
They're non-stick and allow you to make all kinds of donut-inspired concoctions without greasing the pan or adding oil to your recipe. You're probably wondering "but are the safe?"
From my perspective yes, especially if you keep them at low temperatures. 
Pumpkin Nut Frosting: To make the pumpkin nut frosting it's helpful to have a blender but you can also mix together by hand. 
I usually take a moment here to praise an ingredient for its health benefits. But this time I want to just reiterate what this donut is made WITHOUT ! 
It's a baked vegan chocolate donut made without refined flour, refined white sugars, or oil. Celebration worthy, right?
This is mind blowing to me!
The pumpkin nut frosting is made with your nut-butter of choice and beta-carotene rich pumpkin puree! 
YUM, YUM, YUM!
Tips, Tricks & How to Simplify This Recipe
Recipe Variations:
Skip the icing altogether and serve these plain or give them a smear of raspberry chia jam instead. 
What you can do with leftovers? Keep these donuts in the fridge for up to 3 days or freeze (icing and all) for up to three months. 
Use leftover pumpkin nut frosting on cakes, brownies, in oatmeal, or eat it like pudding!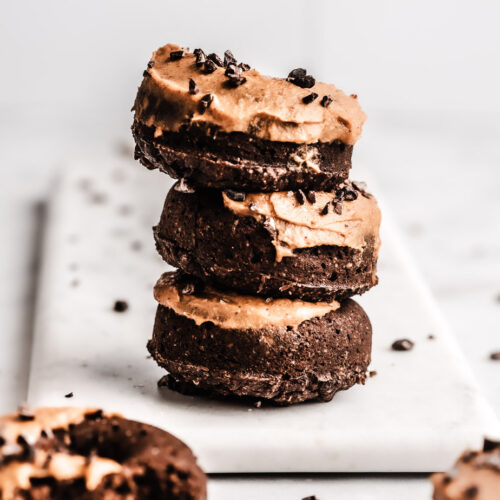 Baked Vegan Chocolate Donuts (with Pumpkin Nut Frosting)
These baked vegan donuts are outstanding! Who knew a plant-based, oil-free, gluten-free donut could be this delicious! Add a smear of pumpkin nut frosting for extra yum!
Equipment
Silicone donut pans (see notes for the ones I used) or other non-stick donut pan.
Ingredients
Baked Chocolate Donuts
1½

teaspoons

whole psyllium husk

¼

cup

water

1

cup

gluten-free oat flour

1

cup

blanched almond flour

½

cup

unsweetened cocoa powder

½

cup

coconut sugar

2

teaspoon

baking powder

¼

teaspoon

sea salt

¾

cup

+ 2 tablespoons unsweetened dairy-free milk

1

teaspoon

vanilla extract
Pumpkin Nut Frosting
½

cup

pumpkin puree

¼

cup

stirred almond or peanut butter

2 to 3

tablespoons

maple syrup

to your liking

Pinch

sea salt

Pinch

cinnamon

Dairy-free milk as needed
Optional Garnish
Cacao nibs

Chopped nuts

Flaked coconut
Instructions
Donuts
Position the oven rack in the middles of the oven and preheat to 350ºF.

In a small bowl mix the psyllium husk with ¼ cup water and set aside for 5 minutes to thicken.

In a large bowl, mix together the oat flour, almond flour, cocoa powder, coconut sugar, baking powder, and salt.

Now add in the milk, vanilla extract, and thickened psyllium mixture. Mix together until no dry spots remain and everything is combined.

Transfer the batter to the silicone donut pans so that the batter is flush with the surface of the pan (this should be about 1/3 cup batter for each donut). Distribute the batter evenly using your fingers or a spatula.

Bake in the oven for 16 to 18 minutes or until the donuts are firm to touch.

Remove from the oven and let cool in the donut pans for about 10 minutes then pop the donuts out and let cool on the cooling rack.

When completely cooled, smear the pumpkin frosting all over the donuts and garnish with flaky salt, cacao nibs, or toasted almonds if desired. Sometimes I like to frost and serve them when they're still warm! You can also serve the frosting alongside the donuts as a donut dip!
Frosting
While the donuts are baking and cooling make the frosting. Add all the ingredients to a blender and blend until smooth. You can add milk, a couple tablespoons at a time, to assist the blending if needed. Transfer to a bowl or glass container.