About This Vegan Carrot Pesto Pasta
This vegan carrot pesto pasta is not your typical pasta dish. 
It was inspired by not wanting to leave the house. For real. 
I had planned on making a pesto dish but had no fresh basil. I didn't have any avocado or broccoli either (other go-to pesto ingredients for me).
I wanted a simple, elegant dish but needed to burn up some creative culinary energy too! 
So, I took stock of what I DID have and would only use what I could find in my kitchen.
Strict parameters and boundaries have always fueled my creativity in the kitchen – a good thing because this vegan, gluten-free, and oil-free niche I find myself in would be almost impossible if I didn't enjoy a challenge.
Trying to use up what you have on hand – be it spices, fresh produce, almost empty jars of nut butter – is such a great way to discover weird and wonderful flavor pairings and unique meal combinations.
So, what did I have in abundance with pasta on my mind? 
Carrots!
First, I thought I'd make a creamy roasted carrot sauce but then I remembered a carrot-sesasme seed spread I made years ago when I was really into raw vegan recipes and I got down to business!
Vegan Carrot Pesto was made in minutes from toasted sunflower seeds, raw carrots, and some basic flavor enhancers all blitzed together in the Vitamix! 
It's simple and rustic, laidback but interesting. This carrot pesto pasta is an extension of my mindset lately – minimalist and easy.
How To Make Vegan Carrot Pesto Pasta
Toast the sunflower seeds (or leave them raw if you prefer).
Blend all pesto ingredients (including sunflower seeds) in a high-speed blender or food processor.
Cook pasta and toss with vegan carrot pesto!
sunflower seeds
chopped carrots
garlic
lemon
dried thyme
red pepper flakes
black pepper
sea salt
pasta of choice
High speed blender. A plunger helps a lot because you don't need to add too much water to get the blending going. If you do end up adding more liquid than expected, remember to reseason as needed with salt, pepper, and lemon juice! Maybe even garlic, if you're a garlic lover. 
You can also use a food processor, see the recipe below. 
Oh the humble carrot! I love carrots. They're overlooked so often but they do offer a lot in the nutritional department!
Carrots are a great source of beta-carotene, a precursor to vitamin A and extremely important antioxidant. 
In fact, carrots offer a lot of phytonutrients like lutein, lycopene, and anthocyanins. These are compounds with far-reaching health benefits that support our overall health but especially our immune systems.
Carrots are also low in calories and offer gut-healthy fiber! 
How To Make It Gluten-free
Make this vegan carrot pesto pasta gluten-free by using brown rice, quinoa, or legume-based pasta. I like a linguine but you can really use whatever pasta shape you love. I'm really into Bionaturae pasta lately.
Make this vegan carrot pesto pasta a raw vegan meal by leaving the sunflower seeds raw. Soak the seeds for 4 to 6 hours, drain, and add to the blender with all other ingredients and make the pesto as is written. 
Also, skip the cooked pasta and use zoodles (spirilized zucchini) or zucchini ribbons. If you're not familiar, this is a spirilizer.
The Plant-Based Cookbook is back!  And is listed as a best seller on AMAZON! I'm over the moon!
It's also back in stock on Amazon.com and I know a lot of you have been patiently waiting! 
Thank you for all the love and support for this cookbook!
Also, The Plant-Based Cookbook has one of my favorite green pea pesto recipes EVER. 
Just FYI if you're a pesto lover like me!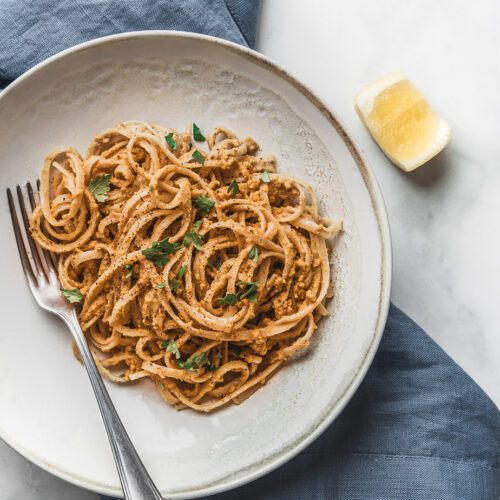 Inspired by a bare fridge and now a pasta favorite. This pesto is unconventional and delicious. I like to toast the seasme seeds, but you can leave them raw. Toss with your favorite cooked pasta for a simple and elegant plant-based meal.
Equipment
High-speed blender (ideally with a plunger)
Ingredients
Pesto
½

cup

sunflower seeds

2

cups

roughly chopped carrots

2

garlic cloves

minced

Juice of ½ large lemon

1/8

teaspoon

dried thyme

Pinch

red pepper flakes

Pinch

black pepper

½

teaspoon

sea salt or to taste

Water to thin
Pasta
12 ounces/340 grams dried linguine pasta

whole wheat, brown rice, quinoa, or legume
Instructions
Warm a large pan over medium heat, add the sunflower seeds, and toast the seeds until fragrant and golden in color. About 3-4 minutes. Immediately transfer to a plate to cool. If you prefer to use raw sunflower seeds, I suggest soaking the seeds for 4 to 6 hours before use. Drain and follow the recipe as written.

Place the remainder of the ingredients in a high-speed blender. Add the sunflower seeds once no longer hot (it's ok if they're warm). Add ¼ cup water and blend. You can also use a food processor but will have to stop and scrape down the sides often to incorporate all ingredients.

Use your plunger to help the blending process. Add more water as needed to get a cohesive mixture, I usually add between ½ and ¾ cup water total. It's ok if the pesto has some texture but you don't want chunks of seeds or carrots. Taste and re-season with salt, pepper, and/ or lemon juice. Transfer the pesto to a container or bowl.

Cook your pasta according to directions for al dente. Reserve ½ cup pasta liquid. Drain the pasta, return to the pot and add as much carrot pesto as is desired. Add pasta water as needed to loosen the pasta if it clumps together. Serve immediately and enjoy! We found that a touch of hot sauce really adds a nice touch to this pasta too!
Notes
Keep leftover pesto in a sealed container in the fridge for up to 3 days. Stir before use. 
You can also use this carrot pesto as a spread for sandwiches or stuffed in a whole grain wrap with avocado and lettuce. 
As always, feel free to add sautéed or roasted veggies to bump up the nutritional profile of this carrot pesto pasta. Broccoli, spinach, and mushrooms will work well.