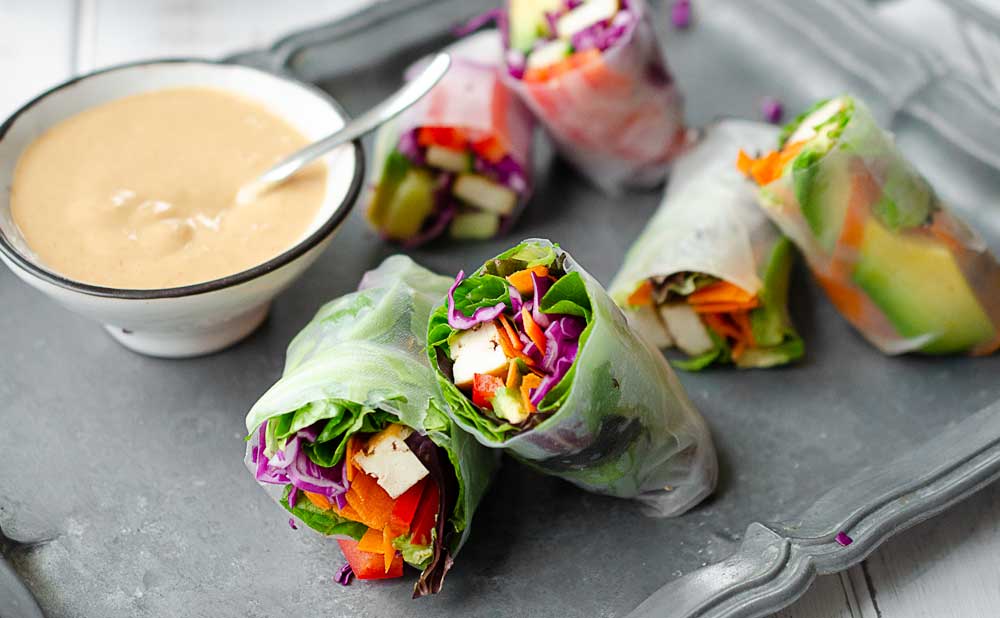 Summer nights have me living that good life! I've become a night owl, sitting out on my deck, sipping some red and forgetting about tomorrow. 
The days are so warm and humid, the evening breeze is cool and the nighttime snacking struggle is real. 
Last Saturday night I made my fav version of rice paper spring rolls and a spicy tahini dipping sauce….at midnight!
If I stay up too late, I become a ravenous monster! Hide the Mary's crackers, rice puffs and almond butter because I will destroy whatever stock we have if left to my own devices! 
In order to avoid eating every carb in sight, I have to plan for the late night munchies that accompany staying up way past my bedtime.
So last Saturday while hunger had not yet turned to hanger, I decided to whip up a batch of oh so fresh and healthy vegan rice paper spring rolls!
The key to making healthy snacks is TIME. If making a little sumthin' sumthin' takes too long, you'll eat yourself out of house and home or you'll be so hungry by the time it's made that you'll scarf down A LOT of sumthin' (ME!).
Spring rolls made with rice paper are easy to make and can be as simple or complex as you like. This version has baked tofu, a mixture of fresh veggies, avocado and mango but you can mix it up how you like. If you want to just do veg (wich requires no baking and takes less time) that would be delicious too.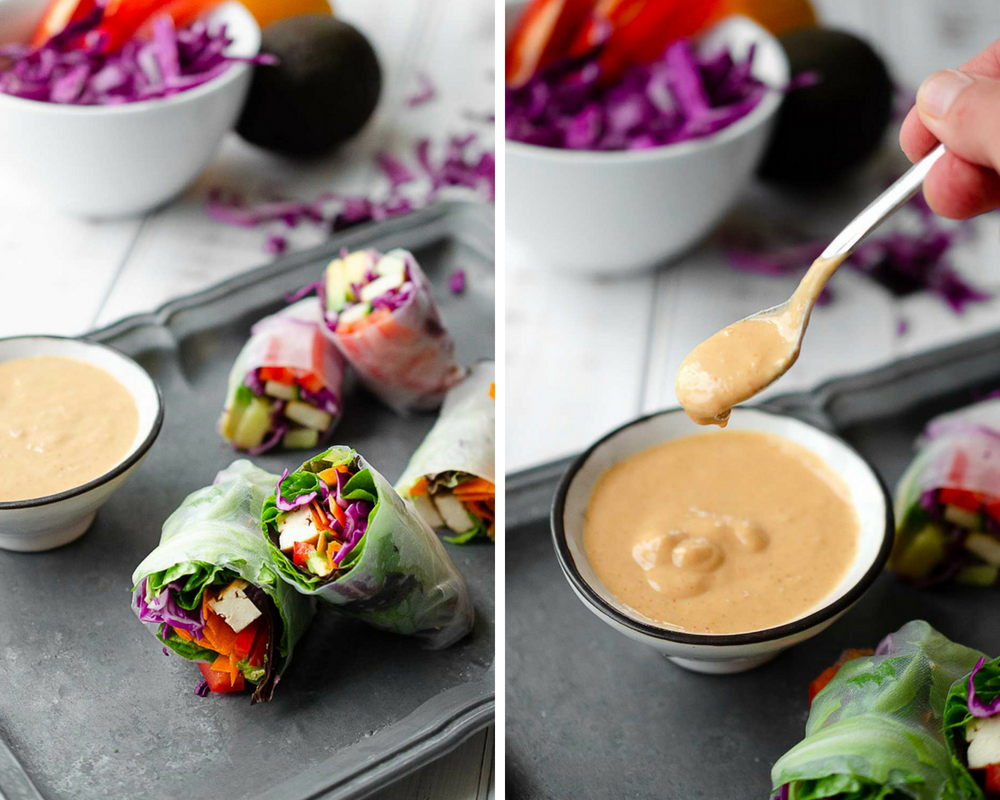 Suggested vegan spring roll fillings
Avocado
Strips of red pepper
Shaved carrot
Grated or thinly sliced red cabbage
Scallions
Fresh basil or mint
Fresh mango
Baked tofu or tempeh
Hot sauce
Baby lettuces (without sharp stems…. read why below)
Noodles (vermicelli, soba, udon)
Cooked brown rice
Roasted sweet potato
Roasted red peppers
Kimchi
Sauerkraut
Rice Paper Spring Rolls 101
Prep All The Fillings First
Whether you decide to stuff your rice paper rolls with baked tofu, chopped veggies or peanut butter (whatever floats your boat), prepare it ahead of time. Wash and chop veg, cook and cool your noodles, clean and drain your greens. This way when it comes time to make the rolls it's just a matter of assembling.
A Sauce That's Good & Made
Again you're going to want to eat the spring rolls when they're made and you need space to make 'em so get the dipping sauce made first and ready for all your dipping needs! Also, the sauce is errythang! This spicy tahini sauce recipe is my go-to but I also love this Citrus Almond Butter sauce with a little extra hot sauce!
Don't Over Do It
Once the rice papers are hydrated and pliable (we're getting to that part) they are definitely "stretchy" but they're also delicate. Overstuffing your spring roll or having sharp ends (like pointy lettuce stems) can rip or puncture your rice wrap which means your spring roll will end up falling apart….this will piss you off! So after you make your first couple you'll naturally get a grasp on how much you can stuff it! See below for my suggested proportions. 
The Process!
Rice papers are hard when you first get them. By immersing them in water for 15-30 seconds they will become soft and pliable. So with all your toppings, ingredients and tools ready, let's get to how we do this. 
Note that this recipe is a guideline. Fill your rice papers with whatever speaks to you! Sweet or savoury!
Recipe Repeat: Use this sauce as a buddha bowl sauce, veggie dip or smear it on your next sammy. It's delish. If spice is not your thing, simply reduce the hot sauce or omit.
Recipe Hack: These vegan spring rolls can be made ahead of time! Once you've made them simply keep them on a tray lined with damp dishtowels or paper towels and cover them with a thin layer of damp paper towel and place them in the fridge. If they're going to be in the fridge for more than a couple of hours, place them in a sealed container or cover with plastic wrap (but we're in a plastic crisis…so aim for the former!). And be sure to NOT let the spring rolls touch each other because they will stick together.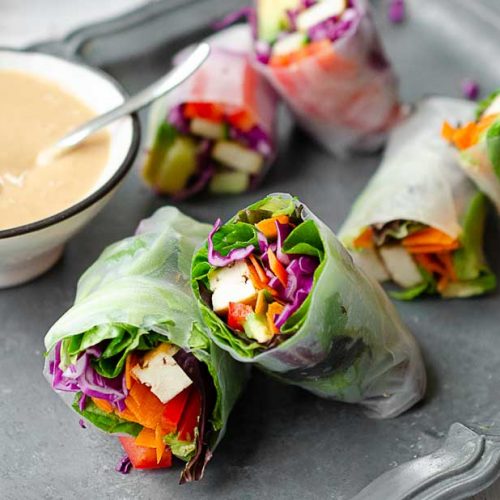 Vegan Spring Rolls With Spicy Tahini Dipping Sauce
Fresh, flavorful, healthy and filling! These spring rolls are great for a snack or a light and refreshing meal.
Ingredients
1

pound

extra firm tofu

cut into strips (optional, see notes)

1

red pepper

deseeded and cut into strips

1

ripe mango

peeled and cut into strips

1

cup

finely grated red cabbage

1

cucumber

deseeded and cut into strips

1

carrot

peeled into strips (using a veggie peeler)

1-2

heads Boston lettuce

leaves left whole and sharp stems removed

10

rice papers

8-inches wide

1

batch Spicy Tahini Sauce
Spicy Tahini Sauce
¼

cup

tahini

well-stirred

2

tablespoons

lemon juice

1

tablespoon

vinegar-based hot sauce

or preferred hot sauce

1

tablespoon

tamari

1

tablespoon

rice wine vinegar

1

garlic clove, minced

1

teaspoon

finely minced ginger

2

tablespoons

water

or more as needed
Instructions
Make the dipping sauce. Add all ingredients to a bowl in order listed and mix with a fork until smooth OR add all ingredients to a blender and blend until smooth. Add more water to achieve a thinner consistency.

Prepare all vegetable and other fillings FIRST! Have all your ingredients in separate piles on a cutting board nearby.

Dampen 2 medium sized, clean dishcloths and lay them flat on your work surface, beside each other. Fill a large bowl of water (wide enough to fit an entire rice paper) and place it near your damp towels.

Take one of the rice papers and immerse it in the water. Hold it in there for 15-20 seconds. The rice paper will still feel a little hard but after you remove it from the water it will gradually soften. Lay it flat on one of the damp dishtowels.

In the middle of the rice paper place 1 Boston lettuce leaf. Then place 2 pieces of red pepper, 2 pieces of mango, 2 pieces of avocado, 2 pieces of cucumber and one tofu strip in or adjacent to the lettuce leaf.

The rice paper should be fully softened by now. Take the edge closest to you and fold it over the filling, wraping it tightly. Now fold the sides in towards the center of the rice paper, over the previous fold and hold them down firmly. Finally, while holding the folds in place, roll the entire spring roll forward.

Place the spring roll on the OTHER damp towel and fold the towel over it to keep it from drying out.

Repeat this process with all other rice papers being sure to mix up the ingredient combinations!

Once all the spring rolls are made, place one at a time on the cutting board and cut them in half on a diagonal. Place them on a serving tray cut side facing up and serve with the vegan spicy tahini sauce.