NOODLES! Who doesn't love 'em?
This vegan Sesame Edamame Noodle Bowl works as an on-the-go meal and really embodies the new age nutritional mantra "eat the rainbow". One of my favs!
It's a mix of flavours, textures and colours – think edamame, sesame seeds, cashews, crisp veggies and, of course, noodles! Protein, fiber, antioxidants… all the goodies in one bowl! 
You don't even need to worry about reheating! I like to make this noodle bowl and serve it as a room temperature dish.
You can use gluten free spaghetti noodles or your favourite soba noodles too, whatever floats your boat-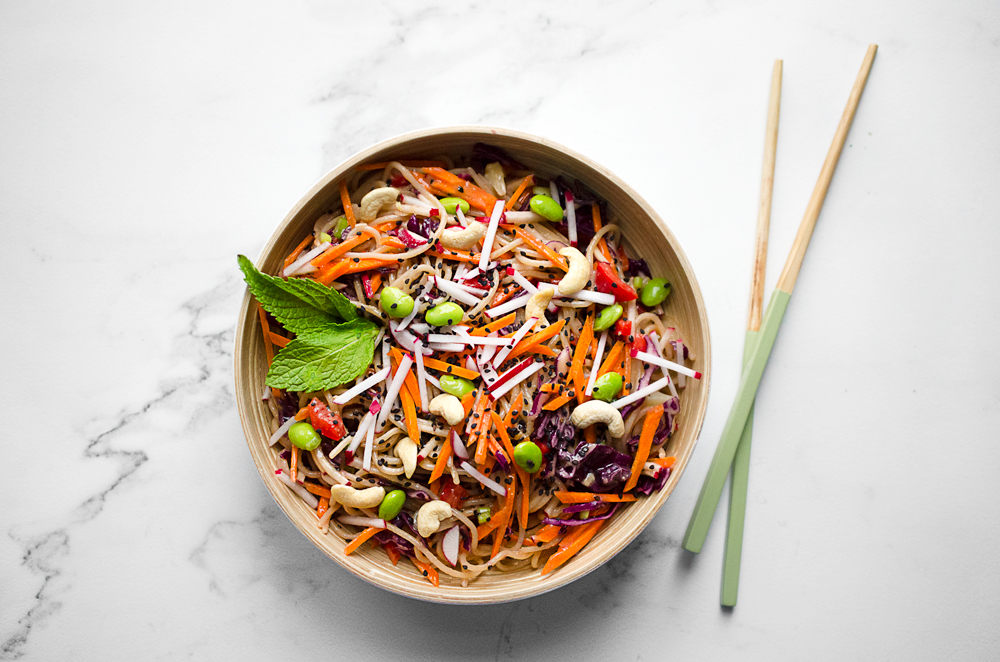 There are a few things going on this recipe that might be new to you or a little interesting. Let's see take a look!
Edamame: Edamame are young soybeans. You can buy them loose (usually frozen) or still in the pods. In the pod is a great snack but for recipes like this one you're better off buying them pre-shelled. To prepare them simply add them to boiling water for 3-5 minutes, drain and they're ready to be enjoyed! Edamame in the pod or pre-shelled can be found in the freezer section of most grocery stores.
Matchstick/Julienne Cut: Oh my most dreaded knife skill in culinary school. And you know what, my julienne-ing skills still kind of suck but it's ok! I've embraced my very average matchstick! So I CHEAT! My favourite shortcut is to use a mandolin to slice the carrot and radish then I stack 3-4 slices and cut them in 1/8 inch slices. If you're feelin' your inner chef, check out this how-to. Alternatively, if you want a shortcut, you can peel the carrot into ribbons using a veggie peeler and thinly slice the radish, leaving them as thin rounds.
Black Sesame Seeds: Not your average sesame seed but I love how they look in asian-inspired dishes. If you can't find them, feel free to sub in sunflower seeds or more white sesame seeds.
Sesame Oil: Before the eyebrow raise, let me explain! I do oil free 99.99999999% of the time and encourage this way of cooking to anyone who will listen. LISTEN! However, toasted sesame oil has such a dramatic flavour impact that I often use it in minuscule amounts. This sauce calls for 1 teaspoon of sesame oil which would be about ¼ teaspoon per serving. I'm not suggesting you start pouring toasted sesame all over everything buuuutttt every now and then even a drop can enhance those asian flavoured dishes. And you can 1000% omit it and the recipe will still work out great. Ok exhale, crisis averted.
Chopsticks Not Required! Chopsticks are props only! I stare with envy at those eating noodles with chop sticks! I would need a full-body bib and about 3 hours to finish. If I order anything other than sushi, a fork is needed. So, full disclosure, I eat this vegan sesame edamame noodle bowl with a fork. Some day chopsticks, some day.
Noodles: The traditional type of noodle used in many Thai dishes is the soba noodle. Soba noodles are noodles made from buckwheat flour or a combination of buckwheat and wheat flour. If gluten-free is a priority for you, check the label to make sure you're buying the buckwheat only variety!
Buckwheat soba noodles have a nutty taste and are great for this recipe. If you can't find soba noodles, I suggest using brown rice spaghetti or linguine noodles. On this particular photo shoot day I could not find soba noodles in my cupboards. Not willing to go to the supermarket and hell bent on getting these pictures done (I didn't do all that matchstick chopping for nothing!) I used brown rice spaghetti and it worked out perfectly! Avoid using wheat or whole wheat noodles, I find the texture doesn't work as well in this recipe.
Recipe Hack: This can be made ahead of time but I suggest mixing the sauce with the cooled noodles and adding the crisp veggies right before you serve it! Otherwise the veggies might soften and lose their vibrancy!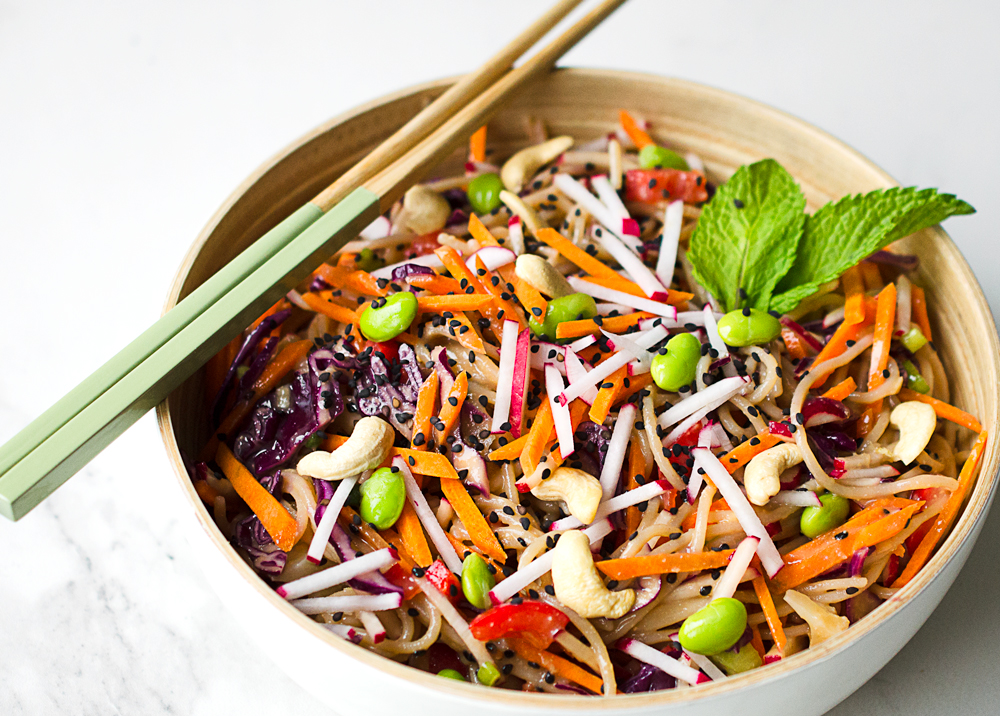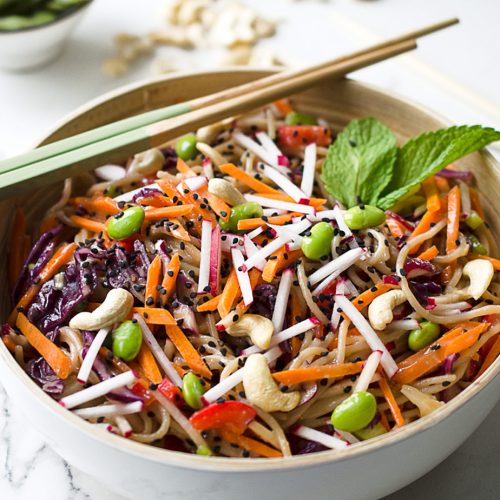 Sesame Edamame Noodle Bowl
This vegan Sesame Edamame Noodle Bowl works as an on the go meal and really embodies the new age nutritional mantra "eat the rainbow". Makes 2 large bowls or 4 small!
Ingredients
½

pound

(8 ounces) noodles of choice (soba noodles or brown rice noodles )

¾

cup

julienned radishes

4-5 radishes

1

cup

julienned carrots

1 large carrot

½

cup

finely shredded red cabbage

½

cup

thinly sliced red pepper

¼

cup

thinly sliced green onion

1

cup

frozen edamame

¼

cup

cashews

chopped or whole

3

tablespoons

white or black sesame seeds or a mixture
Sauce
3

tablespoons

unseasoned rice vinegar

2

tablespoons

low-sodium tamari

2

tablespoons

orange juice

( juice of ½ orange)

2

tablespoons

white miso

1

teaspoon

toasted sesame oil

, optional

2

teaspoons

coconut sugar

Pinch

red pepper flakes

1

teaspoon

finely grated ginger

1

garlic cloves, minced
Instructions
Prepare soba or brown rice noodles according to package directions. When cooked, rinse the noodles under cool water and transfer to a large bowl filled with cold water. Set them aside until ready to use, otherwise they will get sticky and clump together.

Next, add the edamame to a pot of boiling water and boil for 4-5 minutes. Drain and set aside.

Prepare the vegetables (radishes through green onion) and add to a large glass bowl.

Make the sauce by adding all ingredients to a small blender or whisking by hand. If whisking by hand, first make a paste with the rice vinegar and miso paste then add all other ingredients and combine. For an oil-free version omit the toasted sesame oil.

Drain the noodles again (drain well!) and add them and the edamame to the bowl of veggies. Pour the sauce over the noodles and toss all the ingredients together using tongs until well combined.

Add the cashews and the same seeds and toss again. Divide among bowls and garnish with additional sesame seeds.
Notes
This is a room-temperature noodle dish but you can make it warm by preparing the noodles and edamame last and tossing the raw veggies and sauce with the noodles while they're still hot.
If you can't find black sesame seeds, swap for more white sesame seeds.