About These Easy Fruit and Nut Bars
While I was home in Canada this year I became a little obsessed with a packaged whole food snack bar. It only had 4 ingredients. All whole foods. My kinda snack. 
And since I can't get these where I am now, I figured I would try and make a copycat version. 
And I did! 
And this is it! 
Keep these in mind if you need an afternoon pick me up or a little snack on the go!
Only 4 (I didn't count salt).
These fruit and nut bars are made using the following ingredients:
Cashews
Dates
Raisins or dried cranberries (my fav!)
Cocoa Powder
How To Make Fruit and Nut Bars
You throw all the ingredients in a food processor and process until the mixture easily sticks together when pressed between your fingers. I suggest you pulse the mixture a couple of times first so that the cocoa powder gets incorporated.
Transfer the mixture to a baking dish and press it firmly into the dish.
I like to leave the fruit and nut bars uncovered in the fridge to set but you can just cut them and pop them in the freezer.
Cashews – Cashews are a great source of fiber, plant-based protein, and healthy fats. They're also rich in the mineral copper which is good for your immune system and brain!
Dried Fruit – Dates are a natural, whole-food sweetener and they offer fiber and antioxidants. So not only do they sweeten your fruit and nut bars they also help with digestion! Raisins are also a good source of fiber and offer calcium and iron and dried cranberries offer vitamin C!
Cocoa Powder – A little chocolate goes a long way in these fruit and nut bars. While I wouldn't say they are chocolate flavored, the cocoa powder does give them another layer of yummy. Cocoa powder contains anti-inflammatory polyphenols, offers magnesium, and can even boost your mood!
Nut Free Fruit and Seed Bars!
I know nut-free options are important especially if making these fruit and nut bars for kiddies. So for a nut-free version swap the cashews for sunflower seeds.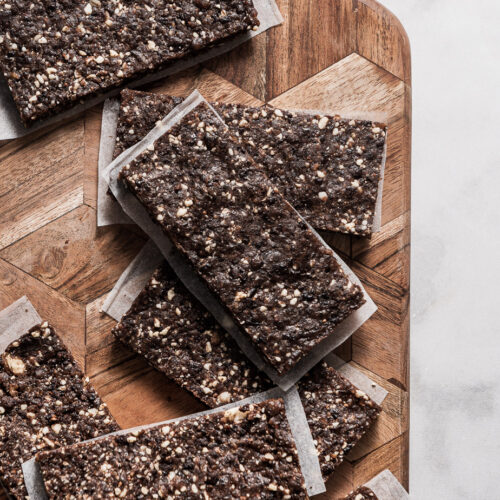 Easy Fruit and Nut Bars (copycat recipe!)
I was obsessed with a packaged fruit and nut bar and decided to make my own copycat version! These easy fruit and nut bars only have 4 ingredients and take minutes to make. I suggest letting them set in the fridge but this is optional.
Ingredients
1

cup

cashews

(unroasted and unsalted)

2

cups

packed dates

pitted

¼

cup

unsweetened cocoa powder

½

cup

dried cranberries or raisins

Pinch

sea salt

, optional
Instructions
Line an 8-inch square pan with parchment paper so it hangs out over 2 opposing sides. You can also use a smaller pan if you want a thicker bar.

Place the cashews in the food processor and pulse until roughly chopped and crumbly.

Next add the remaining ingredients in the order listed. Pulse a couple of times to incorporate the cocoa powder then process continuously until the mixture starts clumping together or at least easily sticks together when you squeeze it between your fingers.

Transfer the mixture to the baking pan and press it very firmly and evenly into the dish being sure to work it into the corners.

Next place the pan in the fridge and let it sit, uncovered, for anywhere from 2 and even up to 12 hours. Letting it sit uncovered allows the bars to firm up. The longer they sit, the firmer they'll be.

Remove them from the fridge and cut them into squares or bars. Keep them in a covered container in the fridge for up to 5 days or keep them in the freezer for up to 3 months.
Notes
For a NUT FREE version: Use sunflower seeds instead of cashews.
I like to add sea salt but you can omit it for a salt-free option.