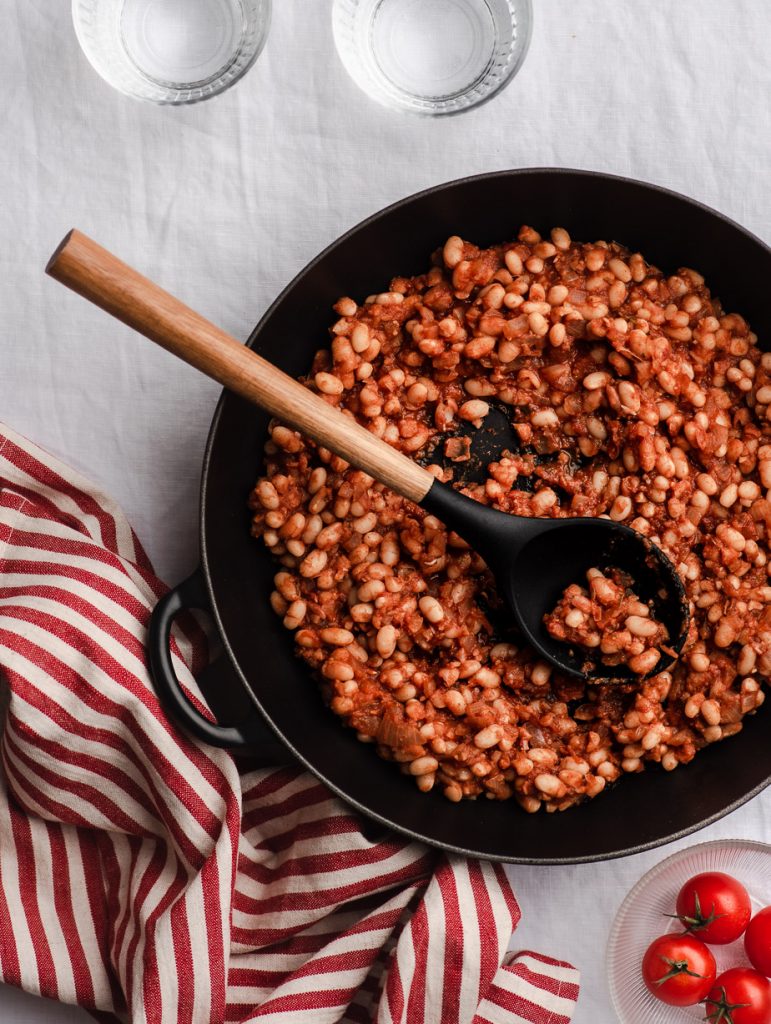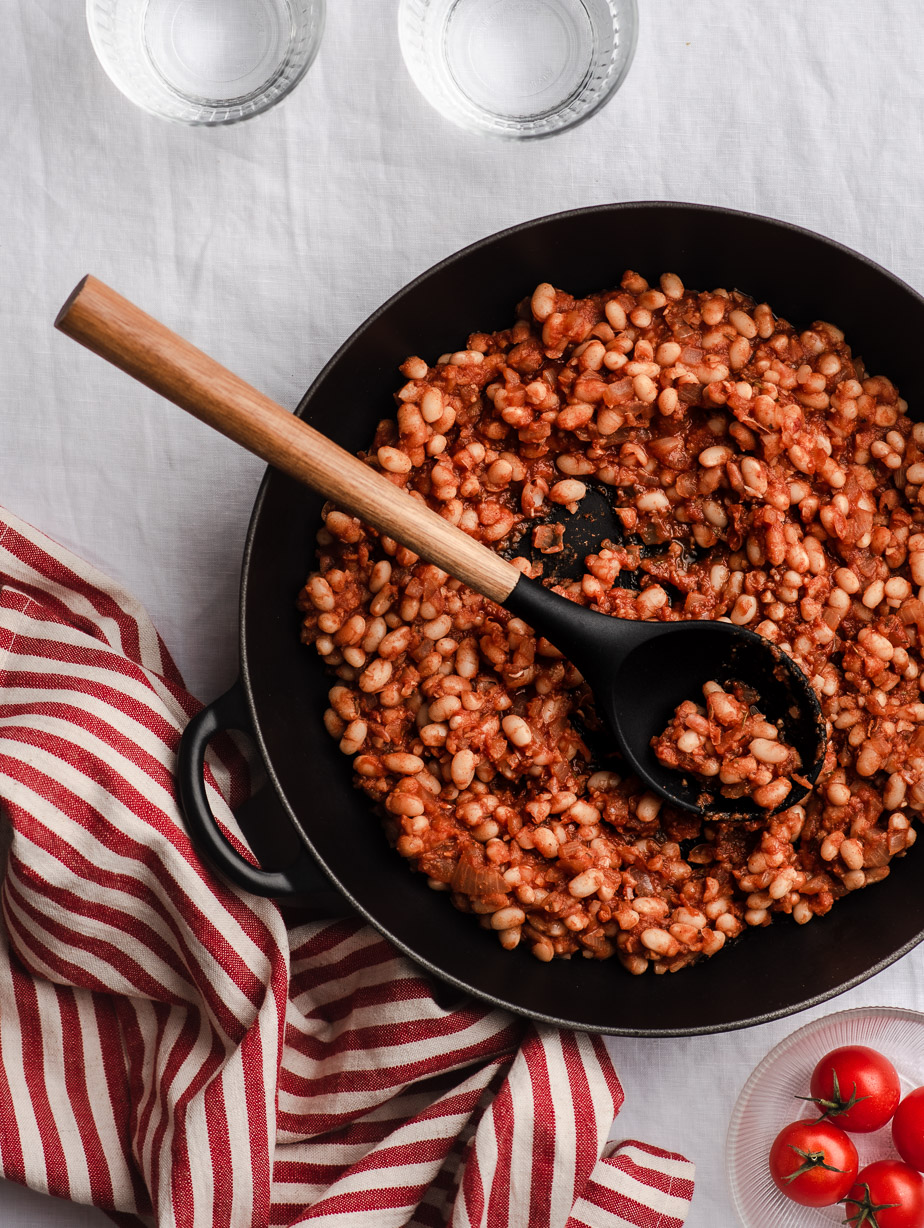 I'm putting beans on a pedestal with easy vegan stovetop beans! 
Not a planned post or recipe I was going to share but I had some encouragement.
Beans are often considered ho-hum, boring, bland, blahhhh. I noticed that a few weeks ago, when people were clearing grocery store shelves and emptying coolers, that there was palpable fear we would have to resort to "rice and beans". 
I guess rice and beans are, for some people, symbolic of scarcity – an indication that we've fallen on tough times or that we're no longer living in food abundance (i.e. fully stocked grocery stores). 
I realized that I see a bag of beans much differently. I see a nutritious dried good packed with culinary potential. I felt a quiet sadness for people who feared beans.
One early, rainy morning, when the anxiety of food shortages had just gone viral, I opened up my inbox to find not one but two emails from different recipe websites encouraging us, their readers, to cook with beans (since meat wasn't as easily available). The tone was persuasive like "…c'mon guys, just try beans! Let's make the best of a bad situation…" 
I wanted to "reply all" and shout my love for beans from the proverbial rooftops (or, you know, just type feverishly from behind my laptop). 
I wanted to preach that beans aren't second place, they aren't the consolation prize! They're incredible and underrated! They belong in our pantries and deserve a place on our dinner plates and they're destined for much more than just hummus. 
Love to hummus all the same!
And then the final call to action came when a recipe for baked beans from the New York Times popped up in my notifications that very same day. 
Mind you this dish was baked with oil and cheese but I figured I'd jump on the bean-recipe bandwagon (really I'm a permanent passenger) and take the opportunity to praise the bean and encourage everyone to make beans the main course with this easy plant-based recipe.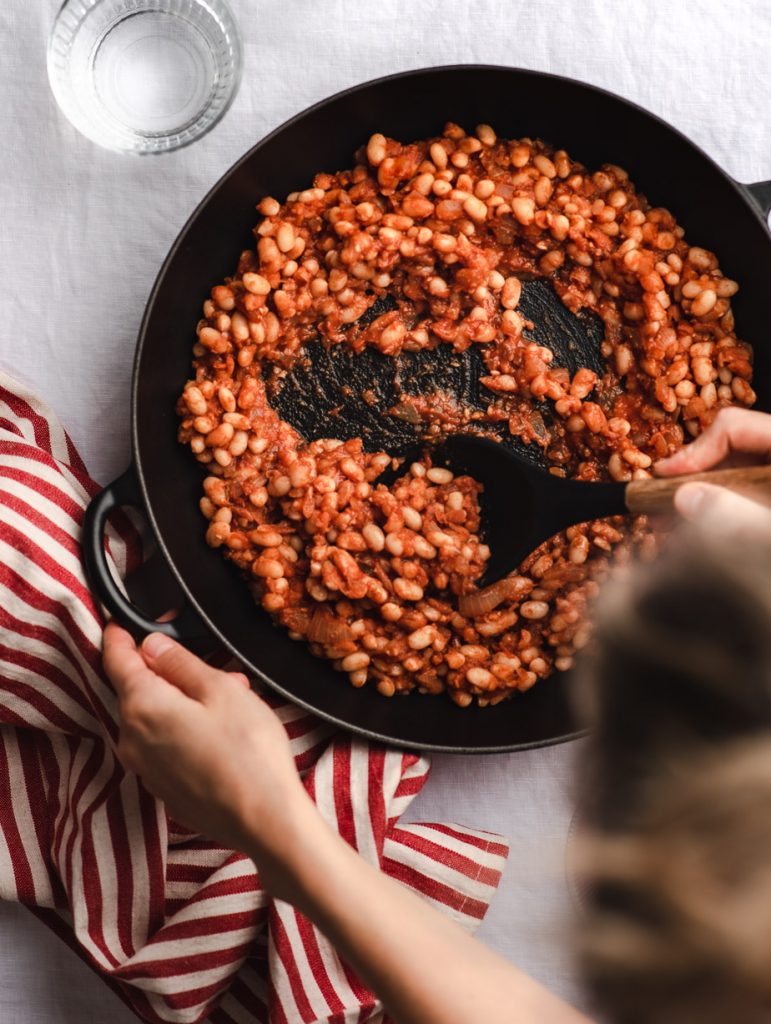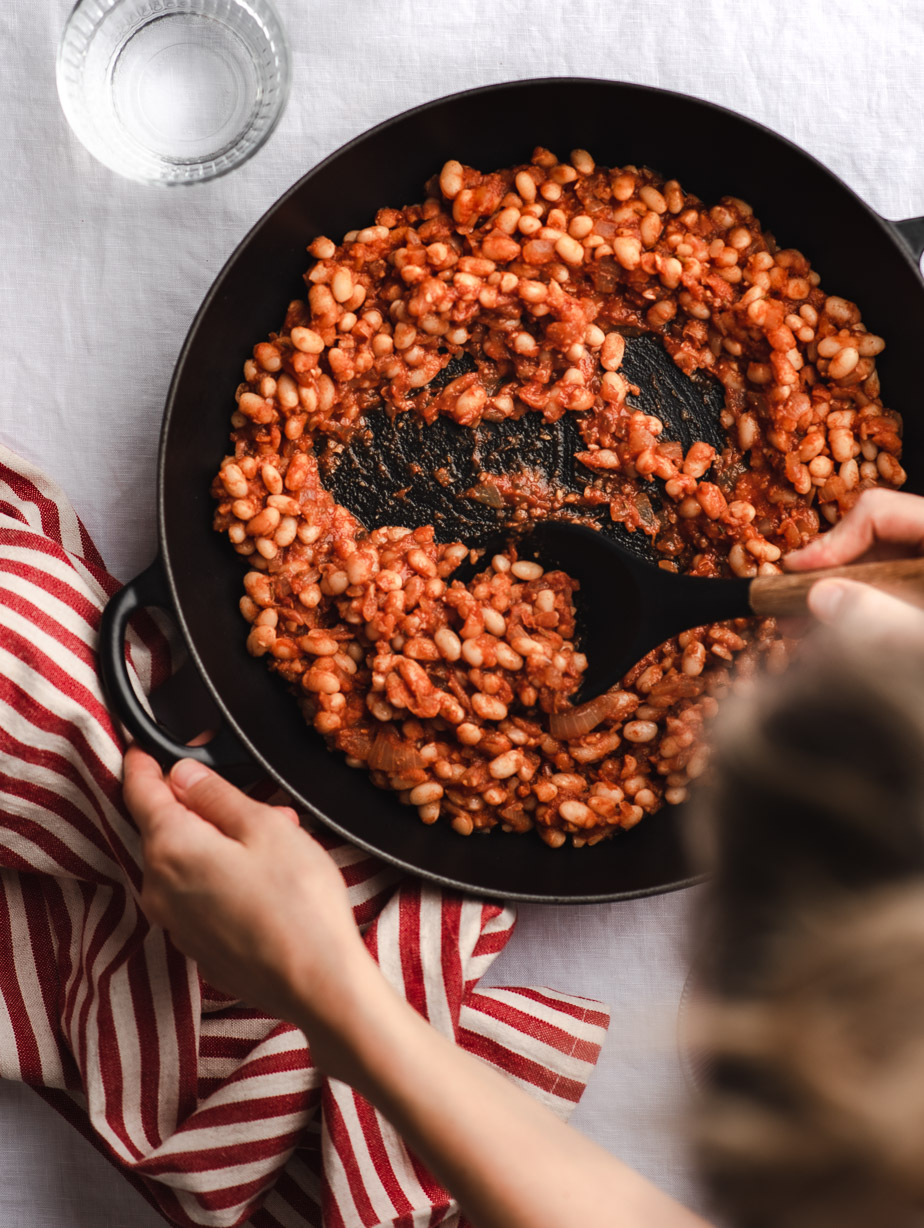 Not boring, not bland, anything but blah.
This version of stovetop beans is not coming from a place of lack, quite the opposite! It's a simple, affordable, easy recipe shared in celebration of the mighty legume. 
Beans and peas offer limitless opportunities for creativity and flavour combinations. They're filling and cozy and can be used in so many different ways from breakfast to dessert. 
Not boring, not bland, anything but blah. 
Beans are nutrient-dense and health supportive offering fibre and loads of plant-based protein. I love this short but succinct article written by Dr. McMacken for Forks Over Knives.
Yes, beans are cheap. And that only makes them even more wonderful! 
This recipe costs about $1.25 per serving (made with dried navy beans and commercial low-sodium vegetable broth). 
Add brown rice and some steamed veggies and it's anywhere from $2 to $3 (depending on food availability where you live). 
That's more nutritional bang for less of your buck. Always a good thing, yes?
If beans aren't in your regular weekly rotation, try this easy vegan stovetop beans recipe. You only need a handful of ingredients and about 20 minutes.
These beans can be enjoyed as is or paired with warm grains, steamed kale and diced avocado. It's what I consider a wholesome, heart-warming, even luxurious meal. You could also serve the beans on toast or stuff them into a warm baked potato. See my pic at the end of this post for how I turned these beans into the base of well-balanced bowl!
What a great time to enjoy and experiment with the humble and wholesome bean!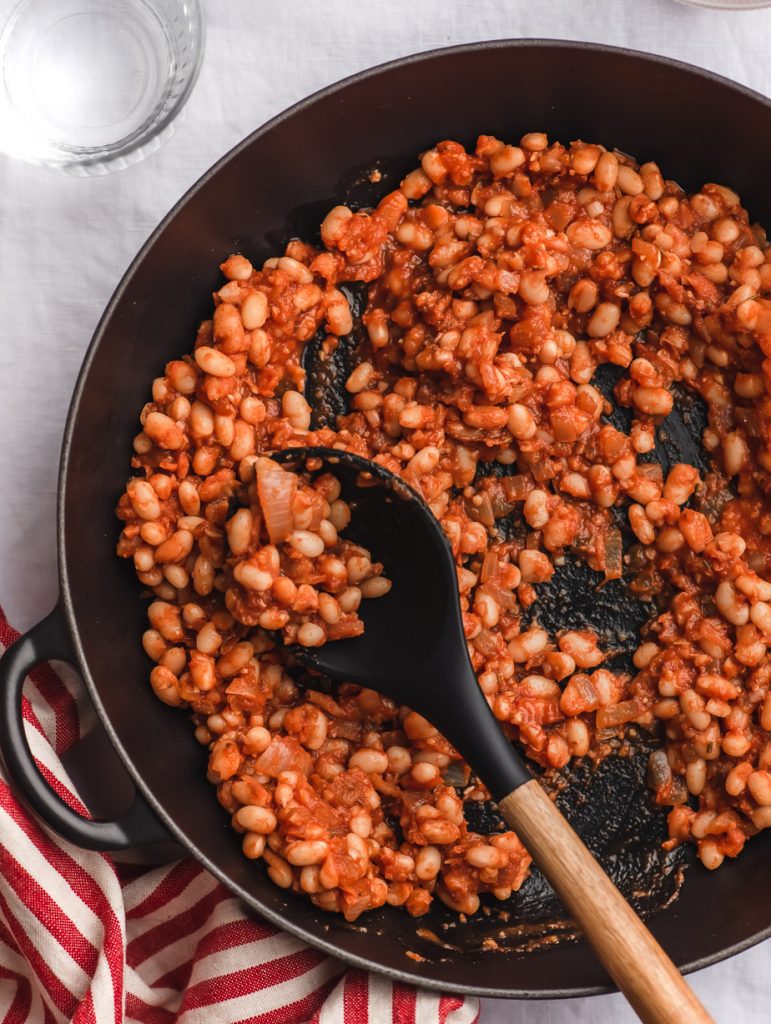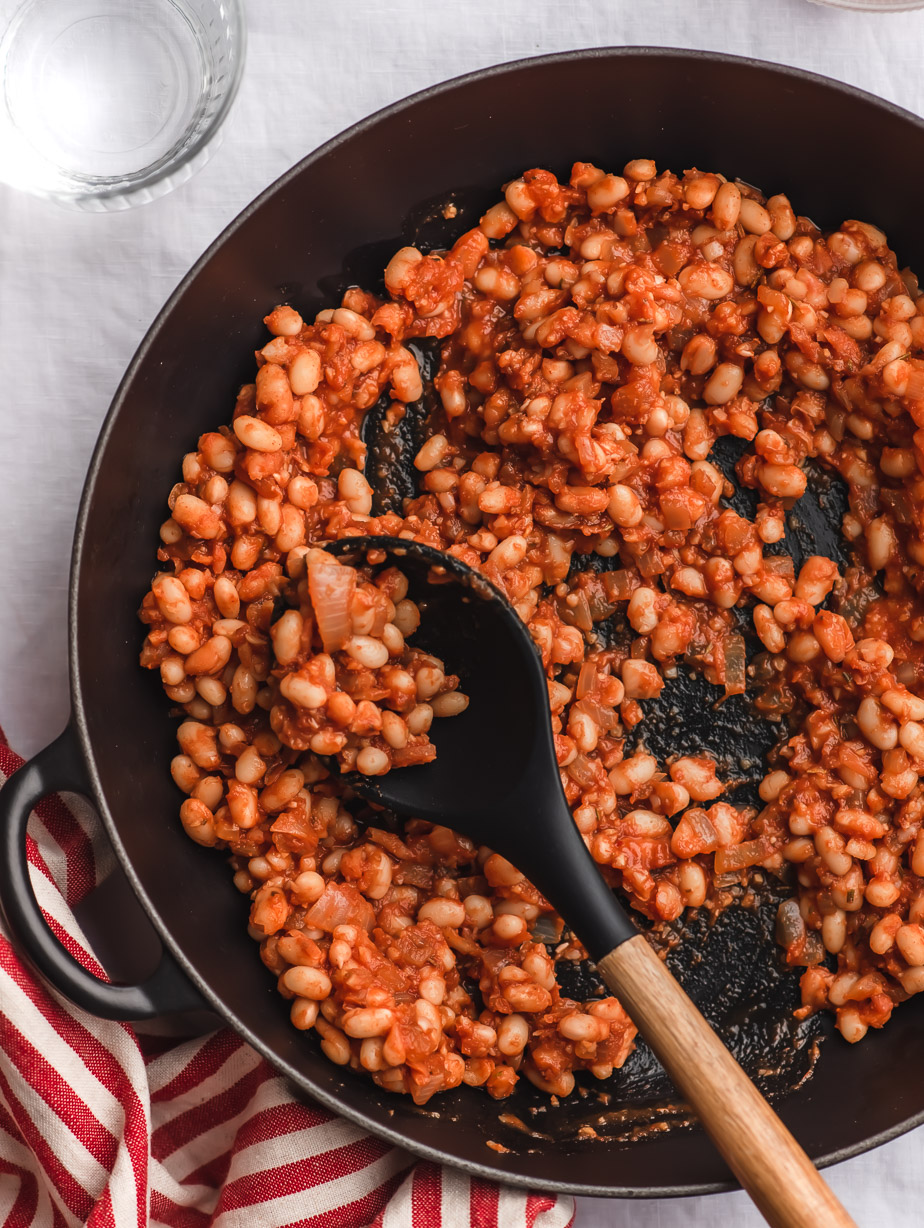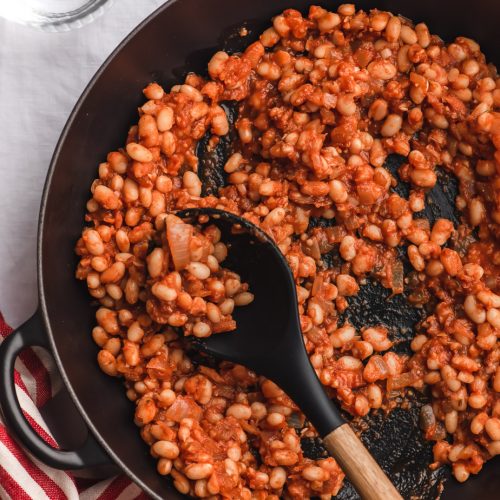 Smoky, chunky, flavorful beans made in minutes! I pair these stovetop beans with warm grains (rice or quinoa) and steamed vegetables for a complete healthy meal made in less than 30 minutes!
Ingredients
1

small red or yellow onion

diced

4

garlic cloves

minced

1½

teaspoons

smoked paprika

1½

teaspoons

ground cumin

1

teaspoon

dried rosemary

¼

teaspoon

red pepper flakes

or more if you like it spicy

¼

cup

+ 2 tablespoons tomato paste

3

cups

cooked or canned navy beans

rinsed and drained, about 2 (15 oz) cans

¾

cup

low-sodium vegetable broth

½

teaspoon

salt or to taste

1

tablespoon

red wine vinegar

Black pepper

Optional: 1 tablespoon maple syrup

Serving suggestions: cooked brown grains

steamed greens, chopped avocado
Instructions
In a large sauté pan, sauté the onion for 5 minutes with a few tablespoons of water until soft and translucent. Add the garlic, spices, and tomato paste. Continue to sauté for another few minutes, stirring and adding water as needed to prevent burning.

Add the beans, vegetable broth and salt. Bring to a simmer and simmer for a few minutes, partially covered, until the sauce thickens. Finally, add the red wine vinegar (and maple syrup if using) and mix. Taste, reseason with salt and pepper, and enjoy!
Notes
Serve these stovetop beans with cooked grains, steamed vegetables or greens, and sliced avocado for a complete meal.
You can use black beans or chickpeas instead of navy beans.
Add the maple syrup if you like a little sweetness in your beans!