About This Creamy Vegan Mango Ice Cream
Right, admittedly this is not actual ICE CREAM because this mango "ice cream" is plant-based and totally dairy free. 
But this vegan mango ice cream is not quite sorbet and it's not quite "nice" cream (ice cream made from bananas)!
It's more like a frozen dessert hybrid with a few special, delicious, healthy twists! It's the blender ice cream I've been making these last few weeks. It's light enough for a snack but also special enough to be served as dessert especially if garnished with some toasted nuts and/or fresh berries. 
Here's how I make this vegan mango ice cream extra special:
I've added almond butter to increase the creaminess.
I've added ground flax providing omega-3 fats, lignins, and extra fibre. In other words, a punch of superfood-y goodness!
The recipe is part frozen mango and part banana giving it a sweet but subtle flavour profile!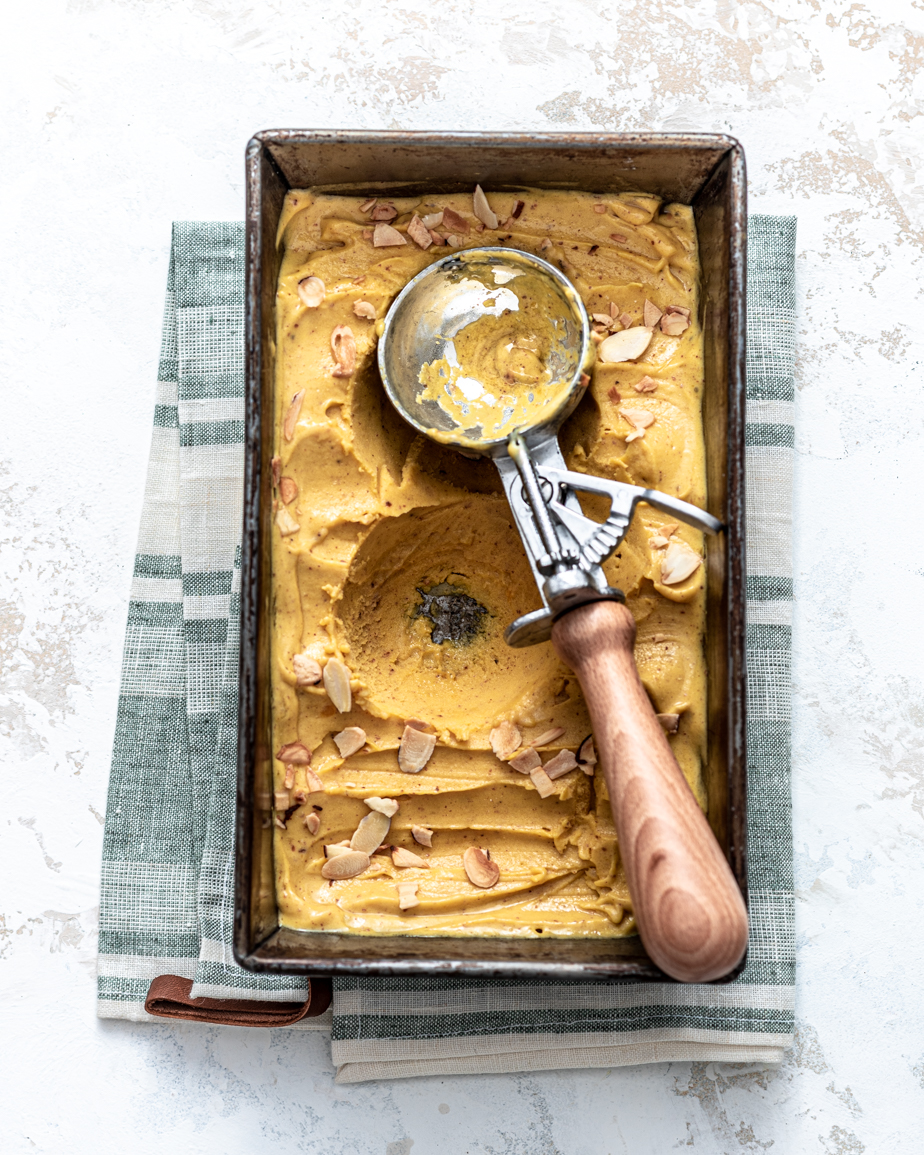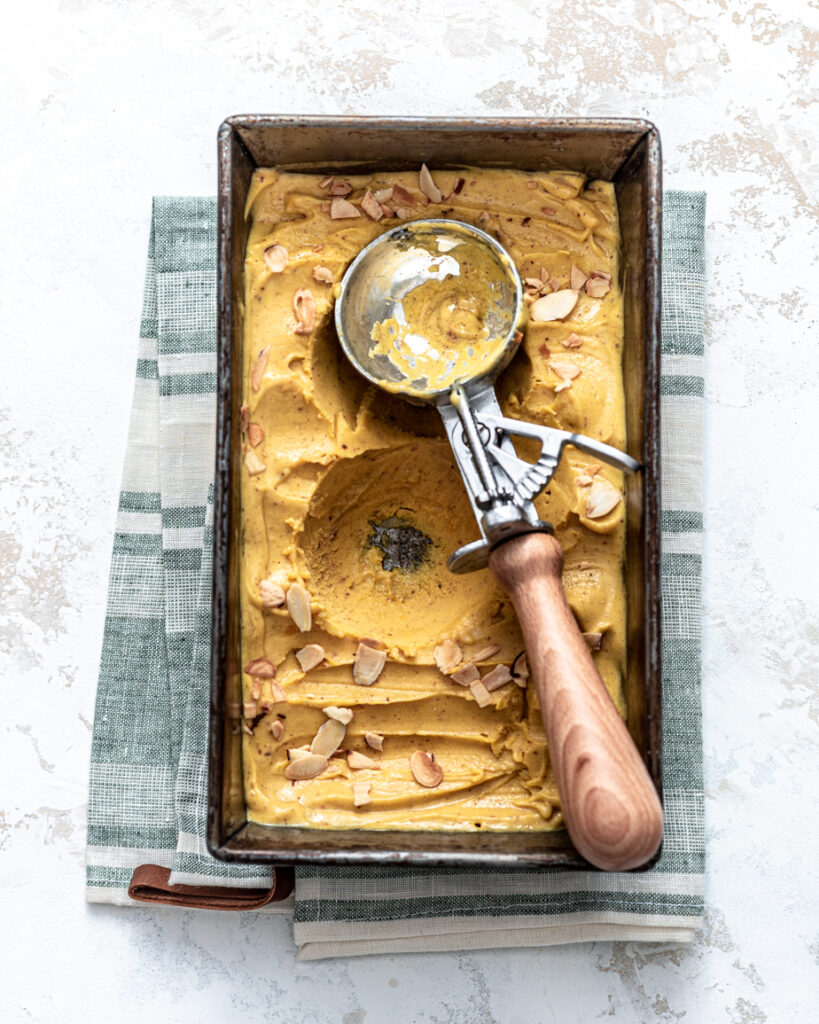 Frozen mango (I used Haden but any similar, ripe mango will do)
Frozen banana
Creamy almond butter (my preferred is Mara Natha)
Ground flaxseed (also known as flax meal)
Cinnamon
Dairy-free milk
High-speed blender with a plunger
I know this is an investment for any home kitchen but if you really enjoy indulgent and healthy vegan treats (think sauces, desserts, icings, and smoothies), it is well worth the price. In my opinion of course. 
I use a refurbished Vitamix 5200 model like this and I use it multiple times a day most days and have had it for almost 5 years! 
Tips for Blending and Freezing
BLENDING ICE CREAM 
If you've never made ice cream or frozen desserts in your high-speed blender, you're in for such a treat!
At first, it can seem impossible. The blender makes terrible noises that seem to be breaking the machine. But this is exactly right! 
Start on low and increase to high speed and use your plunger to press the frozen ingredients into the blades. A little bit of liquid can help this process. 
Eventually the mix will swirl together and the blender will make a different (but still loud) noise telling you it's pulled everything together. 
The vegan mango ice cream should be thick and really have a velvet-y, ice cream-y texture. 
If you're having trouble getting the blending going, add more milk. Too much milk however will give you a smoothie consistency.
Also note that your blender may crap out mid blend. This usually means there isn't enough liquid and you need to give it a little rest before it's ready to blend again. You'll get the hang of it!
FREEZING BLENDED ICE CREAM
Once your vegan mango ice cream is made, you can enjoy it immediately! This is usually how we have it. 
But this particular recipe can also be frozen and enjoyed later which is both convenient and spares guests from the blender torture noises. 
For freezing, transfer the mango ice cream immediately to a small dish or pan (I like to use my bread pan as seen in the pictures). Smooth out the surface with the back of a large spoon to give it a zig zag effect and place in the freezer. If frozen for less than a couple of hours, you can take it out of the freezer and you should be able to scoop it within 15 minutes. 
If freezing for longer or if the ice cream is in a deep freezer, you'll have to let it sit on the counter for up to 30 minutes. The edges might get a little loose and melt-y but this is totally fine.
The GIF at the end of this post was the vegan mango ice cream at the end of the photo shoot and after sitting out for about 40 minutes!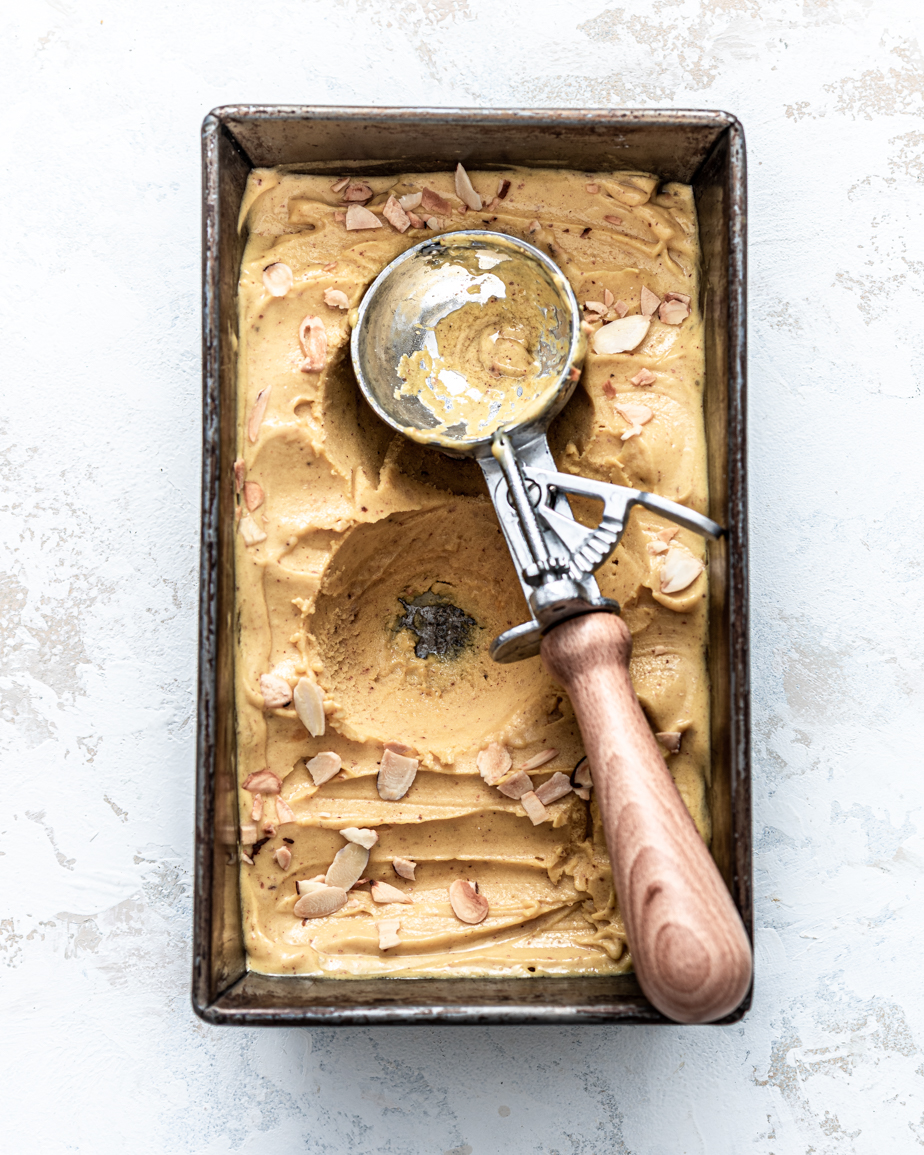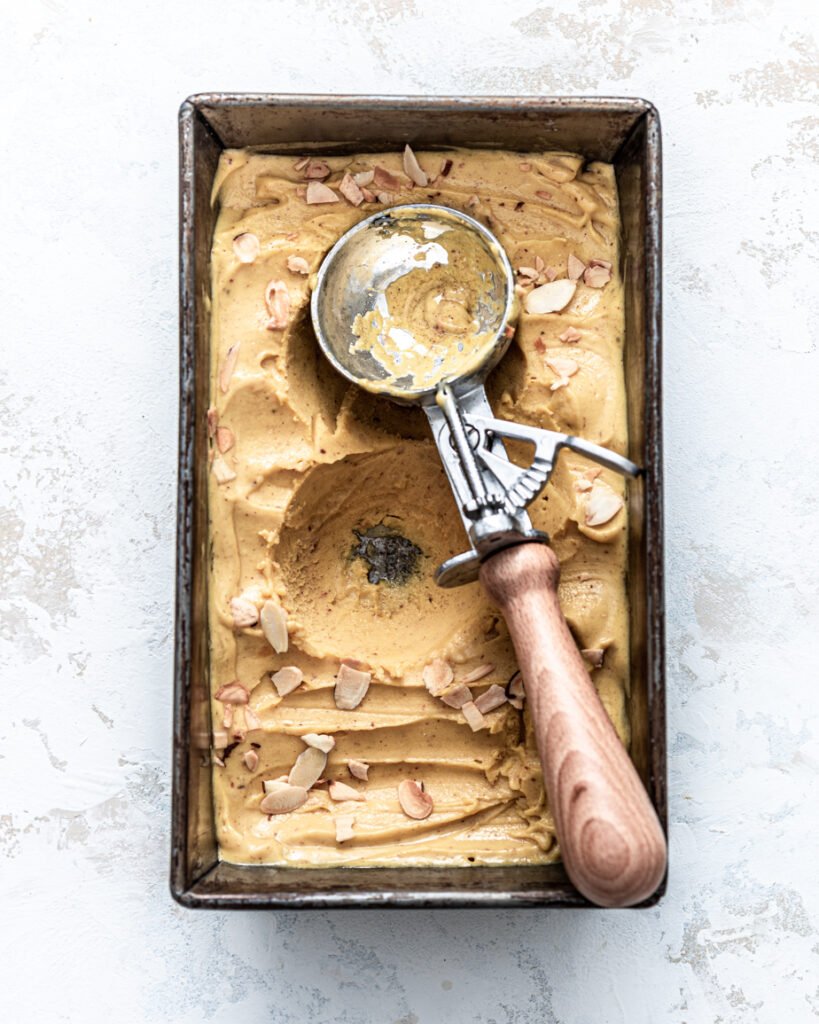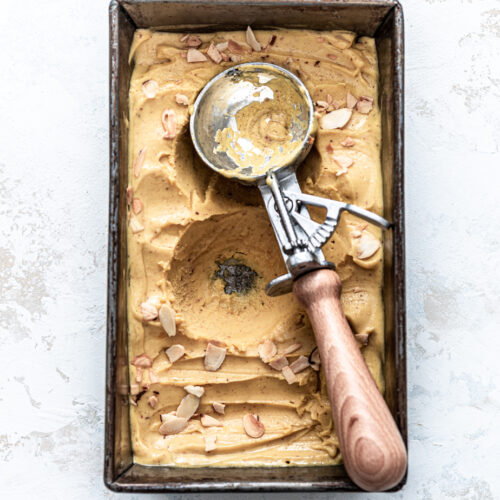 Not your regular vegan ice cream! Not quite sorbet, not quite "nice" cream, but so delicious! You do need a high-speed blender to make this ice cream and you have the option to enjoy as soon as it's made or freezing for later.
Equipment
High-speed blender with plunger
Ingredients
2

heaping cups frozen mango chunks or 2 fresh mangoes

peeled, cut into chunks and frozen (see notes)

1

large ripe frozen banana

ideally frozen in 1-inch chunks

2

tablespoons

stirred almond butter

raw or roasted

1

tablespoon

ground flaxseed

¼

cup

unsweetened almond or soy milk

plus more if needed

Pinch

cinnamon

toasted almonds or fresh berries (for optional garnish)
Instructions
First, you have to start with frozen fruit. I like to peel and chop both the mango and banana into chunks and place in a single layer in a freezer-safe bag (so that it doesn't all freeze clumped together) and freeze overnight.

When ready to make the ice cream, place all the mango and banana in a high-speed blender along with the milk. Start blending on low and increase to high. Using your plunger, plunge the ice cream as it blends. This is a little bit of elbow work but it will come together.

Once it starts blending, stop and add the almond butter, flax, and cinnamon. Start blending on high again (plunging) until the ice cream is thick and creamy.

Serve immediately OR transfer to a loaf pan, smooth out the surface and place on a level surface in the freezer. Before serving, take the mango ice cream out of the freezer 15 to 20 minutes (maybe more depending on how long it's been frozen) before scooping! Garnish with toasted sliced almonds or fresh berries.
Notes
Notes
I used Haden mangoes but you can use any similar-sized mango just make sure they're ripe! You know they're ripe when the flesh gives a bit when pressed with your thumb. Avoid mangoes that are bruised or mushy.
You can reduce or omit the almond butter if you want a fat-free or nut-free mango ice cream!
Swaps for almond butter include cashew butter or even peanut butter.
If your mango ice cream is too wet or liquid-y add more frozen banana and blend/plunge again.
If your mango ice cream is not coming together in the blender and you can't get it going, add more milk and blend again.