Get your daily supply of veggies with this gluten free and vegan broccoli pizza crust. Pizza…broccoli? I know. Amazing. 
Finding ways to make carbs less carb-y is always a worthy endeavour. 
Everything glorious is carbohydrate-heavy : bread, brownies, muffins, pizza. These types of foods are usually made with refined carbs and are lacking fibre, vitamins and minerals and provide a bunch of empty calories. 
But it's often not just the actual carbs crave (although carbohydrates do play some mind games on us by increasing key happy neurotransmitters in our brains), it's also the ritual around these types of foods and the things that go on and in them that we love. We're smitten with how we eat these foods as much as the food itself. 
Picking up a piece of hot pizza or spreading jam on just-toasted bread can summon feelings of nostalgia, love and comfort. For me, pulling apart a freshly baked muffin in the wee hours of the morning is nothing short of spiritual.
These experiences and foods do have a place in a health supportive diet (exhale!) and rest assured that you do not need to get rid of your toast, baked goods or pizza to be healthy. 
Traditional health advice would tell you that you could of course eat these foods in moderation or only occasionally but I think "everything in moderation" is misleading and ultimately leads to a moderately healthy (or moderately unhealthy) diet and lifestyle. 
A more empowering approach is to modify these foods so that A) they are totally healthy no ifs, ands or buts, and B) they can be enjoyed the same way as the traditional version. 
When you realize that these things are delicious, you have a moment of "why wouldn't I eat this"?!
This broccoli pizza crust was inspired by passion for recipe makeovers and Bernard's OBSESSION with pizza. His favourite food is pizza and I am fascinated by the unique ways in which we can use vegetables to make traditional recipes healthier. So you could say we met in the middle with this broccoli pizza crust!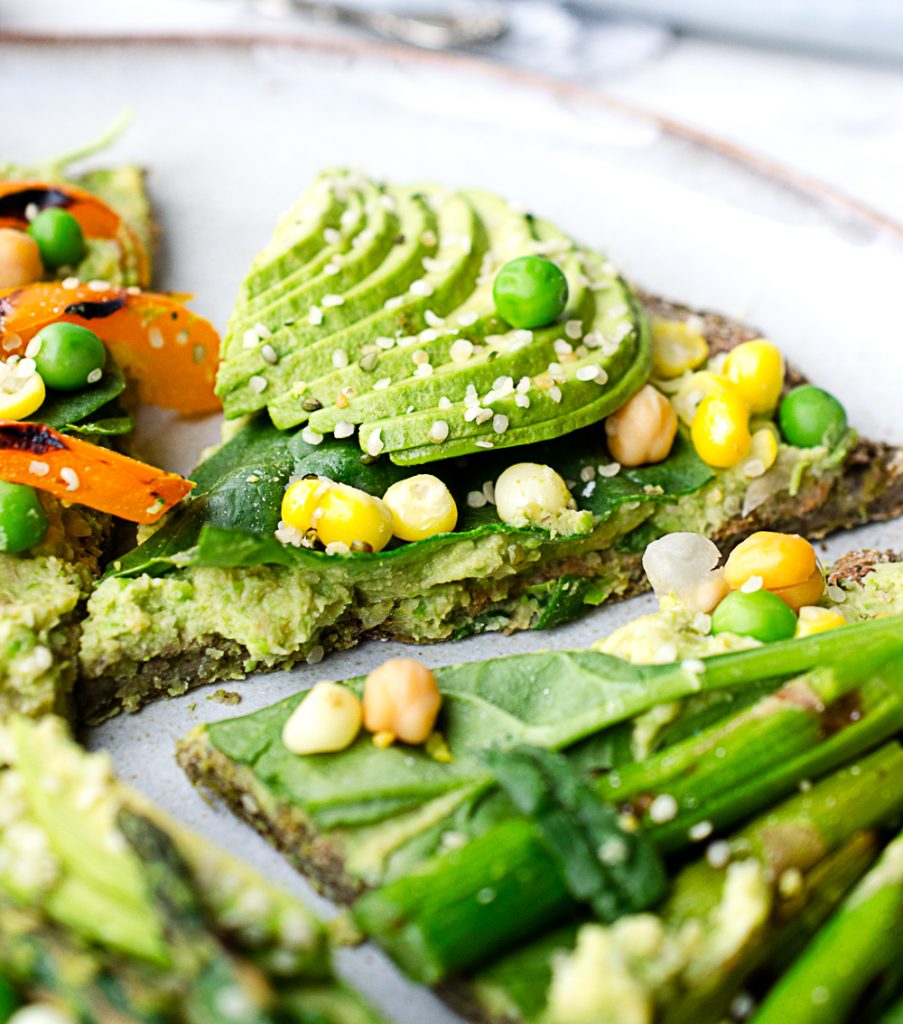 This broccoli pizza crust has 4 ingredients (not including spices) and it is pretty easy to make. 
There are a couple of essential techniques involved however and this is why I made a video for this recipe. I want to show you exactly how to prep the broccoli and exactly what the texture should look like before and after it comes out of the oven. I also show you a couple of handy tricks and give you an idea of the step by step processes involved. 
You can dress this pizza how you like. I chose to top it with one of my new favourite hummus' (hummuses? I always struggle with this) Green Pea Hummus. This hummus is a gorgeous pastel green, is ideal for spring and pairs nicely with the green pizza dough. The green pea hummus is from my cookbook but you can use any hummus you like!
This pizza is also nothing short of a nutritional powerhouse and makes a well rounded meal. It's loaded with vegetables (in and on top) so provides ample fibre, minerals, vitamins and other badass phytonutrients. The combination of buckwheat, chickpeas, peas and hemp seeds guarantee complete protein. Avocado and tahini offer up uber healthy fats.
And we're following one of today's trendiest health adages (and my most used hashtag) by "eating the rainbow" with this recipe. 
The biggest secret to making a great veggie based pizza dough is to get most of the excess water out of the veggies after they're cooked. Again, see video for how-to. If you come here often or you regularly encounter recipes that call for nut bags, it's definitely worth investing in a nut milk bag. They cost about $10-14 bucks and they last for a long time. Check your local health food store or online.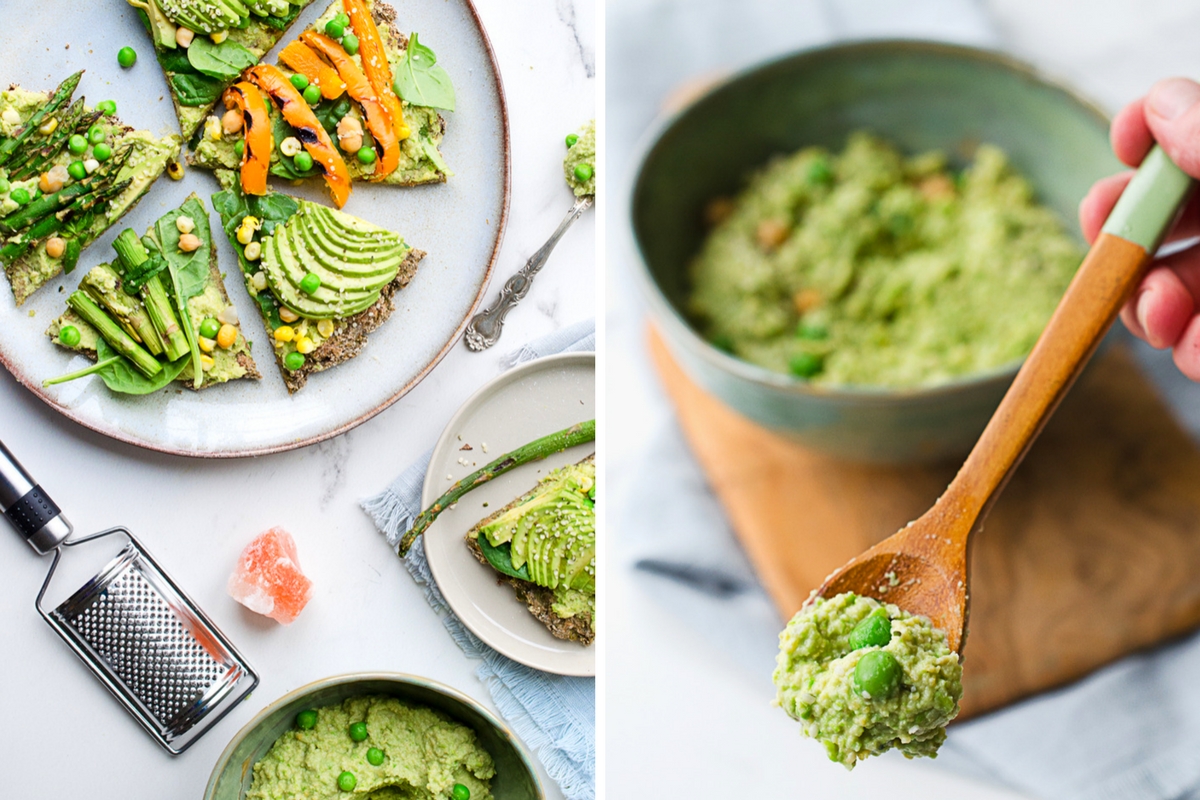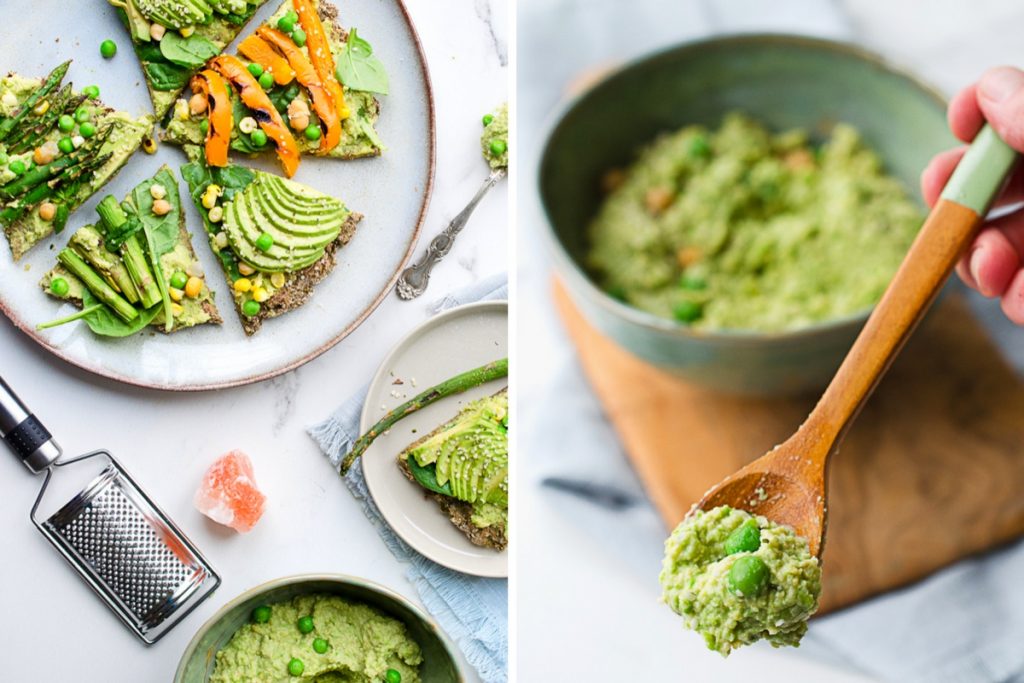 Blog Confession- I ate the whole thing in one sitting. This definitely can serve 2 people for a meal, 4 for a snack or one really hungry, broccoli pizza lover. 
Speaking of pizza dough, get ready to jump for joy (maybe that's just me who gets this excited) but you can use this recipe for cauliflower too! Sub equal amounts of cauliflower for the broccoli. 
Thin or Thick: Back in my jumbo pizza/extra cheese days, I liked chewy, doughy pizza crust. Even now I still like a thick crust. If you prefer thin, you can roll out this dough to be even thinner (about 11-12 inch diameter). It might not hold up as well when held like a piece of pizza but will get more of a crisp. 
And of course, do this pizza how you like! Marinara, sautéed mushrooms and red onion would be delicious! Or go spring-style with green pea hummus (recipe for the hummus is from
The Plant-Based Cookbook
) and grilled veggies!
Get your pizza cutters ready and enjoy!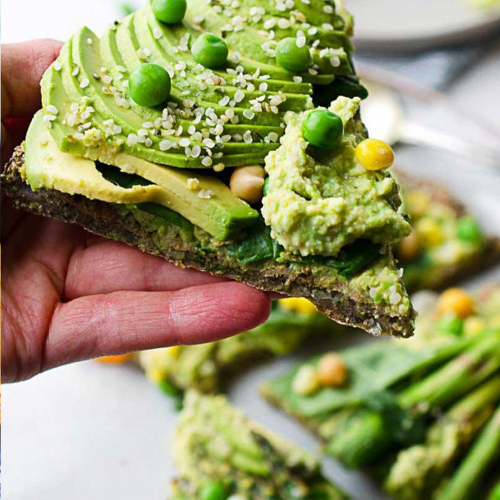 Broccoli Pizza with Green Pea Hummus
Get your daily supply of veggies with this gluten free and vegan broccoli pizza crust. Pizza…broccoli? I know. Amazing. 
Ingredients
4

cups

bite sized broccoli florets

1

tablespoon

+ 1 teaspoon psyllium husk

¼

cup

water

+ 1-2 teaspoons extra if needed

½

cup

buckwheat or brown rice flour

1

teaspoon

garlic powder

½

teaspoon

salt

¼

teaspoon

red pepper flakes
Instructions
Preheat the oven to 375°F and line two baking sheets or pizza pans with parchment paper.

Finely chop the broccoli by pulsing it in a food processor or chopping by hand. Place the chopped broccoli in a steamer basket and steam until bright green and tender , about 6-8 minutes. Meanwhile, mix the psyllium husk with ¼ cup water and let sit until needed.

When the broccoli is steamed, transfer it to a nut milk bag or fine mesh strainer and press out all the water. Be sure to get out as much water as possible. Put the strained broccoli in a large bowl.

Add the flour, spices and salt and toss together using a spoon or spatula. Add the psyllium/water mix and mix as much as you can with a spatula then roll up your sleeves and start mixing it with clean hands. Mix until all the ingredients are incorporated. If the dough seems too dry and isn't coming together, add more water 1 teaspoon at a time. Let the dough sit covered for 5 minutes.

Transfer the dough to the parchment paper (you can do this part on or off the pan) and press the dough into a 8-10 inch circle. You can use a rolling pin if you like, I prefer using my hands.

Bake the pizza for 20 minutes. Remove from the oven and flip the dough over onto another piece of parchment. Do this by laying the second parchment-lined pan on top of the first pan. While wearing oven mitts, hold both pans together by the pans' edges and quickly flip. Remove the first pan and slowly peel back the parchment. Return the pizza dough to the oven for another 10-15 minutes. It's done when it's firm to touch and lifts when you pick up the edge. Remove from the oven and top it how you like, slice and enjoy!
Notes
If you choose to use a rolling pin, put another piece of parchment on top of the dough and roll the dough on top of the parchment or dust the rolling pin with additional flour. Otherwise the dough will stick to the rolling pin.