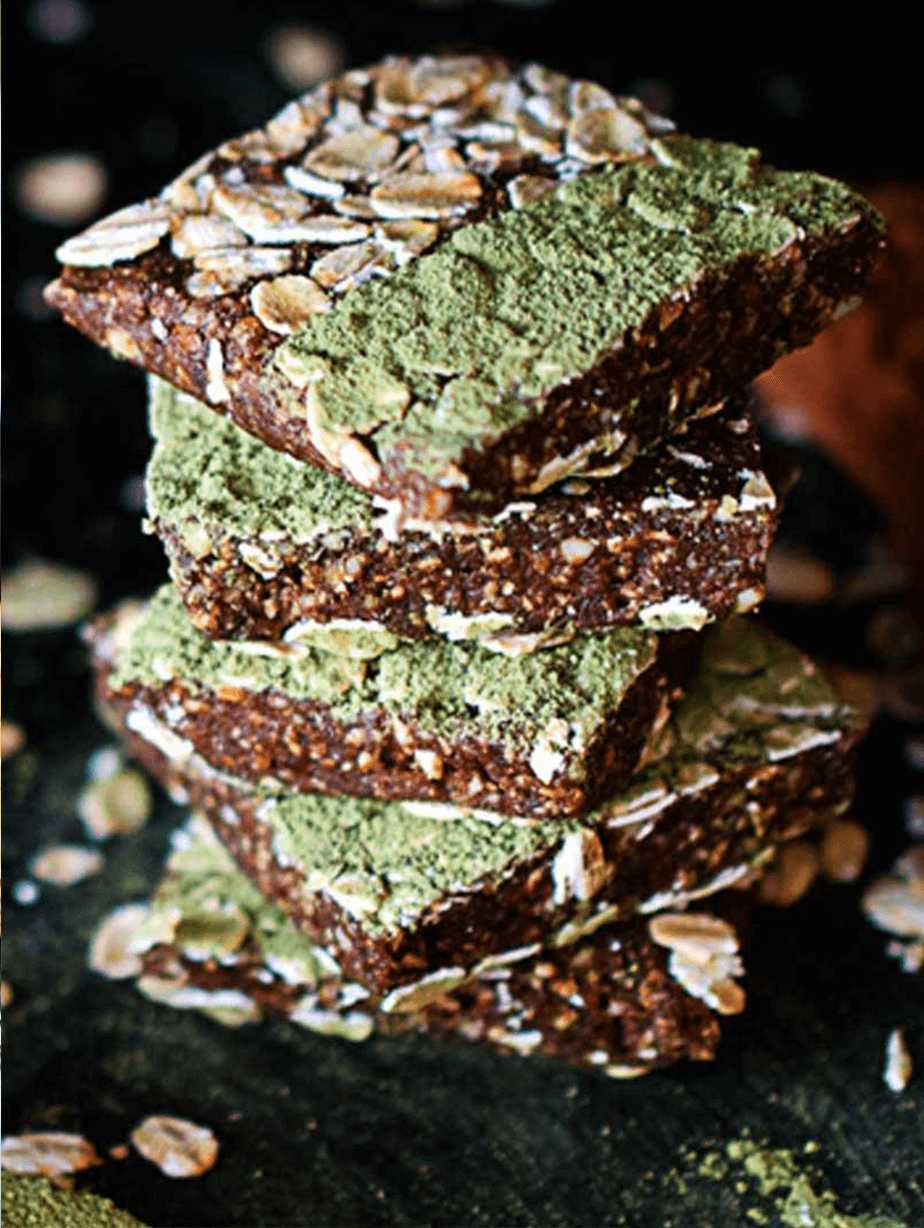 If you want to reap the health benefits of green tea or matcha but don't enjoy drinking it, then adding either to food is a great option. I like matcha lattes, but most often I make matcha food, like these Chocolate Matcha Oat Bars. 
These chewy treats are made with some all star healthy ingredients! Cacao powder balances the matcha powder and adds extra minerals and antioxidants. Ground flax and rolled oats add gut-healthy fibre and we add a little lemon juice not for flavour, but to get the most of the matcha – more on this in the how-to video below! 
There is a lot of taste and nutrition to look forward to with these bars but first more on matcha. 
It's one of those health foods that seems to be floating around but a lot of us don't know what to do with it or how to use it or (side whisper) what it actually is?!
Matcha is finely ground green tea leaves. It's purchased and available as a green powder. 
If you're thinking matcha is new, it's not. It's actually been used for centuries! The word matcha refers to powdered green tea leaves and it's history goes back thousands of years. Originally used in traditional Japanese tea ceremonies, it's now being labeled a "superfood" and is popping up in lattes, muffins, pancakes and health food stores everywhere! 
What's The Difference Between Green Tea & Matcha?
Regular green tea is made by steeping green tea leaves in hot water and then removing or straining the tea leaves. Matcha beverages are made using powdered green tea leaves. So with matcha you're consuming the entire leaf.
The green tea leaves grown for making matcha require more care and attention. These leaves are grown in such a way that stimulates additional chlorophyl production and they're harvested by hand. As a result, matcha (good quality matcha) is more expensive. 
Matcha is traditionally prepared by whisking hot water (not boiling water) with a bamboo whisk, known as a chasen, to make it frothy. Usually ½ to 1 teaspoon of matcha is used for 1 cup. 
Matcha tastes grassy and has a much more potent green tea taste than brewed green tea. In my opinion, it's one of those flavours you're not quite sure about at first and then you slowly begin to love it. You could say it's an acquired taste. 
If you're not used to matcha's flavour, you'll get a hint of it in these Chocolate Matcha Oat Bars but it's not overpowering. 
Since matcha is green tea, it is a source of caffeine. One cup of matcha made with ½ teaspoon matcha powder has about 35 mg of caffeine, which is more than regular green tea. As I suggest with coffee, don't drink it regularly beyond the afternoon hours. 
However, many matcha lovers claim that the "buzz" they get from matcha is like a calm alertness. This 
has been attributed to l-theanine
, an amino acid found in matcha that gives it its distinct umami flavour and promotes relaxation.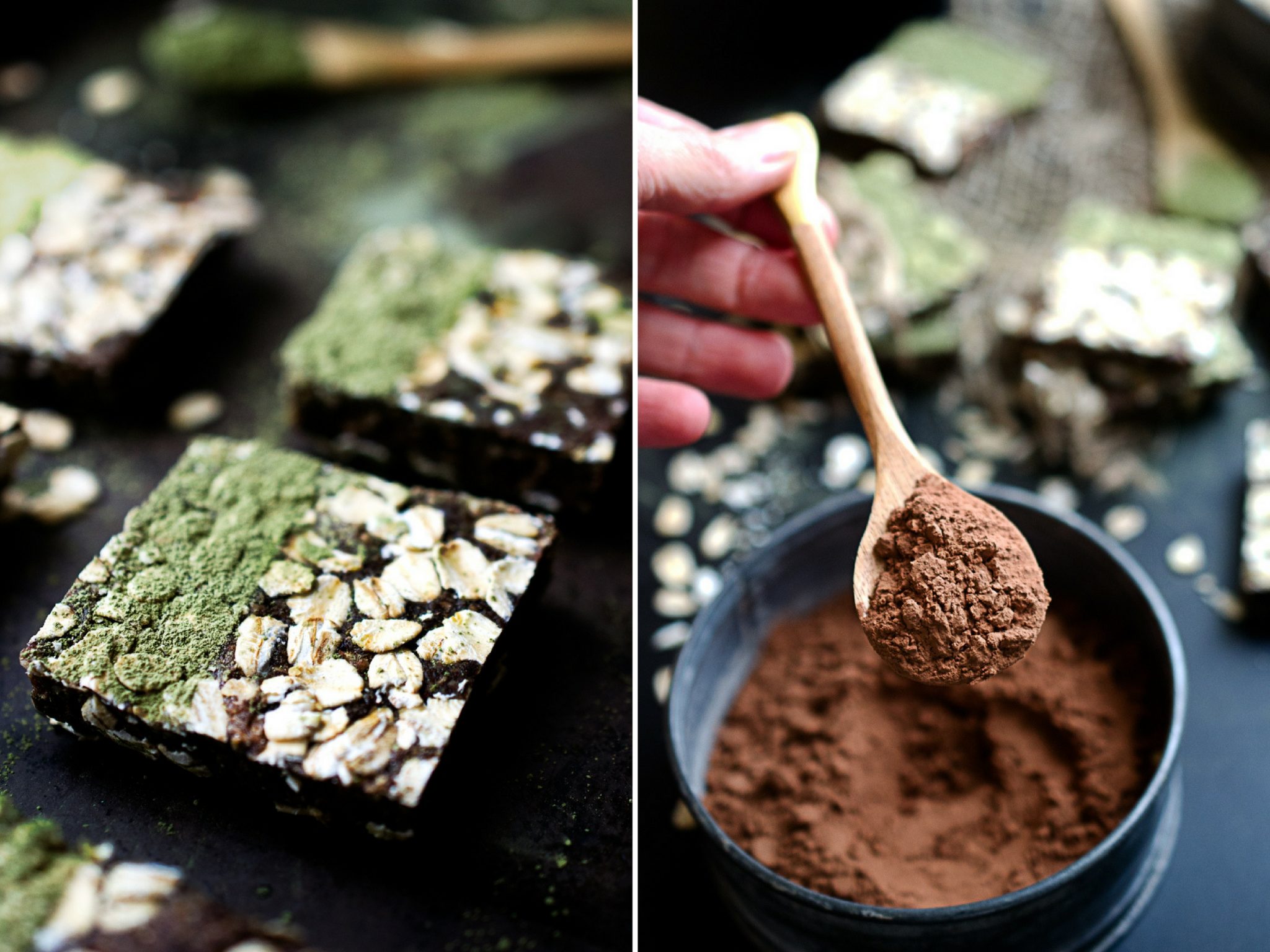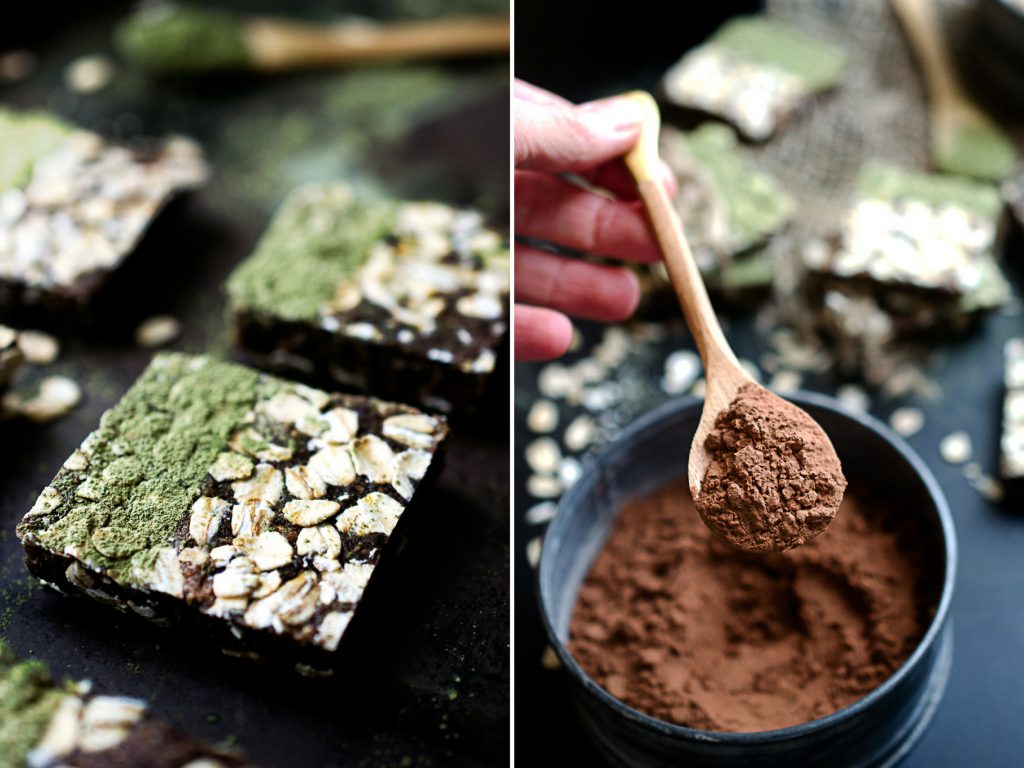 Health Benefits
Green tea is beneficial for our health – this is a well known fact. Green tea offers a long list of antioxidants including catechins, the most famous being ECGC, that help decrease inflammation and promote overall health. 
When drinking matcha tea, we're drinking the actual leaves which means we're getting more of these beneficial antioxidants.
Matcha is also a source of fibre, iron, vitamin C and vitamin A.  
The But?
Because green tea leaves grown in China can harbour lead, matcha can also contain lead. This heavy metal can interfere with the functioning of other essential minerals in our body and lead to serious health problems. Due to this potential contamination, it's best to limit matcha lattes to a few times per week or no more than one serving per day. If you're enjoying the matcha madness and are adding matcha to everything, reconsider. Some experts also suggest sourcing Japanese matcha which might be less likely to contain lead. 
For more on matcha, its history and safety profile check out this site
.  
Blogged while, drinking an Almond Milk Matcha Latte! I like my Matcha Latte made with homemade vanilla almond milk. I also like it a little sweet and frothy. 
Although I love almond milk matcha lattes (I'll share my super easy recipe below), my favourite use for matcha lately has been in food and these Chocolate Matcha Oat Bars are on repeat in my kitchen!
Matcha Tips
Beware "matcha mixes". This includes any premixed matcha powders or latte mixes. They most likely contain oodles of sugar and poor quality matcha. 
Speaking of poor quality, cheap price tags should also raise suspicion. Matcha only has all these health benefits if it's prepared and stored properly. Cheap matcha is probably cheap for a reason. A little goes a long way too so if you want to get some matcha in your diet, I suggest dishing out for the good stuff. I suggest checking health food stores and reputable online retailers. 
When buying matcha look for varieties that come in opaque cans. Matcha needs to be protected from light, heat and oxygen. Once you bring it home, store in a sealed container in a cool, dry, dark place.
About These Chocolate Matcha Oat Bars
They are vegan, gluten free and, perhaps what I'm most proud of, oil free. A lot of healthy treats and baked goods and especially raw vegan treats are made with coconut oil. Although I read a lot about the benefits of coconut oil, I also think we've gone a wee bit too far with it. I agree with Whole Foods founder, 
John Mackey
, that we will come to a point where we look back and see this period of time in the nutrition world as a time of coconut oil obsession. I choose to bake oil-free. 
It's definitely (most definitely) a challenge but a delicious end result can be achieved with less fat and fewer calories. As we learn more about different foods and their health benefits, obviously practices will change. For now, I'm baking oil free!
For Specific How-To, check out my recipe video below! I'm new to video-world but think that a step-by-step visual is helpful in making these kinds of treats, especially if it's new to you!
Enjoy your Chocolate Matcha Oat Bar Making!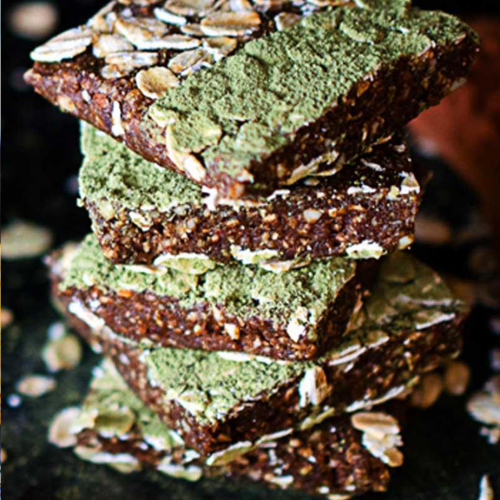 Chocolate Matcha Oat Bars
These chewy treats are made with some all star healthy ingredients! Cacao powder balances the matcha powder and adds extra minerals and antioxidants.
Ingredients
1 ½

cups

gluten free rolled oats

I prefer Bob's Red Mill Gluten Free Rolled Oats

12

medjool dates

pitted (~1 ½ cups)

½

cup

raw almonds

2

tablespoons

ground flaxseed

3

tablespoons

raw cacao powder

1

tablespoon

matcha powder

plus extra for dusting

3

tablespoons

maple syrup

½

teaspoon

cinnamon

1

teaspoon

lemon juice

¼

teaspoon

sea or Himalayan salt
Instructions
Line a square baking dish (8x8 in) with parchment paper. Do this by tracing the bottom of the pan/dish onto parchment and cutting it out.

Add 1 cup of oats (reserve ½ cup for pressing into the outside of the bars once they come out of the freezer) and all other ingredients to a food processor.

Process until the mix comes together and starts rolling around in the processor in a ball (see video). At first it will be crumbly but will eventually come together.

Transfer the mix to the parchment lined baking dish. Push the mix into the dish and smooth out the surface. The mix will be sticky. Take ¼ cup of the reserved oats and sprinkle over the top and press the oats into the bars. Try and cover most of the surface. Place the dish in the freezer for 30-40 minutes.

Remove from the freezer and flip the dish onto a clean cutting board. Peel the parchment paper off the dough. Sprinkle the remaining ¼ cup oats on the surface and press them into the dough (the same way you did with the other side).

Using a very sharp knife, cut the dough into 8 bars or 16 squares. Dust with extra matcha powder and keep in a sealed container in the fridge for up to a week.
Notes
You can also keep bars in the freezer for up to 3 months. Store in a freezer safe container and separate bars by parchment paper. They are chewy enough to eat right from the freezer.
Be sure to use medjool dates for this recipe! These dates are bigger and creamier and ideal for making raw treats!