I've been working on a vegan, gluten free tahini oatmeal raisin cookie for a long time. I made a few batches that were very much meh. Nothing worse than a disappointing batch of cookies. 
They didn't go to waste however. Bernard and I have such a high tolerance for just ok food that we could probably tolerate cardboard (believe me, some of my experiments have resembled just that).
 We also kind of have no choice, our grocery bill would be insane if we didn't eat all the culinary flops that come out of my kitchen! 
Three attempts later, the tahini oatmeal raisin cookie fails finally led to a winner! 
But why all the persistence? 
I've fallen head over heels in love with tahini. I've always enjoyed it as a key ingredient in sauces and soups but I've only recently become aware of its potential in not only savoury dishes but sweet ones too! I was adamant on a tahini cookie.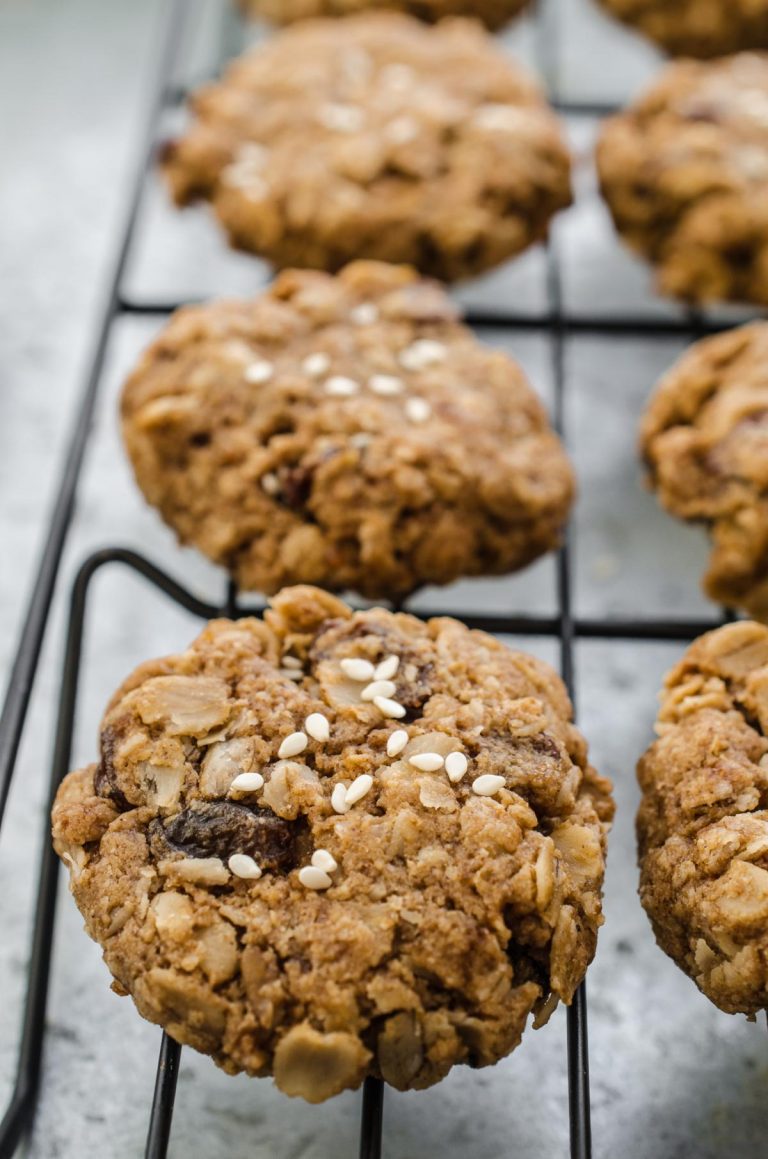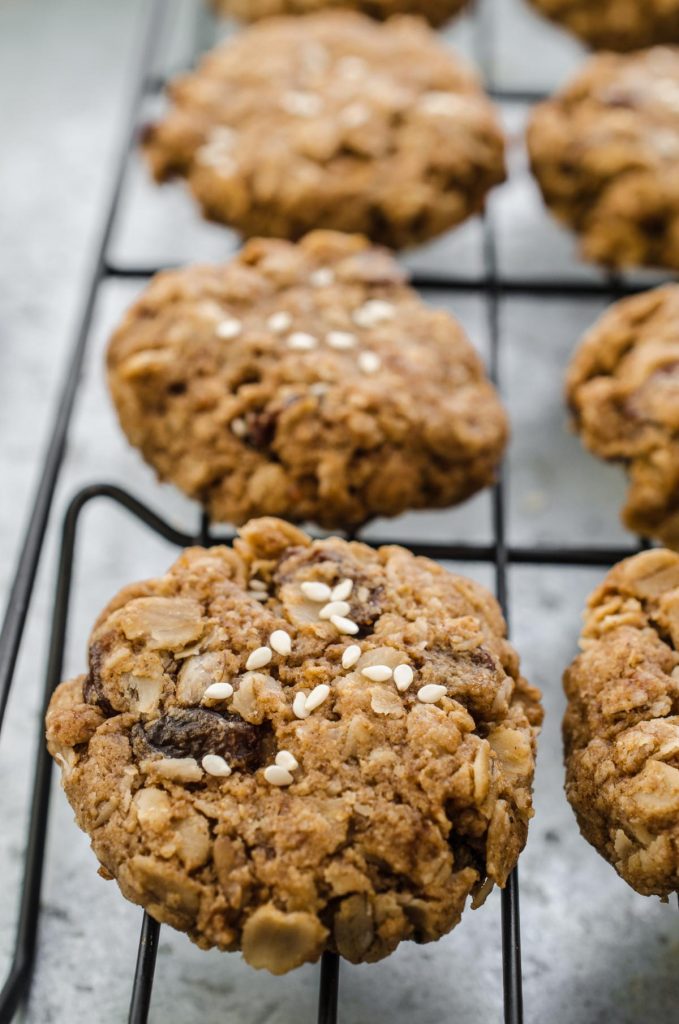 Tahini, which is ground sesame seeds, has a distinctive flavour yet it doesn't overpower other ingredients. In fact, it plays nicely with many other of my favourite flavours (lemon, dill, sweet potato, coffee, maple syrup) – making it a staple in any plant based pantry.
I also like tahini for baked goods because its natural sweetness allows for a reduction in other sweeteners, which is always a good thing. These gluten free tahini oatmeal raisin cookies only have ¼ cup of sweetener in the whole recipe- they won't bust the sugar bank.
Tahini is packing a lot in the nutrition department as well, especially when it comes to calcium!
A ½ cup serving of tahini has almost 300 mg of calcium. It's also rich in other bone-healthy minerals like manganese and magnesium. 
If you're concerned about calcium intake on a plant based diet, then tahini is a great addition to your ingredient repertoire. 
However, if you're new to a plant based diet or get a little insecure about the occasional health article instilling the fear of God into you about how your bones will disintegrate without milk, yogurt or cheese, hold the freak out and don't run for the milk! That's all BS.
A whole foods plant based diet will provide all the lovely calcium you need, in addition to other equally important (but less famous) vitamins and minerals necessary for healthy bones. 
For your information, some other common calcium rich foods to consider include;
Kale
Collard greens
Chickpeas
Whole almonds
Seaweeds 
Broccoli
Calcium set organic tofu
Dried figs
Chia seeds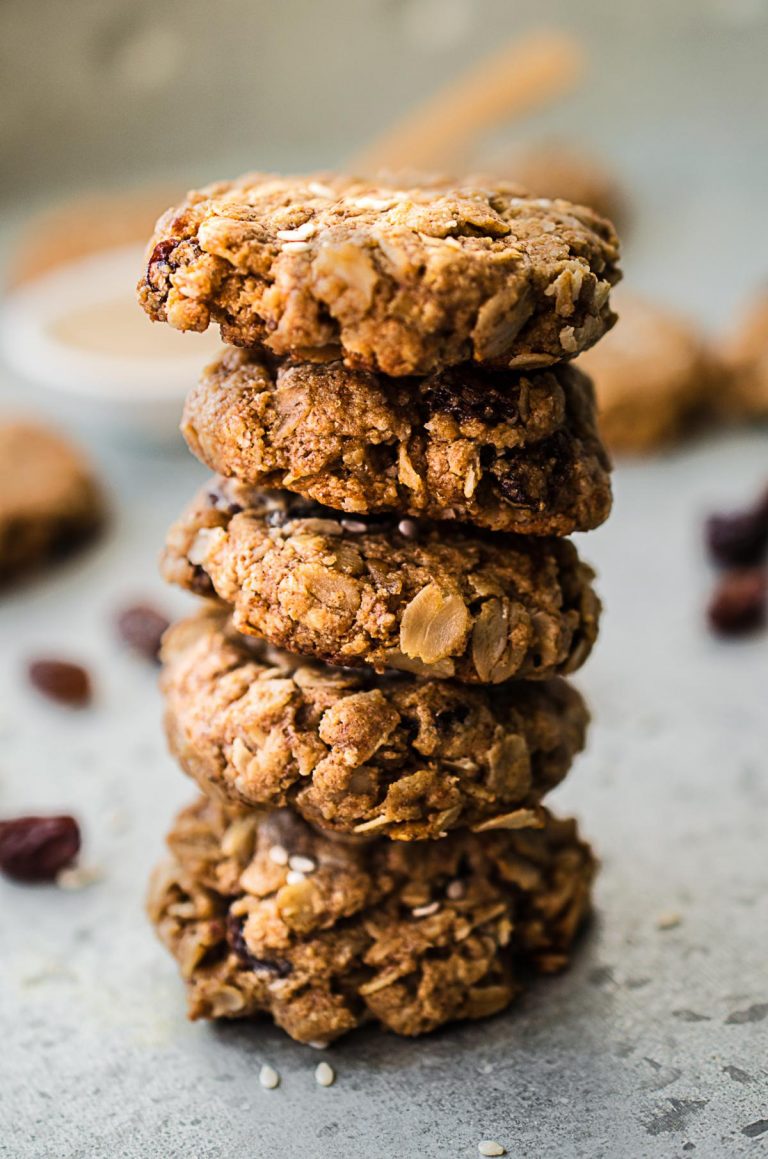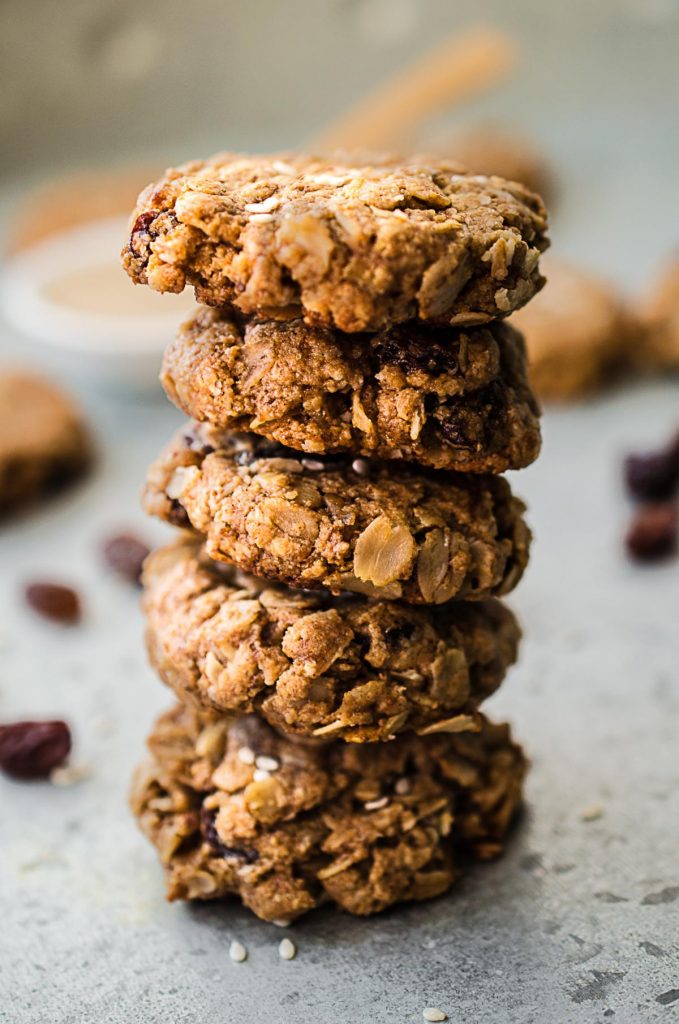 Back to the cookies…
My previous versions of these gluten free tahini oatmeal raisin cookies were short on tahini and too heavy on oats. They came out too chewy and without much sesame seed flavour.
Remedy; I upped the tahini and had a good think about traditional cookie recipes. 
Some of my favourite childhood cookie recipes started with creaming the butter and sugar together to get a smooth, thick consistency. I approached this cookie with that method in mind but obviously left out the butter and white sugar! 
In this recipe we start by creaming the tahini with some coconut palm sugar, vanilla, cinnamon and almond milk. Then we mix in the oats and raisins. The mixture will be very thick, similar to cookie dough. And just like cookie dough, no batch would be complete without sneaking a little taste before it hits the oven! DO IT!
I made a double batch and stashed a few in my freezer for last minute desserts and cookie cravings.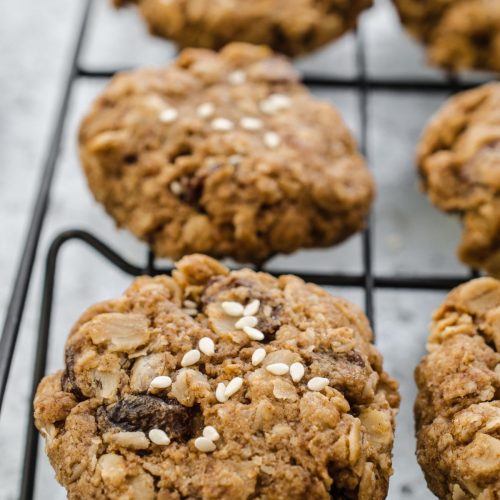 Tahini Oatmeal Raisin Cookies
The most delicious vegan and gluten-free cookie!
Ingredients
½

cup

well-stirred tahini

¼

cup

coconut palm sugar

or maple syrup-see notes

2

tablespoons

almond milk

1

teaspoon

vanilla extract

1

teaspoon

cinnamon

¼

teaspoon

sea or Himalayan salt

1

cup

gluten free old fashioned rolled oats

or regular if gluten isn't an issue

¼

cup

raisins
Instructions
Preheat the oven to 350°F. Line a baking sheet with parchment paper.

Add the tahini, coconut sugar, almond milk, vanilla, cinnamon and salt to a medium sized glass bowl. Using a spoon or small spatula, mix these ingredients together until well blended, i.e. creaming.

Add the oats and raisins and mix well until all ingredients are incorporated.

Using a tablespoon measuring spoon, scoop out the batter, roll it into a ball and flatten using your hands until the cookie is about ½ inch thick. Lay on the parchment and repeat until all the dough is used up.

Bake the cookies for 12 minutes. Remove from the oven and let cool for another 10 minutes. Enjoy!
Notes
Once cooled, store in an airtight container on your counter for up to 4 days.
This is a small batch, I suggest doubling this recipe if you want to keep some in your freezer or to entertain a crowd.
If you decide to use maple syrup instead of coconut sugar, omit the almond milk.