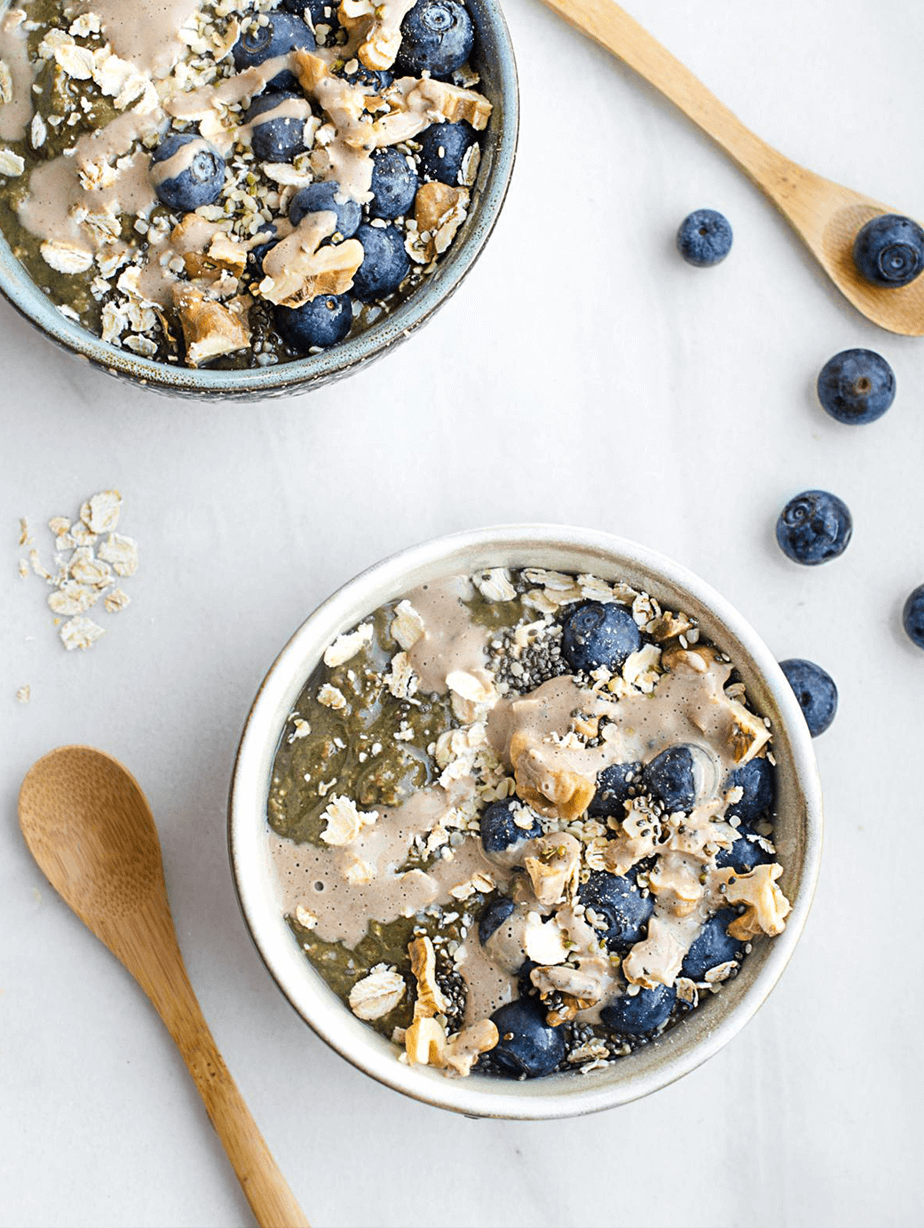 This Chocolate Blueberry Breakfast Bowl tastes like a sinfully delicious unhealthy breakfast but it's actually made with several nutrient dense "superfoods".  It's so creamy and delicious that you'll never believe there's spinach and all this other healthy stuff tucked inside…except you will because you're the one making it. 
Dates are used as the sweetener but can be swapped for banana.
So, chocolate is for breakfast after all! Yipee! Not like candy bars of course (which are appropriately called candy bars and not chocolate bars). When cocoa or cacao are added to whole food recipes, they add not only a chocolatey flavour but a boost of nutrients too!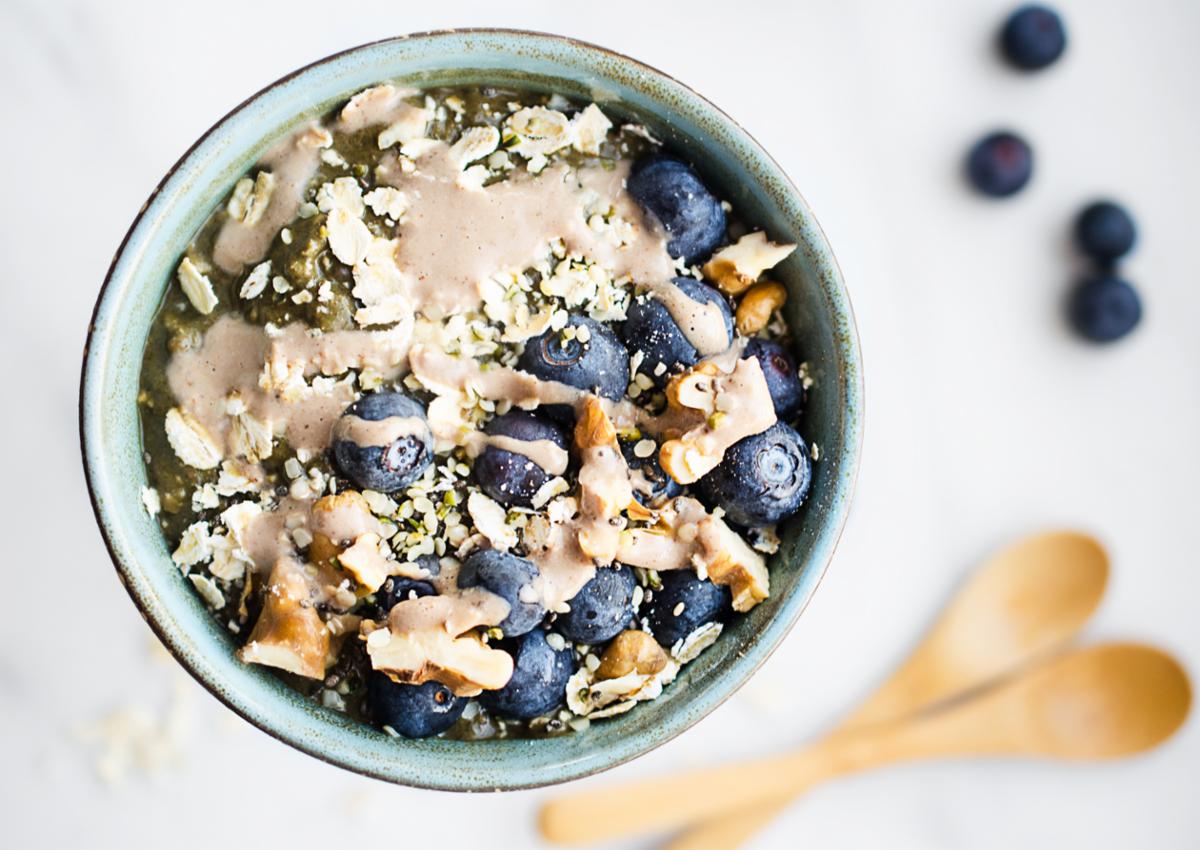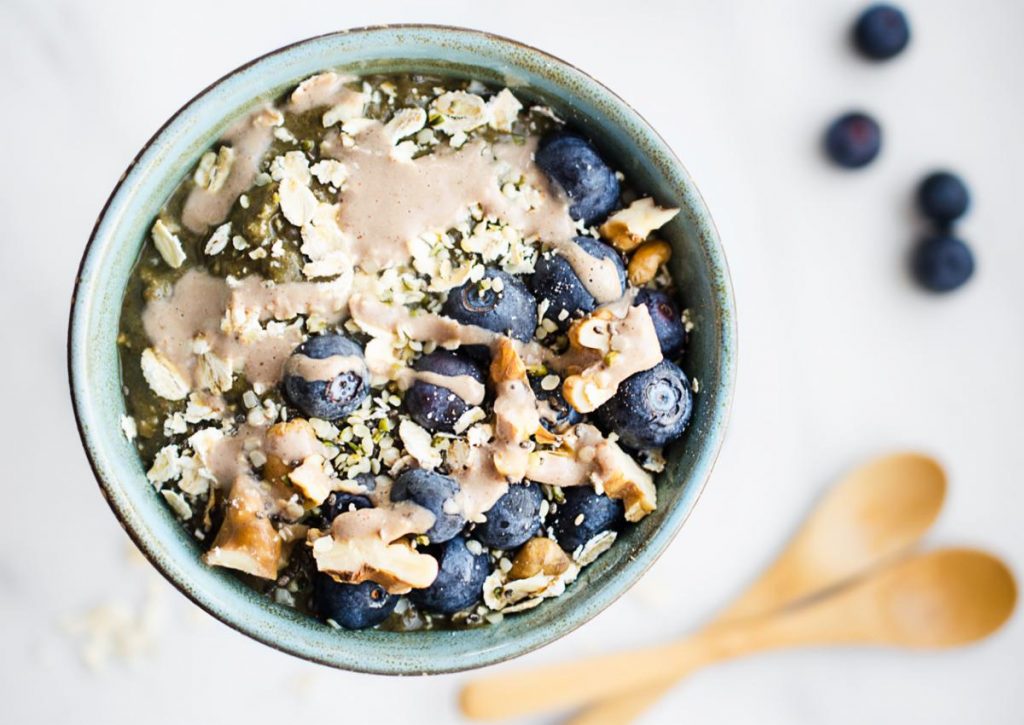 Cocoa or cacao powder (more on the different cocoa lingo below) is one of my favourite sweet recipe additions. I find that its bitterness allows for a decrease in sweeteners without compromising any expected sweet flavour. Adding cocoa or cacao to a dish of course makes it chocolate but this doesn't make it unhealthy. 
We're used to categorizing chocolate flavoured foods as "junk food" because cocoa is usually accompanied by sugar and dairy. Remove those things and you're left with a versatile ingredient to have in your plant based pantry. 
What's the difference? 
Cocoa Powder is made from roasting cacao beans and grinding them into a powder (this is an oversimplification of the process).  Cocoa powder provides health-supportive antioxidants, is low in calories, has zero cholesterol (because it's a plant-based food), and is a source of magnesium and fibre. One tablespoon of cocoa powder has about 2 grams of fiber, 1 gram of fat, and 25 mg of magnesium.
Raw Cacao Powder is made without roasting the cacao beans.  Unroasted cacao powder is considered "raw" and is even higher in anti-oxidants! You can use cacao and cocoa interchangeably. In terms of health supportive properties, cacao wins. 
Carob Powder is derived from the carob tree and is often used as a substitute for cocoa powder. Carob has no caffeine or theobromine, which is present in cocoa and cacao powder. Carob doesn't have the same chocolaty flavour but rather is more nutty. Carob also has more fibre and less fat than cocoa/cacao.  I like to add carob to recipes but I don't find it to be a great replacement for cocoa/cacao in recipes that are intended to have a distinct chocolate flavour. 
One Green Planet 
does a great cocoa to cacao comparison. Also very excited to have some of my recipes shared on their 
Food Monster platform
! Check it out, they have a ton of plant based recipes from all kinds of bloggers, foodies and chefs!
In this Chocolate Blueberry Breakfast Bowl I used raw cacao powder but I've also made it with unsweetened cocoa powder-both are delicious and offer magnesium, fibre and antioxidants. Feel free to try it with carob! If you do, please report back!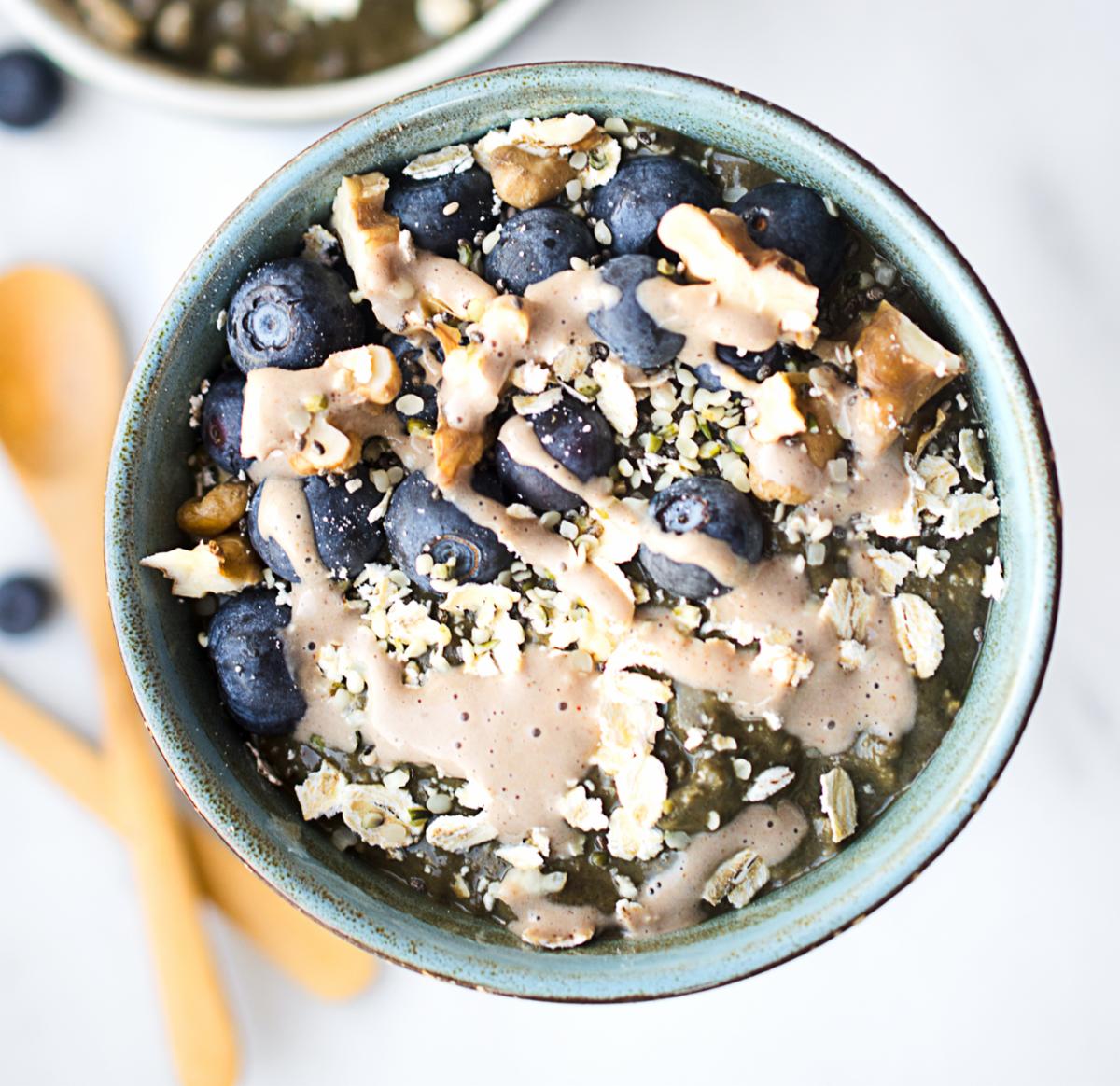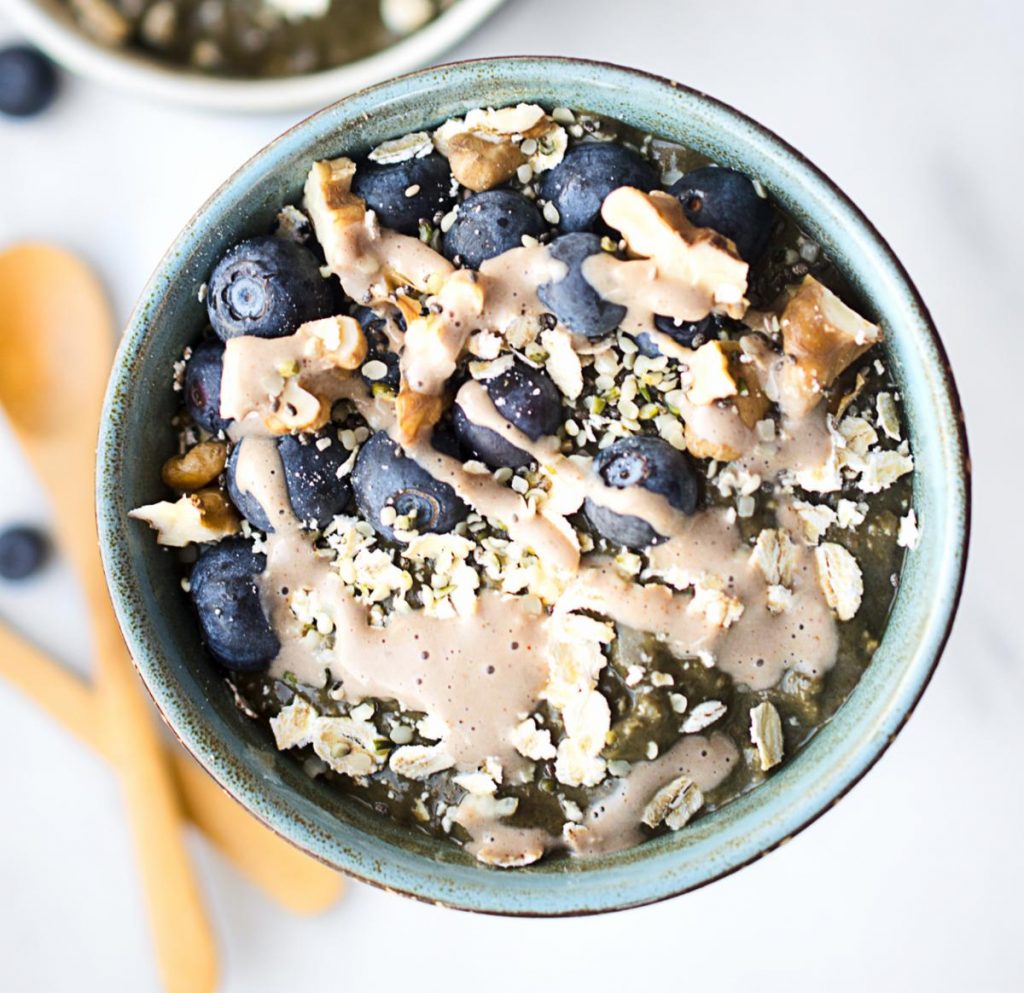 Nutritional highlight goes to the cacao. Technically cocoa powder is refined and stripped of some nutrients. Since it's exposed to heat, it's lower in phytonutrients than raw cacao. Cacao powder, on the other hand, is regarded as a "superfood" by many and raw foodies love it! I love it too! Cacao has been shown to improve mood, to decrease appetite and it's even an aphrodisiac (ou la la). It's bursting with antioxidant phytonutrients (even more than blueberries), which is always a good incentive to add it to your diet. 
A little goes a long way! Don't over do it and use its free radical-scavenging abilities as an excuse to add raw cacao (or cocoa) to everything. It is a source of fat and calories and it can add up.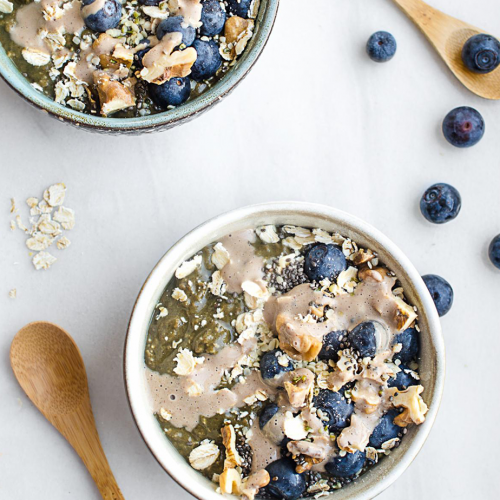 Chocolate Blueberry Overnight Oats
Antioxidant Rich Chocolate Blueberry Overnight Oats. Chocolate For Breakfast!
Ingredients
1

cup

frozen or fresh blueberries

1

cup

packed spinach

1 ½

cups

unsweetened almond milk

(or preferred dairy-free milk)

1-2

medjool dates

, pits removed

2

tablespoons

cacao or unsweetened cocoa powder

1

tablespoon

ground flaxseed

1

teaspoon

vanilla extract

1

cup

old fashioned rolled oats

(gluten free if desired)

2

tablespoons

chia seeds

Garnish: blueberries

chia seeds, oats
Instructions
Drain the dates. Add dates, blueberries, spinach, milk, cacao, flax and vanilla to a blender and blend until smooth then transfer to a medium-large glass bowl (ideally with a lid).

Add the oats and chia seeds to the bowl and mix well. Leave in the fridge overnight. In the morning top with additional blueberries and chia seeds and enjoy! As always, feel free to add some Almond Cream!
Notes
*If you want a sweeter taste, use 2 dates. If you have a low sugar diet or have weened yourself off sugar, 1 date will work fine! If your dates are tough and firm, you might need to soak them for 10 to 15 minutes in water to make them softer and easier to blend.
This bowl can also double as a fun dessert! Add an additional date and ¼ cup of whole cashews to the blender to make it sweeter and creamier.