About These Raw Walnut Brownies
My friend Sarah wrote me on Instagram last week and asked if I had any suggestions on what she could do with a surplus of walnuts. I sent her my version of raw walnut brownies and was inspired  to put it together and share it with you!
First, raw means the brownies aren't baked. More technically "raw" for raw vegans means that the food in question (including all its ingredients) havn't been exposed to temperatures above 118ºF (48ºC).
For these raw walnut brownies to be truly raw, you can use raw cacao powder instead of cocoa as cocoa powder is roasted. I use unsweetened cocoa powder as I find this gives the brownies more of a traditional flavour. 
Second, walnut brownies are exactly what they sounds like. The brownie dough is literally made out of walnuts! For any health foodie, this is so exciting!
What Makes These Raw Walnut Brownies Different?
This is a common recipe and it's found on many blogs and in many cookbooks! But, I make mine just a little different. Not saying better, but just a little different and for good reason. 
Soaking. You don't need to soak the walnuts and some would argue that the texture is better without soaking but I disagree!
I soak the walnuts to make the nuts easier to digest (avoiding the dreaded nut-gut) and their nutrients easier to assimilate. 
Flax. My raw walnut brownies are also different than most versions of this now classic vegan recipe in that I like to add flaxseed.
Why do I add flaxseed?
I add ground flaxseed to my raw walnut brownies because it adds an additional dose of brain-healthy, anti-inflammatory omega-3 fats and cancer-fighting lignans. 
I also find the ground flaxseed helps to absorb some of the moisture in the brownies and makes for a nice texture.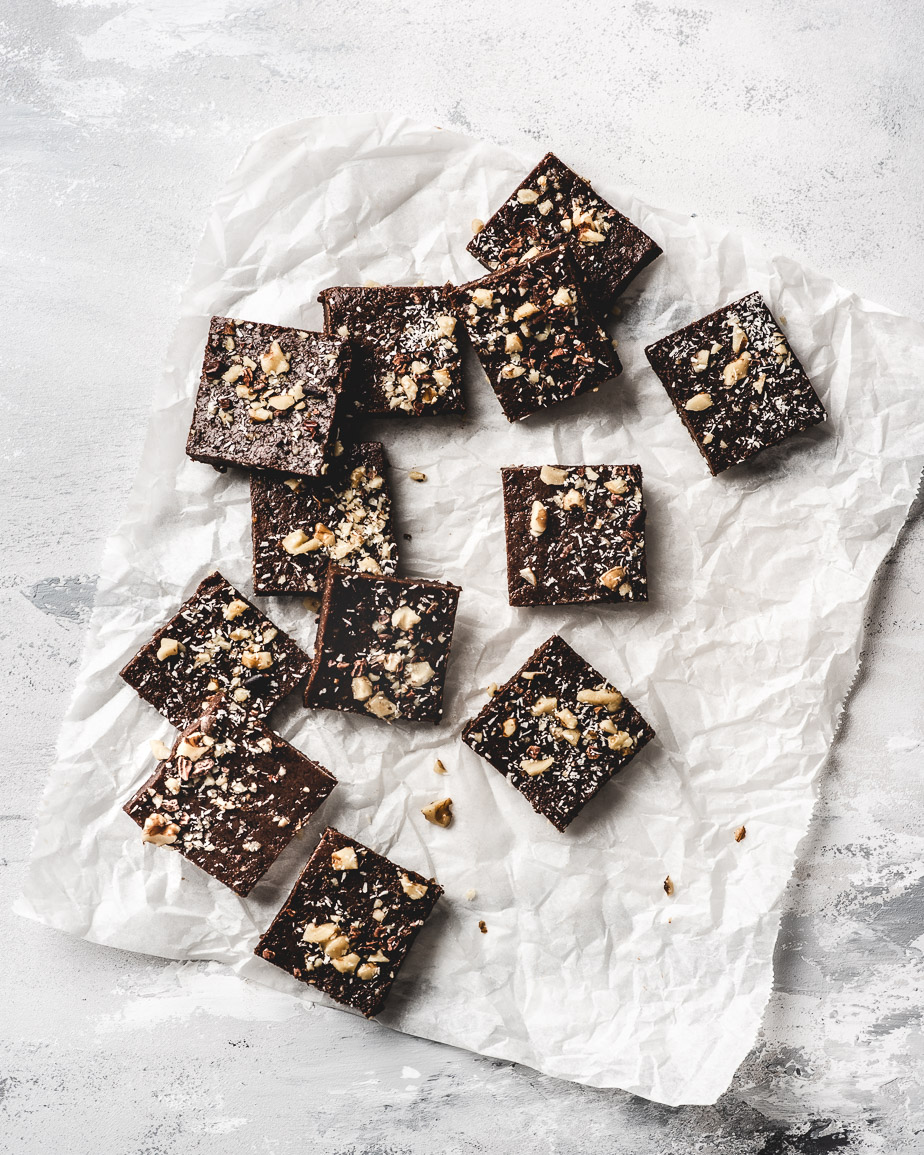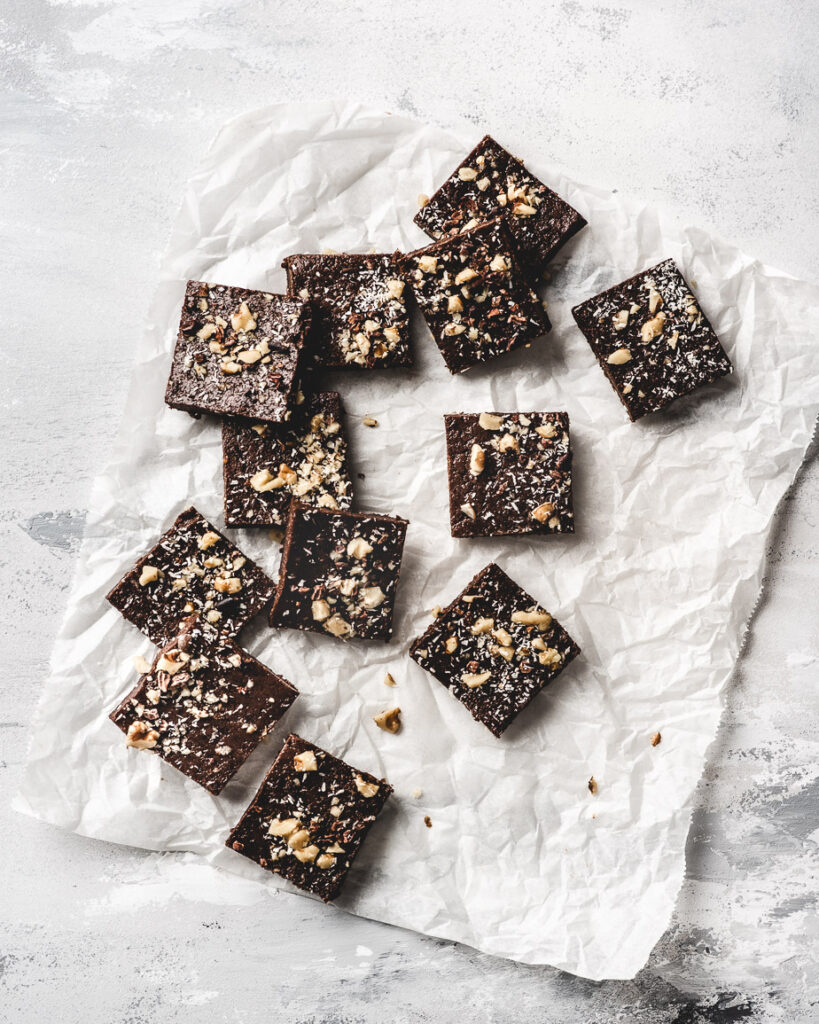 Walnuts – whole and raw (unroasted) and unsalted
Ground flaxseed – not whole!
Dates – pitted! Use juicy dates not dry and hard dates
Sea salt – adds a nice finish and elevates the sweetness
Cocoa powder – use unsweetened or you can use cacao powder
Optional garnish – you can always press any type of nut, seed, or other goodie you love into the surface of the brownies but they're delicious served plain!
The brilliant thing about raw vegan brownies is their absence of added, processed sugars. So for me the nutritional highlight is that the foundation of the batter is whole foods – walnuts and sweet dates.
Of course, the essential fatty acid composition of these brownies – rich in omega-3, I sound like a broken record – is their most notable and amazing attribute! Who doesn't want a side of that with their brownie?! 
ENJOY!
What Else Can You Do With Walnuts?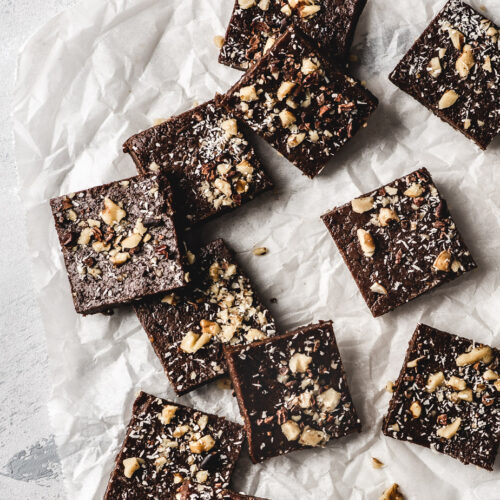 Raw Walnut Brownies (no added oil!)
A raw vegan brownie made with omega-3 rich walnuts and ground flaxseed! I like to snack on these right out of the freezer! Prepping only takes a few minutes but the brownies do need to be popped in the freezer to set.
Ingredients
2

cups

walnuts

soaked for 4 to 6 hours (optional, see notes)

1½

packed cups pitted medjool or deglet noor dates

3

tablespoons

ground flaxseed

¼

cup

+ 2 tablespoons unsweetened cocoa powder

¼

teaspoon

sea salt

plus more for garnish
Optional Garnishes
cacao nibs, crushed nuts, coconut, flaky salt
Instructions
Line an 8-inch square dish with parchment paper. Set aside.

Drain the walnuts well. I like to lay them out on a clean dish towel to remove all excess water. Place the walnuts in a food processor along with the dates, ground flax, cocoa powder, and salt.

Pulse to combine then process continuously until the walnuts are finely ground. Be careful not to overprocess or you'll end up releasing the natural oils in the walnuts. The "dough" should be relatively smooth, but flecks of walnuts are ok!

Transfer the dough to the parchment-lined pan and press it evenly into the pan. Finally, and this is optional but adds a nice touch, sprinkle a pinch of additional salt over the surface of the brownies. Place the pan in the freezer for 1 to 2 hours to set.

Remove from the freezer, flip the brownies onto a cutting board and cut into 16 squares. Here you can also sprinkle extra goodies into the surface of the brownies like cacao nubs, additional crushed nuts, or coconut and press them into the surface so they stick.

I like to keep these in the freezer and grab one whenever I have a chocolate craving! You can also keep in the fridge for up to 3 days in a sealed container.
Notes
Soaking the walnuts isn't absolutely essential but it does help with the digestion and assimilation of the long list of nutrients in the walnuts! If you're short on time, you can simply skip and continue as written.
Optional additions to the brownie "batter":
1 teaspoon vanilla extract
Zest of 1 orange
Another tablespoon of cocoa powder for extra chocolatey brownies