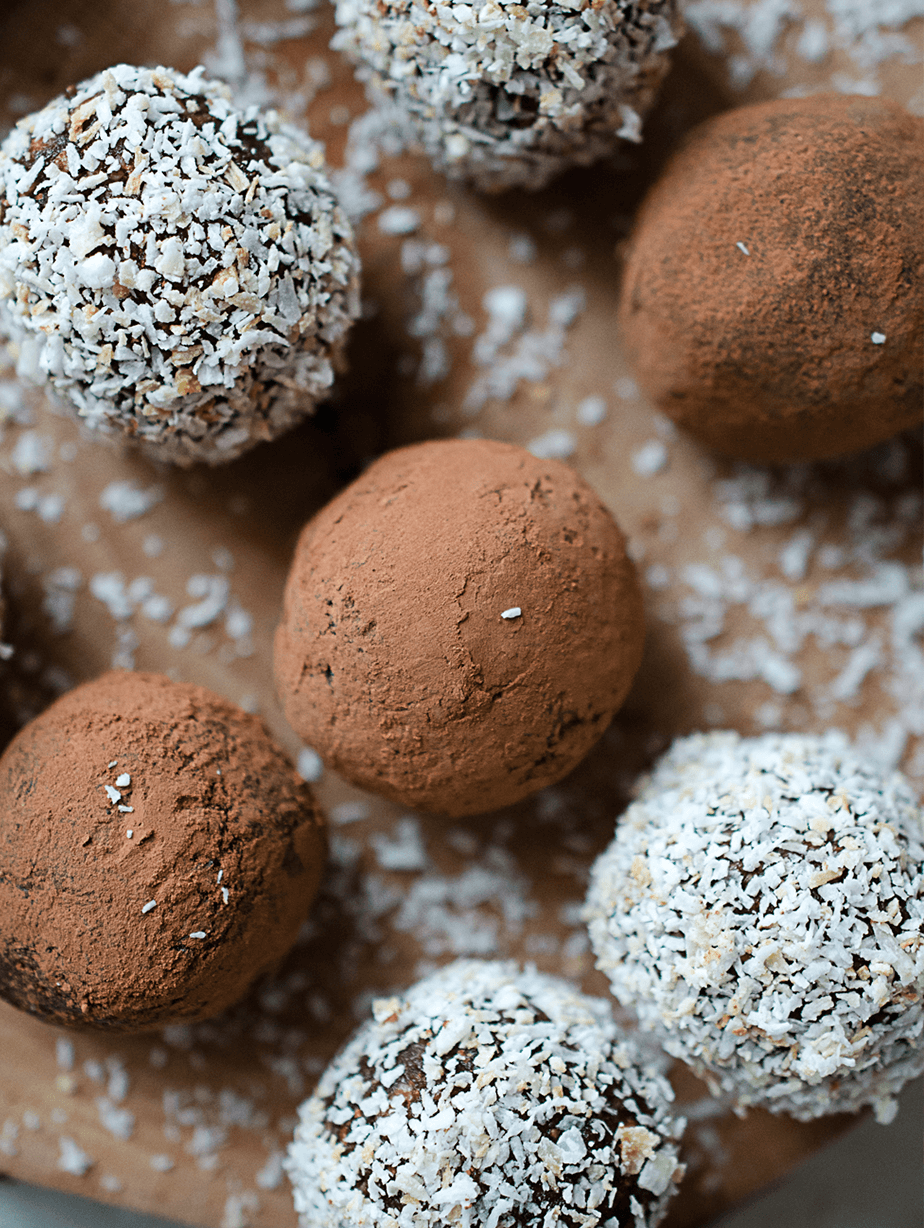 Yesterday was my Christmas baking day! I made some crowd pleasers, like these 
Apple Pie Bliss Balls
, but I've been in the mood to recreate old school favourites. 
Earlier this week I posted a vegan, gluten-free, oil-free version of my mom's 
Christmas Spice Cake
 and I've been brainstorming on other recipe makeovers ever since. I'm cutting it short but am determined to fit in some other holiday recipes before the big day!
These Orange Chocolate Truffles were inspired by the orange chocolate I used to get in my stocking growing up. I would eat it first thing Christmas morning (gross). I'm not sure if the "orange" part made me feel like it was breakfast-appropriate but this version is a massive whole food, no added sugar upgrade! 
These truffles are decadent and creamy with just a hint of fresh orange! They make an impressive dessert and pair beautifully with coffee or espresso! The recipe requires only a handful of ingredients and is surprisingly easy! 
I finished these Orange Chocolate Truffles by rolling them in unsweetened cocoa powder and toasted coconut but you can also experiment with crushed nuts or hemp seeds. 
I'm going to keep these in the freezer and take them out about 30 minutes before serving. I've already had them straight out of the freezer (delicious!), wasting no taste-testing time!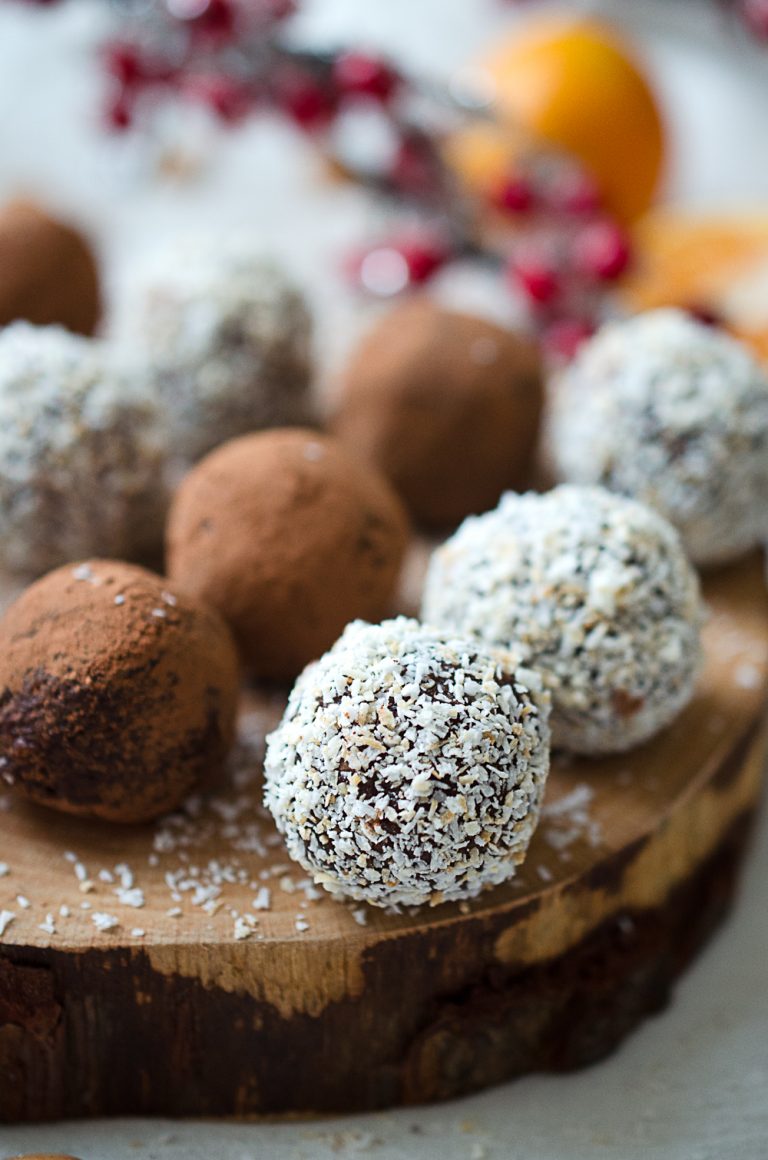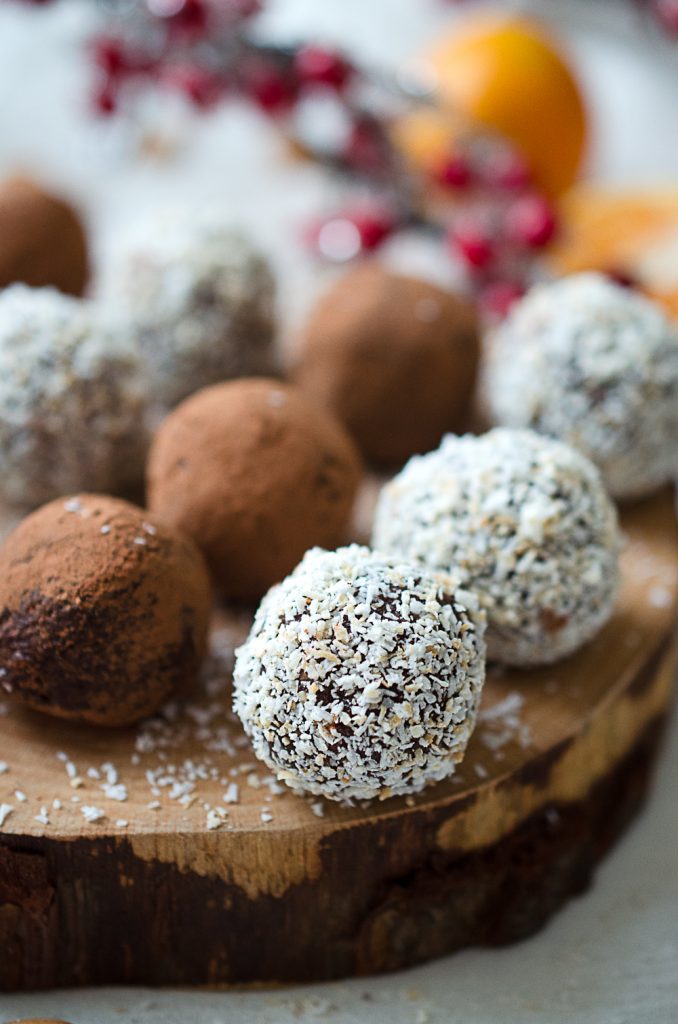 Blogged While watching Home Alone 2 – without a doubt the best Home Alone! I refuse to watch Home Alone 3 (no Macauley, no Home Alone). This is also the first movie I remember seeing in theatres and marked the beginning of obsession with New York City and just-cheese pizzas.
Thing I'm Excited About: Christmas Eve! The best day of the year! And vegan eggnog, of course! 
Recipe Hack: You can use hazelnuts instead of almonds to get a slightly different flavour. If you want a more toasty end result, toast the nuts and let them cool completely before starting in on the recipe!
Recipe Notes : Be sure to use fresh medjool dates for this recipe. These dates are big and juicy and be sure to remove the pits! I also recommend refrigerating the truffle dough before rolling them into balls. This is because the mix will be sticky–cooling the truffle dough makes it easier to handle. Not an essential step, but it helps.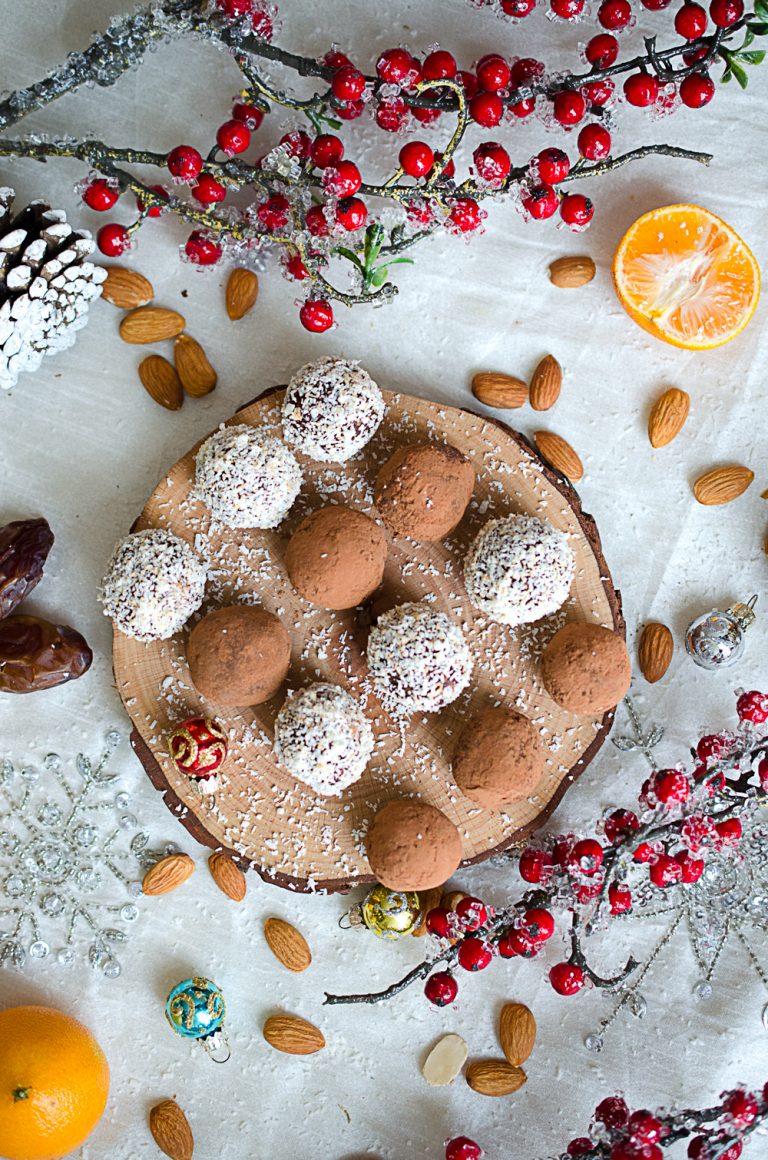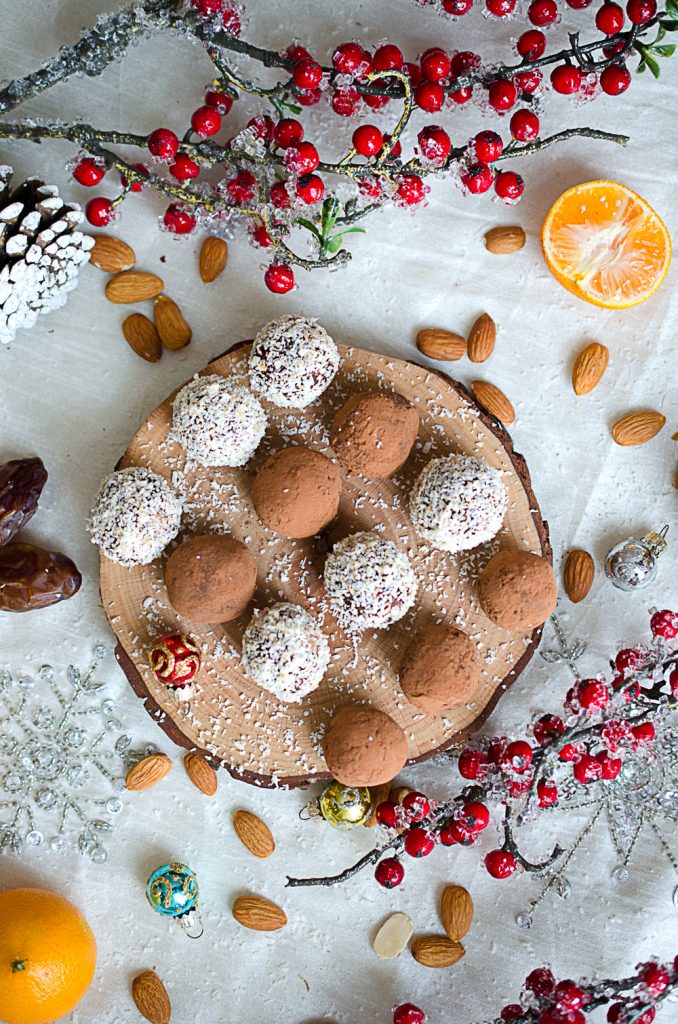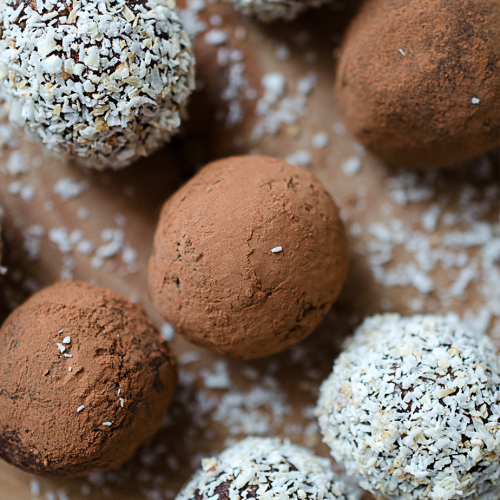 Orange Chocolate Truffles
These truffles are decadent and creamy with just a hint of fresh orange!
Ingredients
1

cup

almonds

18

pitted medjool dates

~2 heaping cups

¼

cup

unsweetened cocoa powder

5

tablespoons

freshly squeezed orange juice

1

heaping teaspoon orange zest

¼

teaspoon

salt

3-4

tablespoons

unsweetened cocoa and/or toasted or regular unsweetened coconut

for coating the truffles
Instructions
Add first 6 ingredients (all except the extra cocoa powder or coconut for rolling) in order listed to a food processor. Double check that all the pits have been removed from the medjool dates! Process until well combined and there are no longer any big chunks of almonds. Stop and scrape down the sides two or three times to incorporate all ingredients. The mix will come together and roll around in a ball. How long this takes will depend on your processor.

Transfer the mix to a bowl and set in the fridge for 30 minutes. Meanwhile, line a baking sheet or large plate with parchment paper, set aside. Spread the cocoa powder or coconut, whichever you're using to coat the truffles, out on a plate.

Remove the truffle mix from the fridge. Scoop out a tablespoon of the mix, roll it into a ball and then roll around in the extra cocoa or coconut. Tap the truffle to remove any loose cocoa or coconut and set on the parchment lined baking sheet or plate. Repeat with remaining mix. It helps to rinse your hands 2-3 times throughout the rolling as the mix will be sticky.

Refrigerate the truffles for at least an hour before serving. They will keep in a sealed container in the fridge for 5-7 days. Store in the freezer for up to 3 months.
Notes
To coat the truffles you can also add the cocoa powder or coconut to a plastic baggie. Add one truffle at a time to the baggie and shake it to fully coat the truffle.