This Wild Rice and Shaved Asparagus Salad with Tarragon Cream is obviously not your average Wednesday night dinner but it's fun and interesting and might just inspire some innovation in your own kitchen!
In a healthy-hipster world where green smoothies, avocado toast and Buddha bowls dominate it takes effort and intention to shift gears and think in an innovative way about flavours and food preparation. For me anyways!
What I'm saying is I could live on these aforementioned new-age delicacies forever! Superfood smoothies, pureed soups, leafy salads and grain bowls are in my regular rotation and satisfy pretty much every craving I have! 
But I have these creative culinary impulses lurking in the background that I just to need to work out! 
What if I marinated this first? What if I quick-pickled that and then used it as a garnish? If I'm not careful, I can turn a simple dinner into a full-on project for no other reason than I got caught up in the possibilities.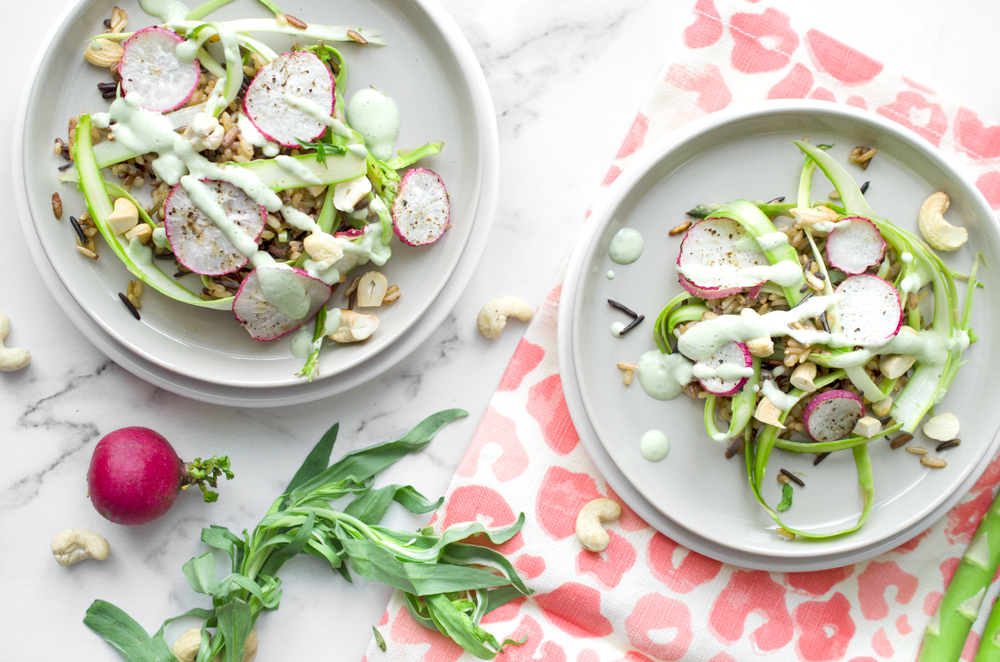 This recipe is one of those things. I wanted a spring/summer themed menu that was a little more fancy-pants for a magazine article I was writing. I know that "fancy" can be a polarizing word since it often equates to more expensive ingredients, a lengthier or unique preparatory process and perhaps elegant plating. I would say this is a little unique in its components but is so doable and, if plated with a little care, is super impressive!
So if you're just looking for something diff-er-ent, it might only take a teeny tiny change to make something feel brand new! Any of the these ingredients or methods of preparation are worth a try!
THE INGREDIENT LIST
Shaved Asparagus: What now? You might not have heard of this before but it's just asparagus spears that have been peeled using a vegetable peeler. The result is thin, curled asparagus strips. I like how this looks but it also takes away that big crunch you get from biting into a raw asparagus spear. I like to sauté shaved asparagus, add it to salads like this or even layer them on sandwiches.
Roasted Radishes: We underestimate the radish on the reg! Radishes are spicy and crunchy when served raw but roasting them cuts the spiciness and brings out a little sweet! You can roast them whole or sliced! Roasted whole radish makes for a delicious side dish! 
Wild Rice: Wild rice is gorgeous but in this recipe I'm using a wild rice BLEND – meaning it's wild rice combined with other varieties like jasmine and brown rice. Wild rice is a specific type of rice called Zizania. There are four types and they all grow in water. It might be difficult to find 100% wild rice (or very expensive) so I like using the blends. I love the variety in colour shape and texture! Found in most local grocery stores.
Fresh Tarragon:
 Tarragon is likely one of those fresh herbs you toss aside while looking for the basil, mint or dill (ME included!) but tarragon is equally as special! Tarragon has a sweet, liquorice, also known as anise,flavour profile. I like pairing it with tomato based sauce, lemon, cashews and roasted potatoes! I love love love fresh herbs because they can take any dish to the next level without a lot of effort! This pastel green Tarragon Cashew Sauce will not disappoint!
More on using fresh herbs here.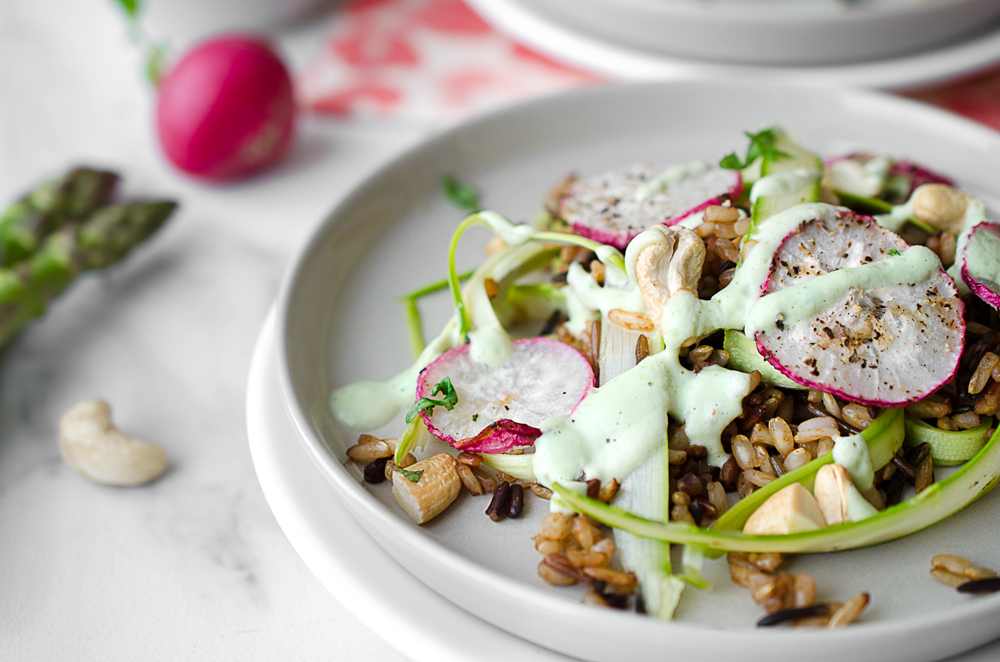 You have options in assembling the salad. You can toss it all together and enjoy the melange of flavours, colours and textures without too much worry about how it looks or, if you're aiming to wow some guests or even yourself, I suggest layering the different components as you're plating them and then drizzling with the tarragon cashew sauce (as is shown in photos).
Blogged while eating sliced banana drizzled with almond butter, flaky salt and hemp seeds and drinking a black coffee!
Recipe Hack: Use this cashew sauce as you would any other! Drizzle it on steamed veggies, use it as a sandwich spread, mash it into back potatoes! It also freezes well!
Thing I'm excited about: Sleeping in my own bed! I'm just back from a month long Portugal/Scandinavia trip…. it was incredible but if I never see my suitcase again it will be too soon! More on plant based eats throughout my travels coming soon!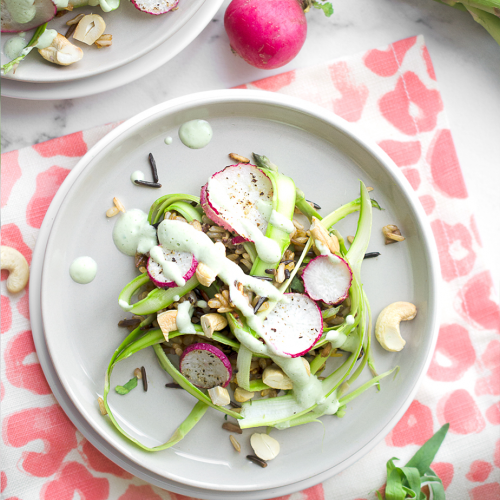 Wild Rice and Shaved Asparagus Salad with Tarragon Cream
This Wild Rice and Shaved Asparagus Salad with Tarragon Cream is obviously not your average Wednesday night dinner but it's fun and interesting and might just inspire some innovation in your own kitchen!
Ingredients
Salad
1

cup

mixed wild rice blend

8

radishes

thinly sliced (~1 cup)

8-10

thick asparagus spears

1 ½ cups asparagus ribbons

½

cup

cashews

chopped

Garnish: additional chopped cashews and/or finely chopped fresh tarragon
Cashew Tarragon Cream
½

cup

raw cashews

soaked in water for 3 hours

3

tablespoons

chopped fresh tarragon

3

tablespoons

lemon juice

2

teaspoons

white wine vinegar

½

cup

water

½

teaspoon

salt
Instructions
Salad

Place the rice in a fine mesh strainer and rinse under cold water. Shake off and drain any excess water.

Place the vegetable broth in a small-medium saucepan, cover and bring to a boil. Once boiling add the dried rice, cover again and reduce to a gentle simmer. Cook for 35-45 minutes or until all the broth is absorbed. Once cooked, fluff the rice and set aside covered and let steam for 10 minutes. Transfer to a glass bowl and let cool.

Meanwhile, preheat the oven to 400ºF. Toss the sliced radish with 1 teaspoon of lemon juice or cooking oil of choice (lemon juice for an oil-free option), transfer to a baking sheet and generously season with salt and pepper. Bake for 10-12 minutes. The radishes are done when they begin to brown and shrivel around the edges. Remove from the oven and set aside.

Trim the woody ends off the asparagus and discard. Peel the asparagus spears into ribbons by laying the spears down on a cutting board and running a vegetable peeler lengthwise, end-to-end. This should yield ~ 1 ½ cups asparagus ribbons. Set aside.

Cashew Tarragon Cream

Drain the cashews and add them and all other cream ingredients to a high-speed blender. Blend on high until a smooth consistency is achieved.

Assembly

Mix the cooled rice, roasted radishes, asparagus and chopped cashews in a large bowl. Divide among plates and drizzle with as much Tarragon Cream as is desired. Garnish with additional cashews and chopped tarragon.
Notes
Wild rice blends are available at most grocery stores and are usually a combination of long grain brown rice, wild rice and/or black rice. Different blends may have different cooking instructions.
For a more complex flavour toast the cashews that are used for garnish.
Use leftover tarragon cream as a sauce or dip for roasted vegetables or general salad dressing.