This is my current favorite – oil-free cranberry almond granola. It's sweetened with maple syrup and made without any coconut or vegetable oils and it takes about 5 minutes of actual work, the rest is done in the oven. 
This oil-free granola is nutty with a touch of cinnamon and it's perfect tossed on top of vegan yogurt, cashew chia pudding, or on its own with a splash of creamy soy milk.
There are many reasons to make your own granola including the facts that you get to control all of the ingredients, it's cheaper than buying it, and it's just delicious.
But there are two specific occasions when I think granola is an excellent idea.
Homemade Gifts! Make this oil-free cranberry almond granola a consumable, homemade gift for the holidays, birthdays, or as a thank you. It's simple and once cooled, it's easy to package and tie with a bow! Let them know it's healthy and has no added oils, they'll appreciate it.
Make it with your kids. Involving your kids in the kitchen is really fun (for them and you). It's easier to opt for simple recipes that are easy to execute – cue granola. 
There's pouring and stirring, spreading out on the pan, and tasting once it's out of the oven. 
There will be some mess but nothing disastrous since granola is pretty easy to clean up. My 1-year old is still  too young for this but I'm looking forward to the day when we can cook and bake together!
Here's how to make this recipe
I like a little extra toastiness on my granola so I keep my eye on it in the last few minutes and wait for it to just go from golden to a light brown but also be cautious because it can burn easily. And if this is your first time making granola, know that it won't be crunchy when it comes out of the oven but will get crunchy as it cools.
This oil-free cranberry almond granola will keep in your pantry (as long as it's cool and dry) for up 2 months.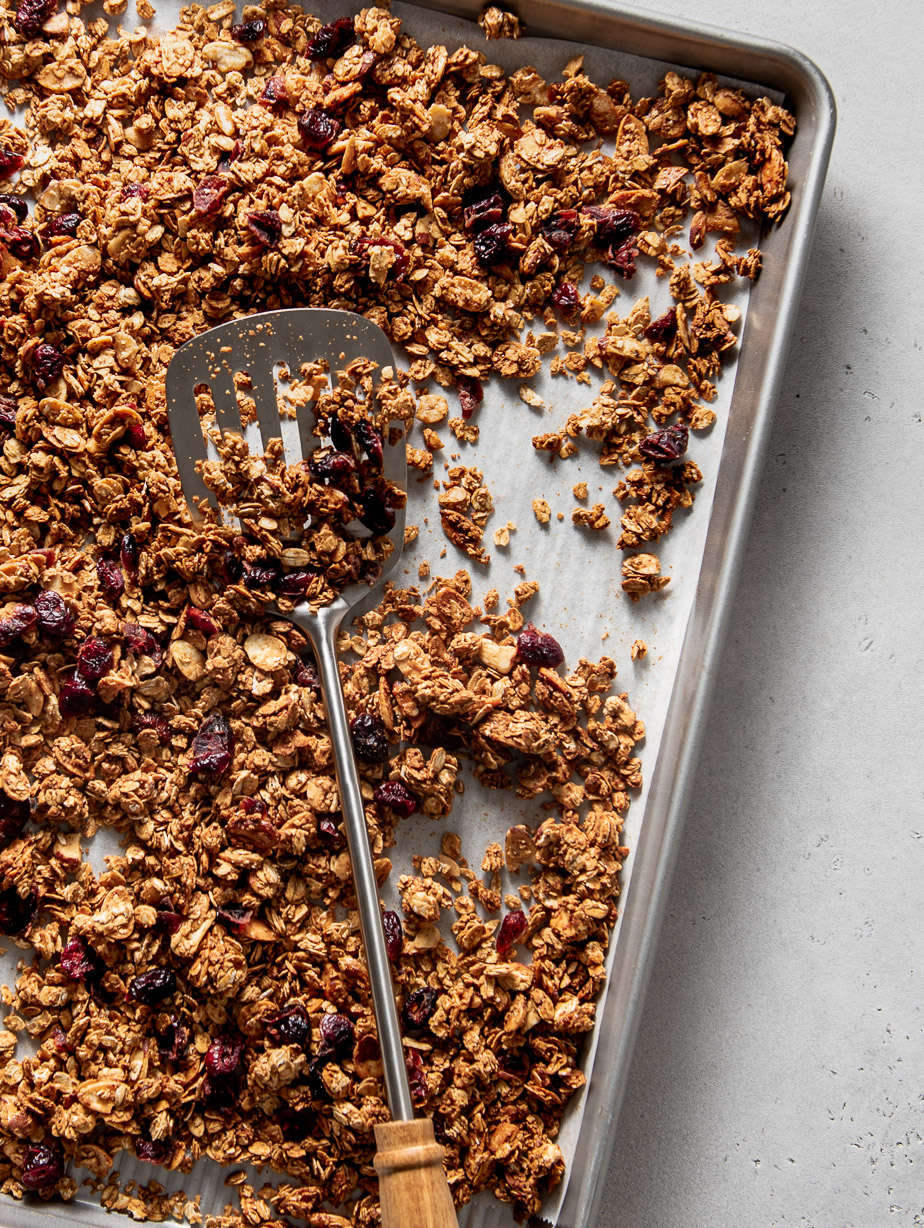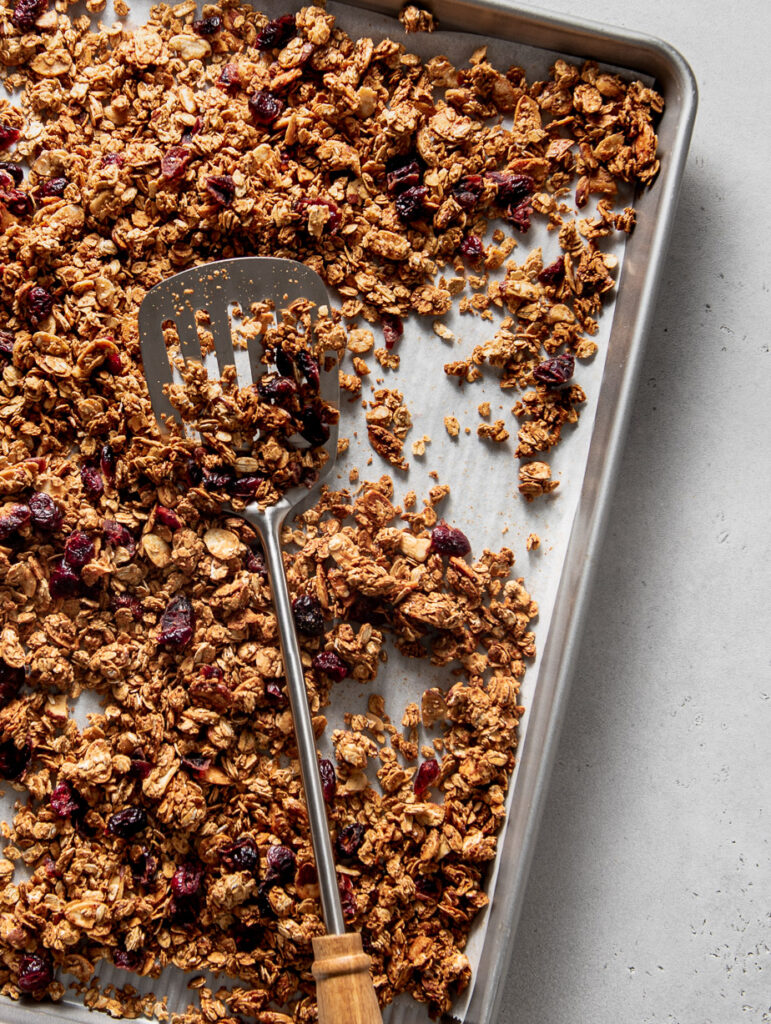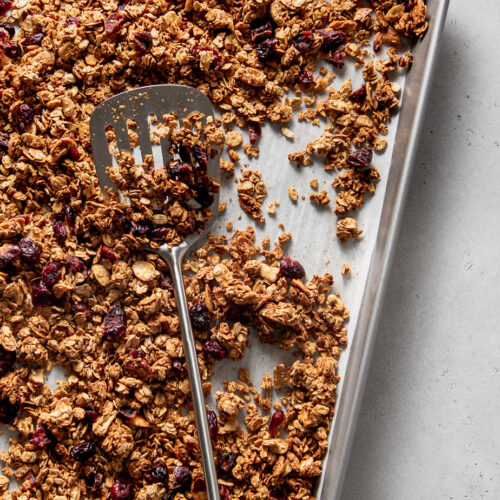 Oil-Free Cranberry Almond Granola
You'll rethink buying granola after making this oil-free version. It's quick, easy, and really delicious! Keep it on hand in your pantry for breakfast and snacks or even make and package a batch to give as a gift!
Ingredients
3

cups

old-fashioned rolled oats

gluten-free if needed

1

cup

sliced almonds

½

cup

maple syrup

¼

cup

stirred almond butter

1

teaspoon

cinnamon

¾

teaspoon

sea salt

1

cup

dried cranberries
Instructions
Position the oven rack to the middle of the oven and preheat to 350ºF/175ºC. Line a large baking sheet with parchment paper.

Place the oats and almonds in a large bowl and mix.

Next put the maple syrup, almond butter, cinnamon and salt in a blender and blend until smooth. Alternatively, you can add these ingredients to a small bowl and whisk until smooth.

Pour the wet mixture in with the oats and almonds and stir until everything is evenly combined and no dry spots remain.

Spread the granola out on the baking sheet in a single layer being sure to break up any clumps. Bake in the oven for 30 to 35 minutes, flip the granola around halfway through and redistribute in a single layer. It's done when it's dry to the touch. Keep an eye on it in the last 5 minutes to make sure it doesn't burn.

Remove the granola from the oven and let cool on the pan. The granola will get crunchy as it cools. Once completely cooled, stir in the dried cranberries and place in a jar or container and cover tightly. Place in a cool and dry place for up to 2 months.
Notes
It's super important to let the granola cool completely before putting it in a container.
If you don't like dried cranberries, chopped apricots, raisins or goji berries work well too.