Need some nut pulp recipes?
It's a common question – what to do with leftover nut pulp from making almond (or other nut) milk? I too look for nut pulp recipes.
 For a long time I would pack into containers and freeze it and forget about it …..then throw it out. 
Now I try to use up almond pulp within a few days of making milk. I add it to muffins, bean burgers, and oatmeal but these brownie bliss balls are the destination of most of my almond pulp! They're sweet and rich and always in my fridge. Also soft and chewy right out of the freezer so easy to grab one whenever the craving strikes!
I've packed them into lunch boxes and snack bags, they've been served for dessert and at coffee dates, they're versatile and perfect for all occasions! 
If you want more nut pulp recipes, let me know, I'm always drumming up something to reduce waste. 
Some Important Tips:
For this recipe I use nut pulp from ONE cup of almonds that I used to make almond milk. They can be soaked overnight or not.
Squeeze the nut pulp to almost dry – it's best if it's a little damp.
Use the pulp within a couple of days as fresh tastes best.
Make sure your dates are juicy. If they're dry or crumbly, soak them for a little while (about 15 minutes) in water then drain them. Don't forget to remove the pits!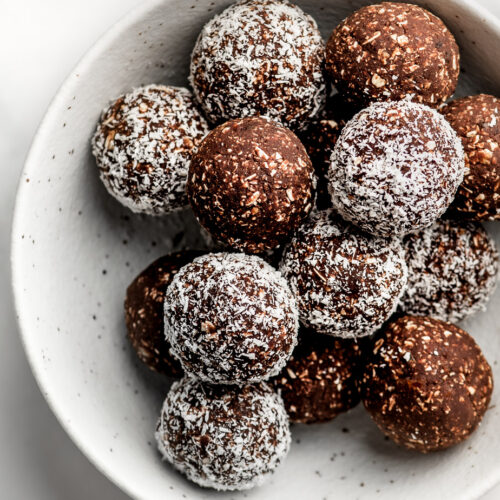 Brownie Bliss Balls (made from nut pulp)
What to do with leftover nut pulp from making almond milk? These brownie bliss balls!
Ingredients
Fresh almond pulp from 1 cup of whole almonds

1

cup

packed soft

pitted medjool dates (soaked in water for 15 to 30 minutes if dry and hard)

1

cup

rolled oats

gluten-free if needed

¼-⅓

cup

unsweetened cocoa powder

(adjust to your preference)

1

tablespoon

maple syrup

optional

1

teaspoon

pure vanilla extract

Pinch

sea salt

⅓

cup

unsweetened coconut

, for rolling (optional)
Instructions
Add all the ingredients to a food processor and process continuously for 1 to 2 minutes until the mix starts clumping together and rolling around in a ball. Scrape down the sides and bottom of the container once or twice throughout. If you're almond pulp is very dry you may need to add more liquid (water, almond milk, or more maple syrup), 1 teaspoon at a time, until the mix starts sticking together.

Using your hands, roll 2 tablespoons of the mix into balls. Roll the balls in coconut if desired. Refrigerate for 5 days or freeze for up to 3 months.
Notes
This recipe is easy to scale up based on how much nut pulp you have.
This recipe is ideally made with fresh pulp (no more than 3 days old). You want it to be a little damp but not wet.
You can adjust the cocoa powder to your liking. I like to use 1/3 cup.