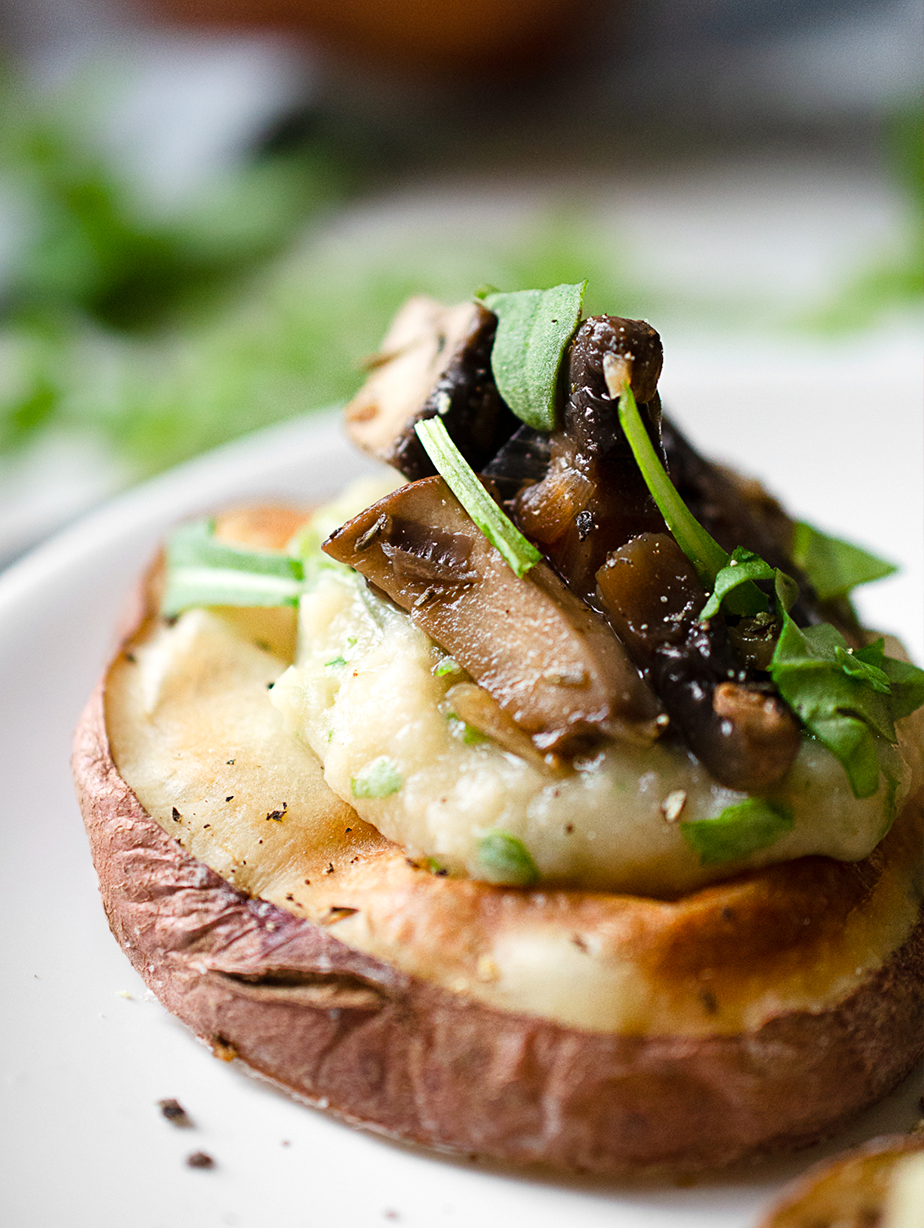 We had friends in for dinner last week, the kind you could serve toast and they'd be thrilled, and I tried these plant-based Potato Crostini, Sautéed Mushrooms and White Bean Arugula Cream out on them.
While I was chopping onions (which I will always and forever loathe) I noticed that I STILL get a little nervous when we have people over for dinner!
You would think that after meal planning and preparing food for so many events and functions I would be all easy breezy about the whole thing but I still have that knee-jerk reaction of "what will I make, will they like it, will it be good enough?"
Do you ever feel like that? 
You want to have people over more but wish you could skip the cooking and just go right to wine!?
This is where potlucks and ordering pizza comes in handy! 
But if you love to cook, and I do, and you love to entertain, and I do, but you have just a bit of culinary insecurity, and I still do, then fire up the oven and have them over anyway!
Because the truth is no one cares! 
If dinner sucks, oh well! 
It's just dinner! Don't be afraid to stray from your regular Rolodex of having "people in for dinner "meals either (lasagna I am looking at you!).
By all means keep it simple and make what works for your time and budget but don't hesitate to try something different! Don't let "what if it's sh*t" stand in your way!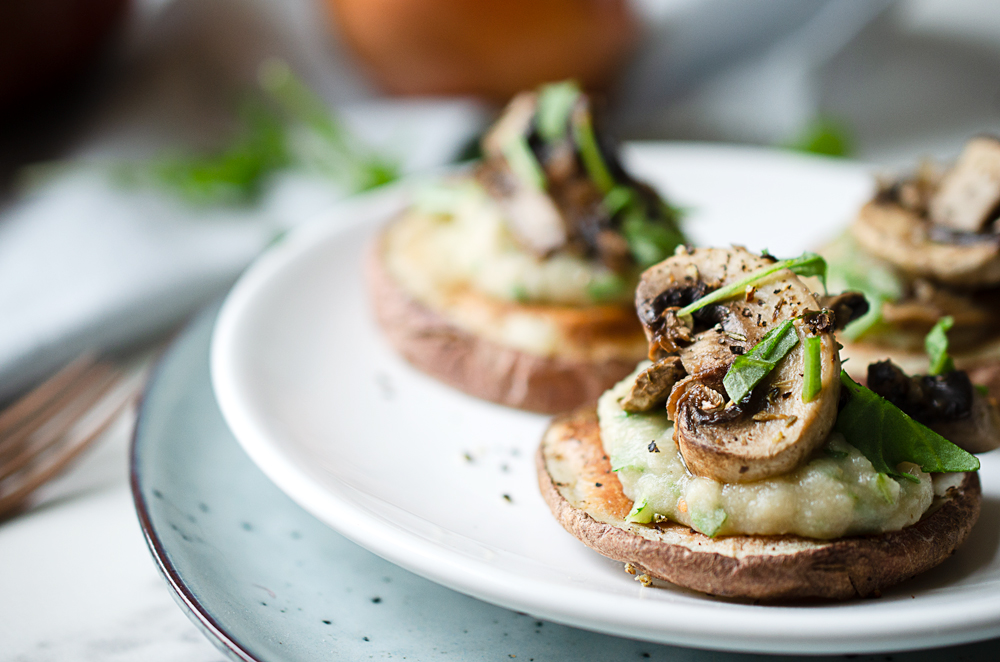 If you're hanging out here you probably have some culinary interest or like to experiment a little. 
Or maybe you're shifting your diet and lifestyle and are looking for inspiration. Healthier ways of cooking can seem foreign and intimidating but my advice would be to just jump right on in and keep an open mind.
I know many people who flip through new cookbooks until they find a recipe that looks like something they've already made (ahem, mom). If this builds your confidence, awesome! However, I dare you to pick a random recipe with ingredients you've never used and go for it! There is so much to learn in the kitchen but 99% of the education is hands on. Roll up your sleeves and give it a shot. 
I often feel pressure to have "fancy" dinners. And, if I'm being totally honest, I'm afraid I'll disappoint or not meet others expectations if it's not creative or 'perfect'. Ugh!  I want to punch myself!
What if they see that I overcook stuff and I forget ingredients and I'm messy and I make meh marinara?! The jig will be up!
And really, who flippin' cares!!!! I'm human, you're human! 
I guess what I'm getting at is have people over, share a meal. Laugh, drink wine, and tell stories! Life is too short to NOT connect with friends and family over nourishing food whether it's PB and J sandwiches or a five course-tasting menu!
Speaking of multiple course meals, appetizers make my brain melt! This is where I struggle!
I never know what to make. I often go with soup or salad but I prefer a more casual eat-while-we-chat in the kitchen type of snack. I've made stuffed mushrooms, every imaginable dip, tacos, yada yada but putting stuff on baked potato, i.e. potato crostini, is my new obsession. 
This idea was inspired by our recent trip to Copenhagen (Copenhagen I LOVE YOU). 
The Danes make a dish called smørrebrød and have it for any and every meal. Smørrebrød, which I was calling smorgasbord, is essentially an open-faced sandwich where anything goes! They layer a sauce on bread and pile it high with literally whatever – fish, vegetables, sweet, salty, simple, extravagant!
When I got home I knew that smørrebrød was the dish that I wanted to recreate. 
However, keeping my nutritional principles in check and inspired to meet the dietary needs of many, I wanted to skip the bread. 
Enter the potato! 
Here I'm using potato as the base instead of bread and even though it's now a far cry from the original inspiration, I'm so pleased with the idea and this combination (stuff on potato slices) is my new favourite appetizer to serve! For another variety check out my 
Sweet Potato Bruschetta on Forks Over Knives
!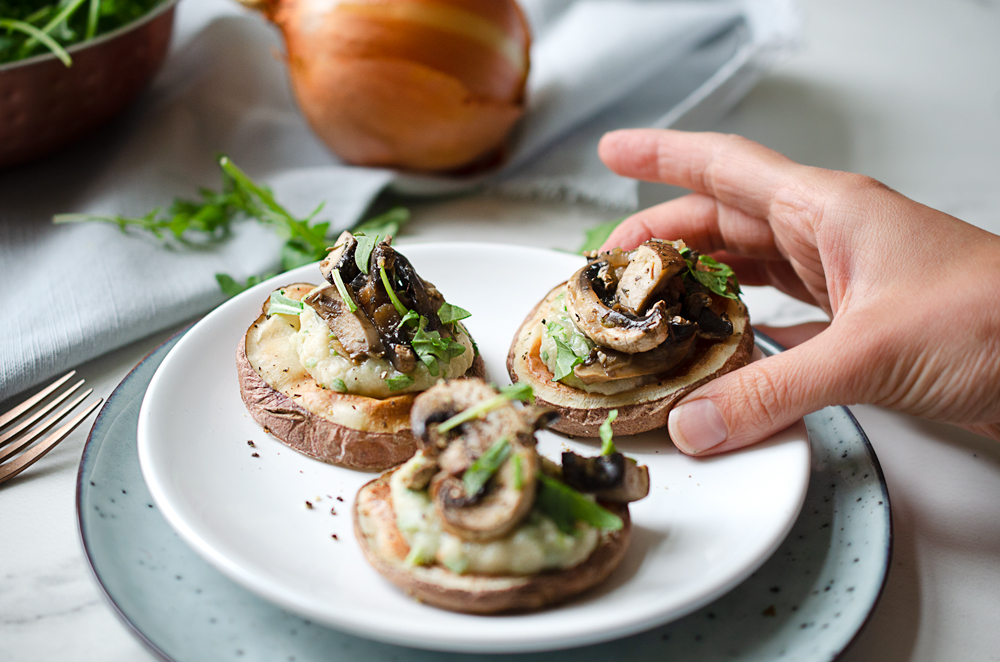 Baked Potato Crostini – Peeps this is as easy as it gets. Slice the potato in ½ inch slices, lay on a parchment lined baking sheet and bake until browned and easily pierced with a fork. Done. 
White Bean Arugula Cream – This is essentially a dip or spread, like hummus, but made with navy beans and baby arugula. You can use this in so many ways! The peppery arugula pairs nicely with the creamy beans! If you don't want to use this spread, you can try any of your favs!
Sautéed Mushrooms – These are sautéed in water (oil-free zone here) with some dried thyme and finished with white balsamic vinegar. You'll want to eat these with a spoon, very delish!
Finish it off by layering the goods and you're done! 
As you can tell the sky is the limit with this kind of dish and you can serve it as a party snack, appetizer, breakfast, or main! 
Side note – I had never done this before and I made it right before I had our friends over for dinner! It turned out great and they loved it! And you know what I served for dinner? LASAGNA…with meh marinara!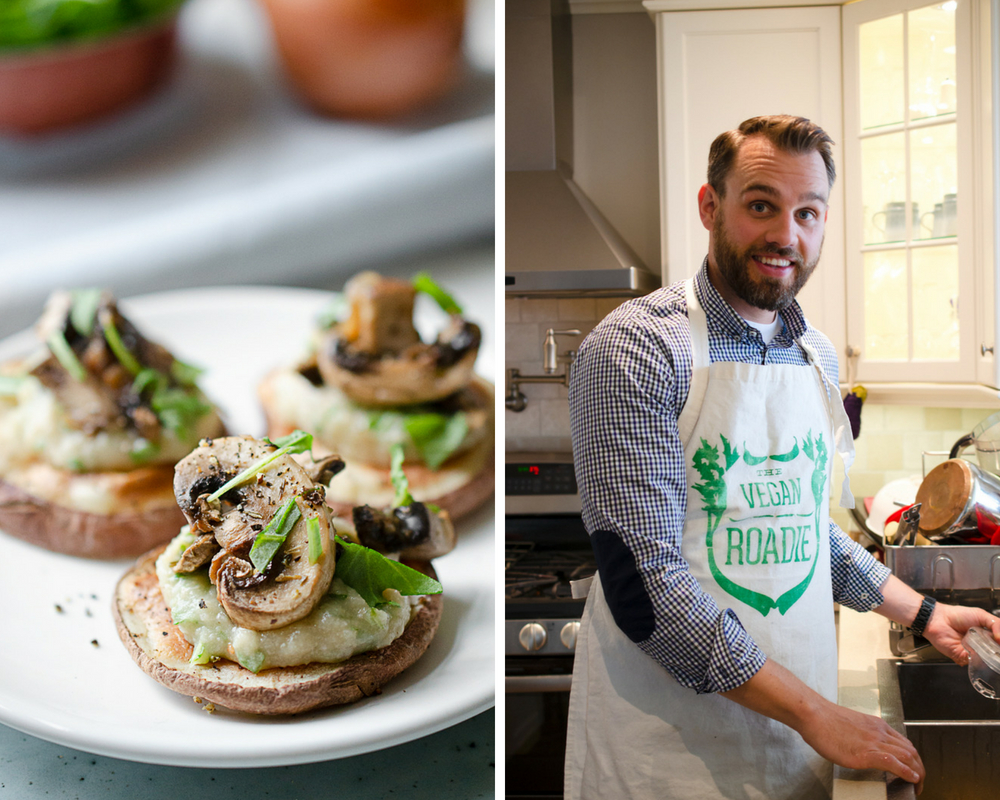 Bottom line – try new foods, who cares if you screw it up and have friends over for dinner! Happy cooking!
Recipe hack: Use leftover White Bean Arugula Cream as a sandwich spread or mash it into baked potatoes! YUM!
More plant based appetizer ideas: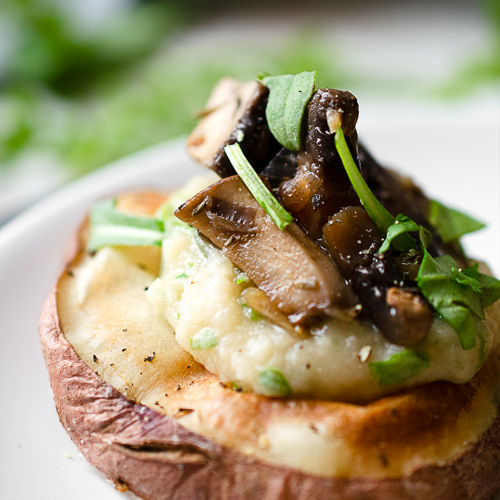 Ingredients
Potatoes
6

unpeeled red roasting potatoes

sliced ½ inch thick
White Bean Arugula Cream
1

cup

thinly sliced white onions

~1 medium onion

1 ½

cups

cooked navy beans

liquid reserved

2

teaspoons

nutritional yeast

1

tablespoon

white balsamic vinegar

½

teaspoon

salt

pinch

red pepper flakes

2-4

tablespoons

bean liquid

if needed

1 ½

packed cups baby arugula
Mushrooms
16

ounces

mushrooms

thinly sliced (mix of button, Portobello or cremini)

3

garlic cloves

minced

½

teaspoon

thyme

2

teaspoons

balsamic
Garnish
1

cup

baby arugula

chopped
Instructions
Preheat the oven to 400ºF and line a large baking sheet with parchment paper. Lay the sliced potatoes flat on the pan, season generously with salt and pepper. When the oven is preheated, bake the potatoes for 35-40 minutes until the potatoes are golden brown and can be pierced with a fork.

Meanwhile make the white bean arugula cream. Sauté the onions for about 10 minutes in 2-3 tablespoons of water until they are translucent. Add the navy beans, cooked onions, nutritional yeast, white balsamic, salt and red pepper flakes to a food processor fitted with the S blade. Process until smooth. Add reserved bean liquid, 1 tablespoon at a time, to reach a creamy consistency. Scrape down the sides as needed. Next add the arugula and pulse 7-10 times until incorporated. Transfer the cream to a glass dish and set aside.

Lastly, make the mushrooms. Add the sliced mushrooms to medium sized pan and cook on medium heat with 2-3 tablespoons of water and a generous pinch of salt. Once the mushrooms start releasing their liquid and shrink in size, about 4-6 minutes, add the garlic and thyme and continue to cook, stirring frequently, for another 5 minutes. Add the white balsamic vinegar and cook for another 2 minutes until all the liquid is evaporated. Remove from heat.

To assemble, carefully spread 1-2 tablespoons of the white bean arugula cream onto the hot potato crostini. Add 1 tablespoon of sautéed mushrooms and garnish with chopped arugula and fresh cracked salt and pepper! Add a dash of hot sauce if you like it spicy! Repeat with all potato crostini and enjoy!
Notes
Keep the potato crostini warm if they're done before the other recipe components.