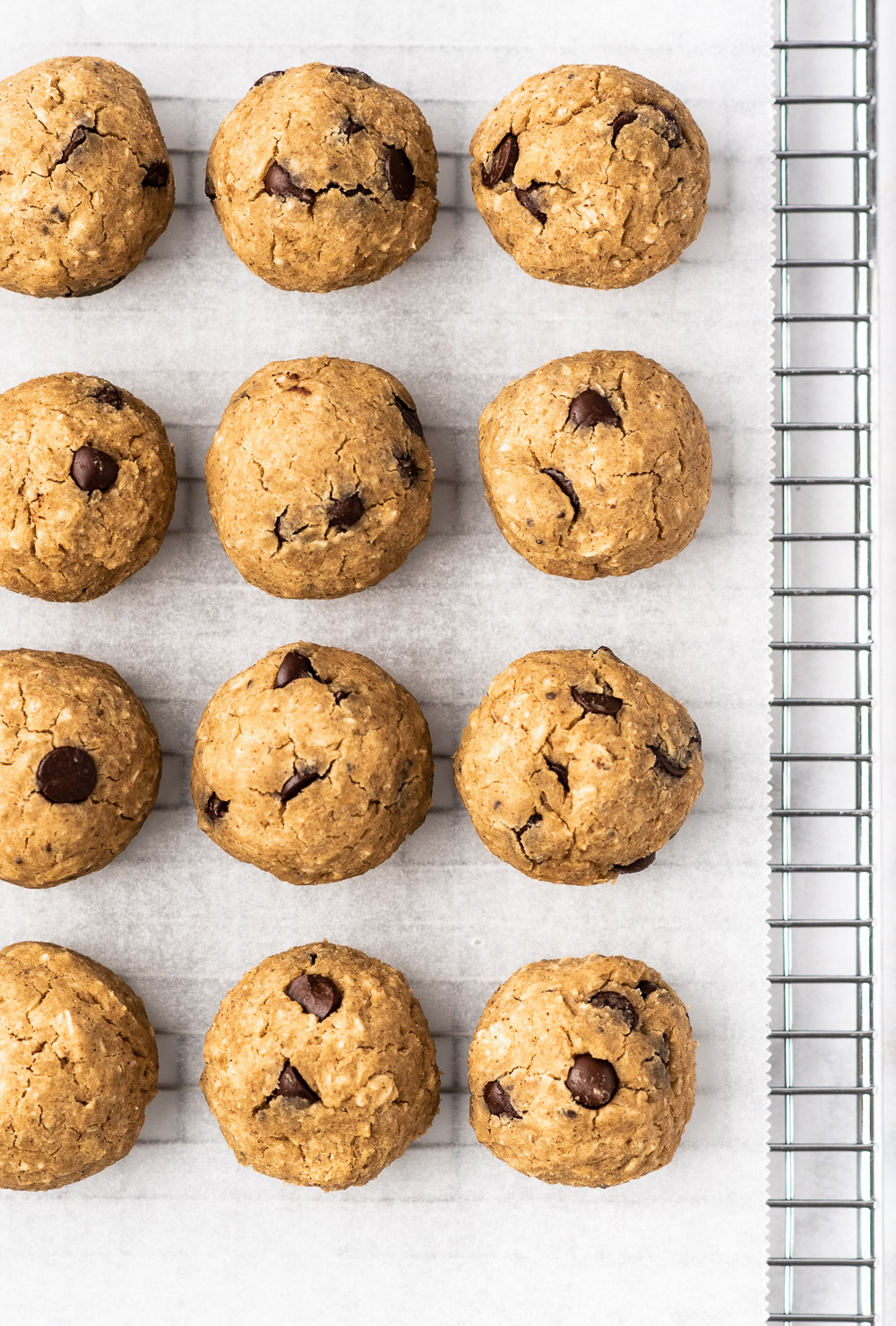 Cookie dough anything, YES!
I don't know about you guys but my sweet tooth is on overdrive right now. Trying to curb the cravings by keeping busy (which ironically means cooking or baking something) or opting for something healthier that still gives me the "I'm having a treat" feels.
These vegan cookie dough balls fit the bill and are fun to make! This was a recipe originally in my cookbook that got bumped because I had too many desserts! I'm still sorting through them and deciding which ones I should keep.
Should they be healthier versions of old favorites or completely innovative ideas that shift how we see desert? Feel free to weigh in on this!
Anyways, while I debate my desserts, I'm eating dessert, and sharing one of my favorite dessert spin-offs with you.
About These Vegan Cookie Dough Balls
1. They're made with chickpeas!
 You know that by now but I'm so jazzed up about this and what it means for the nutritional profile. Because the dough is made with chickpeas, it's high in protein and fiber! These cookie dough balls are filling and have a cookie-dough texture without all the crap in traditional cookie dough (even the vegan kind!).
2. Baked or raw! 
These chickpea cookie dough balls are baked but you can also eat the dough raw! Just like real cookie dough, minus the risk of salmonella. Cheers to that!
3. Change it up! 
 You can add whatever you want to the recipe or whatever fits your diet best. I added vegan chocolate chips to emulate traditional cookie dough but I actually very rarely, pretty much never, eat these! Next time I'm going to make them with dried cranberries. You can swap dried fruit or cacao nibs for the dairy-free chocolate chips or omit them completely.
Making Vegan Cookie Dough Tips
These are made in a food processor. Be careful not to over-process. We want the dough to be thick and look and feel like cookie dough!
Scrape down the processor! Do this a couple of times and then pulse again to incorporate all ingredients.
Use damp hands to form the dough into the balls if it's too sticky. I like to rinse my hands after making a few and then continue.
Let them cool completely to firm up. The cookie dough balls should be browned and feel firm when they're done but will continue to firm as they cool. These are best enjoyed at room temp or even chilled!
Definitely eat some raw! You can refrigerate this cookie dough and add chunks to vegan ice cream or nice cream or just sneak a spoonful. At the very least use your finger to scoop out whatever got left behind in the processor! Let's keep this an authentic cookie dough experience!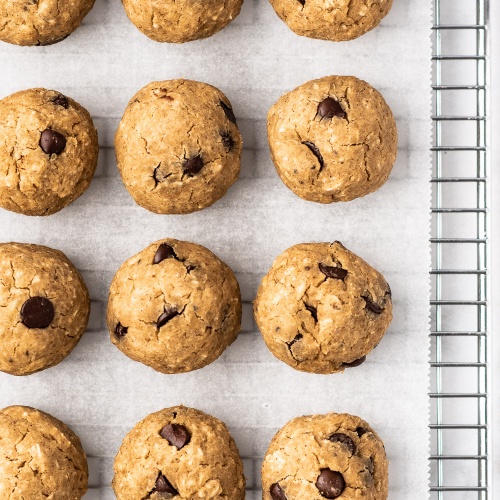 Easy Vegan Cookie Dough Balls (Made From Chickpeas!)
Ingredients
3 cups cooked or canned chickpeas, rinsed and drained

¾ cup old fashioned rolled oats (gluten free if needed)

⅓ cup maple syrup

¼ cup well stirred almond butter 

2 tablespoons coconut sugar

1 tablespoon ground flax seed

1 teaspoon pure vanilla extract

½ teaspoon cinnamon 

¼ teaspoon Himalayan

1/3 cup dairy-free chocolate chips, cacao nibs, raisins, or dried cranberries
Instructions
Preheat the oven to 350°F and line a baking sheet with parchment paper. 

Add all ingredients in the order listed, except for the chocolate chips, to a food processor and process until everything is well combined and no oat flakes are left whole. Stop once or twice and scrape down the sides to incorporate all ingredients. 

Transfer the dough to a medium sized bowl and mix in the chocolate chips (or other additives).

Scoop out 2 heaping tablespoons of dough and gently (it will be soft!) roll into a ball and place on the baking sheet. I like to use my 1¾ ounce disher for this (see picture). The dough will be sticky. It can help to dampen your hands. Repeat with remaining cookie dough. 

Place the baking sheet in the preheated oven and bake for 17 to 20 minutes. The cookies are done when they're firm to touch and just starting to brown. Let cool for 10 minutes on the pan.
Notes
Keep these in the fridge for up to 4 days or in the freezer for up to 3 months! 
If you want a sweeter option, add another tablespoon of coconut sugar.