That giant bag of frozen mixed berries is getting put to good use!
This easy Berry Smoothie Bowl is refreshing and creamy and loaded with all the good stuff – antioxidants, fiber, omega-3, essential vitamins and minerals! Consider this for your next blender-inspired breakfast.
Sometimes I forget that a smoothie bowl sounds like you might be drinking your smoothie from a bowl! I mean you can totally slurp your smoothie from a bowl, I can get down with that, but that's not the intention.
Rather, a smoothie bowl is like a hybrid between a smoothie and nice cream (ice cream made from bananas). It's thick and creamy and usually cold because it's made with some form of frozen fruit.
They're ideal for warm weather and when you're in that "eat the rainbow" mood! Since we've moved to Taiwan and we now live in a much, much, warmer climate, I find myself wanting colder, refreshing meals like smoothies, smoothie bowls, salads and zoodle-bowls.  My combination changes often but I've actually had this exact Berry Smoothie Bowl twice this week.
Why Your Smoothie Bowls Might Suck…
Blender – To turn whole foods into a smooth, creamy consistency you do need a quality blender. I use a Vitamix for all smoothie concoctions. It comes with a tamper (like a plunger) to help push ingredients into the blades so you can get a blended consistency without adding too much liquid. The Beyoncé of blenders, the Vitamix is an investment but if you're into plant-based sauces, smoothies, and cheeses, you won't regret it!
Greeeeeen – I love that green taste! Just last week I shared that I'm craving green green smoothies, borderline swamp water. But, I realize this is the evolution of my own taste buds. If you're new to smoothies or adding greens to anything and you can't seem to enjoy the taste, try backing off with the greens or switching to more neutral leafy greens. Try spinach and no more than 1 cup.
Liquid – Smoothie bowls are meant to be thick so you can eat them with a spoon. Not like soup, but more like soft ice cream. Adding too much milk will make a soup-y, smoothie-like consistency which is still delicious but won't have the same texture.
Toppings – Toppings make a smoothie bowl! Add a mixture of fun, delicious, healthy, superfood-y ingredients. I have some of my favorite listed below but there are no rules. Add whatever you like! I would suggest to check portion sizes when it comes to nuts, seeds and their butters.
Ingredients can include fruit, greens, grains, protein powders, nuts, seeds, and plant-based milks. Or literally anything! You can bring your own flare to your smoothie bowl!
Here are the ingredients in this Berry Smoothie Bowl
Frozen mixed berries (giant Costco bag)
Frozen bananas
Flaxseeds
Oats
Chia seeds
Sliced almonds
Sprouted Buckwheat
Almond butter
Fresh berries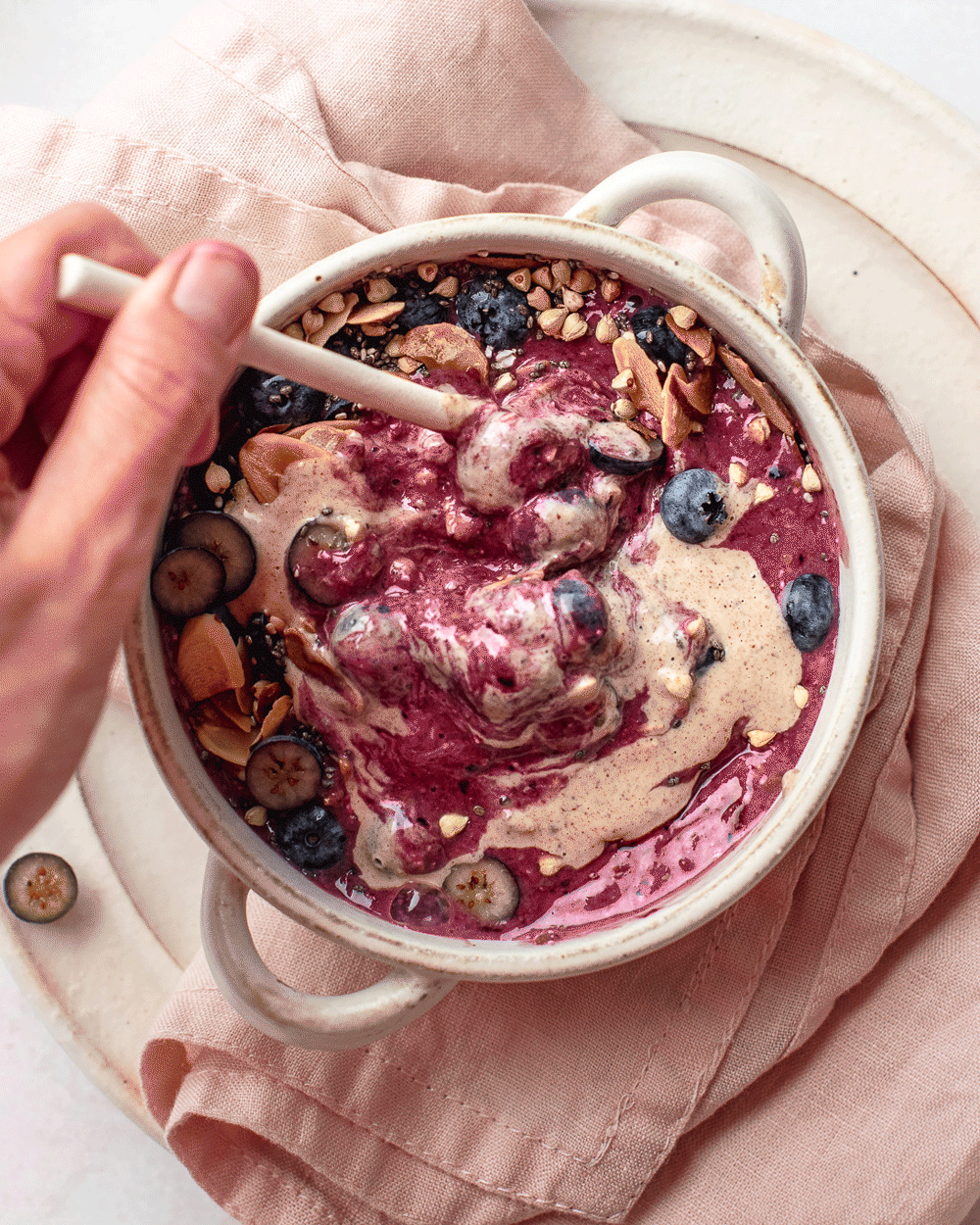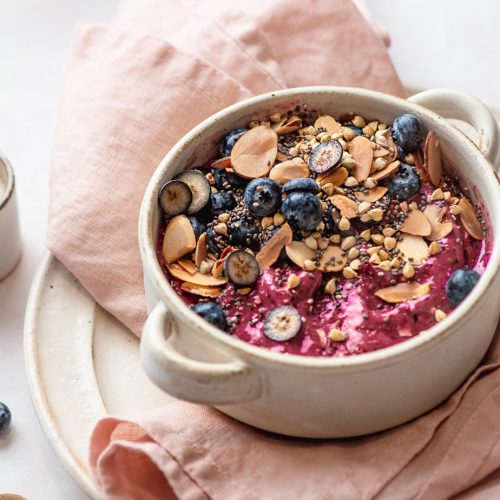 An easy breakfast smoothie bowl made with frozen berries.
Ingredients
Smoothie Bowl
1

cup

frozen mixed berries

1

frozen banana 

3

tbsp

rolled oats (gluten-free if desired)

1

tbsp

ground flaxseed (also called flax meal)

pinch

 cinnamon

¼

cup

unsweetened plant-based milk (+ more if needed)
Topping Ideas
Sliced almonds (raw or toasted)

Sprouted buckwheat

Rolled oats

Fresh berries

Nut butter

Chia seeds

Cacao nibs
Instructions
Add all the smoothie bowl ingredients to a high-speed blender. Blend on high, using your tamper to assist in the blending, until the mixture is almost smooth. Add more milk as needed to achieve a thinner consistency if desired. I like mine thick with a little texture! 

Top with your preferred toppings and enjoy immediately.
Notes
Feel free to add a handful of spinach or kale to the blended portion of the smoothie bowl to make it even more nutritious.