About This Oatmeal Breakfast Casserole
This Oatmeal Breakfast Casserole is vegan and gluten-free and works for breakfast, brunch, or dessert (yes dessert!). And there is also an overnight version!
It's a gauranteed crowd-pleaser (REALLY!), is easy to put together, and requires no special equipment.
I originally came up with a version of this Oatmeal Breakfast Casserole for a brunch potluck. Then I made it again and again and again. Now I make it on the weekend, divide into portions and breakfast is ready to go for the rest of the week.
I made this one on a lazy Sunday and smothered in Almond Butter Caramel from The Plant-Based Cookbook for dessert and then had it re-heated in the oven with and fresh blueberries for breakfast the next morning. I'm working on different variations of this bake and have some dedicated recipe testers helping me out.
Note that I like this Oatmeal Breakfast Casserole to be warm and a little gooey on the inside. It may seem like the batter is too loose when you pop it in the oven, but it will work out. If you want a firmer finished product, reduce the almond milk by 1/2 cup.
How To Make This Oatmeal Breakfast Casserole
Peel and chop apples. 
Make the flax egg.
Mix all the dry ingredients in a large bowl. 
Mix the wet ingredients together.
Add wet to dry.
Fold in chopped apples.
Transfer to a casserole dish and bake!
See the Notes section of the recipe for an Overnight Version!
I love this easy oatmeal breakfast casserole because it is loaded with fibre and healthy essential fatty acids thanks to the super-seeds – chia and hemp – and walnuts. 
The whole casserole only has 1/2 cup of maple syrup as well, making it an incredible upgrade from traditional breakfast casseroles. I like to thin out some nut butter to use as a sauce or the outrageously popular Almond Butter Caramel from The Plant-Based Cookbook. This creamy, sweet and nutty sauce is sweetened with dates and is so addictive and delicious! 
This is a bit dated but I like to keep it here as an FYI!
An update for Canadians on some gluten free labelling:  
Canadian friends, you may have noticed that somewhere between 2015 and 2016 oats went from being labelled "wheat free" to "gluten free". In May of 2015, after consultation with scientific experts, Health Canada registered a Marketing Authorization allowing gluten free claims for specially produced oats and products containing these oats. 
Over the last 10 years it's been shown that individuals with celiac disease can tolerate oats grown and harvesting without exposure to other glutinous grains. Oats that contain less than 20 parts per million of gluten can now be labelled as "gluten free".  
When I started buying gluten free oats and could only find wheat free oats, I got really confused and had to do some digging but now the oat conundrum is put to bed and Canadians can easily decipher gluten free oats from their potentially gluten contaminated counter parts. 
If gluten isn't an issue, use regular rolled oats (not instant or steel cut) for this uber healthy Oatmeal Breakfast Casserole.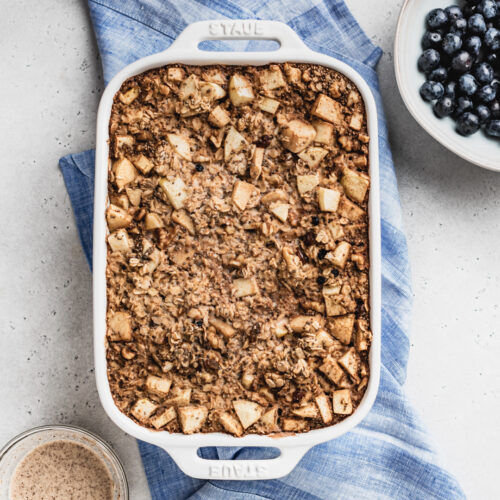 Oatmeal Breakfast Casserole
This oatmeal breakfast casserole is about to upgrade brunch! You can make it right before baking or even the night before (see notes for the overnight version!).
Ingredients
3

cups

diced apple

your favourite variety, about 2 large or 3 small apples

2

tablespoons

ground flaxseed

¼

cup

water

3

cups

old fashioned rolled oats

- not instant or steel cut (gluten-free if needed)

1

cup

chopped walnuts or pecans

½

cup

raisins or sultanas

2

teaspoons

baking powder

2

teaspoons

cinnamon

¼

teaspoon

ground nutmeg

3

tablespoons

chia seeds

3

tablespoons

hemp seeds

, optional

¼

teaspoon

sea salt

3½

cups

unsweetened almond milk

½

cup

maple syrup

1

tablespoon

vanilla extract

2

tablespoons

coconut sugar

(optional)
Instructions
Preheat the oven to 350°F.

Chop the apples and transfer to a large bowl of water with a squeeze of lemon (this prevents browning).

In a small bowl, mix together the ground flaxseed and water. Set aside for 5 minutes to thicken.

In a large bowl, mix the rolled oats, nuts, raisins, baking powder, cinnamon, nutmeg, chia seeds, hemp seeds, and salt.

In a separate bowl or glass measuring cup, mix together the almond milk, maple syrup, and vanilla. Add the thickened flax mixture.

Add the wet ingredients to the dry ingredients and mix well using a spatula.

Drain the apples well in a colander and stir into the oat mix. The mixture will seem loose – this is ok.

Transfer the mix to an 9x9 inch casserole dish (or similar size). Cover with tinfoil and bake for 50 minutes.

After 50 minutes remove the tinfoil, sprinkle the coconut sugar (if using) on top and continue to bake for another 20 minutes.

Remove from the oven and let sit for at least 10 minutes. Slice or spoon out and serve! Top with Almond Caramel from The Plant-Based Cookbook, nut butters, maple syrup, additional nuts and/or fresh berries.
Notes
If you want a firmer final product (I like mine with some ooey gooey-ness), reduce the almond milk to 3 cups.
To make this dish into a dessert, serve warm with your favourite ice cream (coconut, soy or almond ice creams will work nicely).
This freezes well too. Wait for it to cool, separate it into individual portions, and then place in a freezer-safe baggie or container.
OVERNIGHT VERSION
Make the oatmeal breakfast casserole as is written except don't prepare or add the apples. You'll do this right before it goes in the oven. Cover the casserole with tinfoil and place it in the fridge overnight. You could also use fresh berries instead of apples and if you do, you can add those in the night before. 
In the morning remove the casserole from the fridge and take off the tinfoil. Preheat the oven to 350ºF. Chop the apples and fold them into the casserole. Bake the casserole uncovered for 50 minutes.
Remove from the oven and let cool for 10 minutes before serving.