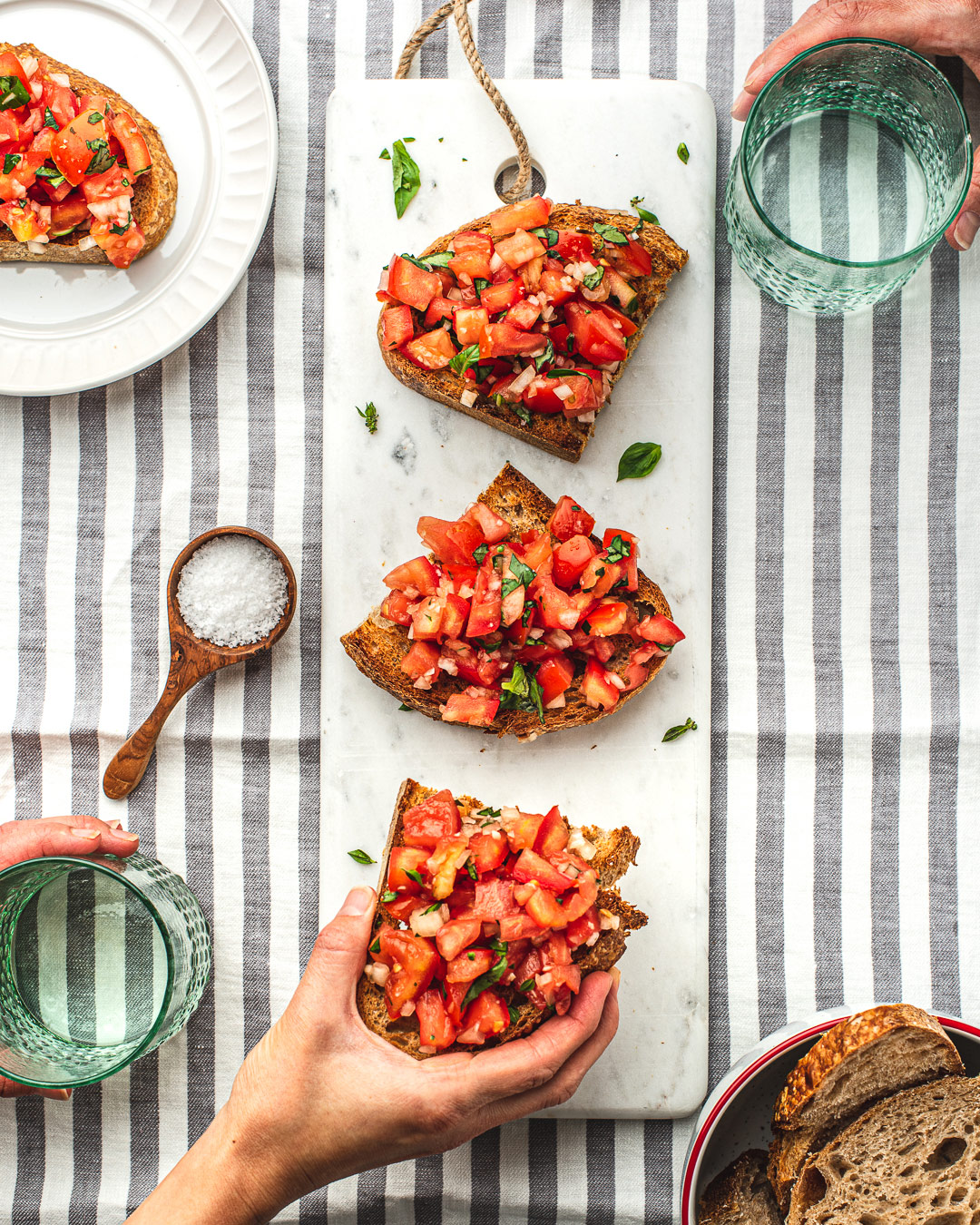 The success of some recipes is completely dependant on the quality of ingredients used.
Bruschetta is one of these recipes.
There are few things as delicious as fresh bruschetta on toasted bread. Fragrant fresh basil, juicy tomatoes, crispy bread! Paired with a nice glass of something chilled on a warm evening…perfection!
And you can easily make restaurant style bruschetta (sans oil might I add) at home in only minutes!
Here's what you need and how you do it!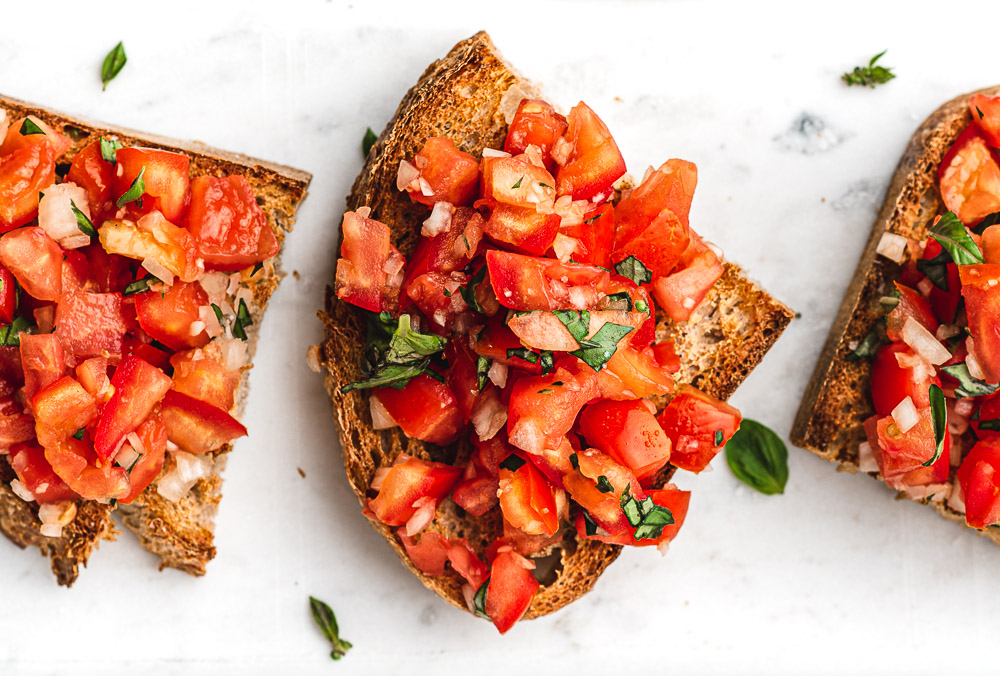 Ingredients
Tomatoes! Tomatoes are the be all and end all of your bruschetta. Look for fresh, colorful, juicy tomatoes. Farmer's markets are often the best spot for seasonal, fresh produce. If you can't find quality beefsteak tomatoes, you can use cherry tomatoes, Campari, or Roma instead. Fresh and flavorful cherry tomatoes are often more easily available and work wonderfully.
Onion and garlic. Onions aren't always included in bruschetta, but I love a finely diced onion to add texture and flavor. Tip: it's key to finely dice the onion as small as possible.
Balsamic Vinegar. Use a quality balsamic vinegar. Many grocery store brands have "caramel coloring" or other unnecessary ingredients. Pass on these.
Salt. The right seasoning is essential in brightening the natural flavors in your bruschetta! I like to use a good quality, coarse sea salt.
Bread.
 Choose the bread you love! Sour dough, french baguette, or gluten free sour dough (
this recipe is on my list of must-try recipes
). The key to flavorful bread with a great crust is to toast the bread until golden brown (I do this directly on the oven rack) and then to rub fresh garlic over the surface once out of the oven. This adds a layer of delicious that is well worth the effort!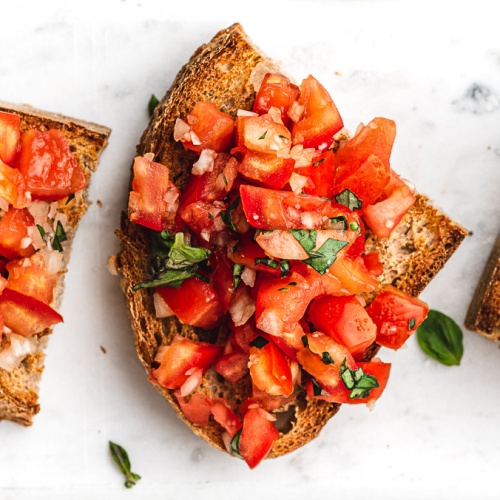 Basic Bruschetta (Plant-Based, Oil-Free)
Ingredients
4

beefsteak tomatoes 

3 to 4 cups diced whatever tomatoes are fresh and in season*

2

garlic cloves, minced

1/4

cup

finely diced red or white onion

1

tbsp

balsamic vinegar

3

tbsp

thinly sliced fresh basil

pinch

red pepper flakes

1/2

tsp

salt or to taste

Black pepper to taste
Bread
Bread of choice, sliced (as thick or thin as you like)

2

large garlic cloves, halved

Garnish: red pepper flakes, fresh basil
Instructions
Cut the tomatoes in half and remove all the juice and seeds and discard (if using cherry tomatoes, you can skip this step). Dice the tomatoes and place in a large bowl. Add the garlic, onion, and balsamic and mix. Set aside for 15 minutes to marinate. This step isn't essential but I think makes for a better end result.

Now add the fresh basil, salt, and red pepper flakes. Toss and re-season to taste. 

Toast your bread until golden in color (I like to do this in the oven). When cool enough to handle, but still warm, rub the halved garlic cloves into each slice. This creates incredible flavor!  Immediately spoon the bruschetta onto the toast and garnish with more basil and red pepper flakes if desired for a spicy finish.
Notes
* use whatever tomatoes are freshest – cherry, Roma, Campari! Whatever tomatoes are the most beautiful!
NOTES
You can always add more flair and excitement to your bruschetta by adding any of the following:
- sliced olives
- diced cucumber
- diced avocado
- capers
- nut parmesan
- drizzle of balsamic reduction
You can use whatever bread you love. If gluten isn't an issue, try thick slices of fresh sour dough or French bread. 
You can also use sliced sweet potato baked in oven until just tender as your "bread".